Around here, we're all about recipes, food, and more recipes. It's so fun watching the collection grow, and I love knowing that people are inspired and enjoy making/eating the recipes here.
In the midst of all my cooking and baking, there are a few fabulous food hacks that I simply must share. These simple shortcuts are often referred to as "life hacks," but we are so food-centric 🙂
What inspired me to share these amazing ideas is… coffee. I love my morning Joe. No matter that I fill my mug with decaf: I pretend it's the real deal. Usually I drink it black, but there are mornings when a nice shot of yummy creamer is a must.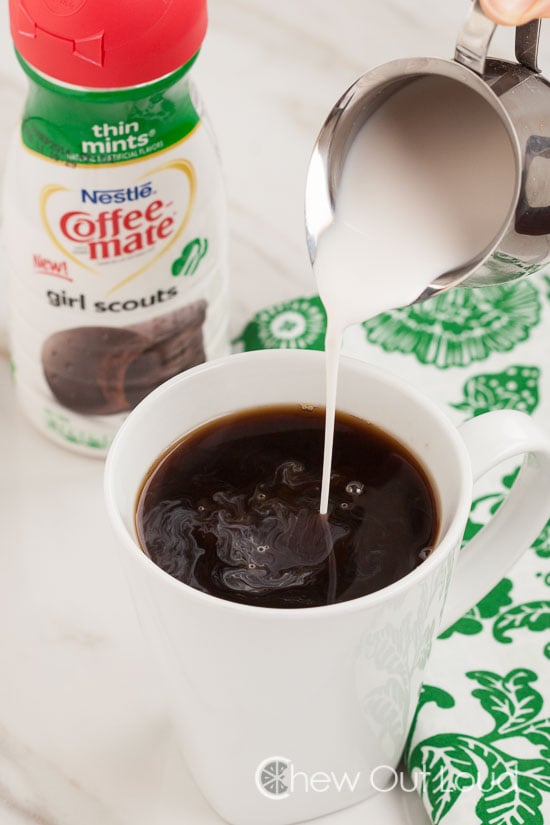 Yes and thank you. A happy pour of Girl Scouts® Thin Mints® flavored creamer tastes like those trademark cookies we all adore. In fact, we could even call this a mini food hack.
There's good reason for the wild popularity of those minty, crispy, chocolatey cookies. They're super addictive. But they only come around occasionally. And we buy boxfuls every time. We love supporting Girl Scouts, and we happen to be cookie monsters. It's a win-win.
With Coffee-mate® Girl Scouts® creamers, I can enjoy all the delicious cookie taste, all year long!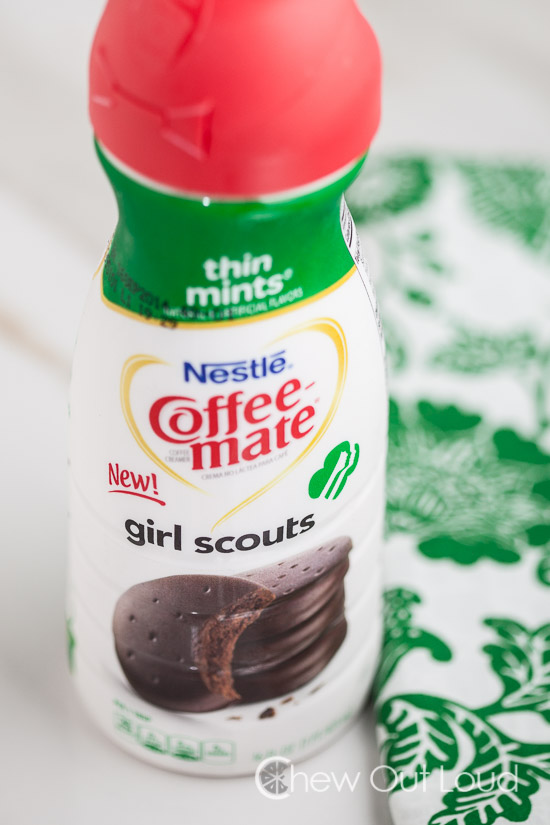 Pssst…I strongly suspect a shot of this delicious creamer would taste phenomenal in hot chocolate, too. Just sayin'.
Next up: Ready for the most FUN food hack I've ever seen and used??
If you haven't tried this yet, get your egg and water bottle ready. Yeah, I meant egg and water bottle. The first time we watched someone do this, we were amazed.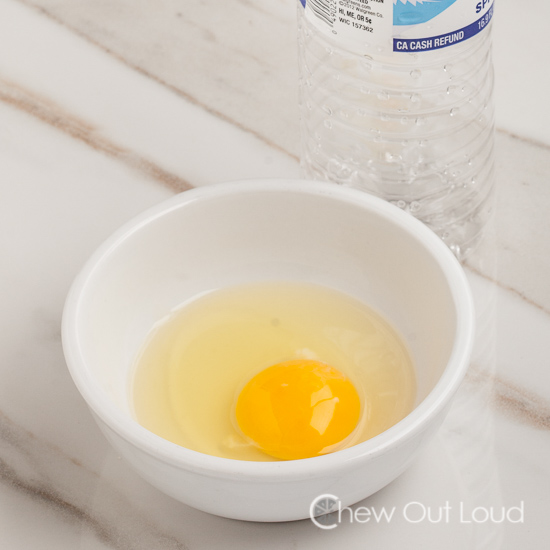 I instantly grabbed eggs and a water bottle to give it a try, and I've done this many more times since.
This trick totally works. It is so fun that I've saved empty water bottles just so I can do this. It's a lifesaver when you're trying to separate the egg yolk from the white, and you accidentally [or purposely] drop the entire thing in the bowl.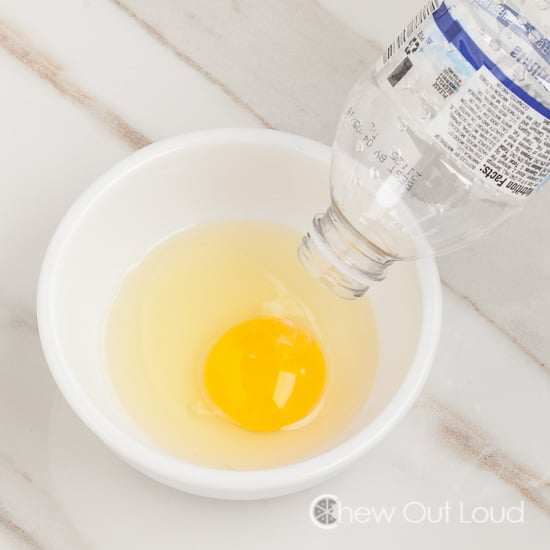 No need to fret. No need for spoons, forks, or slotted tools. Those things just cause a slimy mess.
Simply keep an empty/clean water bottle on hand for egg separating emergencies. When you're baking, time is of the essence and precision is key.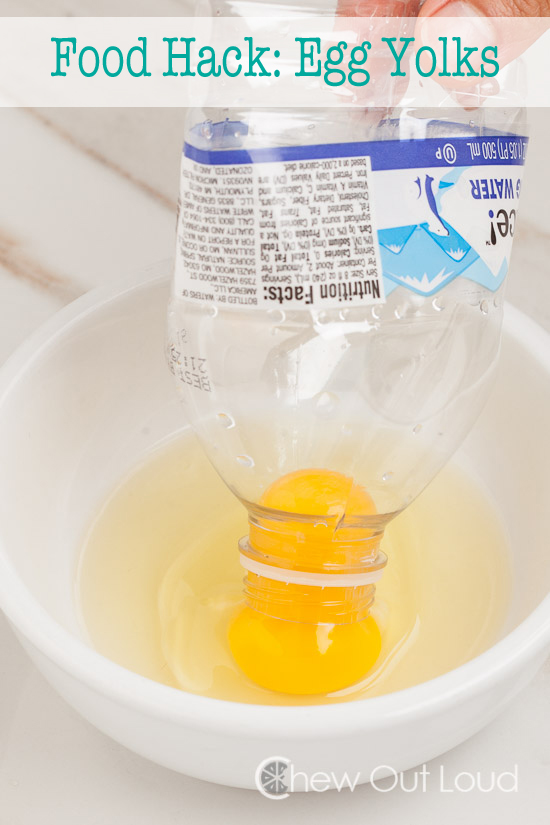 Just smile at that pretty little egg, grab your empty water bottle, and position it next to the egg yolk.
Squeeze air out of the water bottle, place the opening gently on the yolk, and suction that little guy into the bottle.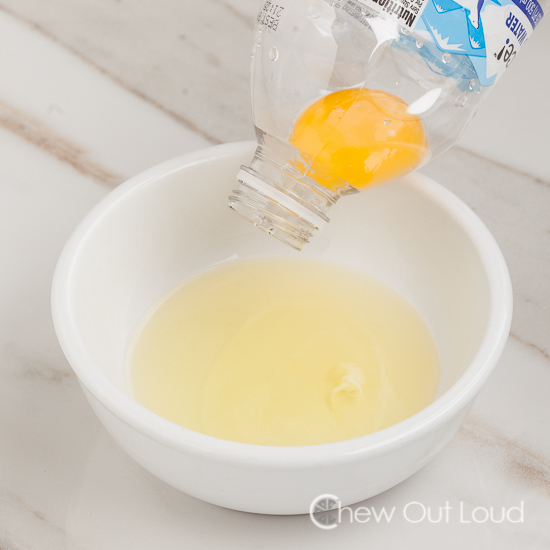 Like so.
It seriously works in a snap. It takes no more than a second. And then it's super fun to dump out the yolk into another bowl. Repeat for as many eggs as necessary.
Like I said, that is absolutely the most fun food hack ever.
OK. Let's move on to my final food hack of the day. Goodness, now that I'm doing this, I realize I've got a bunch of hacks I should eventually share.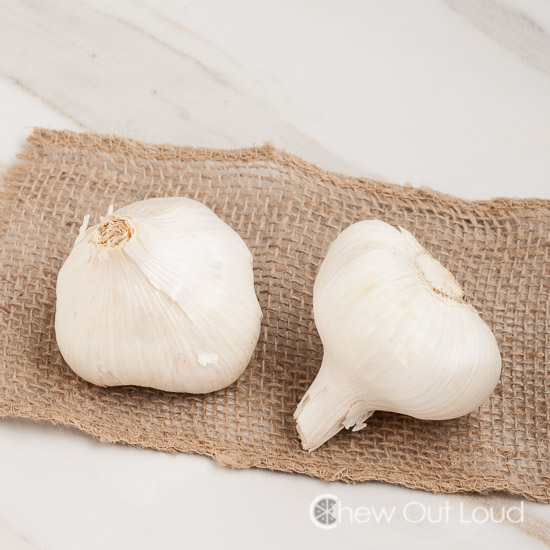 Anyone else garlic fiends like we are? We eat so much garlic, that it now takes a ridiculous amount of it in our food before we can taste it. Roasted Garlic is the easiest thing ever, and great for mashed potatoes or to use as a spread.
Garlic is the healthiest, most antioxidant-full herb on the planet. Or something like that. We buy ours in bulk. And here's how to peel them in bulk.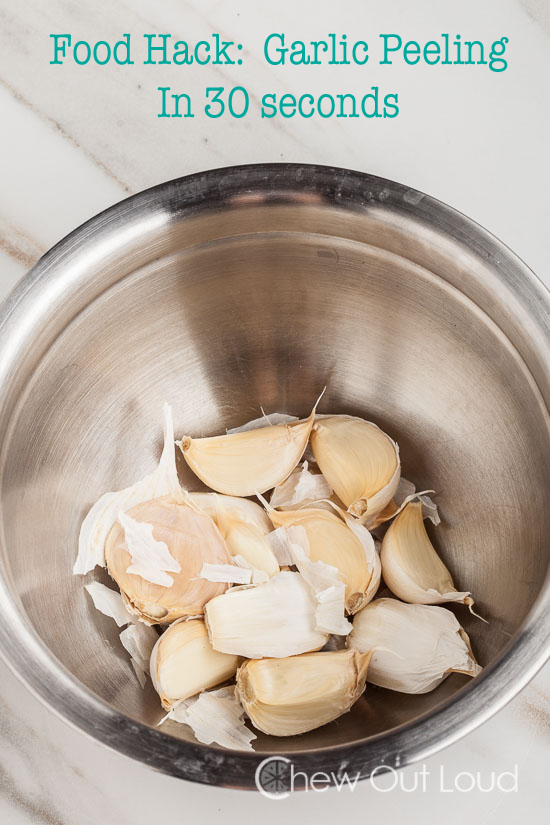 Peeling garlic is super fun. Said nobody ever. It's the most tedious job I was given as a kid when my parents got the cool jobs in the kitchen.
So, here's how to peel garlic in 30 seconds without getting the bits of garlic all up in your fingernails. First, break apart the cloves and throw them in a big bowl. Metal works best.
Place another similar sized bowl over the first bowl, face down. Then, wildly shake away. Work those arms. Give the garlic inside a hearty shake for about 15-30 seconds.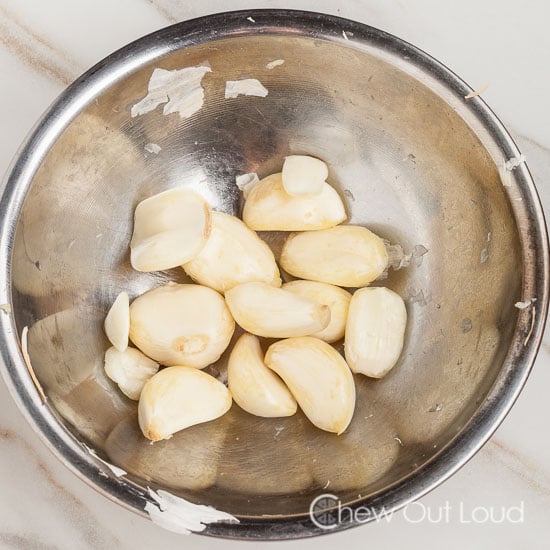 Voilà! I didn't believe this could work until I tried it. The garlic magically separates from the skins, and all you have to do is pluck out the freshly peeled garlic.
No garlic flesh in fingernails is a very good thing. And you worked out your biceps. Another win-win.
Hope y'all had as much fun reading this post as I did writing it. Now it's got my wheels spinning about all the other cool food hacks I use on a daily basis to make things easier.
To learn more about all the fun experiences girls and volunteers have at Girl Scouts, visit www.girlscouts.org/join. And follow Coffee-mate® on Pinterest, Instagram, Facebook, and Twitter for more great ideas. You can also visit Coffee-mate's website for more information!
What's your favorite food/life hack? Tell me in the comments and you will be entered to win a $100 VISA gift card!
Sweepstakes Rules:
No duplicate comments.
You may receive (2) total entries by selecting from the following entry methods:
Leave a comment in response to the sweepstakes prompt on this post
Tweet (public message) about this promotion; including exactly the following unique term in your tweet message: "#SweepstakesEntry"; and leave the URL to that tweet in a comment on this post
Blog about this promotion, including a disclosure that you are receiving a sweepstakes entry in exchange for writing the blog post, and leave the URL to that post in a comment on this post
For those with no Twitter or blog, read the official rules to learn about an alternate form of entry.
This giveaway is open to US Residents age 18 or older. Winners will be selected via random draw, and will be notified by e-mail. The notification email will come directly from BlogHer via the [email protected] email address. You will have 72 hours to respond; otherwise a new winner will be selected.
The Official Rules are available here.
This sweepstakes runs from 8/26-9/30.
Be sure to visit the Coffee-mate brand page on BlogHer.com where you can read other bloggers' posts!
This post was sponsored by Nestle® Coffee-mate®, but all opinions are completely my own.
-Amy