Print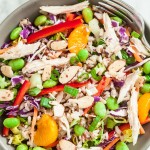 Asian Rice Salad
For the Salad:

1

bag cooked rice medley, such as Minute Rice, cooled to room temp

1/2 cup

Romaine lettuce, shredded

1 cup

matchstick carrots

1 cup

red cabbage, shredded

1 cup

edamame, shelled

1

medium red bell pepper, seeded and sliced

1/4 cup

freshly chopped cilantro

1

can (15oz) mandarin oranges, drained

2 cups

shredded chicken (rotisserie works well; or omit for meatless)

1/2 cup

toasted sliced almonds

1/4 cup

green onions, sliced thinly
For the Dressing:

¼ cup

seasoned rice wine vinegar (found in most stores' Asian aisles)

1 tsp

ginger, grated

2

cloves garlic, minced

1 tsp

Sriracha

1

TB soy sauce

3

TB pure honey

3 tsp

granulated sugar

2

TB Asian toasted sesame oil (caramel brown in color)

⅓ cup

canola or olive oil

¼ tsp

kosher salt

½ tsp

fresh ground black pepper

1

TB toasted sesame seeds
Do Ahead: In a bowl, whisk together all dressing ingredients until well blended. Transfer to desired container and keep chilled until ready to use.
When ready to serve: In salad bowl, toss together cooked Multi-Grain Medley, Romaine lettuce, carrots, cabbage, edamame, bell pepper, and cilantro. Toss with enough dressing to coat well. Gently toss in shredded chicken and mandarin oranges, sprinkling in more dressing as desired. Garnish top of salad with almonds and green onions. Serve immediately.
* Unused dressing may be kept in an airtight container in fridge for 2-3 weeks.