The Best Homemade Mac and Cheese
By Amy Dong
Published Nov. 26, 2019
Updated Aug. 17, 2022
Here you'll discover secrets to the Best Homemade Mac and Cheese recipe. With Gruyere, Cheddar, and Bacon, this Mac and Cheese is comforting, creamy, and unparalleled in flavor.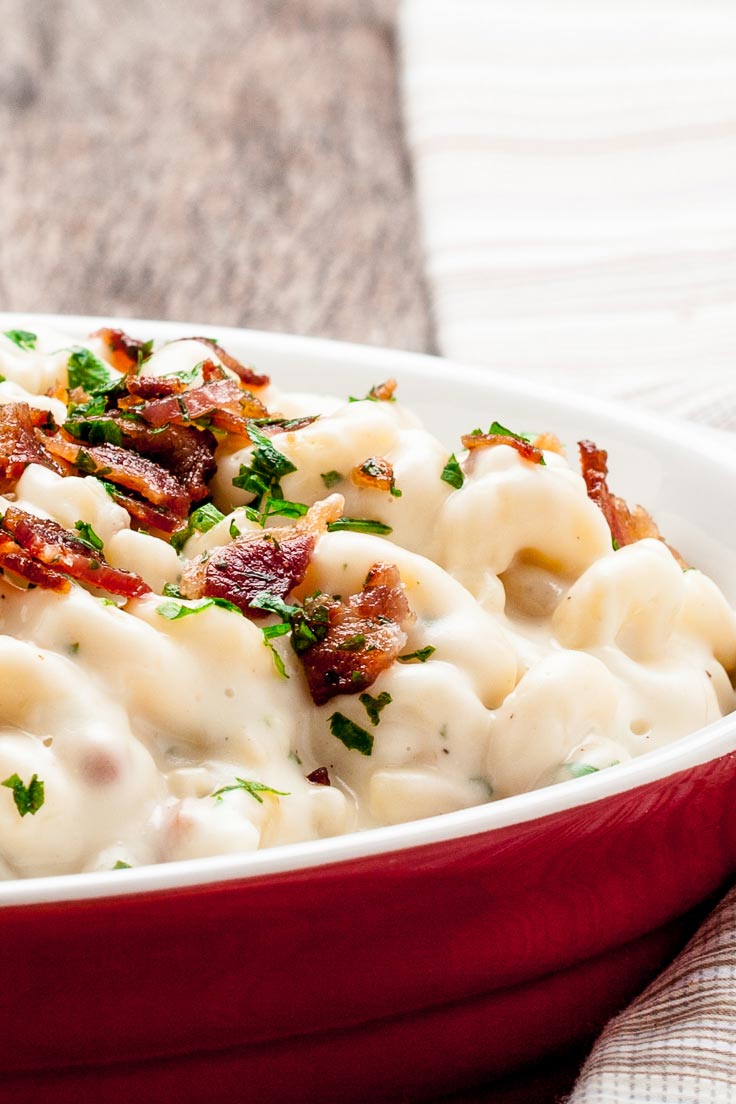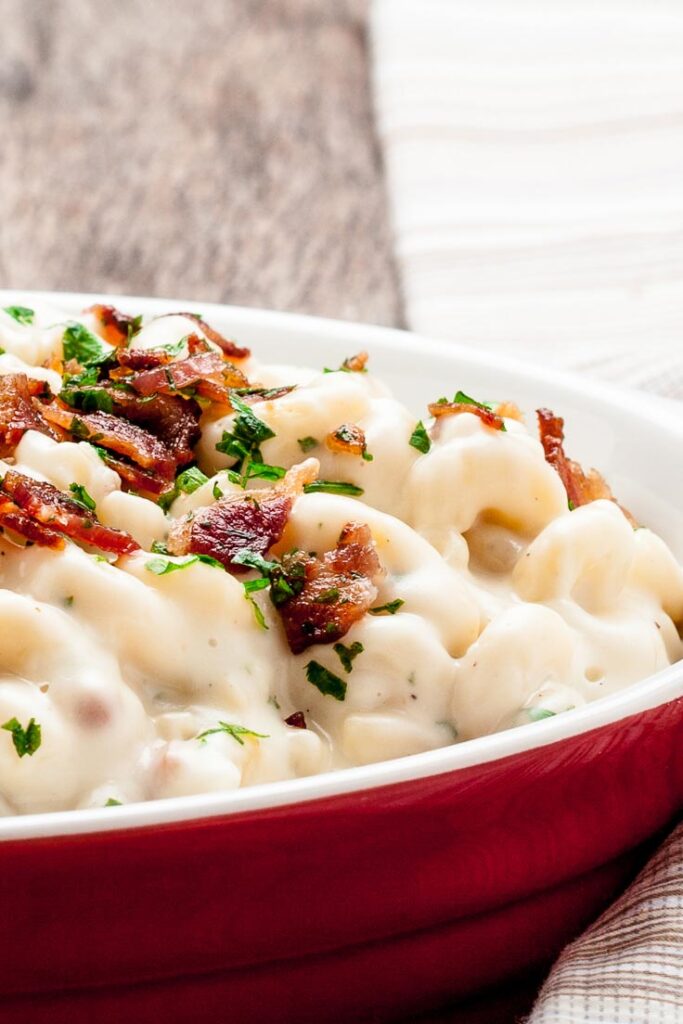 Creamy, Comforting Homemade Mac and Cheese Recipe
If there ever existed a unanimous comfort food, it's the humble macaroni and cheese. It has everything going for it: descriptions include creamy, cheesy, and cozy. Whoever first thought of slathering pasta noodles with melty cheese sauce was pure genius.
Though my boys' young palates have become surprisingly adaptable to all variations of ethnic menus, ranging from comfort grub to the occasional gourmet, they have their tried-and-true favorites. On the top of that list is creamy homemade mac and cheese.
Quintessential, absolutely. For kids only? Not this mac and cheese recipe, which is loaded with 3 cheeses and crispy bacon. The kids have to fight off the adults for their fair share of this unforgettably cozy dish…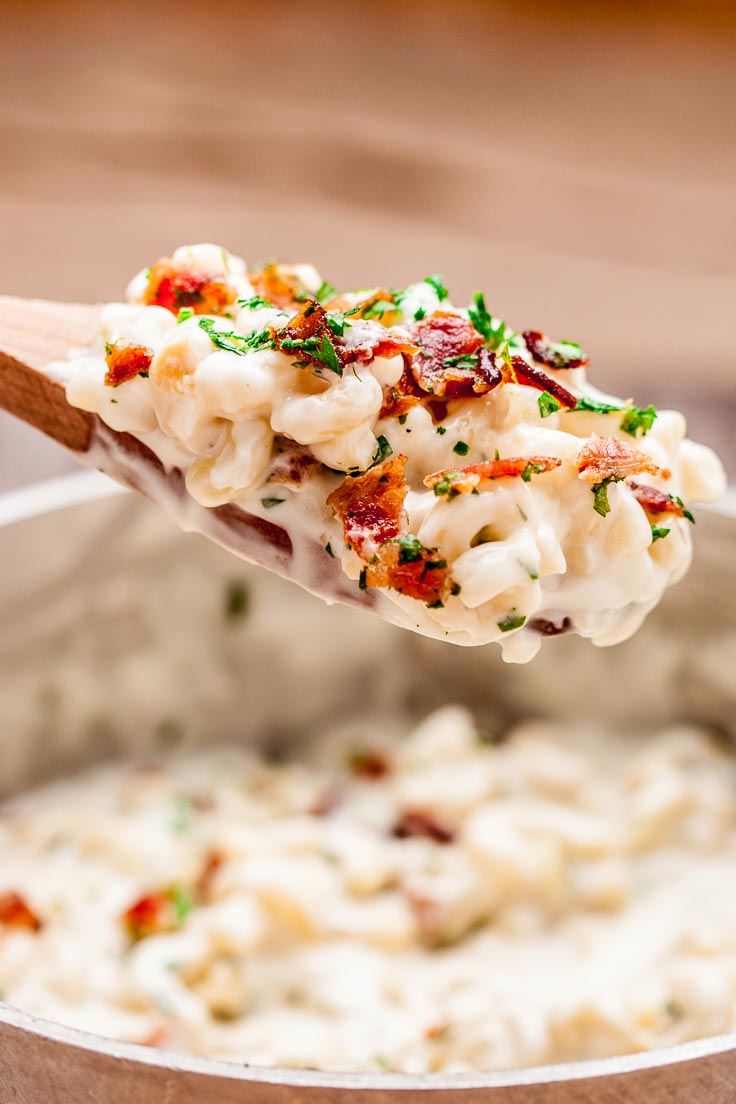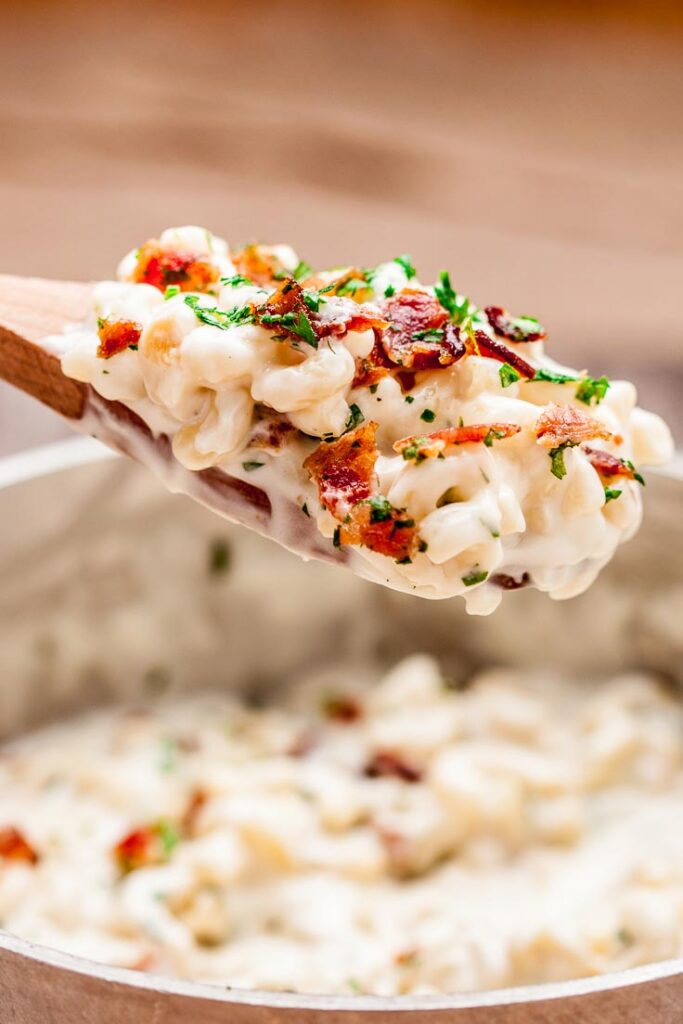 How to make creamy stovetop mac and cheese from scratch
The first secret lies in the types of cheese used. When it comes to the perfect mac and cheese recipe, you want a variety of cheeses that melt smoothly and that have rich, decadent flavors.
Secondly, it's key to grate your own cheese, rather than buy the pre-shredded packages. The pre-shredded packages of cheese tend to contain other ingredients that prevent it from becoming as creamy and smooth.
Get good quality blocks of cheese and put 'em to the grate at home. You can use pre-shredded cheeses for recipes like Cheesy Tater Tot Casserole where the cheese is more of a topping. However, do grate your own cheese when it's the main character in your dish and when you need the cheese to melt seamlessly into a velvety smooth texture.
Pro Tip: grate your cheeses ahead of time and store in wrapped parchment paper/container for up to a week in fridge.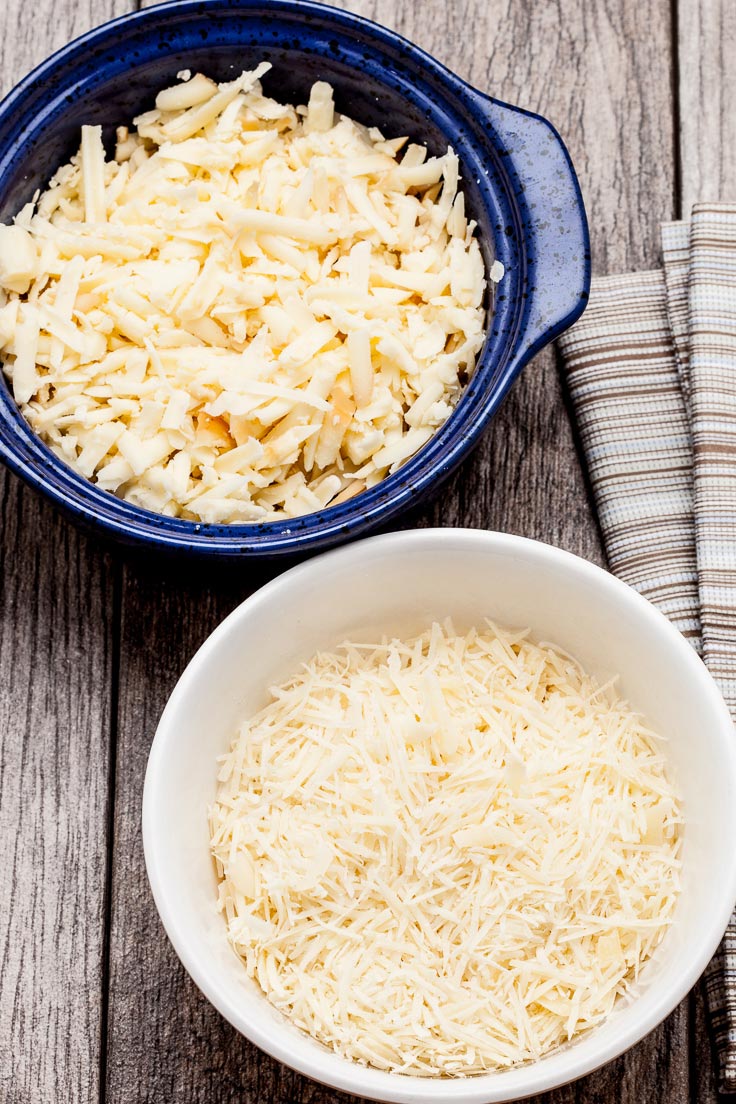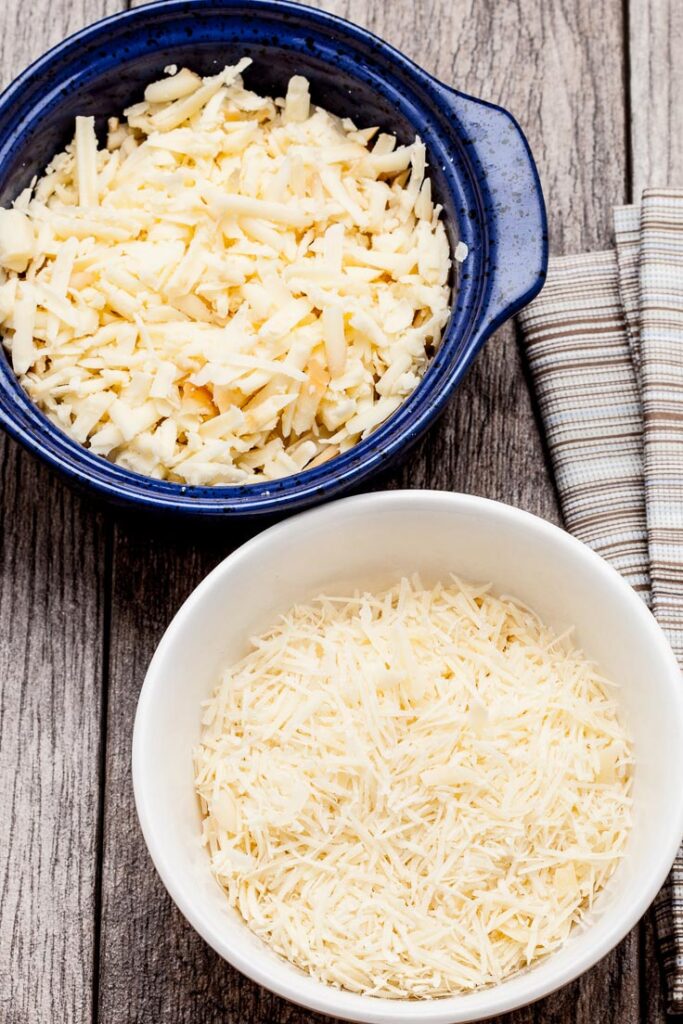 So, What cheeses are best for mac and cheese?
We've long been in cahoots with sharp white cheddar for mac and cheese. Sharp white cheddar provides an unbeatably creamy texture with that tangy rich flavor. It's your tool for the best macaroni and cheese you've ever made.
Then there's gruyere, which is rich, tangy, nutty, and full of flavor. It has a wonderful balance of slight sweetness and saltiness. It wins the vote for being a great melting cheese. There's no parallel.
We can't forget the all important parmesan. Get your favorite parmesan cheese block, and grate it yourself for best results. Feel free to have some extra parmesan on the side for serving, if you'd like. This macaroni and cheese recipe is really and truly all about the cheese.
How to get the cheese sauce smooth and creamy
The secret to a smooth, non-grainy, thick sauce is a good butter/flour roux, which is a basic thickener. The flour and butter must be whisked like there's no tomorrow, for 3-4 minutes or until there's zero grainy-ness left. (If you'd like to keep this gluten-free, you can use gluten-free flour instead of regular flour.)
Once the roux is smooth as silk, simply add in the rest of the goodies, and we're off to dreamy land. Once you bathe the macaroni noodles into the ridiculously luscious cheesy sauce, you'll want to grab the biggest spoon in the kitchen and start noshing.
This mac and cheese recipe results in the ultimate comfort dish that smells awesome and tastes even better.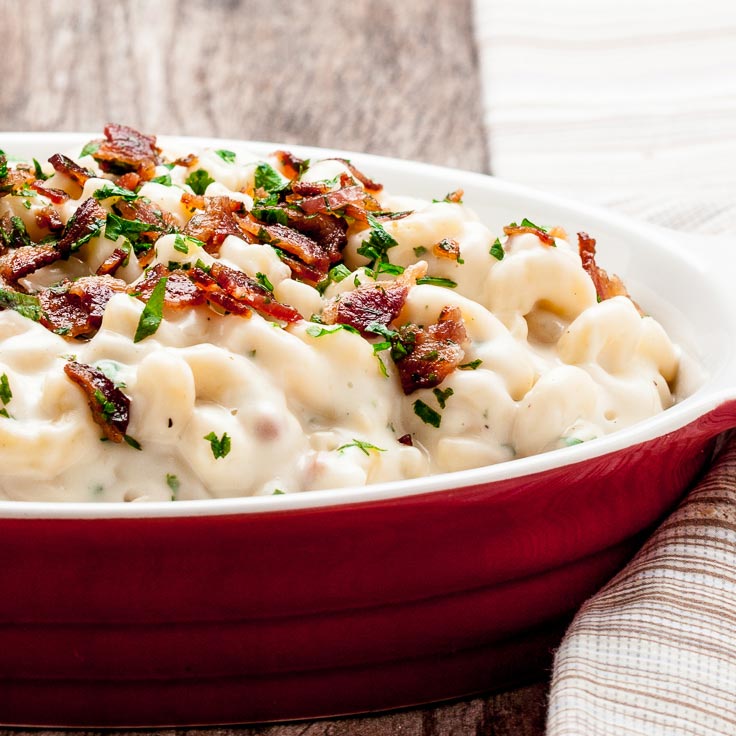 What can i add to mac and cheese?
This white cheddar & gruyere based mac and cheese recipe is simply out of this world. Essentially, this means you don't have to add a single thing to this already perfect dish at all.
That said, you can certainly sprinkle on some browned and crumbled bacon for good measure. As we obviously did here. Nothing shouts crowd pleaser like smoky crispy bacon on top.
Popular 20-Minute Lemon Butter Fish:
Did you make this?
Please give us a rating and comment below. We love hearing from you!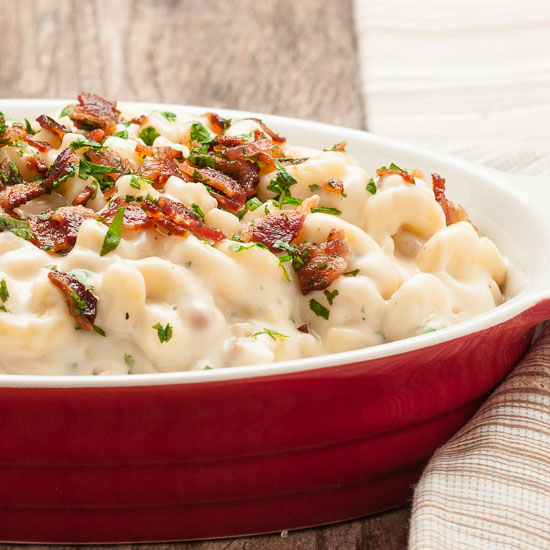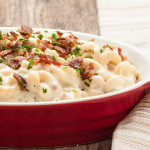 Homemade Macaroni and Cheese
This Creamy Mac 'n Cheese is made super rich and creamy with sharp white cheddar and gruyere cheeses. Crispy bacon makes it undeniably marvelous. This dish is best enjoyed immediately. Typically not a problem 🙂
Ingredients
2 ¾

cups

whole milk

4

TB

salted butter

¼

cup

all purpose flour

1

tsp

table salt

½

tsp

dried yellow mustard powder

⅛

tsp

cayenne pepper

1 ¼

cups

good quality gruyere cheese

,

freshly grated

1 ¼

cups

good quality sharp white cheddar cheese

,

freshly grated

⅔

cup

good quality parmesan cheese

,

freshly grated

2 ½

cups

uncooked elbow macaroni noodles

4

slices

thick-cut bacon

,

browned and crumbled
Instructions
In a large microwavable bowl, heat milk in microwave until warm. Cover and set aside.

Fill up a large pot with salted water. Bring to a boil.

Meanwhile, in a medium saucepan, melt butter and add flour. Whisk briskly and constantly for about 4 minutes or until the roux is golden yellow and completely smooth (no longer grainy at all.) Add warm milk and whisk until thick and bubbly. Add salt, mustard, cayenne, black pepper, and cheeses. Stir until cheeses are melted and sauce is smooth and creamy. Cover and set aside to keep warm.

Add uncooked macaroni noodles to the large pot of boiling water. Cook until al dente, according to package instructions. Drain cooked macaroni in a colander and transfer drained noodles back into the empty large pot.

Using a rubber spatula, transfer cheese sauce into the pot with cooked/drained macaroni and stir until well coated.

Serve immediately with cooked/crumbled bacon.
Notes
Gluten-free flour can be used in lieu of regular flour for the butter-flour roux. Be sure to whisk roux until silky smooth without any grainy texture before adding in rest of ingredients. Gluten-free macaroni can be used in place of regular macaroni.
Nutrition (per serving)
Calories:
364
kcal
|
Carbohydrates:
8.6
g
|
Protein:
19.8
g
|
Fat:
27.8
g
|
Saturated Fat:
15.1
g
|
Trans Fat:
0.4
g
|
Cholesterol:
76.5
mg
|
Sodium:
916.1
mg
|
Fiber:
0.2
g
|
Sugar:
4.7
g
Cozy Comfort Foods:
1. Perfectly Creamy Mac 'n Cheese. Here's a baked version that reheats rather well, which is something rare in the mac 'n cheese world. Delicious.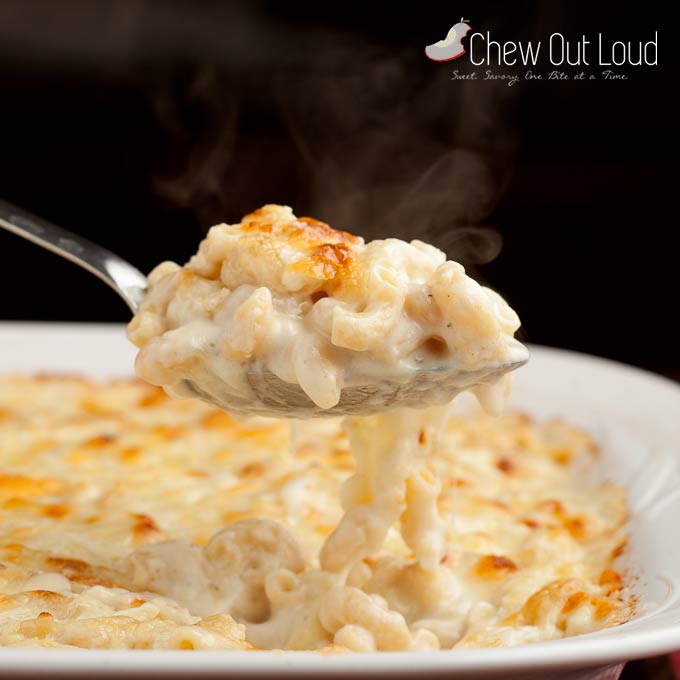 2. Easy Chili Mac with Sriracha. Kick up the boring old chili mac with this cheesy great version, and a bit of heat to boot! Skip the Sriracha if you don't want the heat, but it's pretty mild and kid friendly.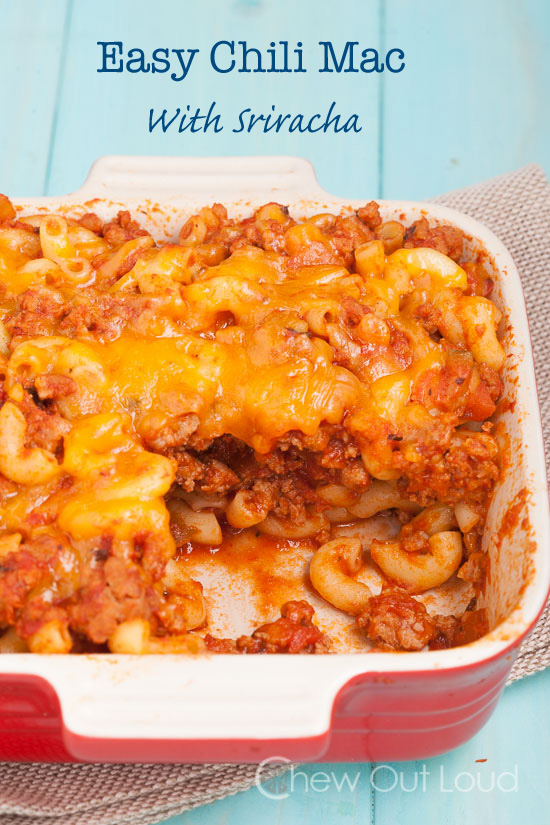 3. The Best Pasta Sauce. The best, the best, I know… lots of bests out there. But if there is one pasta sauce I'm ever allowed to make again, this would be it. Super versatile and always crazy good.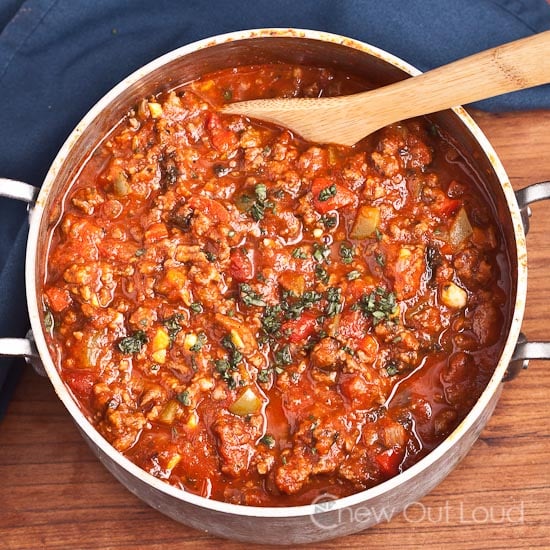 4. This One-Pan Skillet Lasagna has all my boys buzzing around the table, and it doesn't take all afternoon to make. In fact, this comes together in about 30 minutes for me.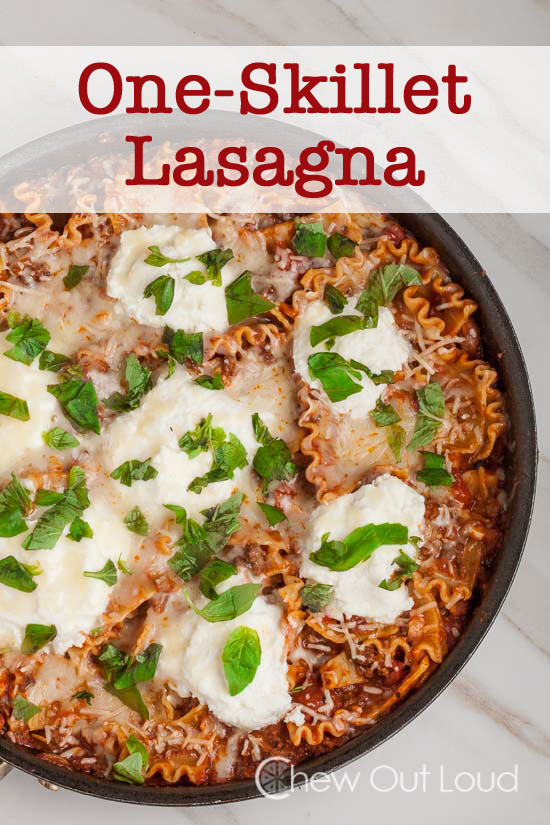 5. Cheesy Baked Tortellini Casserole. It's like the ravioli version, but with little tortellini instead. Kiddos love this one, and we grownups won't complain one iota. It's an awesome weeknight meal that satisfies everyone.