Print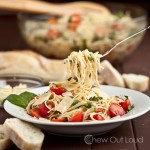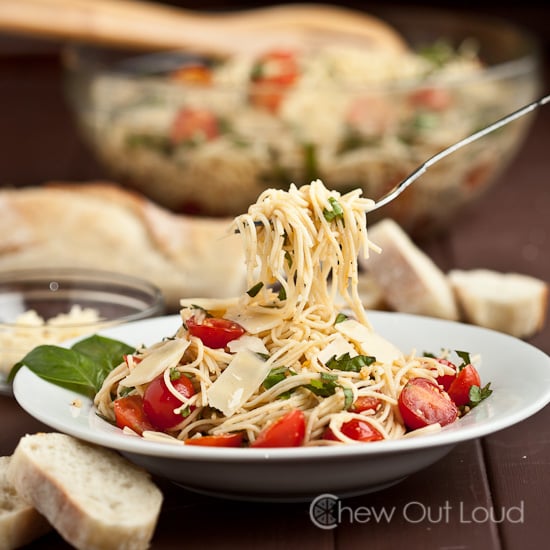 Bruschetta (Tomato Basil) Pasta
1

box (14.5 oz) dry angel hair pasta

1/2 cup

grated parmesan, powdered or very finely grated

3 tsp

kosher/coarse salt

1 tsp

freshly cracked black pepper

3

TB white balsamic vinegar

1 1/2

TB garlic powder or dried flakes

5

TB extra virgin olive oil, plus more for sprinkling

3

TB melted, salted butter

1 cup

fresh basil leaves, coarsely chopped

3 cups

sweet cherry tomatoes, sliced in half
Shaved parmesan for garnish
Baguette for serving
*If desired, cooked/seasoned chicken or shrimp may be added.
Fill large heavy pot with salted water, and bring to boil. Cook angel hair just to al dente, according to package. Do not overcook. Drain, but do not rinse. Sprinkle with a bit of olive oil to prevent sticking.
While pasta is cooking: In a bowl, combine grated parmesan, pepper, vinegar, garlic powder, 5 TB olive oil, and melted butter. Mix together well.
Gently toss parmesan mixture with hot pasta. If needed, sprinkle a bit more olive oil.
Gently toss in sliced tomatoes and chopped basil.
Serve warm, with freshly shaved/grated parmesan. Serve alongside sliced/buttered baguette if desired.
*Can add cooked chicken or shrimp if desired.