Cheese Popovers Recipe
By Amy Dong
Published Sep. 4, 2019
Updated Dec. 7, 2023
These Cheese Popovers are ultra tender, fluffy, and delectable. This popovers recipe needs only 5 simple ingredients and are sublime for appetizers or serve them in lieu of dinner rolls.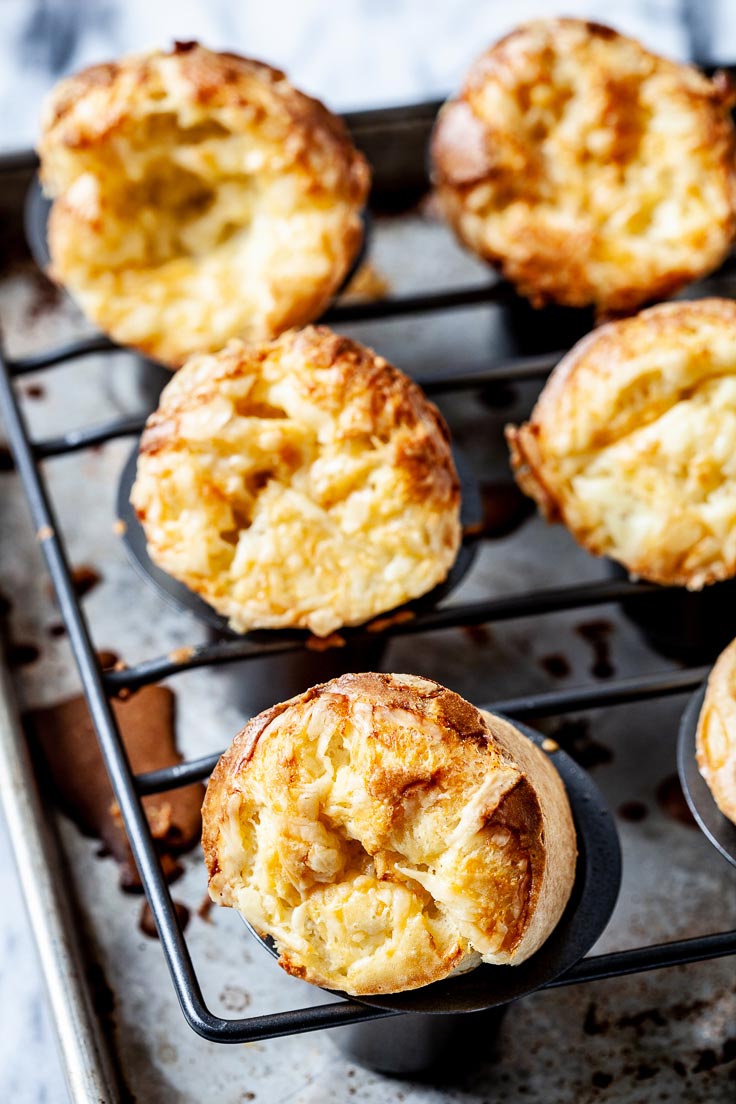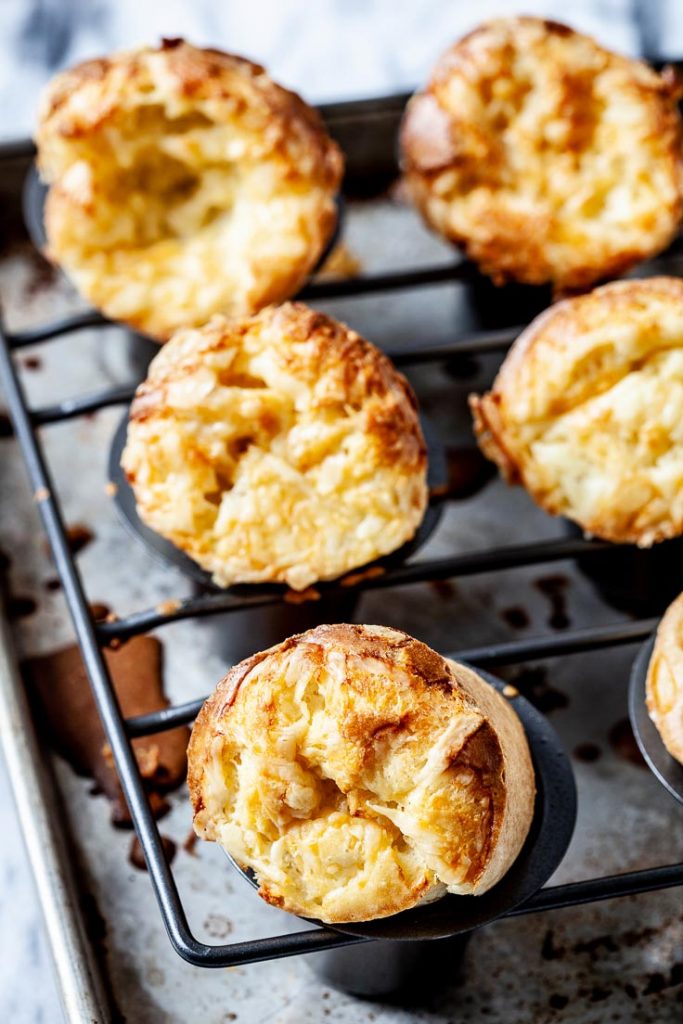 Cheese
Popo
vers
Recipe
If there ever lived a family that could claim all-out bread obsession, it's got to be ours. The bunch of us could justify hanging up a kitchen sign that says bread or bust. I've never seen such fabulous signage, but if you find it…please tell me before anyone else grabs it. I'm sure it'd be in high demand.
Whether it's a classic Crusty French Bread or a tried-and-true Rustic Rosemary Garlic Bread… such a loaf has a lifespan of approximately 17 seconds at our dinner table. I'm lucky if all the hands don't try to grab (smoosh) all the fresh-from-the-oven breads before I can photograph it.
These incredible cheese popovers are no exception. In fact, they're extra grab-able because they resemble magical, golden, fluffy rolls you can sink your teeth blissfully into with downright satisfaction. All of it = entirely true. Not only are these cheese popovers unbelievably tender and fluffy on the inside, they manage to be crispy on the outside.
Bonus: the cheese. These golden lovelies are loaded with freshly shredded extra sharp cheddar cheese for unparalleled flavor. My favorite one is labeled "seriously sharp" cheddar cheese and I'd highly recommend it if you can find it.
Also. Did you notice these cheese popovers need only 6 basic ingredients? You probably already have 5 of them in your kitchen this very moment. For more cheesy goodness try my baked puff pancake recipe.
Here's how we do it…
Tips for the Best Cheese Popovers
For starters, you'll need the right sized pans. I use two sets of these small popover pans, which is ideal because of the deep wells that give the batter plenty of room to puff up without spillage. They also come in 12-cup pans so you don't have to use two sets. I've gotten a lot of use out of my popover pans for less than 20 bucks, so it's been 100% worth it.
That said, you can also use regular sized muffin tins; your popovers may be a bit less tall, but no less delicious. Just make sure your muffin tins are nonstick.
The recipe calls for coarse salt, which can be subbed with kosher salt. Occasionally, someone will ask me what the difference between kosher salt and table salt is. Salt is salt, right? Kind of. It's not so much about the salt's origins, but more about the volume. Because kosher salt is comprised of much larger individual crystals than table salt, the measured amount of kosher salt will be notably less than a seemingly equal amount of table salt, which I know you know is made up of tiny crystals. ← That's a lot of words to say be sure to use coarse/kosher salt.
I talked about the cheese, right? It's of utmost important to use sharp cheddar here, and the sharper the better.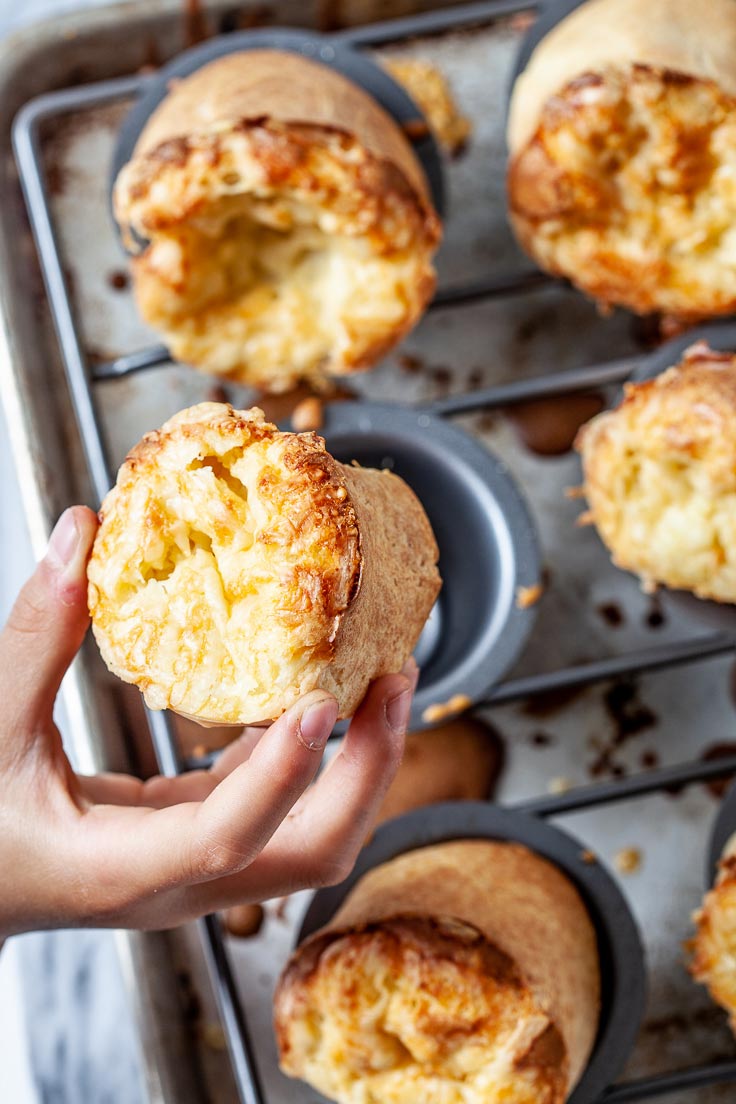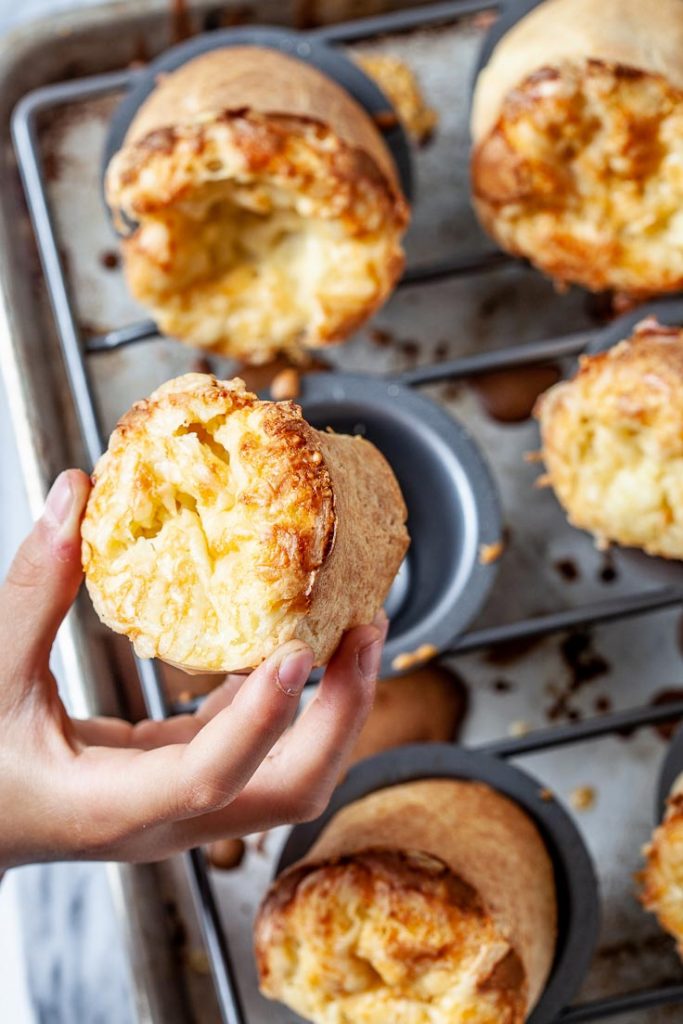 make these popovers, Because:
They only need 6 simple ingredients. One of those is cheese. I could end here.
They're crazy easy to make yet people think you spent all afternoon on them (Ha!)
They're fluffy soft on the inside and crispy on the outside.
They're perfect for switching it up from the usual dinner rolls.
Try one straight out of the oven. You'll know what we mean.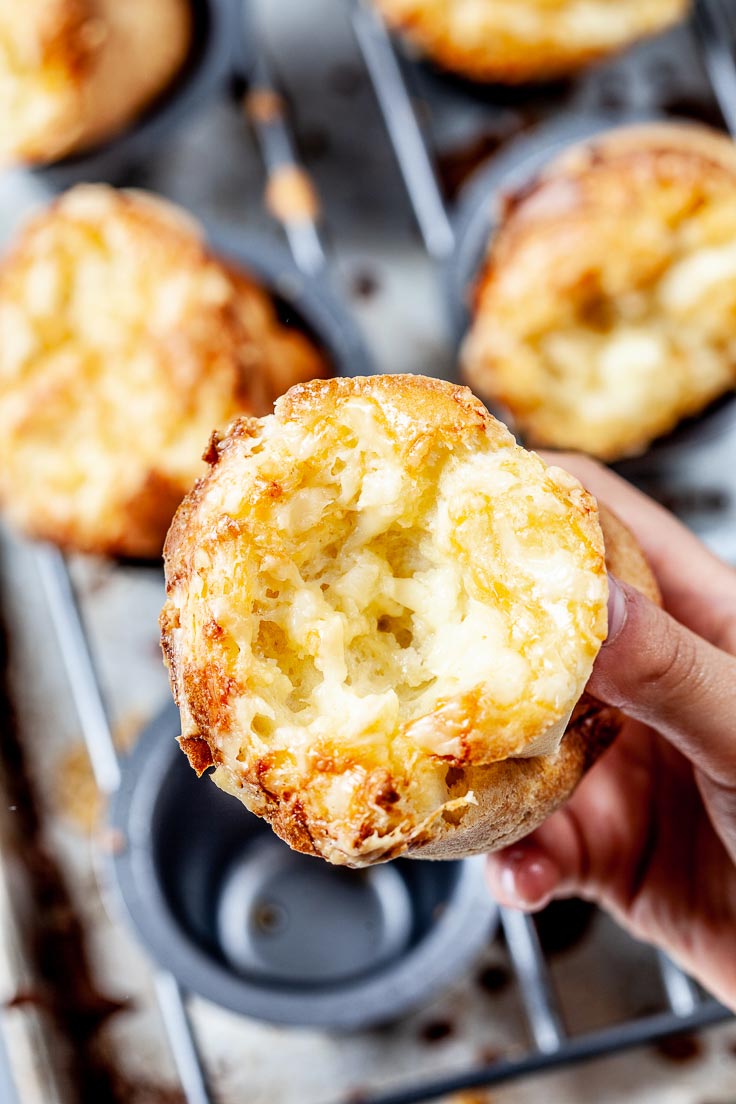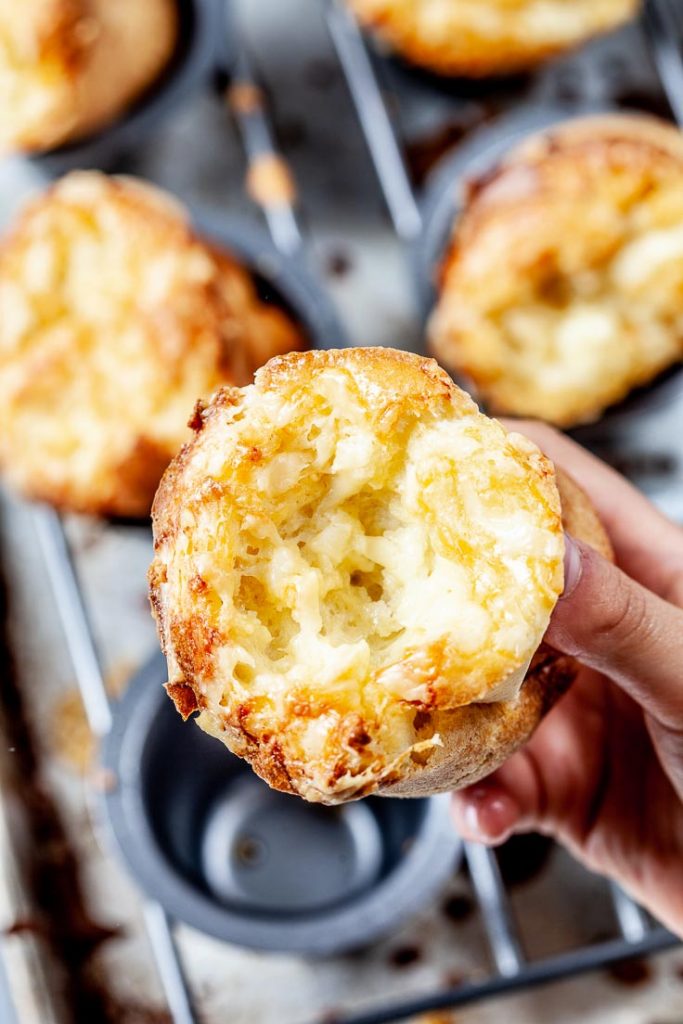 You may want this Bacon Egg Casserole, too:
Did you make this?
Please give us a rating and comment below. We love hearing from you!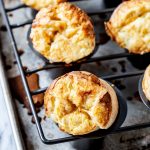 Cheese Popovers Recipe
These cheesy Cheese Popovers are ultra tender, fluffy, and delectable. This popovers recipe needs only 6 simple ingredients and are sublime for appetizers or serve them in lieu of dinner rolls.
Ingredients
2

cups

all purpose flour

⅔

TB

kosher salt

2

cups

whole or lowfat milk

4

large eggs

4

oz

freshly grated extra sharp cheddar cheese

,

I use white

Other: spray oil for pan
Instructions
Place a 12-cup nonstick popover pan (or regular sized, nonstick 12-count muffin tin) on oven rack in lower-middle position. Preheat oven, with empty popover pan in it, to 450F. Line a large rimmed baking sheet with foil and set aside on counter.

While oven and popover pan are preheating, continue with recipe. In a bowl, hand whisk the flour and salt until combined. Set aside.

Add milk to a small saucepan and place over medium heat, stirring and watching carefully until small bubbles form around edges. Remove from heat.

In a large bowl, whisk eggs with electric mixer on medium speed just until well incorporated and bubbles form. Continue to whisk on medium speed while very slowly adding the heated milk (don't stop whisking.) Mixture should become frothy. On low speed, gently and slowly whisk in the flour mixture just until batter is smooth; use rubber spatula to scrape sides and fold in any remaining flour. Do not over-mix, as over-mixing creates less tender results.

Carefully remove hot popover pan from oven and place it onto foil-lined baking sheet. Quickly spray each cup with cooking spray. Continuing to work quickly, divide batter evenly into greased cups, filling them to the top. Sprinkle cheese evenly on top of each popover, letting cheese sink in naturally.

Bake on lower-middle rack for 15 min. at 450F. Then drop to 350F and continue to bake another 15 min. or until popovers are fluffy, tall, and golden brown. Serve warm and fresh out of the oven.
Notes
*Popovers are best enjoyed while warm and fresh out of the oven. After that, they will naturally deflate a bit with time - still delicious, but less fluffy once cooled.
*The best way to reheat leftover popovers is in the toaster oven. Toast until warmed through.
Nutrition (per serving)
Calories:
152
kcal
|
Carbohydrates:
18.3
g
|
Protein:
7.8
g
|
Fat:
5
g
|
Saturated Fat:
2.4
g
|
Trans Fat:
0.1
g
|
Cholesterol:
72.2
mg
|
Sodium:
309.6
mg
|
Fiber:
0.6
g
|
Sugar:
2.2
g
Just Bake it:
Parmesan Garlic Pull-Apart Bread Rolls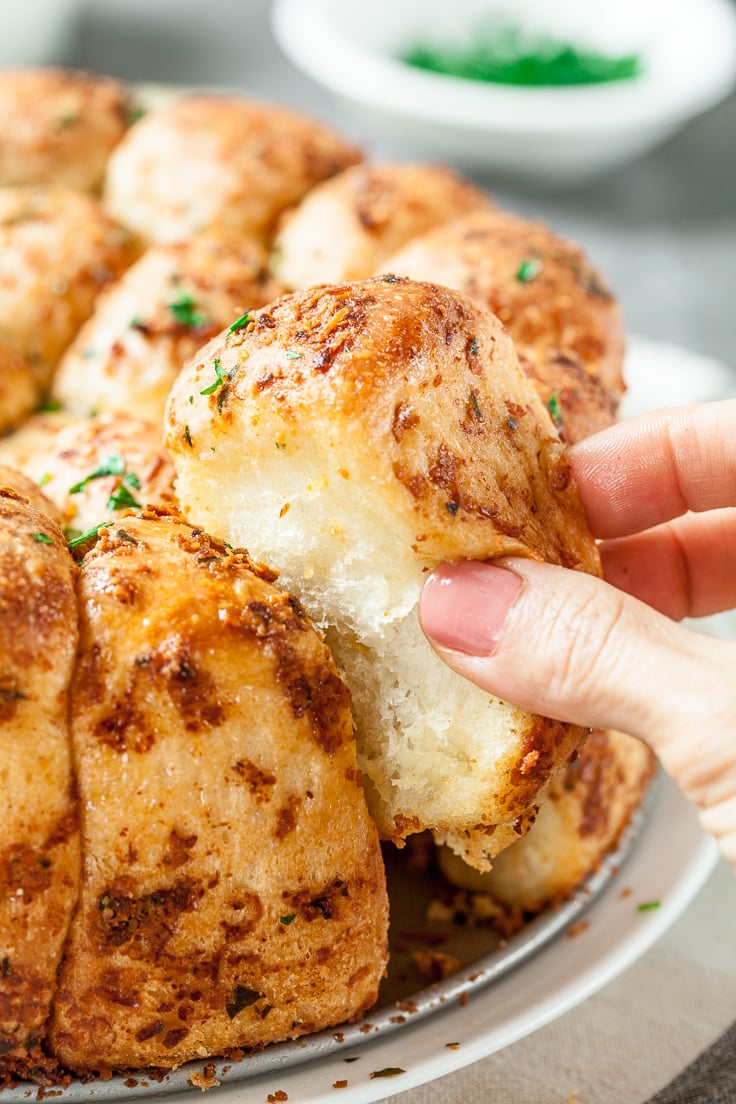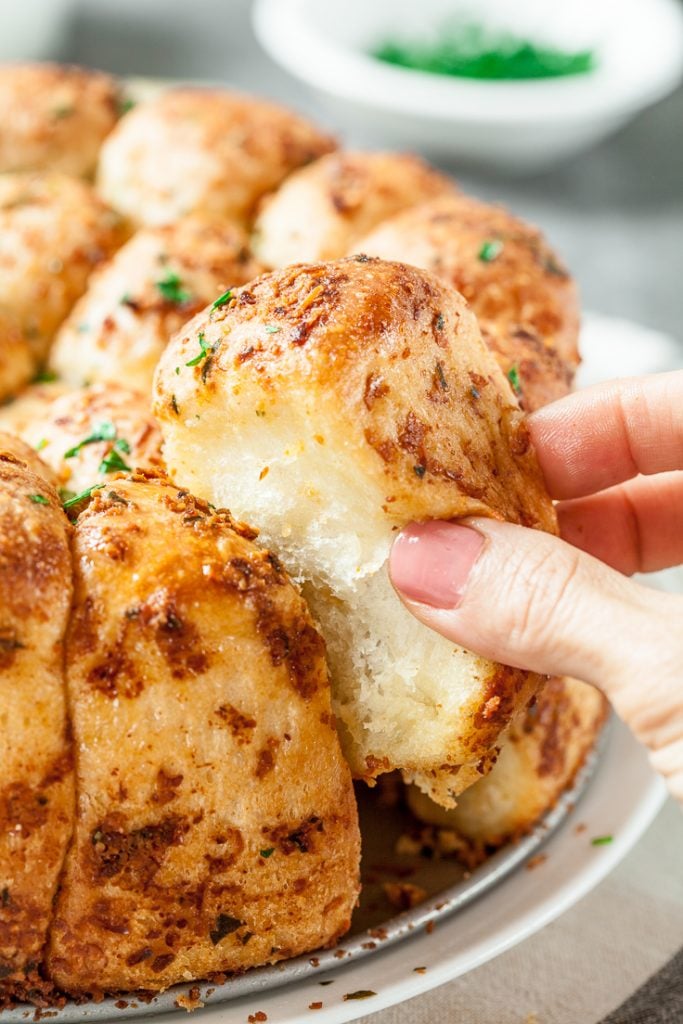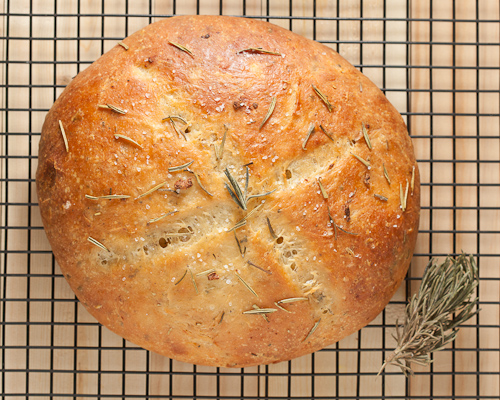 Those Famous Breadsticks, or Better!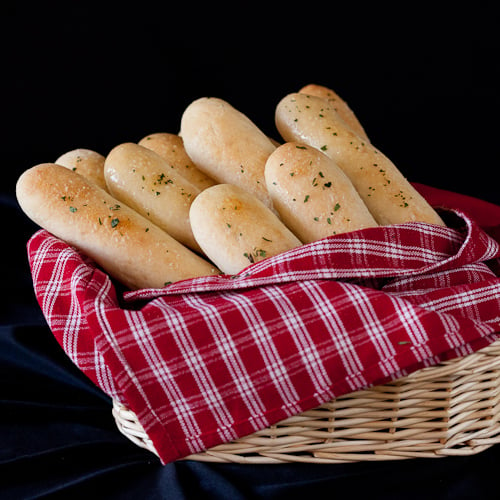 Best Southern Buttermilk Biscuits