This Cheesy Tater Tot Breakfast Casserole is simply irresistible! Our tater tot casserole is make-ahead easy and tastes scrumptious! Satisfying and delish…a must try dish. Breakfast-for-dinner, too!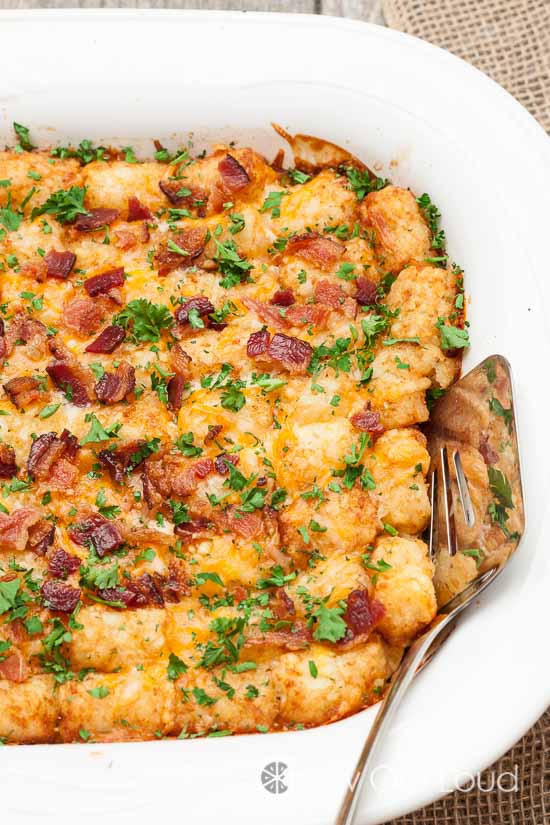 Tater tot breakfast casserole
I used to consider winter runners a bit crazy. I realize die-hard runners lace up their sneakers year round, but "winter" is all relative depending on where you live.
We're talking Minnesota winter; Now that I'm one of those crazies, I make sure to have genius running pants, quadruple layers, and a ski mask. Now I can go running alongside the snow plowed roads, potentially taking a hard hit on the bum in front of all the drivers who will undoubtedly gasp and stare when I trip. That's totally happened (more than once.)
Sometimes I just need a break from my love-hate relationship with the dreadmill at home and the only alternative is to brave the elements. There's only so many reruns of Master Chef that can keep me going.
The best reward is this cozy, comforting tater tot breakfast casserole that's gotten so popular, everyone (I mean everyone) has requested the recipe. I, along with many of you and every single kid, enjoy the crispy crunch of tater tots. But until a few years ago, I'd never considered layering those little tots into a cheesy, eggy, crispy breakfast casserole.
All I have to say is: Tater Tot Breakfast Casserole, where have you been all my life?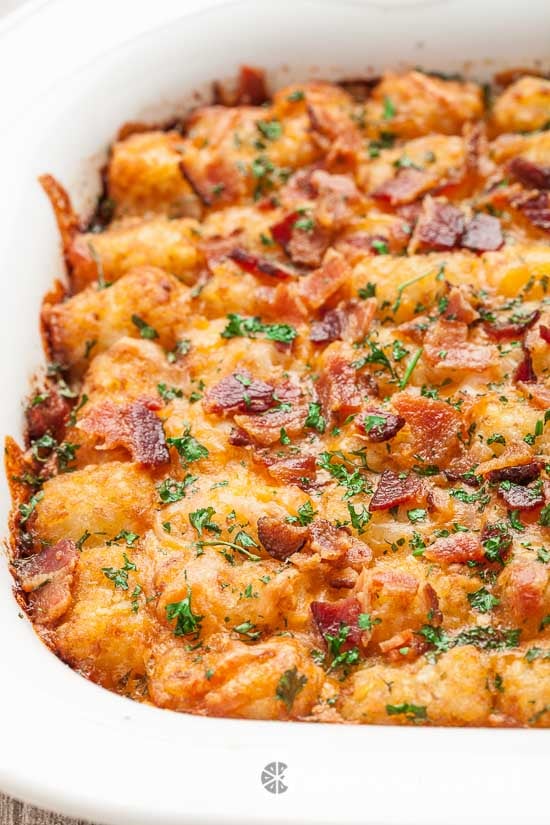 Breakfast, brunch, or breakfast-for-dinner
Years ago when I first discovered the awesomeness of tater tot breakfast casseroles, they weren't yet "a thing" all over the internet. Fast forward a few years and now we've all seen or heard of some kind of tater tot casserole for breakfast.
Prior to that, I had been all in with hash brown breakfast bakes (still a brunch favorite of mine) and graduated to using hash brown patties that made layering much easier.
Now we rotate between all the breakfast casserole recipes, not only because they are super easy for a hearty morning, but they're mostly make-ahead the night before. Remember that: you can assemble this the night before, cover and chill, and bake in the morning while you get ready for the day.
Can you freeze tater tot casseroles? Technically, you can freeze the unbaked casserole after assembly by covering it airtight and freezing until ready to bake. Then, you'd bake it from frozen (not defrosted) and add bake time until fully cooked through. That said, I do believe the texture may come out differently from the original recipe. My suggestion would be to pre-assemble the casserole the night before (at most, up to 2 nights before) and keep covered/chilled in fridge. Then bake according to recipe instructions.
It's a simple wake 'n bake deal that everyone will dive for. People will brag about your tater tot casserole. In face, this tater tot casserole is so good, you'll brag to yourself while enjoying each tantalizing bite.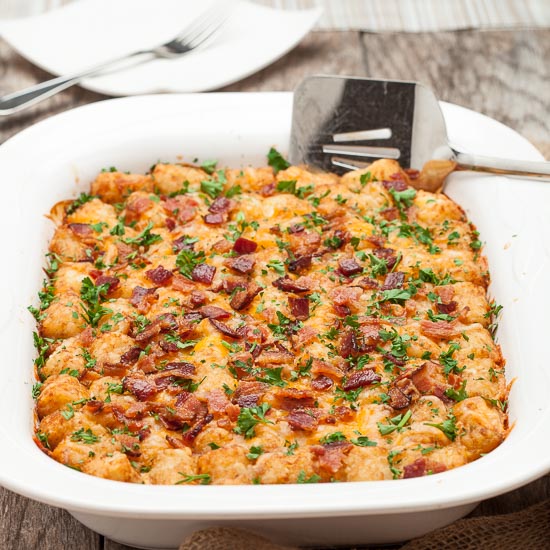 Favorite breakfast ingredients in one crispy dish
This Cheesy Tater Tot Breakfast Bake is teeming with all our AM faves: breakfast sausage, bacon, cheese, eggs, and potatoes.
4 slices bacon, cooked and crumbled; I really like thick cut, applewood style bacon here. Get it really nice and crispy, let the oil drain, and crumble away. You can do this ahead of time, as the bacon stays crisp on the counter while you prepare the rest of the breakfast casserole.
1 lb ground breakfast sausage, no casings; my favorite kind are the Italian seasoned, but feel free to use your preferred ground sausage. You'll brown it and break it up in the skillet before adding to the breakfast casserole.
2 1/2 cups sharp cheddar cheese, shredded, divided; sharp cheddar is the best. It imparts such a big cheesy flavor and melds beautifully in this casserole recipe.
2 cups whole milk – you can use lowfat if you prefer.
2 extra large eggs or 3 large eggs; if you're wondering why there aren't more eggs in this breakfast casserole recipe, it's because 3 large eggs is just the right amount to allow the tater tots to crisp up nicely during baking.
1/2 tsp freshly ground black pepper; always grind your own black pepper using fresh peppercorns.
1/2 tsp onion powder (you can chop fresh onions, but it's not necessary)
pinch of table salt (1/8 tsp) — I usually use coarse kosher salt, but we go with fine table salt here because it's just a pinch.
2 lbs frozen tater tots – your favorite brand will work fine, as long as it's un-seasoned. Just be sure to keep it frozen until ready to assemble.
3 TB freshly chopped parsley for garnish – optional but pretty 🙂
All that goodness, layered in one irresistible breakfast casserole.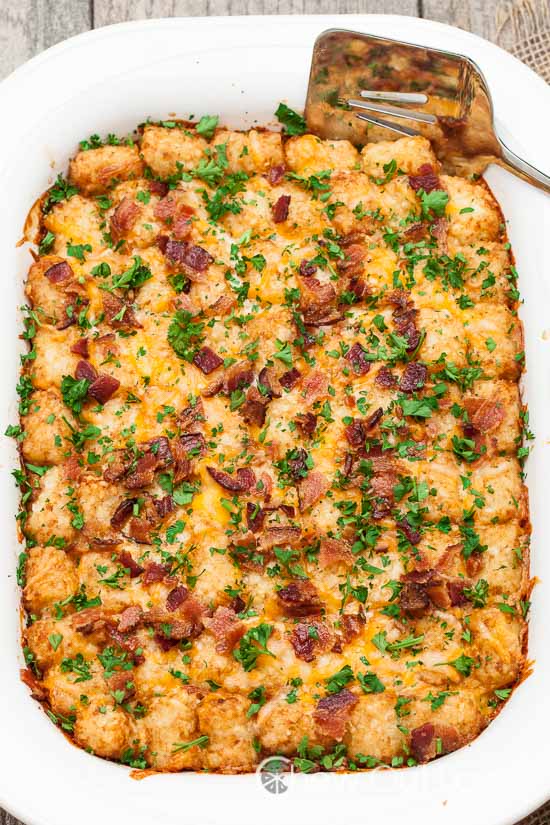 Make ahead breakfast casserole
The best part, as always in my book, is the ease of this dish. With just a handful of simple ingredients (nine!)… it's perfect for weekends, holidays, and even breakfast-for-dinner.
If you're not a morning person, I hear you with big elephant ears. No need to wake up early to measure a single thing.
This tater tot casserole can easily be assembled the night before and popped into the oven the next morning for a hearty meal everyone loves waking up to.
Enjoy!
The recipe in action:
Print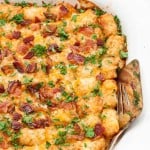 Cheesy Tater Tot Breakfast Bake
---
Author:

Prep Time:

15 mins

Cook Time:

45 mins

Total Time:

1 hour

Yield:

15

1

x
Description
This Cheesy Tater Tot Breakfast Bake is super easy, can be prepped the night before, and incredibly delicious! Kids and grownups alike will devour this. Sure to be a family favorite.
---
4

slices bacon, cooked and crumbled

1

lb ground breakfast sausage, no casings

2 1/2 cups

sharp cheddar cheese, shredded, divided

2 cups

whole milk

2

extra large eggs or

3

large eggs

1/2 tsp

freshly ground black pepper

1/2 tsp

onion powder
pinch of table salt (1/8 tsp)

2

lbs frozen tater tots

3

TB freshly chopped parsley for garnish
---
Instructions
In a very large skillet, cook sausage on medium high heat, breaking up the meat and browning it. Once cooked through, drain and layer onto the bottom of a 9×13 inch baking pan. Evenly sprinkle 2 cups of the cheese over cooked sausage.
In a large bowl, hand-whisk together the milk, eggs, pepper, onion powder, and salt. Once mixed, pour evenly over the cheese and sausage in baking dish. Layer top with frozen tater tots. If not baking right away, cover tightly with foil and chill in fridge until the next morning.
When ready to bake, set oven to 350F with rack on lower middle position. Once oven reaches 350F, place uncovered casserole in oven for about 35 minutes. Top with additional 1/2 cup cheese, cooked/crumbled bacon, and bake another 5-10 minutes or until sides are bubbling and top is golden brown. Garnish with chopped parsley, let rest at room temp 10 minutes, and serve.
Category:

breakfast, brunch

Method:

oven

Cuisine:

American
Keywords: tater tot breakfast casserole
Kitchen Essentials:
Best breakfast bakes ever:
Hash Brown Tomato Breakfast Bake. Unashamedly wonderful. Especially with the addition of tomatoes and spinach. It's one of our best breakfast bakes ever.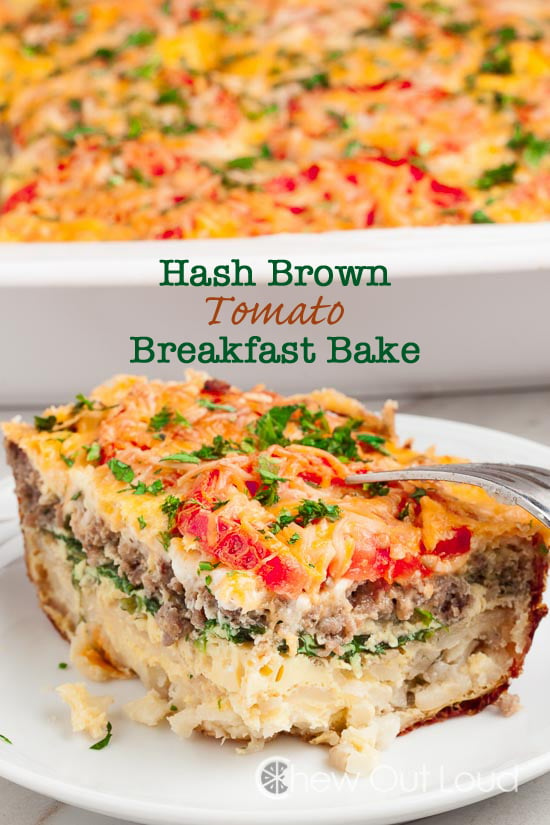 English Muffin Breakfast Casserole. Can't go wrong with English muffins, eggs, sausage, and bacon. It's a crowd pleaser.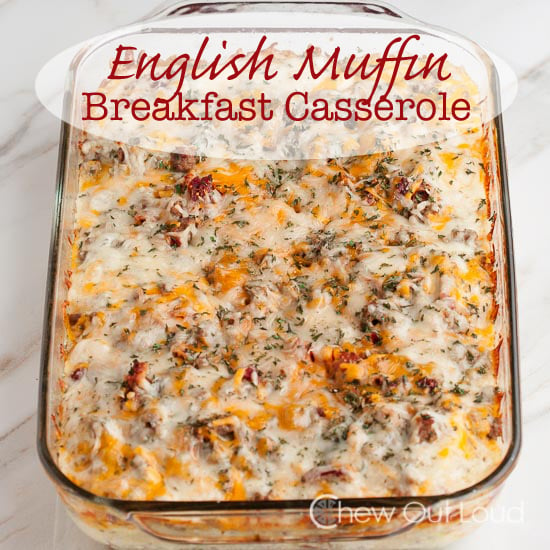 Enchilada Breakfast Bake. Get a bit of spicy on with this Tex Mex version of breakfast! It's 120% addictive, and you'll likely be asked for the recipe. Or you'll be nominated to make it often.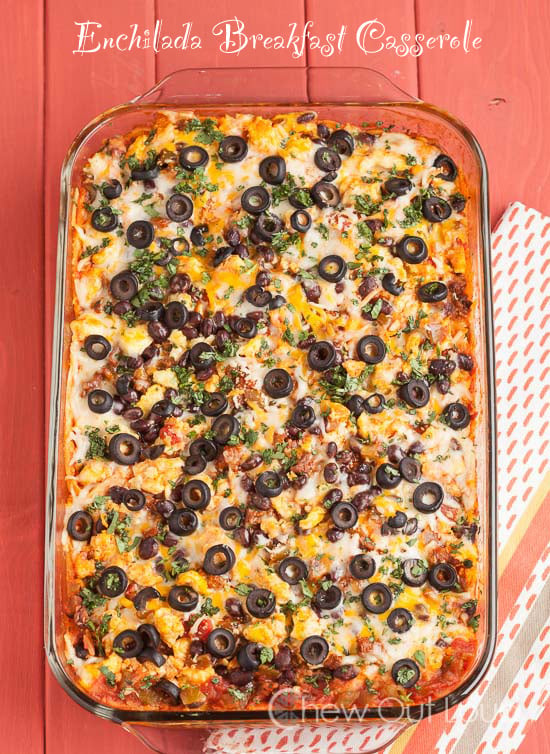 We'd love to have you follow us on Pinterest, where we pin the best finds!
Follow us on Facebook and Twitter for the newest recipes and giveaway prizes (enter our current $50 Target giveaway!!)
Hang with us on Instagram for behind-the-scenes shots of the food we make and lots of inspiration.