Chewy Triple Chocolate Brownies – Goodbye, Box.
Chocoholics, be forewarned. Reading any further could be dangerous if you're on a mission to sidestep the chocolate food group. Otherwise, read on. You'll be treated to the absolute BEST homemade brownies you can sink your teeth into. They easily blow all boxed competition out of the water.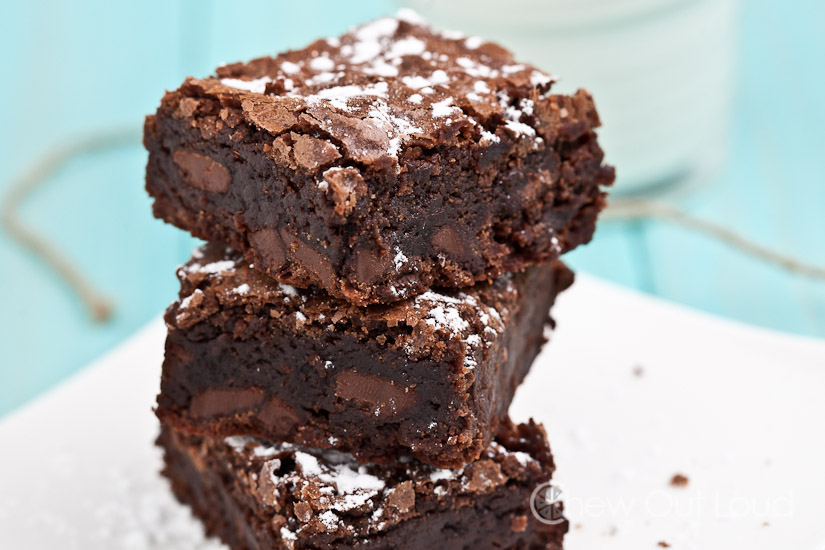 We're a family of brownie lovers. Hubby has been making them from scratch since he was 13, to satisfy his and his siblings' Friday night munchies. Our sweet-toothed children would inhale brownies by the buckets if allowed. It's a party in their lunchbox if a little brownie square is found hidden behind the sandwich. Me? I'm with the chocoholics, so it's a given that brownies are considered highly dangerous territory for me.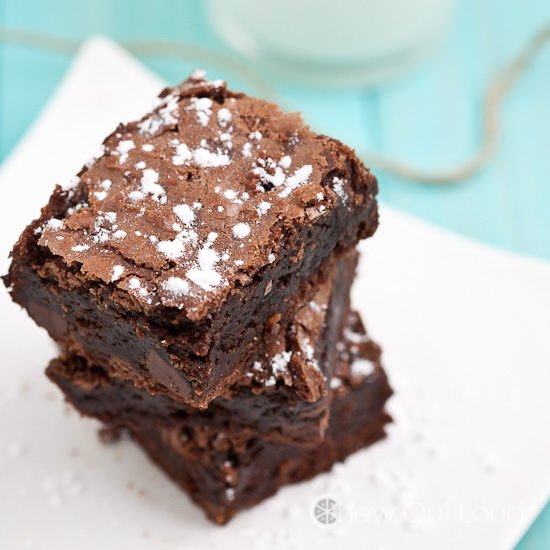 A little bit of danger can be good 🙂 Only if it involves chocolate that's truly worth the eating. Admittedly, I fully embraced boxed brownie mixes before meeting these Chewy Triple Chocolate Brownies. Every past attempt at homemade-from-scratch brownies just could never quite parallel the chewy moistness of their boxed counterparts. Until this game changer came along.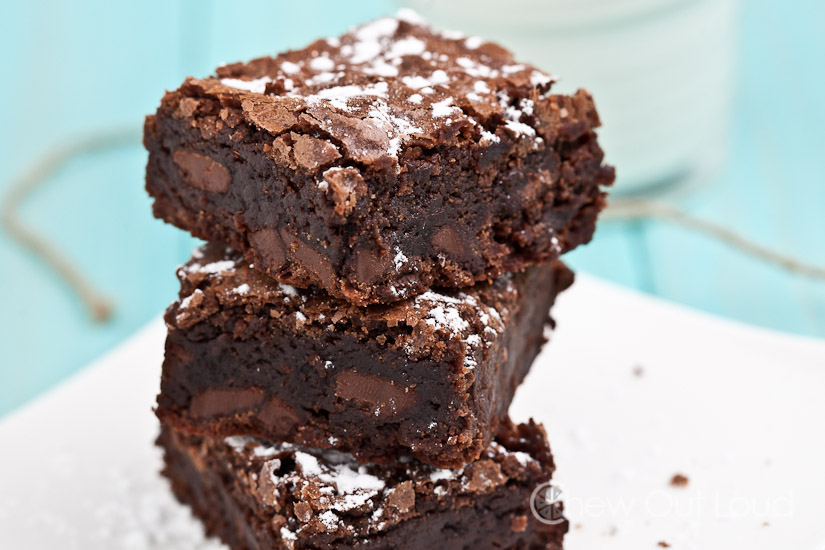 In truth, these Chewy Triple Chocolate Brownies do not simply parallel the boxed stuff. These homemade brownies completely outshine our favorite box mixes. To prove it, I did a side by side comparison brownie bake-off. For our neighborhood party, I made three different batches of brownies. The Chewy Triple Chocolate Brownies went up against two other brownies, including Ghirardelli's popular brownie mix.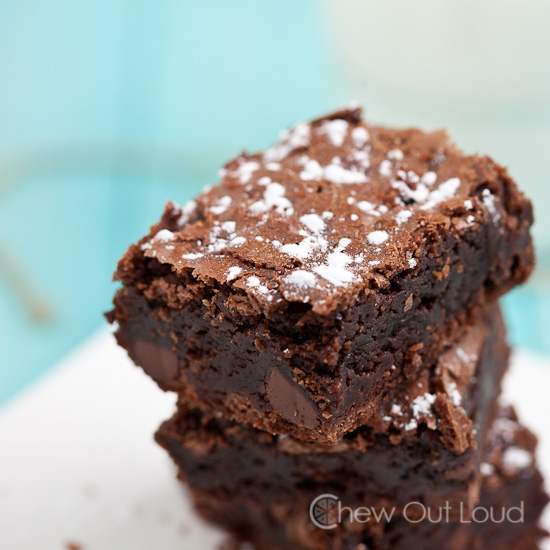 We were amazed by how clearly these homemade brownies stood out. They have such a rich, complex, chocolate flavor. A perfectly thin crisp top. A chewy, dense moistness that can't be beat. It honestly wasn't even a contest. Next to these homemade ones, the boxed brownies tasted surprisingly artificial. The Chewy Triple Chocolate Brownies were snatched up in a wink. Once you taste these, you simply won't go back to the box.
Ready for some dangerous chocolate territory?
---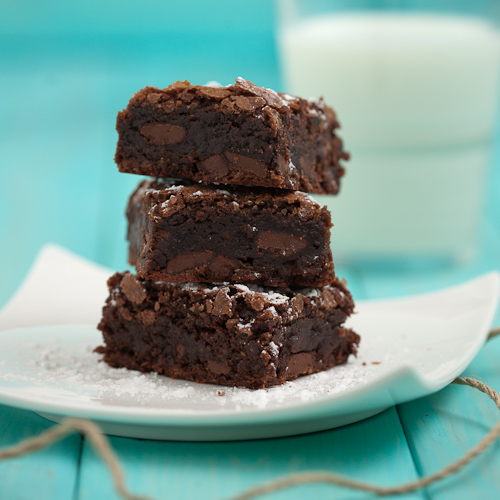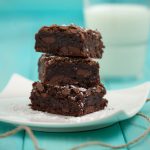 Chewy Triple Chocolate Brownies – Goodbye, Box.
There are no words to describe how crazy great these brownies are. You simply have to try them for yourself.
Ingredients
⅓

cup

1 oz Dutch processed cocoa (unsweetened)

1 ½

tsp

instant espresso powder

,

optional

½

cup

+ 2 TB boiling water

2

ounces

unsweetened good-quality chocolate

,

chopped fine

½

cup

+ 2 TB vegetable oil

4

TB

regular butter

,

melted

2

large eggs + 2 large egg yolks

2

tsp

vanilla extract

2 ½

cups

17.5 oz white sugar

1 ¾

cups

8.75 oz all purpose, sifted flour

¾

tsp

fine salt

6

oz

good quality bittersweet/semisweet chocolate

,

cut into 1/2 inch chunks
Instructions
Bring a kettle of water to boil. Adjust oven rack to second-to-lowest position and preheat to 350F. Make foil sling: Insert 2 long sheets of foil perpendicular to one another in an 8×8" baking pan, so that there will be enough foil that hangs over edges of pan. Push foil into corners and up sides of pan, smoothing foil against pan. Grease foil and set aside.

Whisk cocoa, espresso powder, and boiling water (measure out correct amount from your kettle of boiling water) together in large bowl until smooth. Add unsweetened chocolate and whisk until chocolate is melted. Whisk in oil and melted butter. Add eggs, egg yolks, and vanilla. Continue to whisk until smooth and incorporated. Whisk in sugar until thoroughly incorporated. Sprinkle salt and sifted flour into batter and mix with rubber spatula until just combined. Fold in bittersweet/semisweet chocolate pieces.

Transfer batter into prepared pan, spreading it into corners and smoothing the surface. Bake for about 30-33 minutes, rotating pan halfway through baking. It's done when toothpick comes out with a few moist crumbs attached; should not come out clean. Do not overbake, or brownies may be dry.

Transfer pan to wire rack and cool for 1 1/2 hours. Remove brownies from pan using foil sling. Return brownies to wire rack and let cool completely. Cut brownies into squares and serve. Can be stored in airtight container at room temp for a couple of days.

Notes: If you have a kitchen scale, use it to get the most accurate measurements. Let brownies cool thoroughly before cutting into them, for chewiest texture. If your baking dish is glass, cool brownies in pan for just 10-20 minutes, and then use foil sling to transfer to wire rack to finish cooling.
Did you make this?
Leave a comment below and tag @chewoutloud on Instagram