Chinese Sticky Rice (Meal Prep Friendly)
By Amy Dong
Published May. 10, 2022
Updated Sep. 10, 2023
Discover how easy it is to make a pot of your own Chinese Sticky Rice. Serve it as a stuffing, a side dish, or as a meal in itself. This is a fabulous dish to make ahead of time; perfect for meal prep.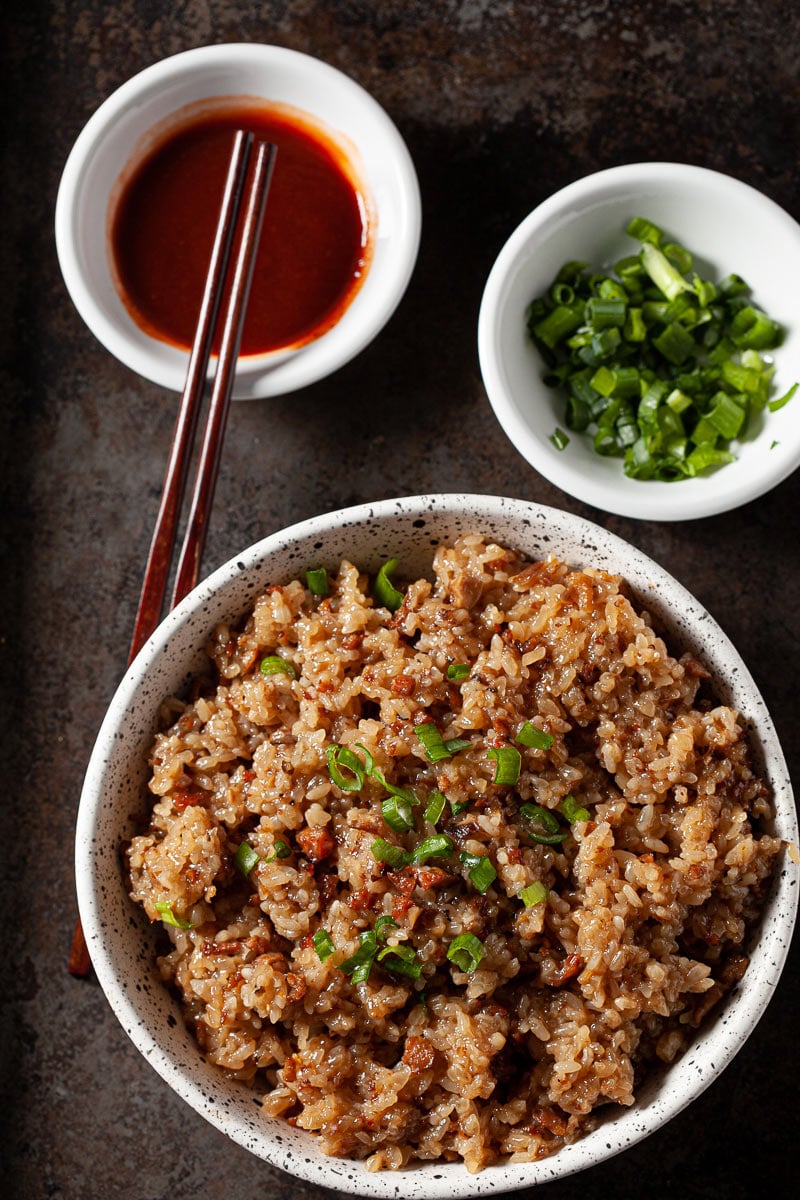 Perfect Chinese Sticky Rice
Super tender, soft sticky rice is one of those dishes Hubby and the boys scarf down like there's no tomorrow. They're hardly alone in their affinity for savory sticky rice. A hot pot of steamy, deeply flavorful sticky rice means comfort food in kitchens around the world.
Thankfully, it's pretty easy to track down short-grain glutinous rice (more on that below) either at major grocery stores or online these days. Other Asian pantry basics such as oyster sauce and sesame oil can be found in many grocery stores as well.
Once you've prepared your ingredients, it's a one-pot meal deal from there. Toss it all together and cook. You'll be happily astonished at the succulent flavors that emerge.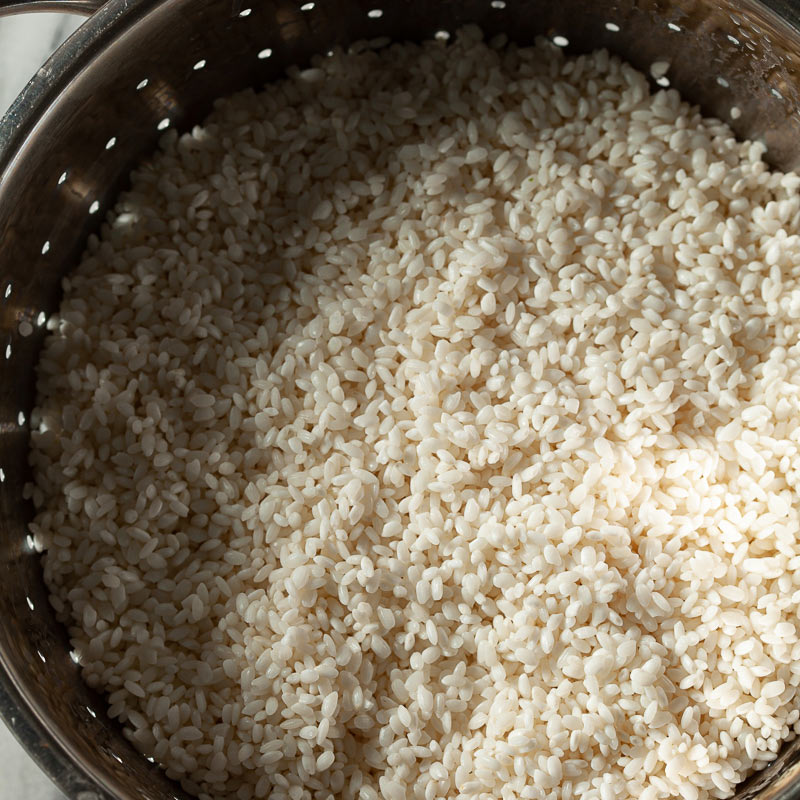 Buying and Storing Short Grain, "Glutinous" Rice (Gluten-Free)
Chinese Sticky Rice is surprisingly easy to pull off at home. The key is buying the correct rice. Look for short-grain glutinous rice, which is sometimes also labeled sweet rice, despite the fact that it doesn't taste noticeably sweet. Short-grain glutinous rice can be found at major grocery stores (in ethnic aisles) or Asian grocery stores, as well as online.
All uncooked rice keeps fresh longer when stored in an airtight container and in cool, dry spaces. If you have a small bag of uncooked rice and can manage to keep it in the fridge, that's the ideal situation for keeping grains fresh for a long time. A cool/dry basement space works well as a storage for most of your grains as well.
Importantly, you'll want to pre-soak the glutinous rice for a few hours before you cook it. The pre-soak helps soften the outer surface of the rice grains and allows for even cooking throughout
Despite the term glutinous rice, there is no gluten in the rice. The term glutinous refers only to the sticky soft texture. It's a bit of a misleading term, but glutinous rice is like any rice…gluten-free all the way.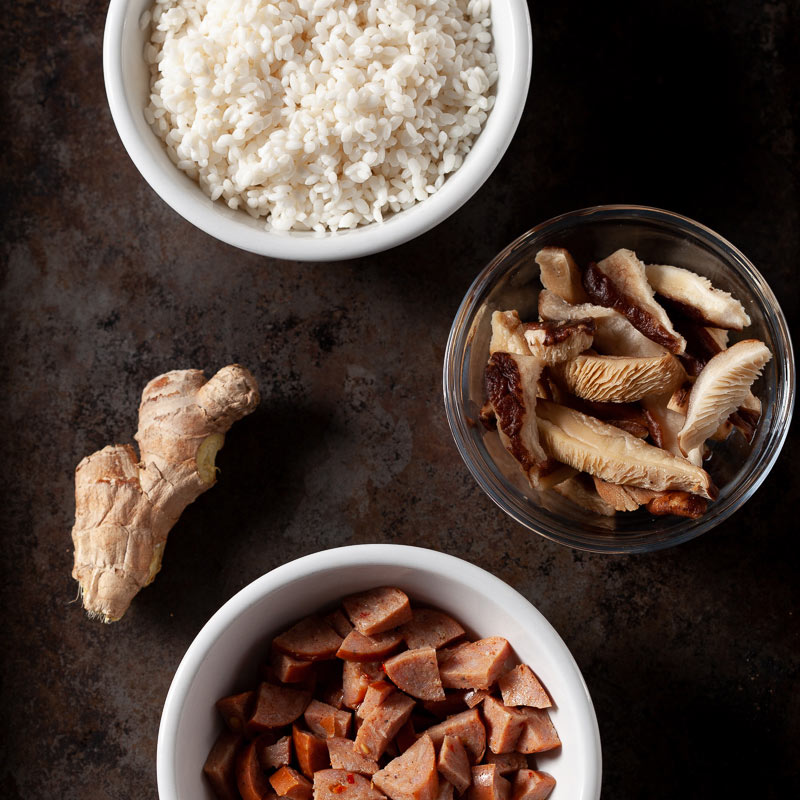 Shiitake Mushrooms and Chinese Sausage
I deviated a bit from traditional Chinese sticky rice in this alternate sticky rice with ground turkey (the commonly used Chinese Sausage or lap cheong isn't normally stocked in my pantry.) I always have ground turkey on hand, and it's an amazing protein choice for adding to sticky rice. That said, purist foodies may be partial to the rich flavor Chinese Sausage. Admittedly, there's nothing quite like the sweet, savory, flavorful aroma of it.
Thus, today's Chinese sticky rice recipe is done the traditional way with slices of luscious Chinese sausage strewn throughout the mounds of tender, sticky rice. Plus aromatic Shiitake mushrooms, which is my personal favorite part of this rice dish.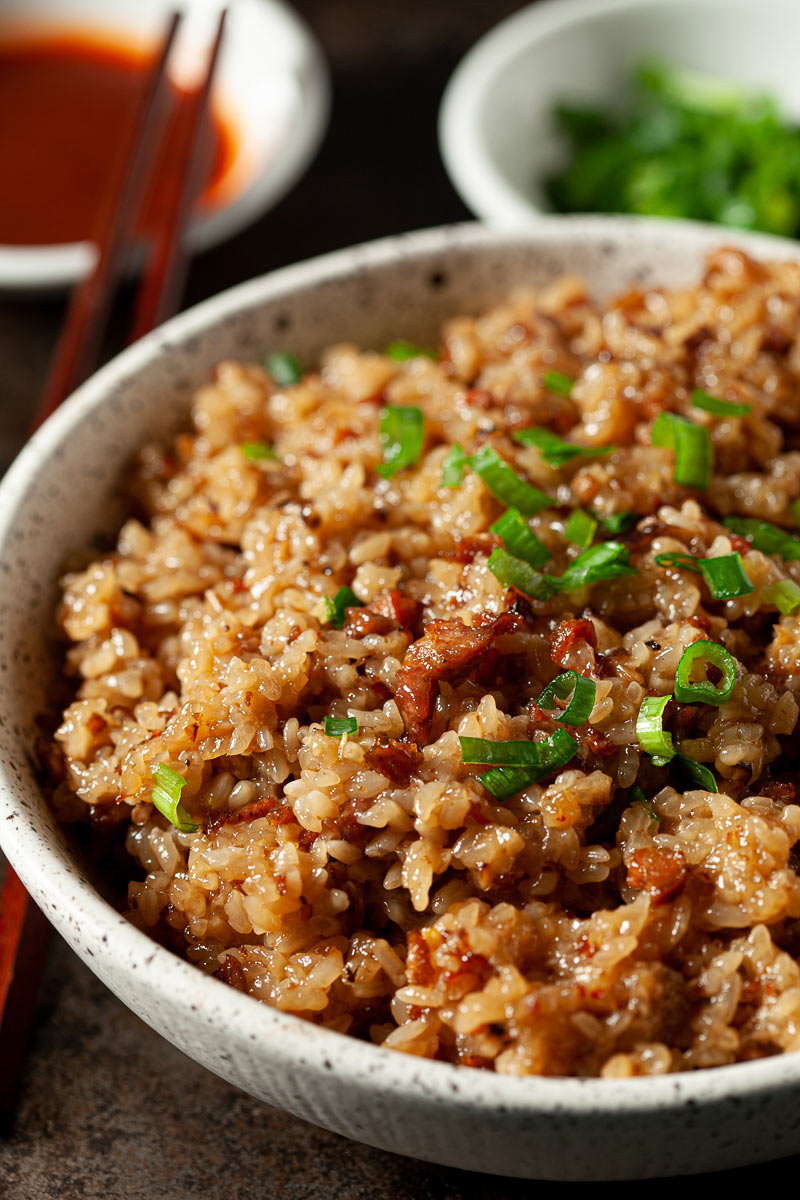 Leftover Sticky Rice
Feel free to make a big pot of this savory sticky rice, as you'll thank yourself for having leftovers. When you open the fridge to survey meal options the next day, that already-cooked, delicious sticky rice will be ready and waiting.
It's super easy to reheat leftover sticky rice in a microwave-safe bowl with a lid. Always store leftovers in an airtight container in the fridge, which helps to maintain its tenderness and flavor.
Freeze it, Meal Prep it
Want to freeze cooked sticky rice? Not a problem. Simply store it in an airtight container and freeze for up to a couple weeks; use meal prep containers for individual servings, if desired.
For the most convenient option, choose glass containers with airtight lids that are microwave/oven/dishwasher friendly. When ready to serve, simply defrost and reheat using your preferred method.
---
see this recipe in action:
Did you make this?
Please give us a rating and comment below. We love hearing from you!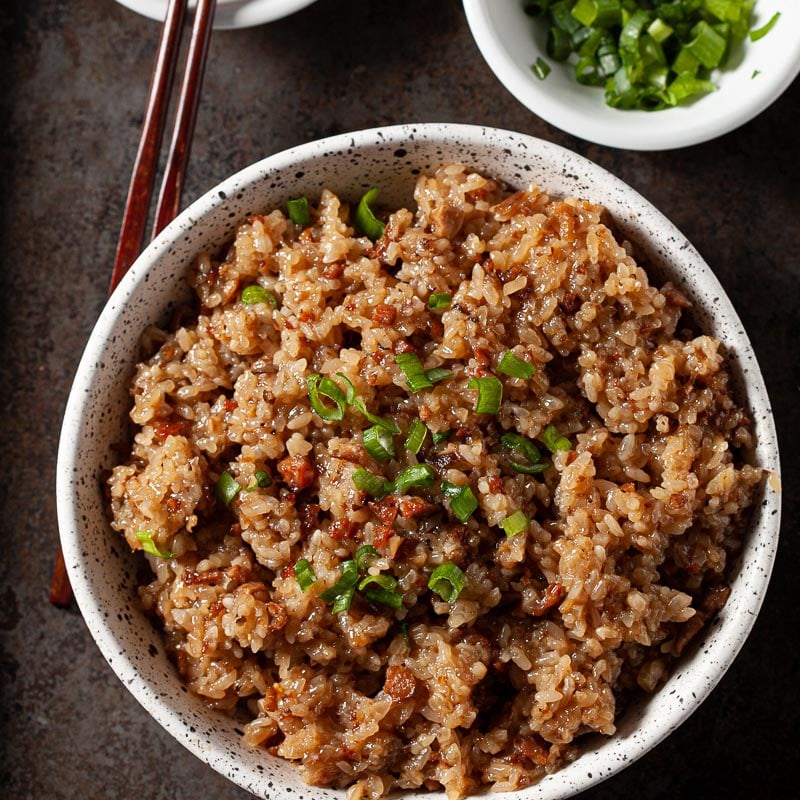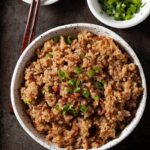 Chinese Sticky Rice
This sticky rice recipe is a fail-proof, super easy, and crowd-pleasing dish. Most of the ingredients can now be found in the Asian aisles of your favorite grocery stores.
Ingredients
3

cups

uncooked short-grain glutinous rice, not sushi rice, soaked in water for 3-4 hours

12

oz

Chinese Sausage,

lap cheong, diced*

1

TB

vegetable oil

1

TB

fresh ginger

,

peeled, finely minced

4

TB

tamari sauce,

gluten-free

3

TB

Asian oyster sauce

4

tsp

Asian pure sesame oil,

brown in color, highly aromatic

½

tsp

white pepper

2 ⅓

cups

good chicken broth

½

cup

thinly sliced scallions,

greens only
Instructions
Prep Ahead: Rehydrate dried Shiitake mushrooms by soaking in warm water for about 1 hour. Drain well and chop. Set aside.

Drain soaked rice in a colander and rinse with cold water. Set aside.

Heat up a heavy large pot (I use my All-Clad stock pot) with 1 TB oil until hot. Add ginger and stir fry for a minute. Add Chinese sausage and Shiitake mushrooms, stir frying for another minute. Add in rice wine, soy sauce, oyster sauce, sesame oil, white pepper, and rice. Stir to coat thoroughly. Add broth, stir to incorporate, and bring to a boil.

Once it reaches a boil, immediately reduce to simmer. Cover tightly and cook 45 minutes. Turn heat off and let it sit for at least 10 minutes, covered. Do not open lid to peek!

Carefully stir cooked sticky rice, from bottom to top throughout. Cover and let stand another 10 minutes before serving.

Garnish with freshly sliced scallions, if desired. Chopped cilantro or chives work well, too.
Notes
You may use reduced-sodium chicken broth instead of regular strength.
If you can't find authentic Chinese sausage, you can use other types of cooked sausage, such as kielbasa or andouille.
Chinese sausage is somewhat sweet, and not overly salty. If you use a salty sausage, decrease tamari soy sauce to 3 TB.
Prep/Cook time does not include pre-soaking of rice and shiitakes.
*If you enjoyed this recipe, please come back and give it a rating ♡
Nutrition (per serving)
Serving:
1
g
|
Calories:
222
kcal
|
Carbohydrates:
32.6
g
|
Protein:
9.3
g
|
Fat:
7.2
g
|
Saturated Fat:
2.3
g
|
Cholesterol:
15.1
mg
|
Sodium:
598.1
mg
|
Fiber:
4.5
g
|
Sugar:
3.2
g