Cuban Rice and Beans Recipe
By Amy Dong
Published Apr. 1, 2020
Updated Dec. 15, 2022
This One-Pot Cuban Rice and Beans Recipe is easy and delectable! It's a healthy, flexible side dish for any night of the week.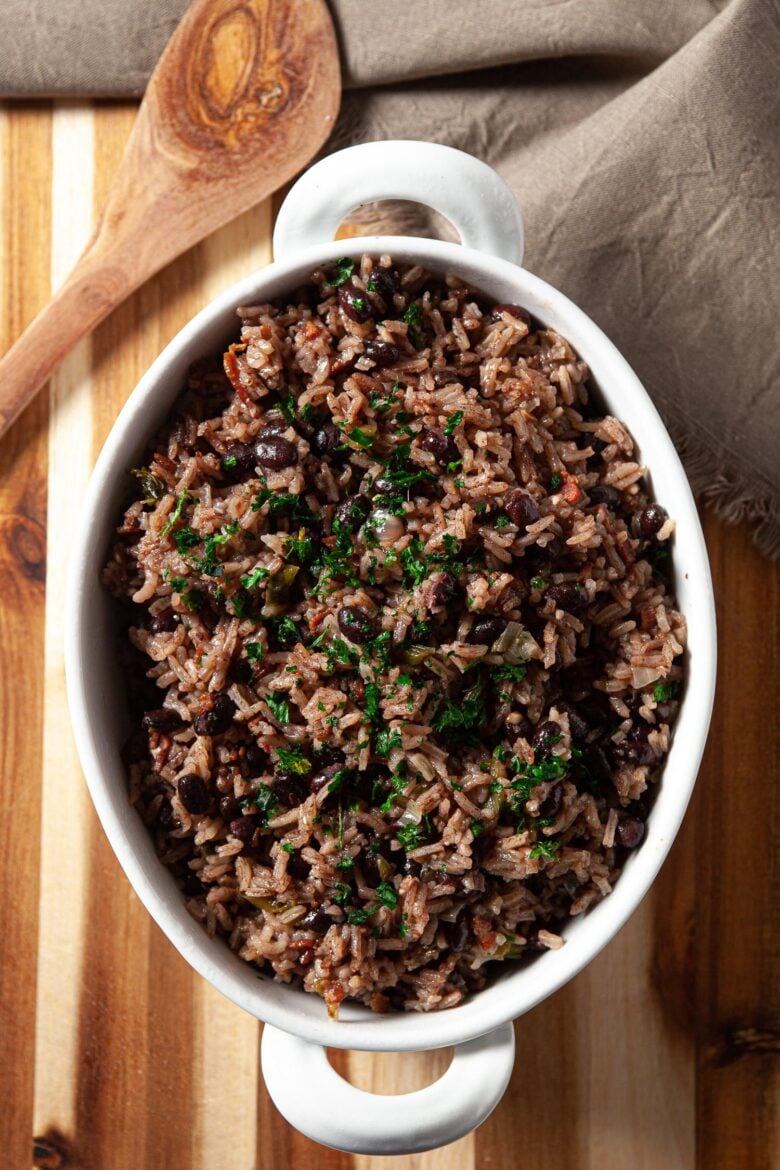 One-Pot Cuban Rice and Beans
For some reason, my mom still often recalls how my little brother used every ounce of his 5-year-old strength to keep up with me on roller skates at our childhood park.
I kind of get it. Now a mom of 3 big boys myself, I'll forever have a mental image of my own Littlest frantically peddling his short legs on his tiny bike to keep up with his older brothers.
Families share roots that go deep and thread us together no matter how far apart we are. Food is one of those roots. My parents were hyper-busy and we had a lot going on in our household. But we always sat down for dinner. And we almost always had rice.
My brother had a white rice habit. My dad is partial to sticky rice. My mom enjoyed Mexican rice at restaurants. And I'm into brown rice, cooked perfectly in the Instant Pot.
My own kids don't see rice on their dinner plates every night, but when tender coconut rice or flavorful fried rice shows up, they devour it like nobody's business. Same goes for this Cuban Rice and Beans recipe, which is healthy and full of flavor.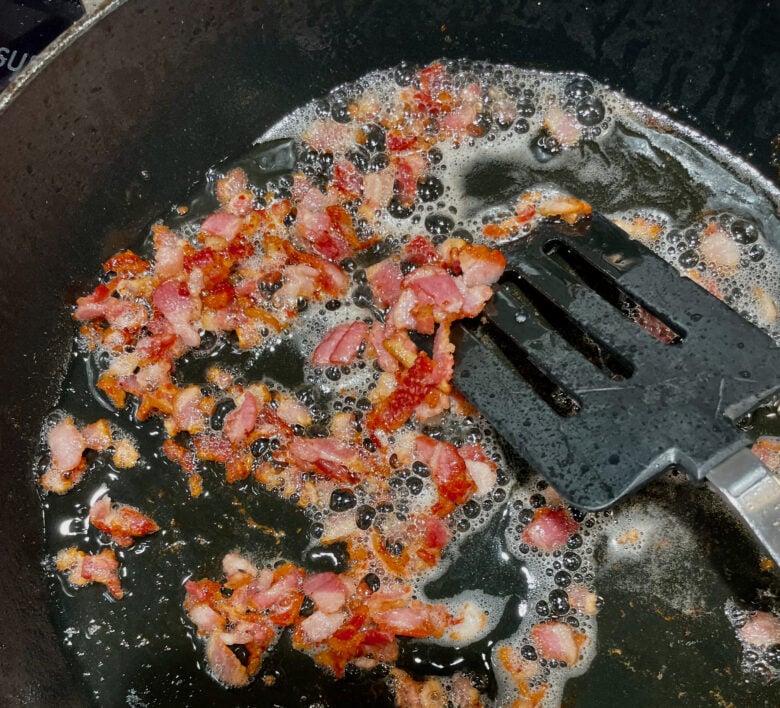 Key Ingredients and Substitutions
for delicious Rice and Beans
Plenty of fresh garlic gives this dish depth of flavor and great aromatics.
Fresh bacon is chopped and browned, for maximum aroma and flavor
Freshly chopped onion works best, but you can substitute with 1 tablespoon onion powder or dried minced onion if you've run out of fresh onions.
A freshly chopped green pepper provides zest and vegetable goodness. Feel free to add more if you love your veggies. Alternatively, frozen chopped bell peppers are often available at grocery stores and can be used as well.
Chicken bouillon powder is a key seasoning in this dish
A single bay leaf will provide earthy aromatics to the dish. However, don't run to the store if your panty is out of bay leaves. Your dish will still be tasty without it.
Ground cumin is an essential seasoning here; we highly recommend keeping one or two small jars of ground cumin always available, as it comes in handy for so many dishes.
Dried oregano is called upon in for this rice and beans recipe, but if your herb garden contains fresh oregano, go for a 1-1 substitution.
Long grain white rice is classic in Cuban rice and beans recipes. That said, you can experiment with basmati rice or even brown rice; you'll need to use a bit more liquid for both those alternatives.
It may seem strange to utilize the juices within your cans of black beans, but those juices provide much of the flavor and liquid in this recipe. Keep the juices.
This recipe calls for red wine vinegar for classic flavoring. Substitution: apple cider vinegar or balsamic vinegar can work here, since you'll only be using 1 tablespoon.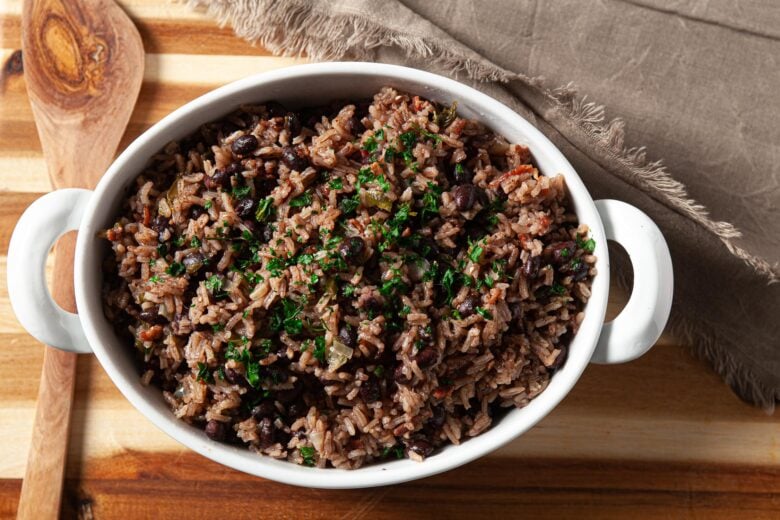 Cuban Rice and Beans is Extremely Versatile
This Cuban Rice and Beans Recipe is easy, quick, and busting at the seams with flavor. This is not your store box variety in any shape or form. It's not like any other rice dish at all.
This rice is both rich and tender and sooo delicious it might as well be the main dish. Toss in toasted chopped walnuts or sliced almonds for extra protein and texture.
For a meal-in-one, feel free to mix in a protein like sautéed shrimp or cooked, shredded chicken to make it into a hearty main dish. Cooked ground turkey or beef would work well, too.
Personally, I love serving this mouthwatering Cuban Rice and Beans alongside this Cuban Braised Pork with Mojo. It's the bomb dinner. Definitely good enough to serve even your pickiest dinner guests.
Cuban Rice and Beans can be made ahead
Can I just say that the biggest bonus of all is that this rice can be prepared completely the night before? It's true. Unlike many cooked rice recipes, this particular Cuban rice and beans dish stays tender upon reheating, without becoming stale or dried out,
How awesome is food that can be made fully the night before, without sacrificing taste and texture the next day? Simply reheat in the microwave with a little sprinkle of water and you're ready to serve.
Did you make this?
Please give us a rating and comment below. We love hearing from you!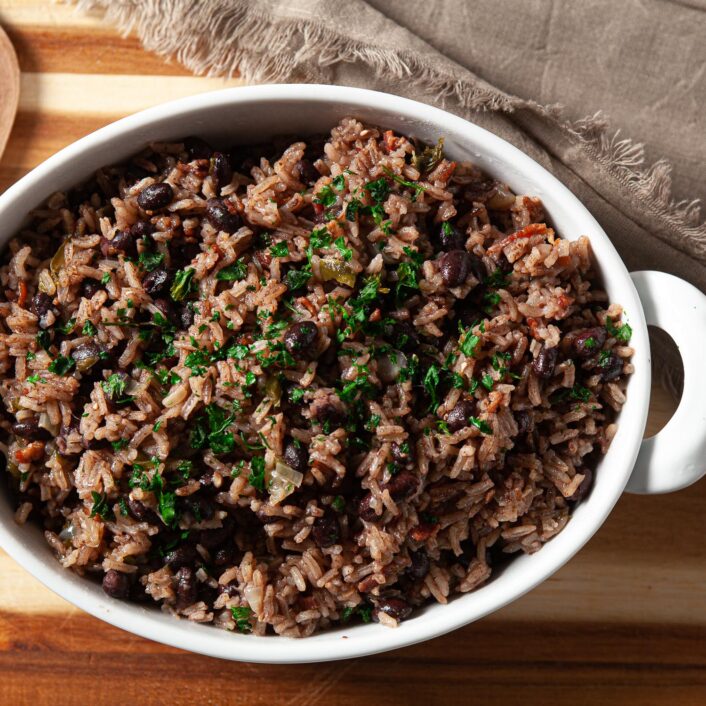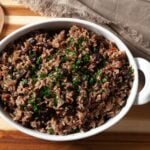 Cuban Rice and Beans Recipe
This Cuban Rice and Beans Recipe is chock full of delicious flavors! It's tender, savory, and goes well with any meal. This dish can be prepared in its entirety the night before.
Ingredients
6

slices

bacon

,

chopped

1

medium

onion

,

finely chopped, about 1 cup

6

cloves

garlic

,

finely minced

1

medium

green pepper

,

seeded and finely chopped, about 3/4 cup

1

tsp

salt

2 ½

tsp

Better than Bouillon,

or chicken bouillon powder

½

tsp

ground cumin

1

tsp

dried oregano

1 ½

cups

long grain white rice,

uncooked

2

cans

black beans

, with liquids, (15.5 oz each can)

1

TB

red wine vinegar

1 ⅔

cups

water

Optional garnish: chopped cilantro or sliced green onions
Instructions
Place chopped bacon in a large heavy pan with a tight fitting lid. Stir over medium high heat until bacon is nicely browned, about 6 minutes.

Add onion, garlic, green pepper, and salt to the pan and stir until onions are translucent, about 5 minutes.

Add chicken bouillon, bay leaves, cumin, oregano, and rice. Stir for 1 minute until well mixed and all the rice is coated in oil.

Add the beans with their liquids, red wine vinegar, and water. Mix to combine. Bring to a boil, watching carefully; once it boils, immediately reduce to a simmer. Cover tightly and continue to simmer for 45 minutes. Do not peek.

Keeping pot covered, let it rest off heat another 10 minutes. Fluff rice with a fork and serve. Garnish with chopped cilantro or green onions if desired.
Notes
This rice dish is meant to be moister and softer than plain cooked rice. It's a hearty, satisfying side dish that can double as a main dish.
See original article for ingredient substitutions, meal options, and ways to serve.
If you enjoyed this recipe, please come back and give it a rating ♡
Nutrition (per serving)
Serving:
1
g
|
Calories:
249
kcal
|
Carbohydrates:
32.6
g
|
Protein:
7.3
g
|
Fat:
9.9
g
|
Saturated Fat:
2.7
g
|
Cholesterol:
11.1
mg
|
Sodium:
299.9
mg
|
Fiber:
4.2
g
|
Sugar:
1.4
g
Here are a handful of our favorite, fail-proof rice dishes:
1. Best Easy Mexican Rice. We don't call it the best for nothin'…it's both easy and awesome.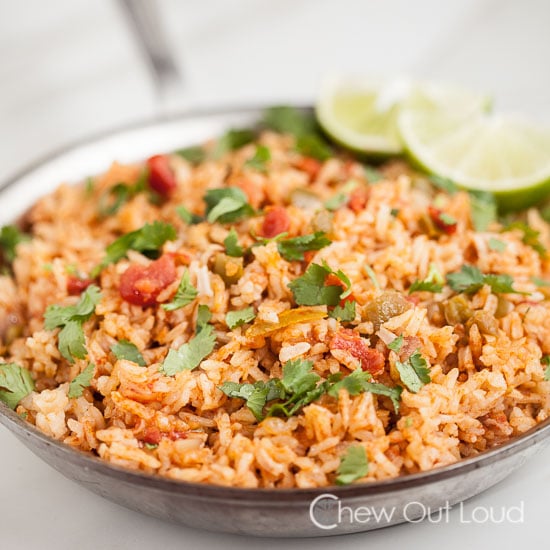 2. Coconut Rice. Here's your chance to try out some Asian coconut milk. Exotic, simple, and flavorful.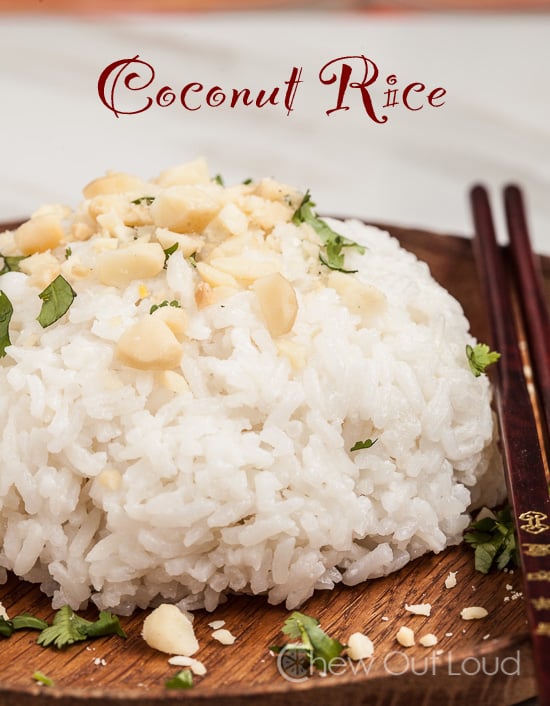 3. Chinese Sticky Rice. Hubby, the boys, and my brother all love this dish. Thankfully, it's easy to make.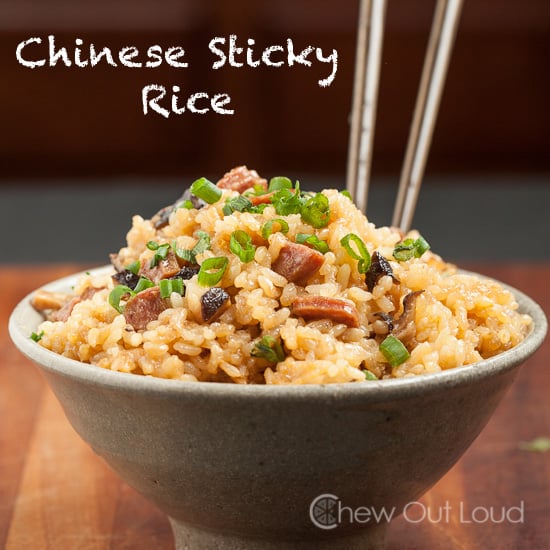 4. Chinese Fried Rice. We grew up on this stuff. It's easy, makes a generous batch, and will quickly be devoured. WAYYYY better than takeout, for reals.