Sweet Potato Pie With Pecan Topping
This Sweet Potato Pie Recipe is rich, creamy, and smooth with an amazing crunchy pecan topping. Everything sits on top of a flaky, all-butter crust. Don't miss this pie!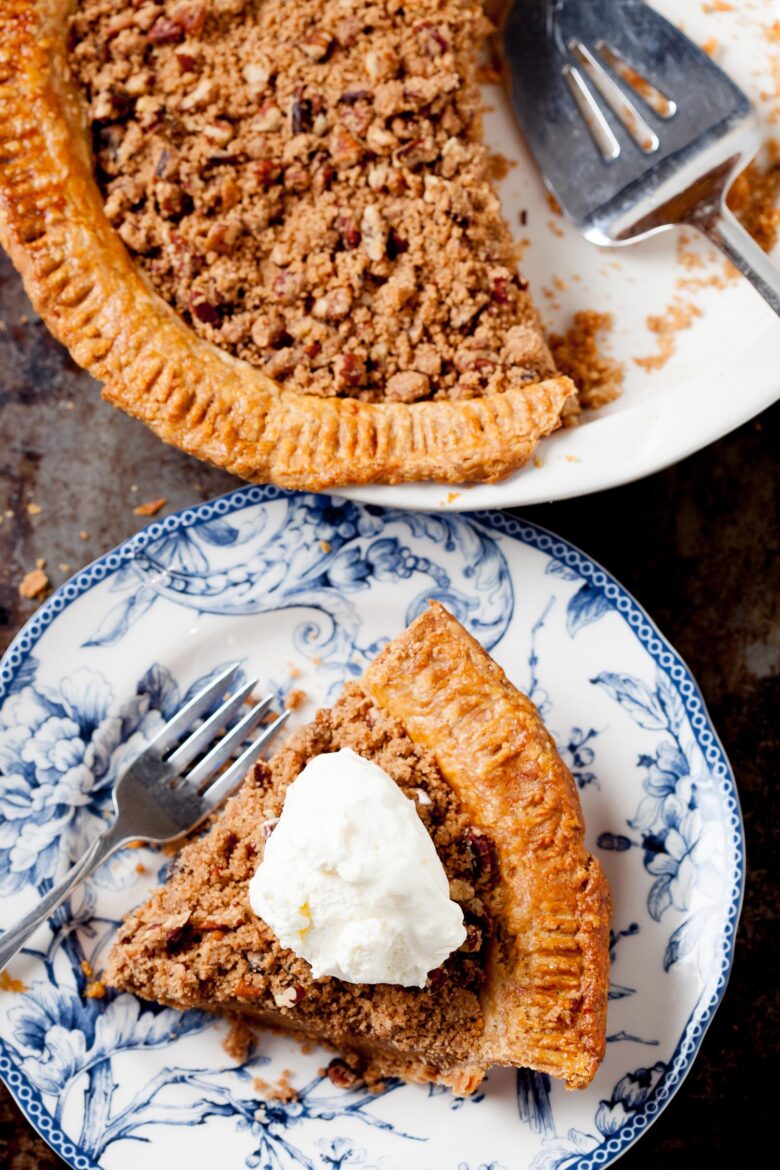 Sweet Potato Pie with Pecan Topping
Whether or not you consider yourself on Team Sweet Potato, we're pretty confident this Sweet Potato Pie with flaky butter crust and crunchy pecan topping will wow your taste buds this holiday season.
This Double Pumpkin Pie with buttery crust is already a fall dessert superhero. This fool-proof Apple Pie with flaky butter crust is forever and always devoured in a nanosecond. Now we're filing our favorite homemade crust with this smooth, rich, velvety sweet potato filling that goes head to head with your traditional holiday pie.
Here's your excuse to create pie out of those beautiful sweet potatoes that are so in season.
What is Sweet Potato Pie?
Sweet Potato Pie is a sweet, custard-like pie made with cooked and mashed sweet potatoes. Butter, sugar, milk, and warm spices are added to the filling, which is poured into a single pie crust. If you've had pumpkin pie, you're familiar with the texture that also belongs to sweet potato pie.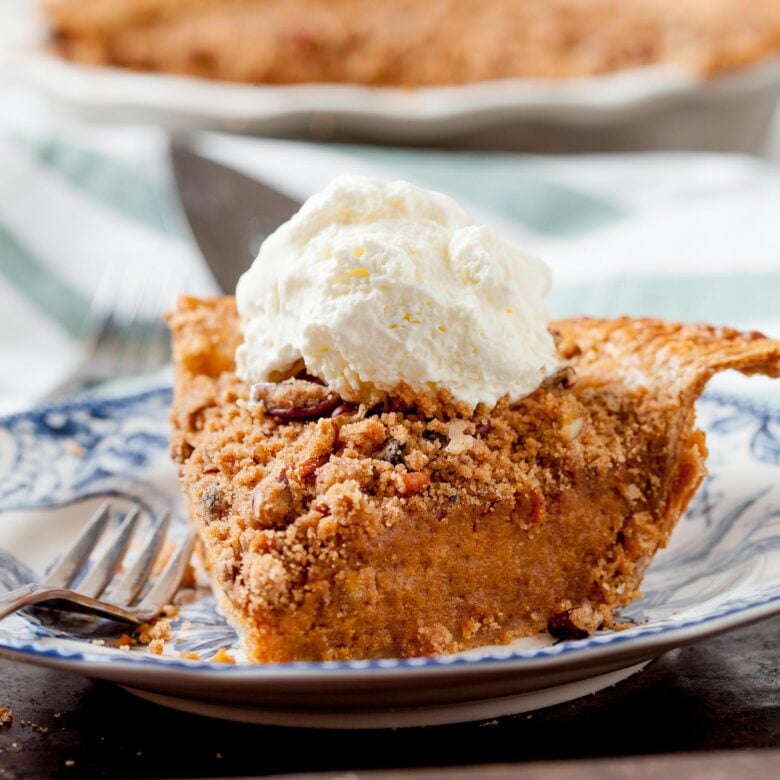 What You'll Love About
Sweet Potato Pie
It's a luscious pie that lets you use plenty of nutrient-dense sweet potatoes.
There are plenty of fall spices that promise to make your house smell incredible.
The smooth, rich, velvety filling is perfectly contrasted with a crunchy pecan topping – seriously, so much better than regular sweet potato pie!
The flaky all-buttery crust is so flavorful, you can taste the difference.
The meld of flavors and textures are magical. Honestly, this sweet potato pie brings a smile to its eaters all fall/winter long.
Is Sweet Potato Pie Made From Yams?
If the sweet potatoes you buy are grown in the U.S., then technically, they are all sweet potatoes. We discuss varieties of sweet potatoes here. True yams are native to African and Asia; thus, what you'll typically see labeled as yams in American grocery stores are actually a variety of sweet potatoes. For sweet potato pie recipes, you'll want the bright orange-fleshed sweet potatoes.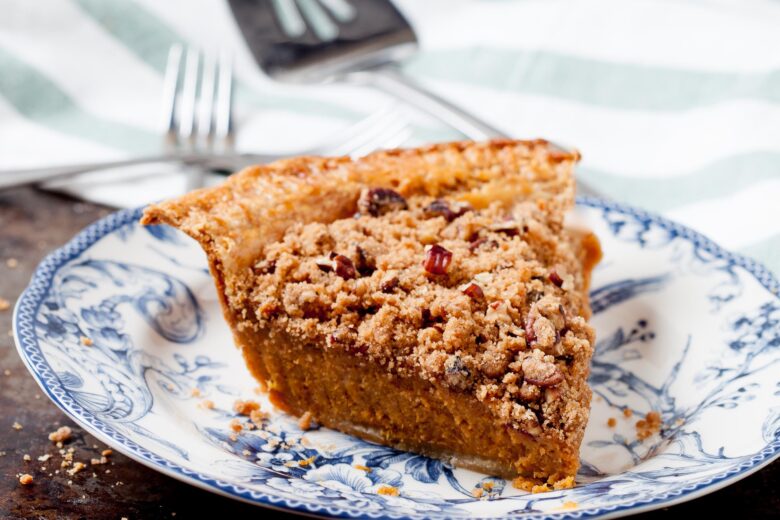 Tips for making the best sweet potato pie
Make the crunchy pecan topping ahead of time. This can be done up to a couple of days in advance.
Roast your sweet potatoes ahead of time as well. Roast them whole, with skin on, for 1 hour in a 425F oven. We like to roast ours the night before, so they have plenty of time to completely cool and are easy to work with.
Be sure to mash roasted sweet potatoes really well; the smoother, the better.
Use evaporated milk for a richer flavor than regular milk can provide.
If crust edges start browning too quickly, cover edges lightly with foil. We use this pie edge protector.
Sweet Potato Pie Recipe
Commonly Asked Questions
Is sweet potato pie healthier than pumpkin pie?
All things being equal, with the same amount of sugars and fats given in a recipe, sweet potatoes are a bit more nutrient-dense, as they're loaded with vitamin A and fiber. However, pumpkins tend to be lighter and lower in sugar content.
Is sweet potato pie traditionally served as a dessert or a side dish?
Sweet potato pie is traditionally a Southern dessert, but can also be served on the side. As a dessert, it can be served with whipped cream.
Is sweet potato pie served warm or chilled?
Sweet potato pie is delicious either chilled or at moderate room temperature. After baking, be sure to let the pie rest at room temperature for several hours or overnight, to let it set completely.
What does sweet potato pie taste like?
If you've enjoyed pumpkin pie, then you will appreciate the texture and flavor of sweet potato pie, as both are creamy smooth and loaded with warm fall spices. Sweet potato pie tends to be a bit creamier and heartier.
Did you make this?
Please give us a rating and comment below. We love hearing from you!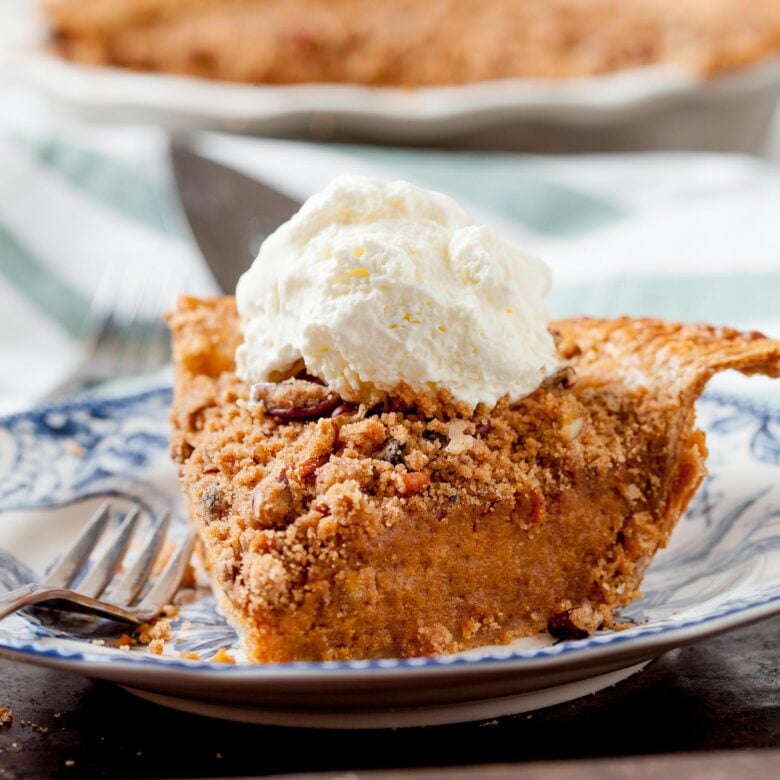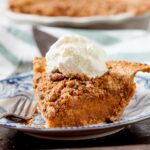 Dutch Sweet Potato Pie Recipe
This Dutch Sweet Potato Pie Recipe is silky, rich, creamy, and smooth with an amazing crunchy streusel topping. Goes head to head with your favorite pumpkin pie at any gathering.
Instructions
Prepare ahead: Make the pecan topping by mixing pecan topping ingredients together until it resembles coarse sand with some clumps. Cover and chill until ready to use. Can be done up to 2 days in advance.

Heat oven to 425F and roast whole sweet potatoes with skin on for 60 minutes or until very soft (may need to roast longer if your potatoes are large.) Let cool before removing skin.

Make the Filling: Place roasted, peeled sweet potatoes in a large bowl. Mash well. Add butter and mix well. Add remaining filling ingredients, beating on medium speed with electric mixer until smooth and silky.

Allow pie dough to sit at room temperature for 10 minutes for easy rolling. Roll it out into a circle that is a bit larger than rim of a deep dish 9" pie pan, leaving enough edge to fold over and crimp. Press dough into pan, fold the edges under and crimp or use fork to press edges down. Use rubber spatula to transfer filling into pie crust.

Bake at 425F on lowest rack for 10 minutes. Lower oven to 325F. Sprinkle streusel topping over pie and bake another 50-60 minutes or until center is set. Cover edges of pie loosely with foil or pie edge protector to prevent edges from browning too quickly. Let pie cool completely before slicing.
Notes
Roasting the sweet potatoes whole with skin on gives them a depth of flavor that only whole roasting provides. You can roast potatoes a day ahead.
If you're in a time crunch, store bought pie crust can work in a jiffy. However, homemade will always taste best.
If you enjoyed this recipe, please come back and give it a rating ♡
Nutrition (per serving)
Serving:
1
g
|
Calories:
494
kcal
|
Carbohydrates:
70
g
|
Protein:
5
g
|
Fat:
23
g
|
Saturated Fat:
12
g
|
Polyunsaturated Fat:
2
g
|
Monounsaturated Fat:
7
g
|
Trans Fat:
1
g
|
Cholesterol:
87
mg
|
Sodium:
213
mg
|
Potassium:
566
mg
|
Fiber:
4
g
|
Sugar:
56
g
|
Vitamin A:
17006
IU
|
Vitamin C:
17
mg
|
Calcium:
139
mg
|
Iron:
1
mg