Easy Chocolate Kahlua Bundt Cake
This Easy Chocolate Kahlua Cake is both quick and impressive when you're short on time. Your friends and family are sure to love this moist, tender chocolate bundt cake infused with Kahlua and drizzled with ganache. It's marvelous all by itself or with a scoop of vanilla ice cream.

Chocolate Kahlua Cake (Chocolate Bundt Cake)
We've tussled with six intense winters so far in the Twin Cities. Despite the challenges, we've grown to appreciate the snowy white Christmas mornings.
Considering that we're not far away from Christmas and all the winter holidays, many of us are rummaging through the pages of well worn cookbooks and internet and Pinterest for that perfect holiday main dish. For that awesome side dish that's not to be outdone. And of course to top it all off, the most luscious dessert.
Some of us will be more pressed for time than others. If you find yourself in that former camp, have no fear. Chocolate Kahlua Cake is here. This chocolate bundt cake is your hero when you need a fabulous yet easy 'n chocolate cake recipe that makes everyone happy…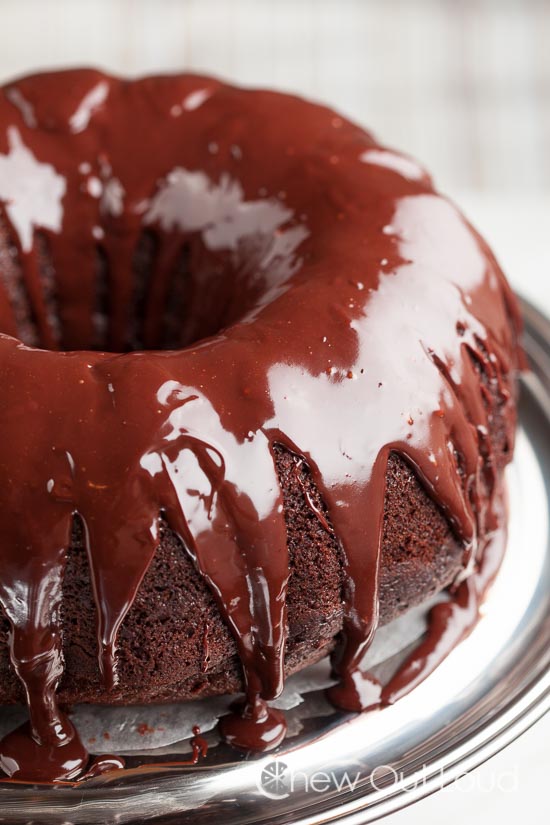 Tender, moist, and dreamy chocolate cake
This chocolate kahlua bundt cake is incredible, down to the last bite. That irresistibly fluffy, soft texture within the cake is undeniably moist and chocolatey.
The ganache drizzle is the ultimate dream for all chocolate lovers. You could technically skip the ganache and go with a generous sprinkle of powdered sugar for this particular chocolate cake recipe. Homemade stabilized whipped cream and fresh strawberry slices would be dreamy with this chocolate bundt cake as well.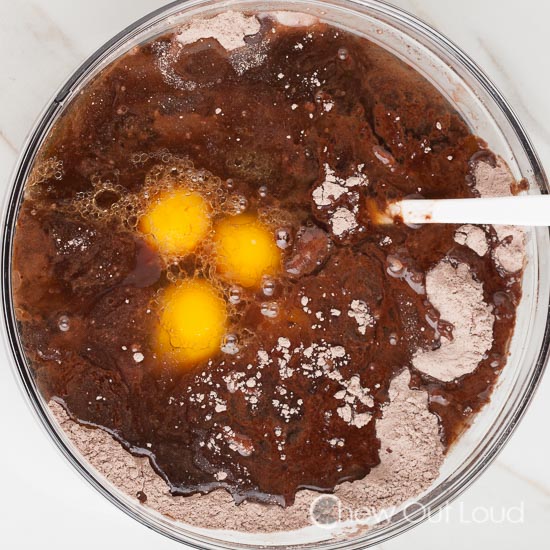 Key word is easy when it comes to this chocolate bundt cake
I've made plenty of from-scratch chocolate cakes that I'd eat by the slice-full daily if my body would let me.
One of my all time favorites is this one….it's one of my earliest posts and one of these days (?!) I'd like to find time to re-shoot the photos, but I still love it forever because it's got everything going for it.
We even have this vegan one-bowl delicious deal. Nobody even knows it's vegan and nobody really cares (unless they're vegan, which means they're extra happy.) And a gluten-free indulgence in the form of a flourless chocolate torte that sends all the chocolate lovers onto cloud nine.

This chocolate kahlua cake is your fail-proof secret
If semi-healthy is your thing, this Omega-3 Chocolate Cake is yours.
Today, I'm sharing this McCheaty Easy Chocolate Kahula Cake because we all have moments when friends are coming over tonight and I've remembered to mix this but realized we still need dessert.
Or maybe that only happens to me.
Regardless, this Chocolate Kahlua Cake is adapted from the recipe a precious friend gave me 13 years ago, and it's the best crunch-time cake ever.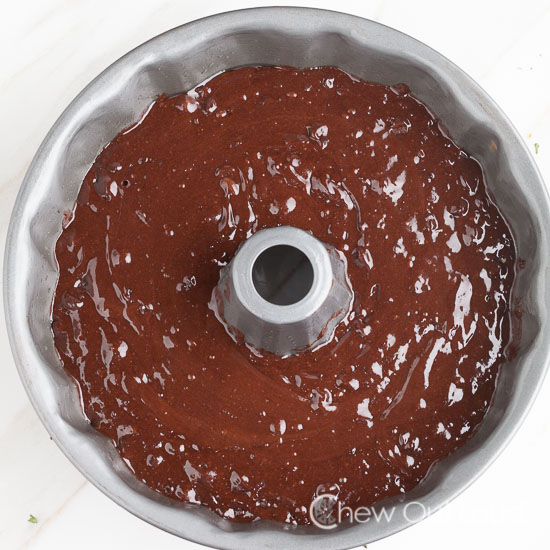 Super moist, tender crumb, bursting with chocolate, and infused with Kahlua.
Drizzled with a smooth and creamy chocolate ganache.
All in a snappy bundt package.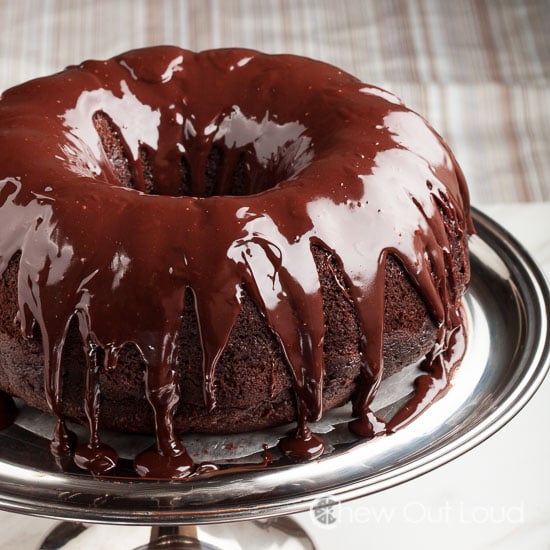 Yes, this chocolate cake recipe can be done the night before
Yes, you can absolutely make this cake the night before, and it's even better the next day. Somehow, that overnight rest makes this chocolate cake even luscious-er the next day.
As mentioned, this cake is really delish enough to serve up all by itself or just with a dash of powdered sugar on top…but let's just agree that nobody will complain about the accompanying ganache or a scoop of ice cream on top.
Try this homemade salted caramel:
Did you make this?
Please give us a rating and comment below. We love hearing from you!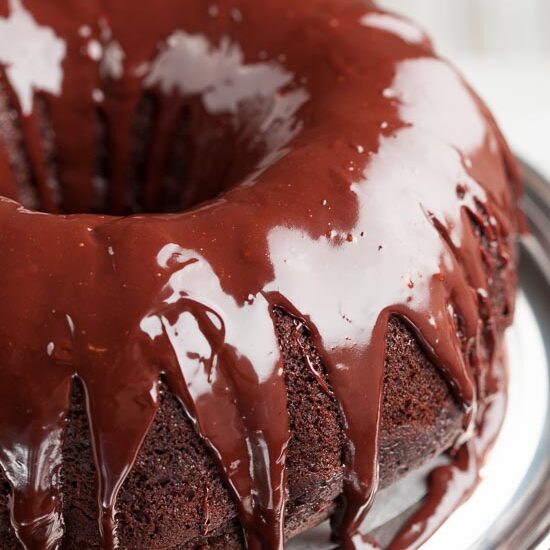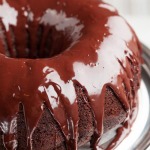 Easy Chocolate Kahlua Cake
This Easy Chocolate Kahlua Cake is one of the best semi-homemade cakes around. It's moist, tender, chocolatey, and infused with Kahlua. Drizzled with a decadent ganache. Even better after you let it sit overnight.
Ingredients
FOR THE CAKE:
1

Super Moist Yellow Cake Mix

,

about 16 oz

1

3oz instant chocolate pudding mix

4

large eggs

,

room temp

½

cup

vegetable oil

¾

cup

very strong coffee,

decaf is fine

⅔

cup

Kahlua

1

cup

mini chocolate chip morsels

,

mini ones melt better
Instructions
Preheat oven to 350F with rack on lower middle position. Generously grease a Bundt pan.

In a large bowl, whisk together the dry cake mix and dry pudding mix until combined.

In another bowl, stir together the eggs, oil, coffee, and Kahlua until smooth and well combined. Using a rubber spatula, gently fold wet ingredients with dry ingredients. Fold in the mini chocolate chips. Transfer to greased Bundt pan, evening out the top.

Bake 45 minutes or until toothpick inserted in center comes out with a few tender crumbs attached.

Let cool in pan on wire rack to room temp. Cover and let sit at room temp until ready to drizzle and serve.

To Make Ganache: In a heavy pan, bring heavy whipping cream to a boil over medium heat, and immediately remove from heat. Add the chocolate chips and Kahlua, stirring until smooth and melted. Cool slightly until consistency is thickened but pourable. Drizzle over cake.
Notes
If you enjoyed this recipe, please come back and give it a review. Thank you! ♡
Nutrition (per serving)
Calories:
424
kcal
|
Carbohydrates:
42.3
g
|
Protein:
6.4
g
|
Fat:
26.4
g
|
Saturated Fat:
17.7
g
|
Trans Fat:
0.1
g
|
Cholesterol:
73.3
mg
|
Sodium:
51.6
mg
|
Fiber:
3.1
g
|
Sugar:
28.4
g
Here are some of our most favorite and fail proof chocolate cakes ever:
One-Bowl Vegan Chocolate Cake. Easy and makes your vegan friends do a happy dance, while your non-vegan friends just joyfully nosh on.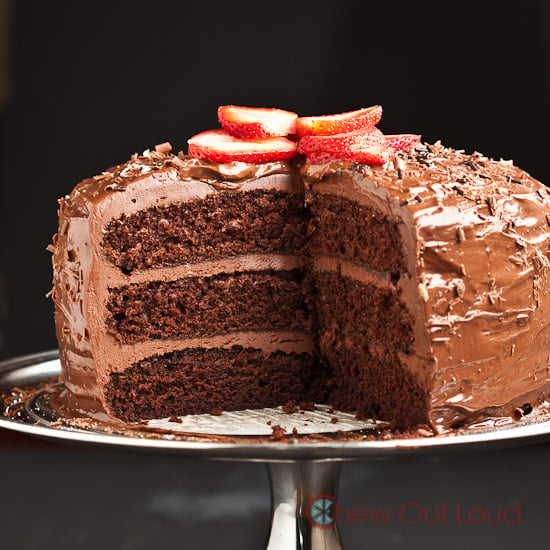 Omega-3 Chocolate Cake. This packs a healthy punch, but also is rich in chocolate and delish. Nobody knows (or probably cares) that this cake is rich in omega-3's, but you'll feel great serving it to your people.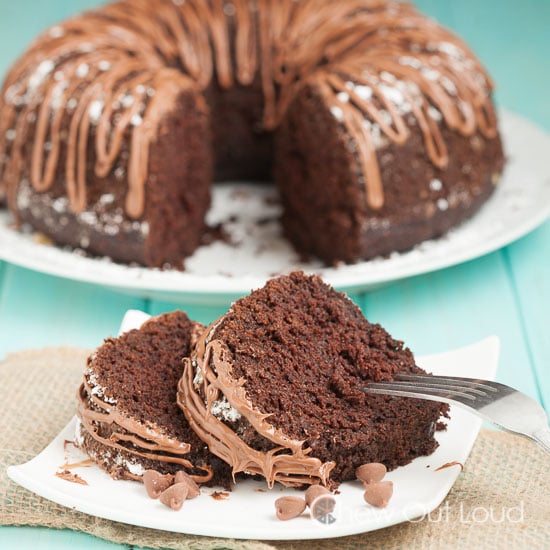 GF Flourless Chocolate Cake. Maybe it's more of a torte than a cake. No matter; it's absolutely delightfully awesome. Rich, decadent, and a chocolate lover's dream.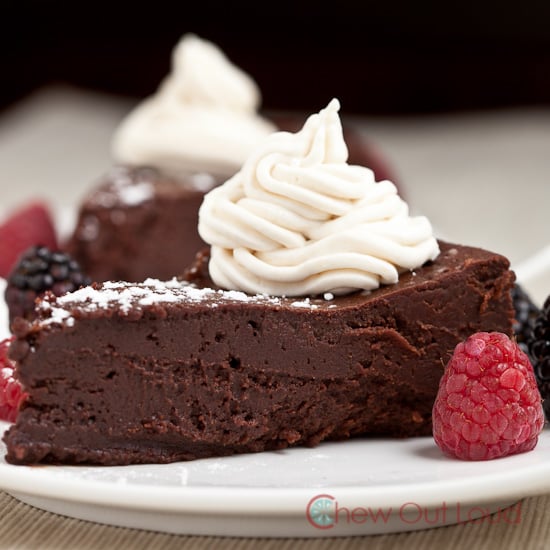 Triple Chocolate Mousse Cake. No words for this FAB cake. You'll fall in love.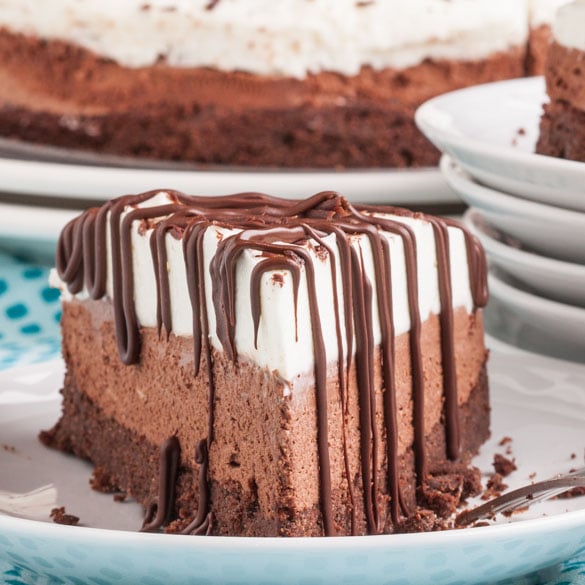 World's Best Oatmeal Chocolate Cupcakes. Crazy moist, sorta healthy, and tantalizing.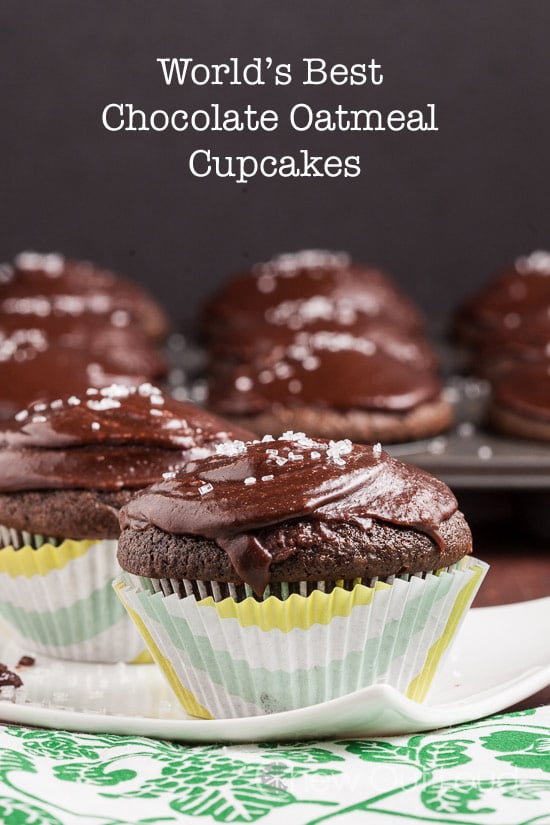 Hostess has got nothing on these Not-Your-Hostess-Cupcakes. They're ridiculously great, and barely resemble the flavor of the store bought stuff.