Favorite Ice Cream Recipes
If you love ice cream, you're in for some awesome scoops today. Here are our favorite, tried and true ice cream recipes that are easy and super delicious! Best of all, you know exactly what goes into your own all-natural ice cream. Many of these creamy ice cream recipes contain no eggs. Enjoy!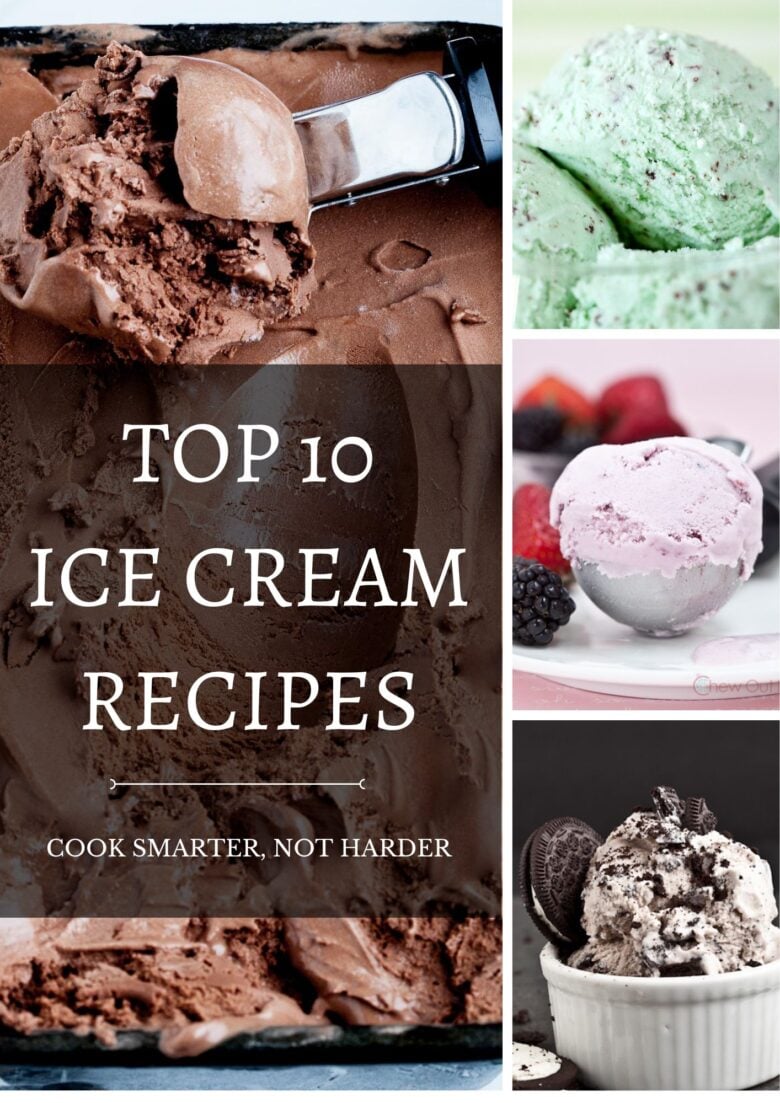 Favorite Ice Cream Recipes
We are a group of ice cream lovers around here, so it's our great pleasure to share this little collection of favorite ice cream recipes to make at home. Most of these ice cream recipes need only a few simple ingredients, and many of them don't require the fuss of tempering eggs. You'll be surprised how rich and creamy eggless ice cream can be! We've got everything from classic vanilla bean ice cream that's perfection over a slice of blueberry pie or chocolate kahlua cake, to an actual ice cream cake that rivals Dairy Queen's famous Blizzard cakes. Let's go.
The Top 10 Flavors
Video: Watch Us Make Ice Cream
Commonly Asked Questions
How do I make homemade ice cream?
Making homemade ice cream typically involves combining ingredients such as cream, sugar, and flavorings, and then churning the mixture in an ice cream maker. The specific recipe may vary, but this is the basic process.
What ingredients do I need to make homemade ice cream?
The basic ingredients for homemade ice cream include cream, sugar, milk, and flavorings such as vanilla extract. You can also add various mix-ins like chocolate chips, fruit, or nuts to vary the flavor and texture.

How long does it take to make homemade ice cream?
The time required to make homemade ice cream depends on the recipe and the method you choose. Generally, it takes around 20-30 minutes to churn the mixture in an electric ice cream maker.

Can I make ice cream without an ice cream maker?
Technically, you can make ice cream without an ice cream maker. One popular method is the "bag method" where you place the ice cream mixture in a sealed plastic bag and then place that bag inside another bag filled with ice and salt. You then shake the bags vigorously until the mixture solidifies. Though some recipes tout this method, we've found the best homemade ice cream is using an affordable electric ice cream maker.
How long does homemade ice cream last in the freezer?
Homemade ice cream is best enjoyed within 1-2 weeks after being made. Over time, it may develop ice crystals or gain a bit of "freezer burn" and its optimal texture and flavor may diminish with time.
Did you make this?
Please give us a rating and comment below. We love hearing from you!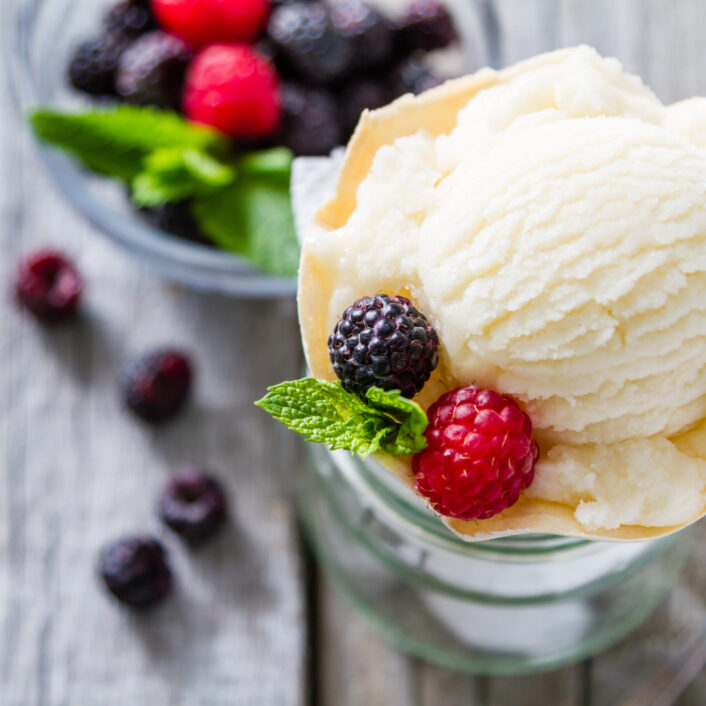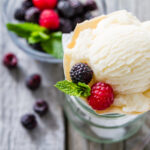 Favorite Ice Cream Recipes | Vanilla Ice Cream
This simple, egg-free vanilla ice cream requires only 4 ingredients and is creamy, smooth, and delicious.
Instructions
In a large chilled bowl, whisk together the milk, sugar (and optional salt) until the sugar is fully dissolved. Stir in the heavy cream and vanilla. Cover and refrigerate 1-2 hours, or overnight.

Turn on the ice cream maker; pour cold milk mixture into the frozen freezer bowl and churn until thickened, about 15-20 minutes. The ice cream will have a soft, creamy texture. For firmer texture, use rubber spatula to fully transfer the ice cream to an airtight container, cover, and place in freezer for at least 2 hours. May need to let ice cream sit at room temperature for 5 minutes before scooping.
Nutrition (per serving)
Serving:
1
serving
|
Calories:
255
kcal
|
Carbohydrates:
15
g
|
Protein:
2
g
|
Fat:
36
g
|
Saturated Fat:
11
g
|
Polyunsaturated Fat:
2
g
|
Monounsaturated Fat:
4
g
|
Cholesterol:
50
mg
|
Sodium:
20
mg
|
Potassium:
80
mg
|
Sugar:
15
g
|
Vitamin A:
720
IU
|
Vitamin C:
1
mg
|
Calcium:
70
mg
|
Iron:
0.1
mg