Peanut Butter Chocolate Chip Cookies (6 Ingredients)
By Amy Dong
Published Feb. 24, 2023
Updated Feb. 27, 2023
These gluten-free peanut butter cookies with chocolate chips are always a hit, as they're soft and chewy and boast big peanut butter + chocolate flavors. They stay soft and freeze well.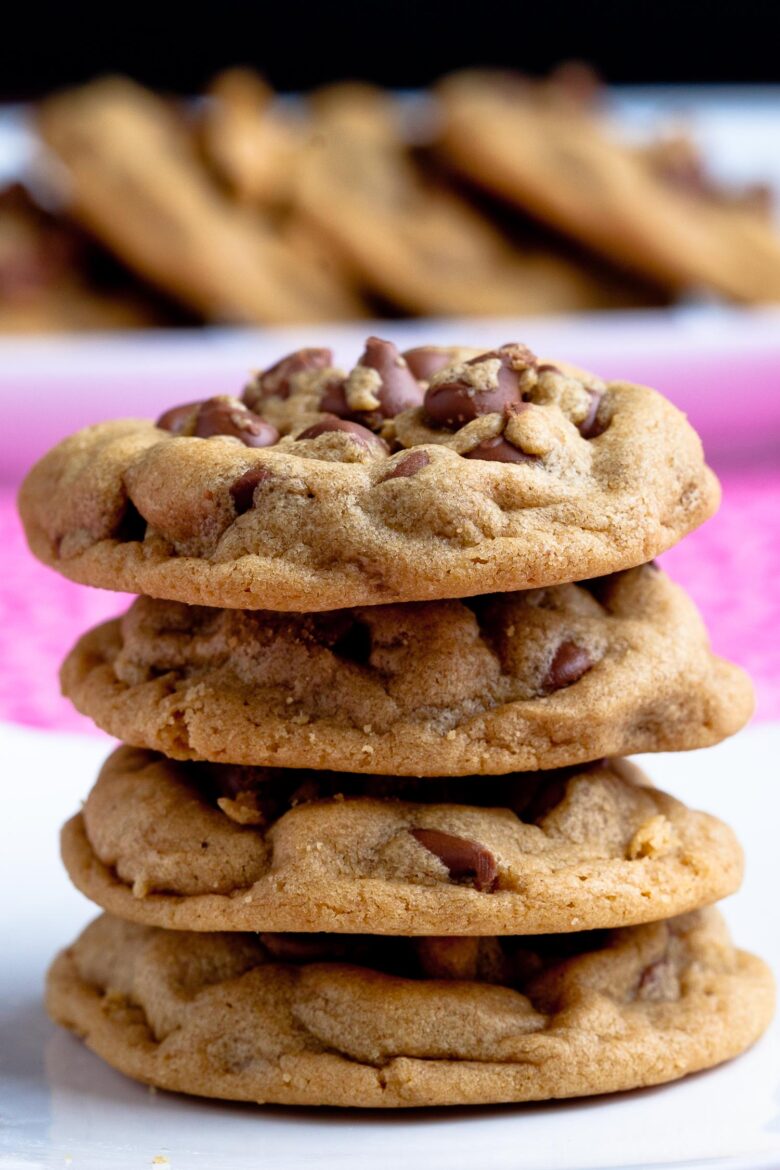 Peanut Butter chocolate Chip Cookies
Peanut butter chocolate chip cookies are a classic dessert that combines two of the most beloved flavors in the world: creamy peanut butter and rich, milky chocolate chips. And with this recipe, you can enjoy these delectable treats without any flour. That makes these luscious cookies enjoyable by gluten-free eaters, who won't be mad at all that you baked these up.
6 Ingredients
The ingredients in this recipe are simple, yet they come together to create a delicious and satisfying treat. The star of the show is, of course, creamy peanut butter. The peanut butter provides the base for the cookie dough and gives the cookies their distinct nutty flavor.
Creamy peanut butter – my favorite is Skippy Naturals. Use any creamy peanut butter, as long as it's not the kind where oil separates.
Eggs – these help bind the cookie dough together
Dark brown sugar – richer and deeper in flavor than light brown sugar
Granulated sugar – just another word for plain white sugar
Baking soda – provides the leavening necessary to give these peanut butter cookies their light texture. If needed, look for gluten free label
Real milk chocolate chips – because we're going for the peanut butter cups flavor, remember? Feel free to use semi-sweet or dark chocolate, if preferred.
Naturally Gluten-Free
As much as I personally adore my Sun Butter, I still have to keep a big stash of peanut butter within reach and not just for the kids. Because you never know when a spoonful of it will be very, very strongly desired. Obviously not nut-free, peanut butter is naturally gluten-free. Just to be on the safe side, check for certified gluten-free labeling on your ingredients.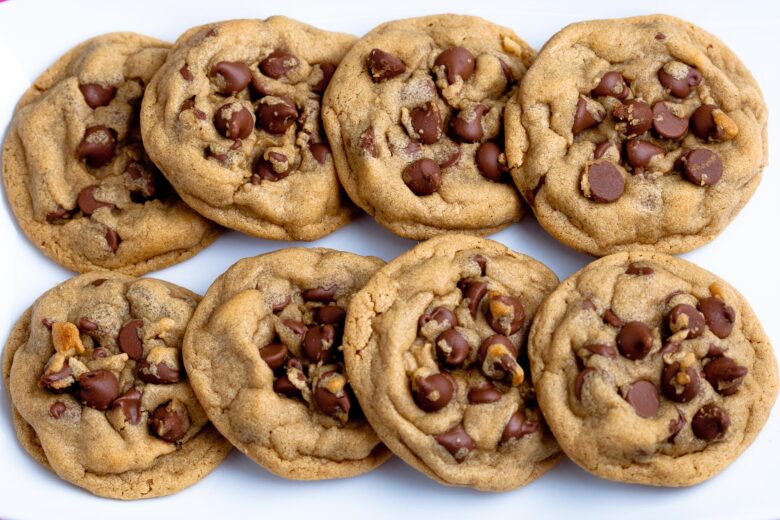 How to Make Peanut BUtter Chocolate Chip Cookies
To make these cookies, you simply combine all 6 ingredients in a bowl and mix well. These peanut butter cookies may have the the easiest instructions ever. No need to separately mix dry vs. wet ingredients.
Scoop the dough into 1-inch dough balls onto a baking sheet lined with parchment paper, leaving about two inches between each cookie.
Bake the cookies for about 8 minutes or until they are golden brown around the edges. The key is not to over-bake, as the cookies will set upon cooling, becoming chewy soft.
Once the cookies are done baking, let them cool for a few minutes on the baking sheet before transferring them to a wire rack to cool completely.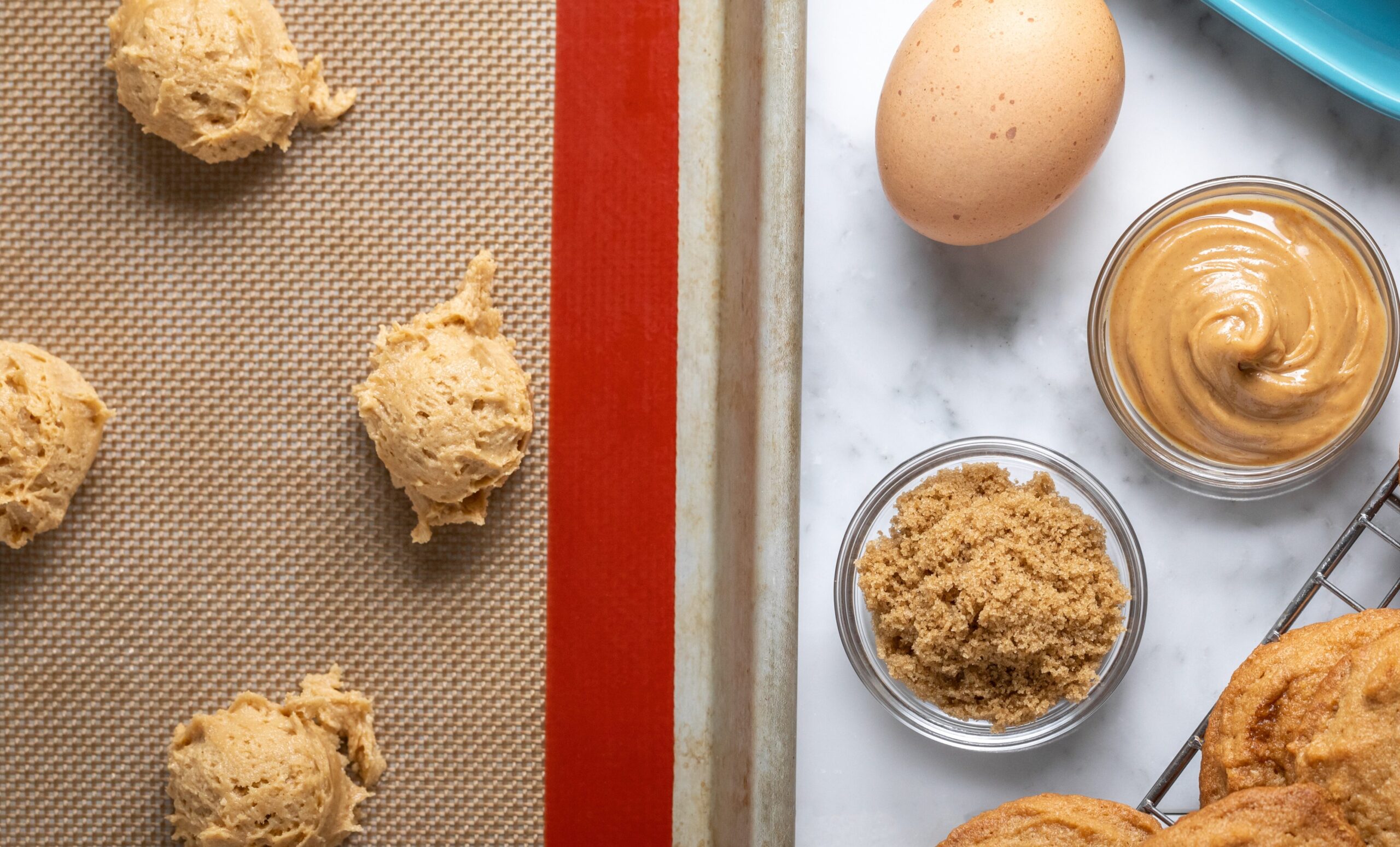 How to Store or Freeze cookies
These flourless peanut butter chocolate cookies are absolutely scrumptious the first day they're baked. They'll happily remain chewy-soft for a couple of days after that, if you take care to wrap them airtight at room temp.
The dough can be frozen airtight for a week or two, but don't go much longer than that, as peanut butter can lose moisture and become a bit crumbly if frozen too long. You can also wrap baked cookies airtight and freeze for up to several weeks. But seriously – is it realistic to think these cookies would sit around that long? Unlikely.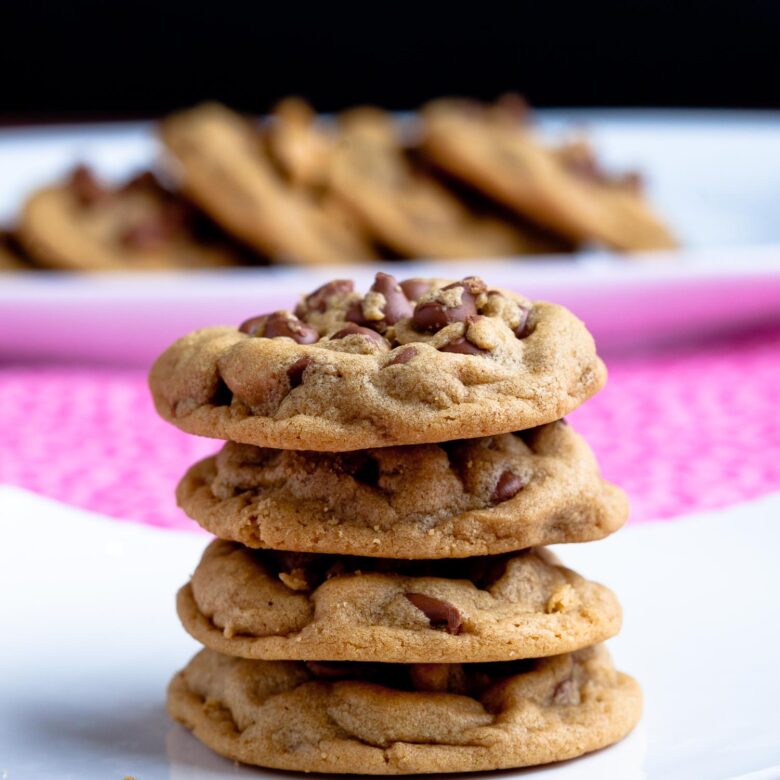 Peanut Butter chocolate Chip Cookies Common Qustions
Can I substitute almond butter for peanut butter in flourless peanut butter chocolate chip cookies?
Yes, you can substitute almond butter (or other nut/seed butters, for peanut butter in flourless peanut butter chocolate chip cookies. The flavor and texture may be slightly different, but it should still result in a delicious cookie.
Are flourless peanut butter chocolate chip cookies healthier than regular chocolate chip cookies?
Flourless peanut butter chocolate chip cookies are generally lower in carbohydrates and higher in protein compared to regular chocolate chip cookies. However, they still contain sugar and fat, so they should be enjoyed in moderation as part of a balanced diet.
How can I make peanut butter chocolate chip cookies vegan?
You can replace the eggs with a flax egg. To make a flax egg, mix 1 tablespoon of ground flaxseed with 3 tablespoons of water and let it sit for 5-10 minutes until it thickens. The texture of finished cookies will of course be a bit different, but you'll still have a tasty cookie.
Can I use dark chocolate chips or other add-ins?
Absolutely, you can switch out the milk chocolate chips for dark chocolate, if you prefer. You can also try white chocolate chips, or omit the chips completely for a pure peanut butter cookie.
More Cookies to Bake and Eat
---
Did you make this?
Please give us a rating and comment below. We love hearing from you!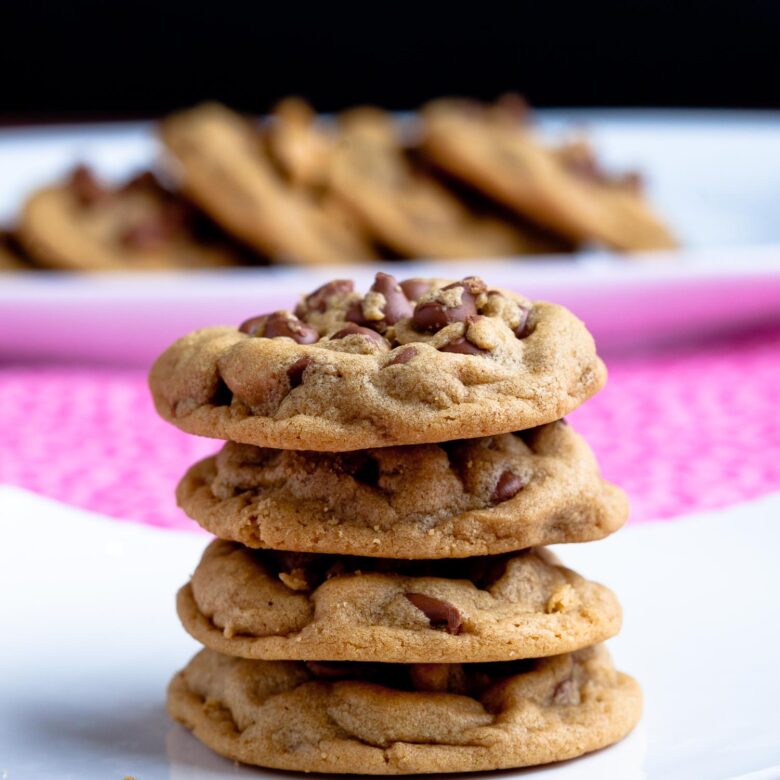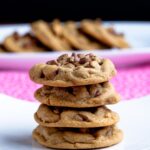 Peanut Butter Chocolate Chip Cookies
Gluten-Free Peanut Butter Chocolate Cookies are wonderfully chewy-soft and need only 6 ingredients. They stay soft for days, and can be frozen airtight.
Instructions
Preheat oven to 350F, with rack on lower middle position. Line baking sheets with parchment paper.

Place all ingredients except for chocolate chips in stand mixer or a large bowl. On medium speed, mix ingredients just until fully incorporated. Gently stir in the chocolate chips.

Form heaping 1 tablespoon-sized dough balls and place onto parchment lined baking sheet. Flatten them slightly, but keep them 2 inches apart.

Bake 8 minutes. They should seem slightly under baked; they'll set up nicely as they cool.

Let cool a few minutes on pan, carefully transfer to wire rack, and finish cooling.
Notes
I like Skippy Naturals creamy peanut butter in this recipe, as it's lightly sweet and extra creamy. If your peanut butter is unsweetened, you may increase sugars: 2/3 cup brown sugar + 2/3 cup granulated sugar.
Do not use the kind of peanut butter with separation of solid/oil and needs to be hand-stirred.
If needed, check that baking soda is certified gluten-free.
If you enjoyed this recipe, please come back and give it a rating ♡
Nutrition (per serving)
Calories:
178
kcal
|
Carbohydrates:
17.1
g
|
Protein:
4.5
g
|
Fat:
11.5
g
|
Saturated Fat:
3.9
g
|
Cholesterol:
10.6
mg
|
Sodium:
138.8
mg
|
Fiber:
1.7
g
|
Sugar:
14.5
g