Healthy Fall Pumpkin Chili Recipe
This Healthy Fall Pumpkin Chili is an autumn favorite. It's loaded with healthful ingredients and big bold flavors. Comforting, cozy, and deliciously savory.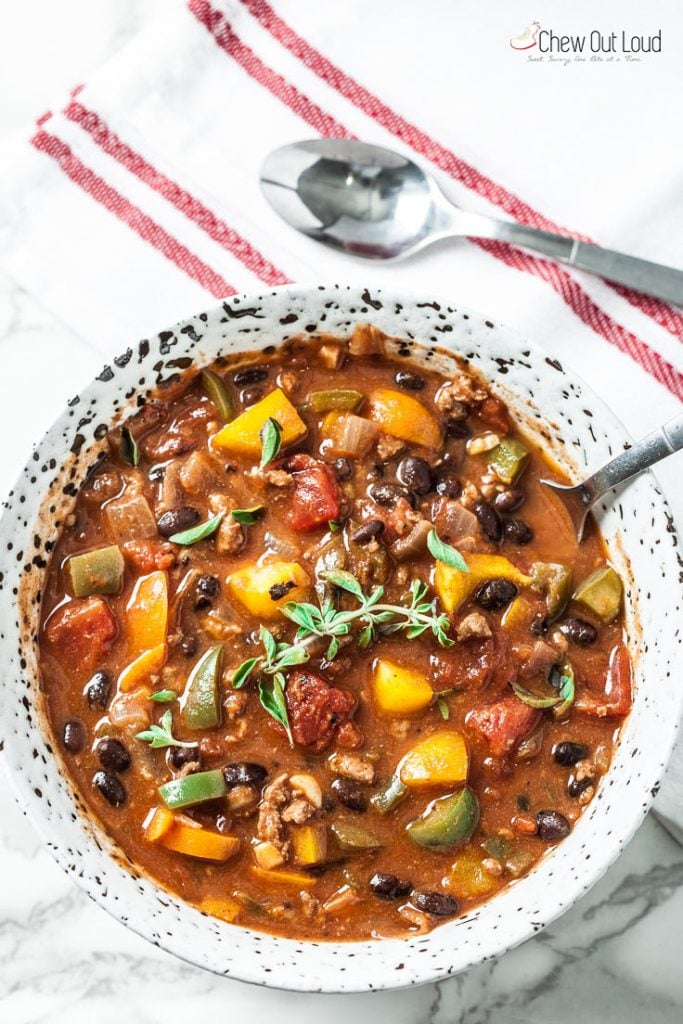 Pumpkin Chili Recipe
It's officially too cold in the mornings for The Littles to get away with their usual T-shirt and shorts getup. They've refused to don pants up until today. Their entire pants + hoodies collection has remained untouched for months. We do live in Minnesota where we wait until it snows to bring out the real clothes, so I kinda get it.
But still. When it's 30F at the bus stop in the morning, I have to put my foot down.
Or charge a dollar every time they try to sneak out of the house with shorts on. I may get a little richer by wintertime. 😇
Thankfully, I don't have to pull any silly stunts for the family to gobble up this Healthy Fall Pumpkin Chili.
Before you raise a brow because you saw pumpkin chili, let me reassure you that it's not nearly as weird as it sounds. (If you didn't think it was weird in the first place, just ignore me right now.)
In truth, this chili tastes a lot like our all-time favorite hearty chili, but we've seasoned it up with fall flavors that subtly amp up the autumn vibes. Give it a go; you'll be rewarded with comforting bowls of savory, satisfying chili that tastes extraordinary…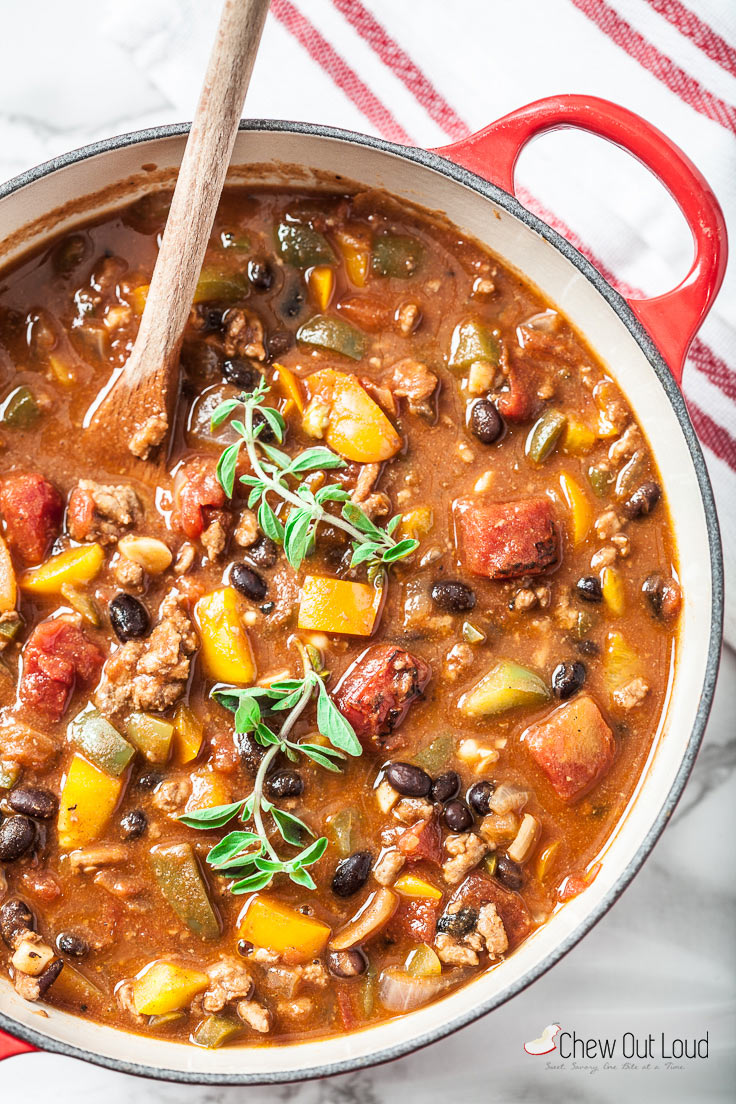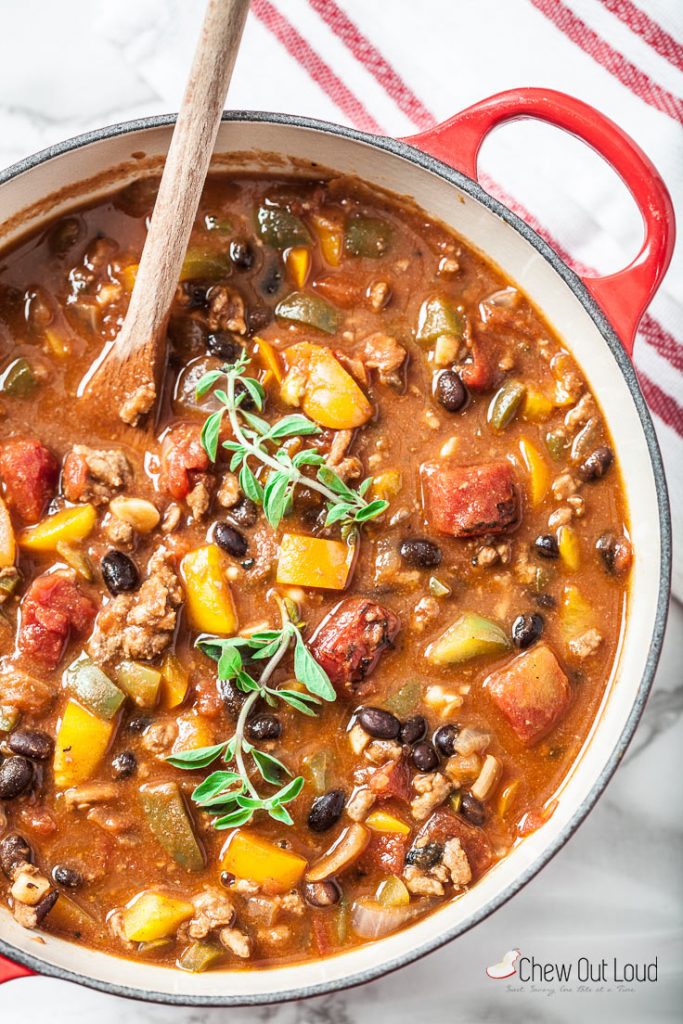 Pumpkin: Not just for baking
The pumpkin thing? Sure, you already love it in pumpkin bread and pumpkin pie. But pumpkin chili? Nobody will guess how sneaky you were. Its main role in this recipe is to thicken the chili and provide an extra boost of nutrition.
The pumpkin flavor is so subtle, nobody actually ever guesses it when we play "guess the secret ingredient." We highly recommend playing this game if you get a kick out of bewildering everyone.
We season up this chili some a bit of pumpkin pie spice, which is essentially just a mixture of cinnamon, nutmeg, ginger, and allspice. Just a teaspoon imparts a wonderfully delicate autumn flavor, without coming off strong at all. You'll just have to trust us on this; after all, cinnamon is the reason this Butternut Squash Chili is so popular.
Then we add in all our usual players – plenty of garlic (yum) and onion, colorful veggies, black beans, and fire roasted tomatoes – sooo good. We use ground turkey in this pumpkin chili, but feel free to go with beef. You can even make it vegetarian and replace the meat with extra beans and bells.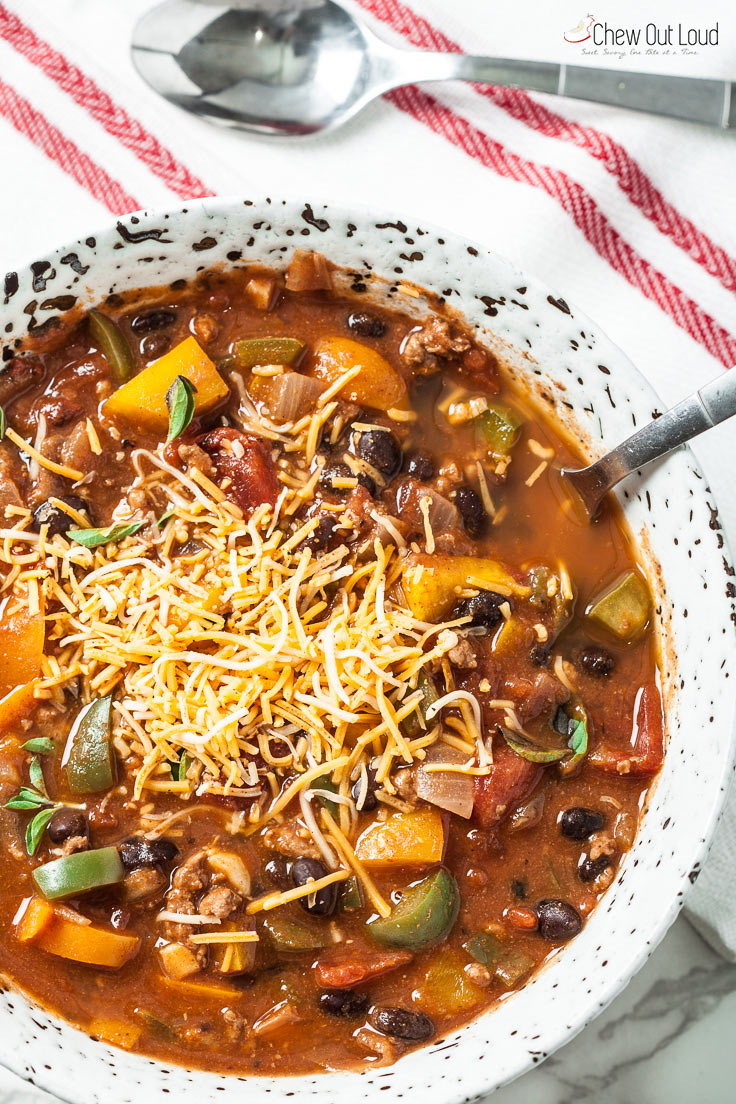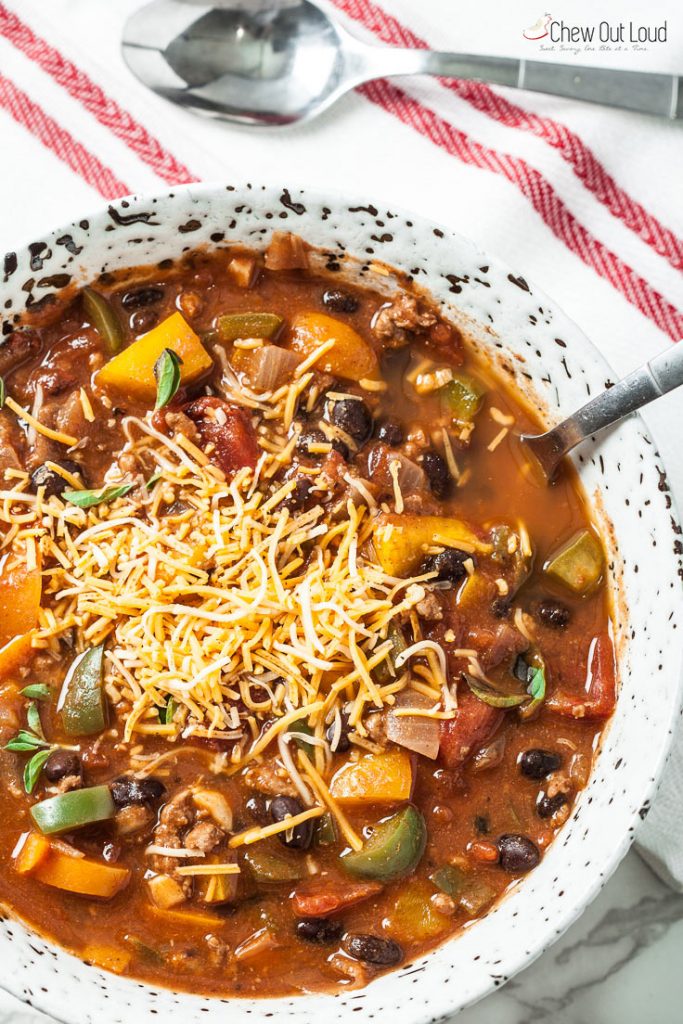 Here's to breaking out the hoodies, pants, and big pots of steaming pumpkin chili with extra cheese on top.
Enjoy!
You'll probably
love this also: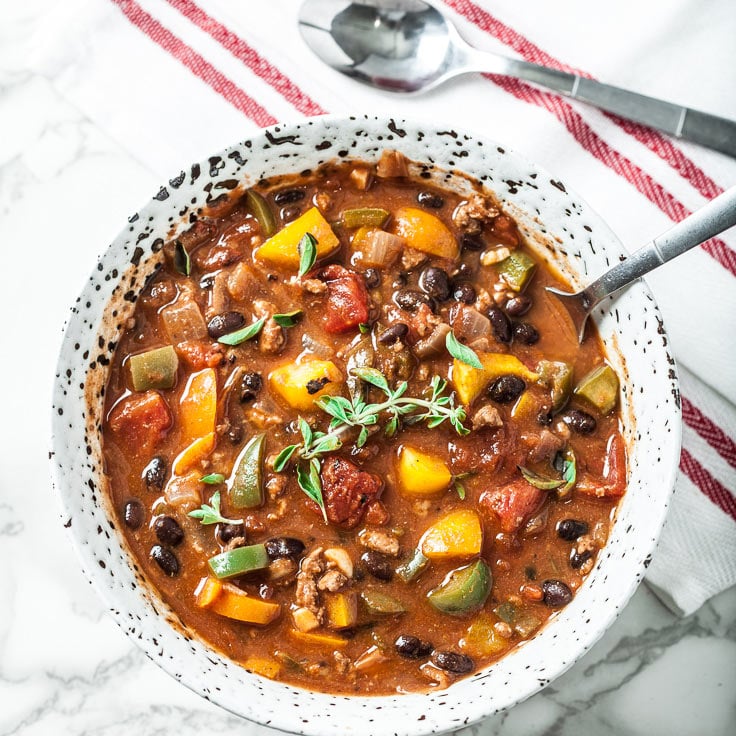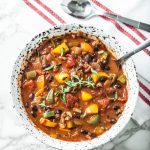 Healthy Fall Pumpkin Chili Recipe
This Healthy Fall Pumpkin Chili is an autumn favorite. It's loaded with healthful ingredients and big bold flavors. Comforting, cozy, and deliciously savory.
Instructions
In a large heavy pot or Dutch oven, heat olive oil until hot. Add onion and garlic, stirring until fragrant, about 30 seconds. Add sugar, chili powder, cumin, pumpkin pie spice, oregano, and coriander. Stir to combine, 10 seconds.

Add ground turkey to pot and sprinkle 1 tsp salt over it; cook/stir to break up into small pieces. When turkey is cooked through, add tomato paste and stir 30 seconds.

Add bell peppers, fire-roasted tomatoes with juices, and broth. Scrape bottom of pan while stirring. Bring chili to a simmer; simmer covered for 20 minutes. Add beans and pumpkin puree. Bring chili back to a simmer for 15-20 min or until heated through. Remove from heat. Add additional kosher salt and freshly ground black pepper to taste. Serve warm, with shredded cheddar cheese if desired.
Notes
Chili keeps well; simply cover and chill in fridge. Reheat by bringing back to simmer on stovetop.
Make it meatless by using veggie broth and omitting turkey. If you enjoyed this recipe, please come back and give it a rating ♡
Nutrition
Serving:
1
g
|
Calories:
396
kcal
|
Carbohydrates:
58
g
|
Protein:
29
g
|
Fat:
5
g
|
Saturated Fat:
1
g
|
Polyunsaturated Fat:
1
g
|
Monounsaturated Fat:
2
g
|
Trans Fat:
0.01
g
|
Cholesterol:
25
mg
|
Sodium:
257
mg
|
Potassium:
1399
mg
|
Fiber:
14
g
|
Sugar:
5
g
|
Vitamin A:
2661
IU
|
Vitamin C:
4
mg
|
Calcium:
152
mg
|
Iron:
6
mg
Did you make this?
Leave a comment below and tag @chewoutloud on Instagram
Crazy for Chili: