Shrimp Stir Fry (Szechuan)
By Amy Dong
Published Jan. 11, 2023
Updated Sep. 27, 2023
This Szechuan shrimp stir fry recipe is saucy, flavorful, and nutritious, too! Better than takeout, it comes together with just 10 ingredients and 20 minutes. You're in for a quick, succulent meal everyone will love.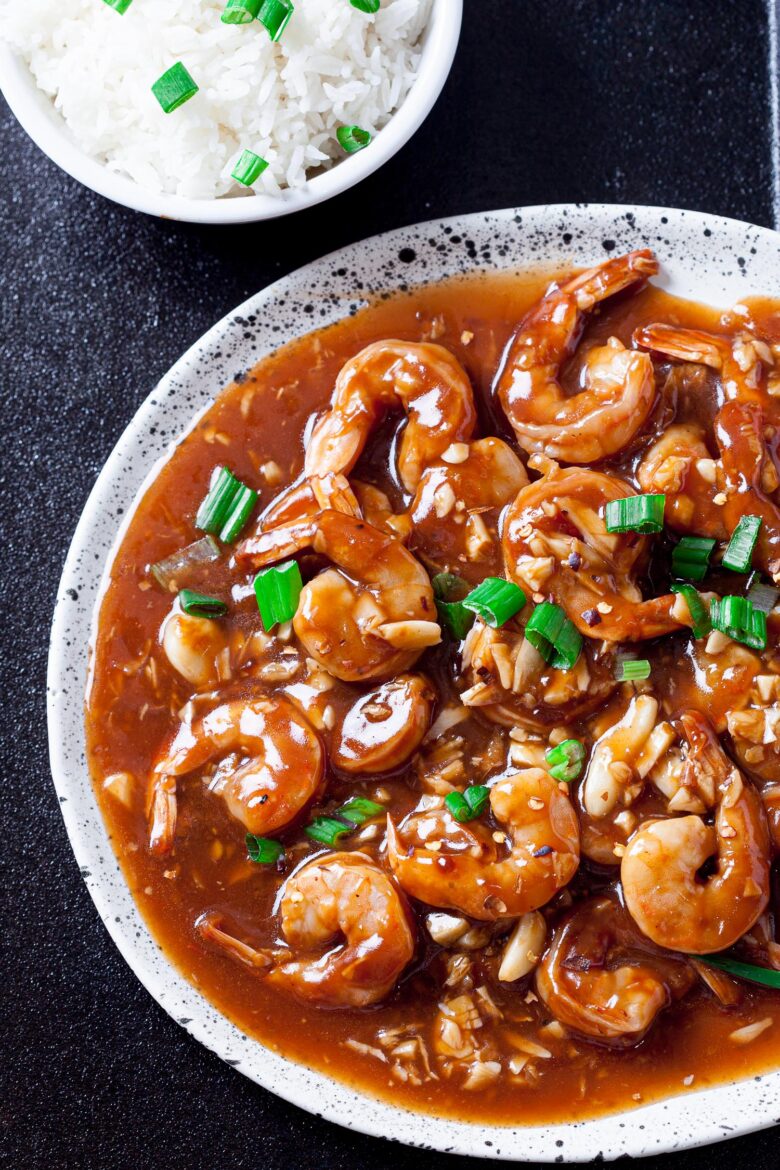 What Is Szechuan?
Also referred to as Sichuan or Szechwan, Szechuan is a type of Chinese cuisine that originates from the Sichuan province of southwestern China. Known for their spicy flavors, many Szechuan dishes incorporate liberal amounts of garlic and chili peppers. Furthermore, the cuisine incorporates a variety of cooking techniques including sautéing, stir-frying, dry braising, soaking in water, and frying. Some of the most common Szechuan recipes are twice-cooked pork, spicy chicken, fish-flavored pork shred, and Szechuan shrimp!
What's the Difference Between Szechuan Shrimp and Hunan Shrimp?
Both Szechuan shrimp and Hunan shrimp are popular Chinese dishes containing shrimp coated in a spicy, flavorful sauce. However, this is where the similarities end as the cooking techniques and flavor profiles of each dish differ dramatically.
For example, Hunan shrimp is made with spicier, more savory flavors thanks to the garlicky sauce containing either chili oil or black bean paste. Meanwhile, Szechuan shrimp has a sweet and sour flavor thanks to the addition of vinegar and sugar added to the red pepper-based sauce.
In addition, Hunan shrimp is typically cooked in a wok over high heat while Szechuan shrimp is cooked over low heat. The combination of these differences results in two entirely different recipes.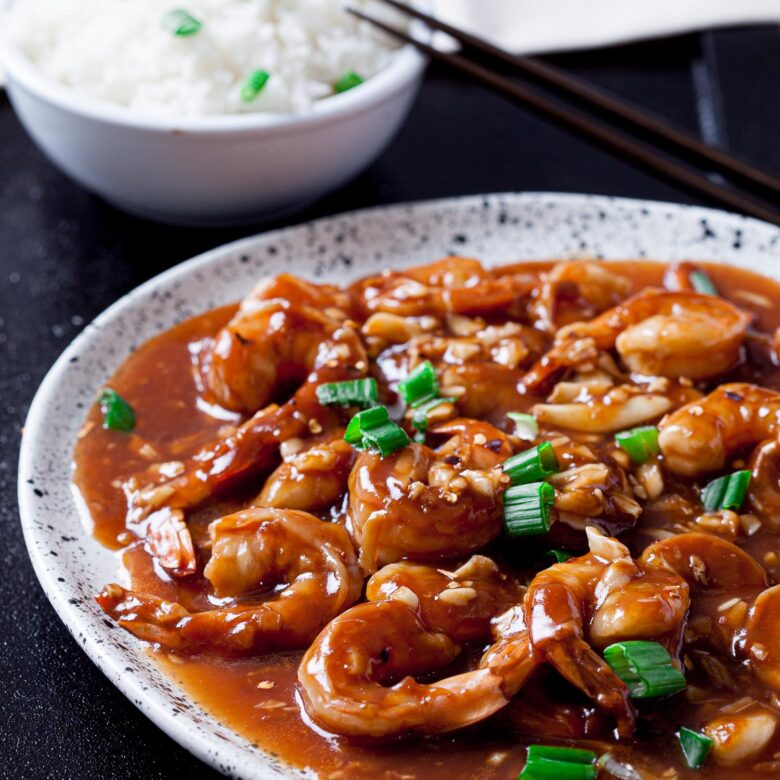 Shrimp Stir Fry
Key Ingredients
Given its immense depth and bold flavor, you might be surprised to find that the ingredient list for this shrimp stir fry recipe contains just a handful of basic pantry items.
For the Shrimp
Shrimp – Large, raw shrimp work best. Just be sure they are thawed, peeled, and deveined before adding them to the dish.
Oil – We prefer to use olive oil to stir fry the shrimp, as it's a healthy way to add flavor and prevent them from sticking to the wok.
Aromatics – Garlic and freshly minced ginger impart wonderfully bright and zesty aromas to the dish.
For the Szechuan Sauce
Rice Cooking Wine – A staple in many Chinese recipes like ginger soy Asian steamed fish and Kung Pao Chicken, this can be found in the Asian section of most grocery stores and is used to add depth to the sauce.
Water – Just a splash helps combine the ingredients.
Ketchup – Adds a subtle sweetness that balances out the spiciness of the rest of the dish.
Soy Sauce – Regular or light soy sauce can be used. If you need it to be gluten-free, use Tamari sauce.
Cornstarch – Helps thicken the sauce while keeping the dish gluten-free.
Honey – For a sweet flavor and thicker texture that helps the sauce cling to the shrimp.
Crushed Red Pepper – Used to create mildly fiery flavor we love! You can always use less or more, depending on how big of a kick you'd like.
Pro-Tips
Quick and simple, this shrimp stir fry is a fail-proof recipe anyone can make, especially when following our top tips and tricks below!
Dry the Shrimp. Use paper towels to pat the shrimp dry. Otherwise, they won't sear and brown in the wok; if shrimp contains excess moisture, it'll tend to steam rather than brown.
Use a Large Wok or Skillet. You want to make sure you have plenty of room to arrange the ingredients in an even layer and stir them around as they cook. This is key to creating tender cooked shrimp.
Work Quickly. Shrimp cooks fast! So, be sure to have all your ingredients prepped and ready to use. Stay close to the stove, and keep a close eye on your stir fry to prevent it from overcooking.
Immediately Remove from Heat. Once shrimp turns opaque and no longer is transparent, it's done. Do not allow opaque shrimp to continue cooking, as it can quickly go from succulent and tender to tough and rubbery.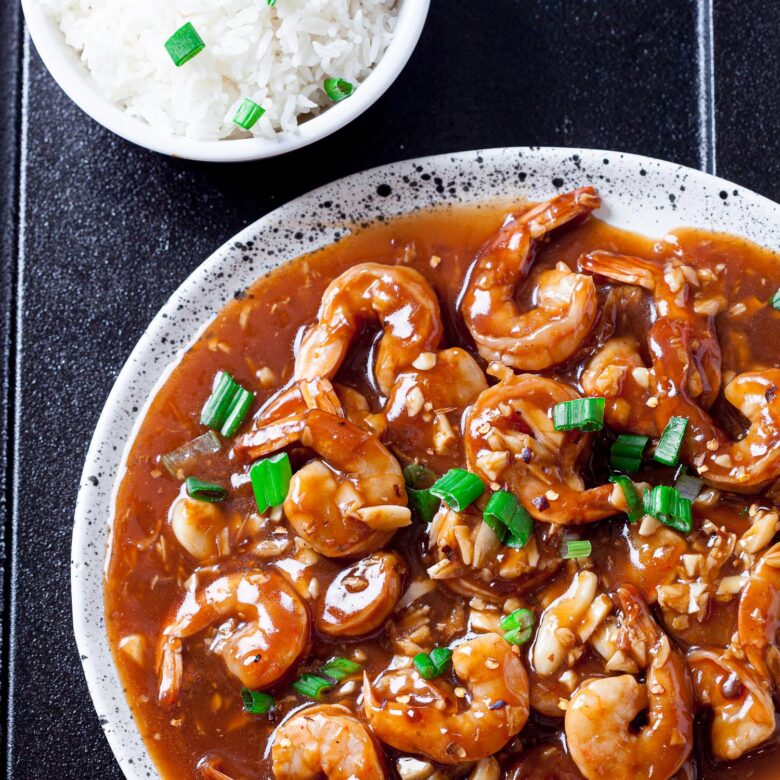 Commonly Asked Questions
Can I make this Szechuan shrimp stir fry ahead of time?
It's best to serve this shrimp stir fry recipe fresh and hot off the stove. However, leftovers can be transferred to an airtight container and stored in the fridge for up to 2 days. Reheat in 30-second increments in the microwave to avoid overcooking your leftovers.
What should I serve with this shrimp stir fry?
We love to serve this shrimp stir fry over a bed of Asian sticky rice or easy fried rice. However, it also tastes great paired with lo mein noodles, and feel free to incorporate all your favorite veggies! You won't go wrong serving shrimp stir fry over a bed of fluffy Jasmine rice.
Can I sub with another protein, or combine another protein with this recipe?
Yes, this Szechuan stir fry also tastes great with chicken, pork, or beef. If combining shrimp with another protein, cook the other protein first, as shrimp cooks quickly. If substituting with another protein, be sure to adjust the cooking time as needed.
What's the secret to successful stir fry?
It's of utmost importance to start with an extra large pan or a wok, and get the oil super hot prior to adding ingredients. Keep stirring, and never overcrowd the pan. Also don't skimp on oil – if you'd like to keep your stir fry healthy, you can use extra virgin olive oil. The smoke point of extra virgin olive oil is 410ºF, which is safe for stir frying.
---
---
More to Cook and Eat
---
Did you make this?
Please give us a rating and comment below. We love hearing from you!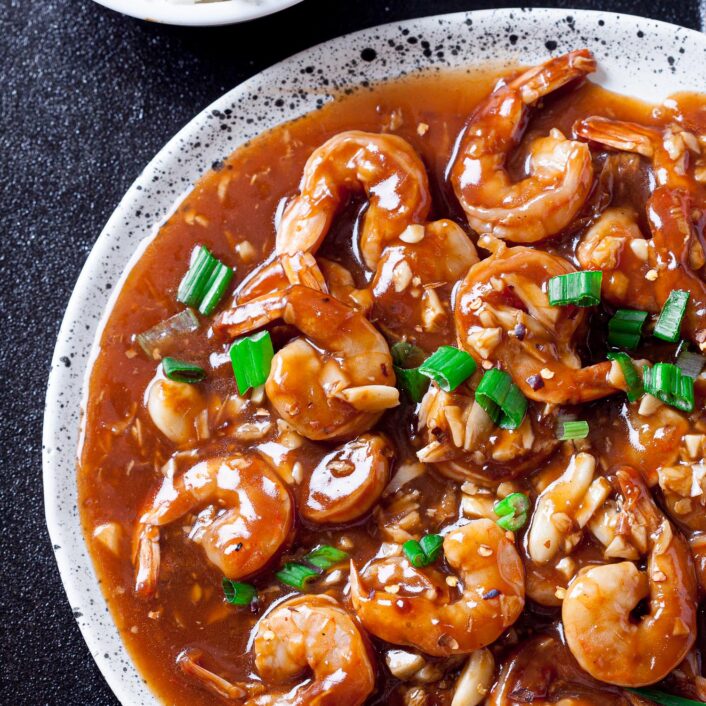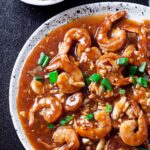 Shrimp Stir Fry (Szechuan)
This Szechuan shrimp stir fry is saucy, flavorful, and nutritious, too! Better than takeout, it comes together with just 10 ingredients for a quick, succulent meal everyone will love.
Ingredients
For the Shrimp:
12

oz

large shrimp,

raw, peeled and deveined

2

TB

olive oil

8

cloves

garlic,

minced

1

tsp

ginger,

freshly minced
Instructions
Pat the shrimp dry with paper towels. Set aside.

In a bowl, whisk together all sauce ingredients until well combined. Set aside.

In a wok or large skillet, heat olive oil over medium-high heat just until hot. Add garlic, and cook 1 min or until fragrant. Add ginger, and stir another 30 seconds.

Add shrimp, and cook 2-3 min, OR just until they are opaque. Once they turn opaque, immediately move to next step.

Add the prepared sauce to the wok, stirring to combine and coat the shrimp, about 1 minute or until sauce is heated through.

Garnish with green onions, if desired. Serve immediately.
Notes
See original article for serving suggestions and substitutions.
If you enjoyed this recipe, come back and give it a rating ♡
Nutrition (per serving)
Serving:
1
serving
|
Calories:
187
kcal
|
Carbohydrates:
16
g
|
Protein:
12
g
|
Fat:
7
g
|
Saturated Fat:
1
g
|
Polyunsaturated Fat:
1
g
|
Monounsaturated Fat:
4
g
|
Trans Fat:
0.01
g
|
Cholesterol:
107
mg
|
Sodium:
654
mg
|
Potassium:
129
mg
|
Fiber:
0.3
g
|
Sugar:
8
g
|
Vitamin A:
230
IU
|
Vitamin C:
2
mg
|
Calcium:
59
mg
|
Iron:
0.3
mg