Instant Pot Baby Potatoes
By Amy Dong
Published Mar. 30, 2023
Updated Apr. 2, 2023
This Instant Pot Baby Potatoes Recipe results in a supremely flavorful, tender potato dish. You'll have saucy, garlicky, potatoes with just 10 minutes of cook time.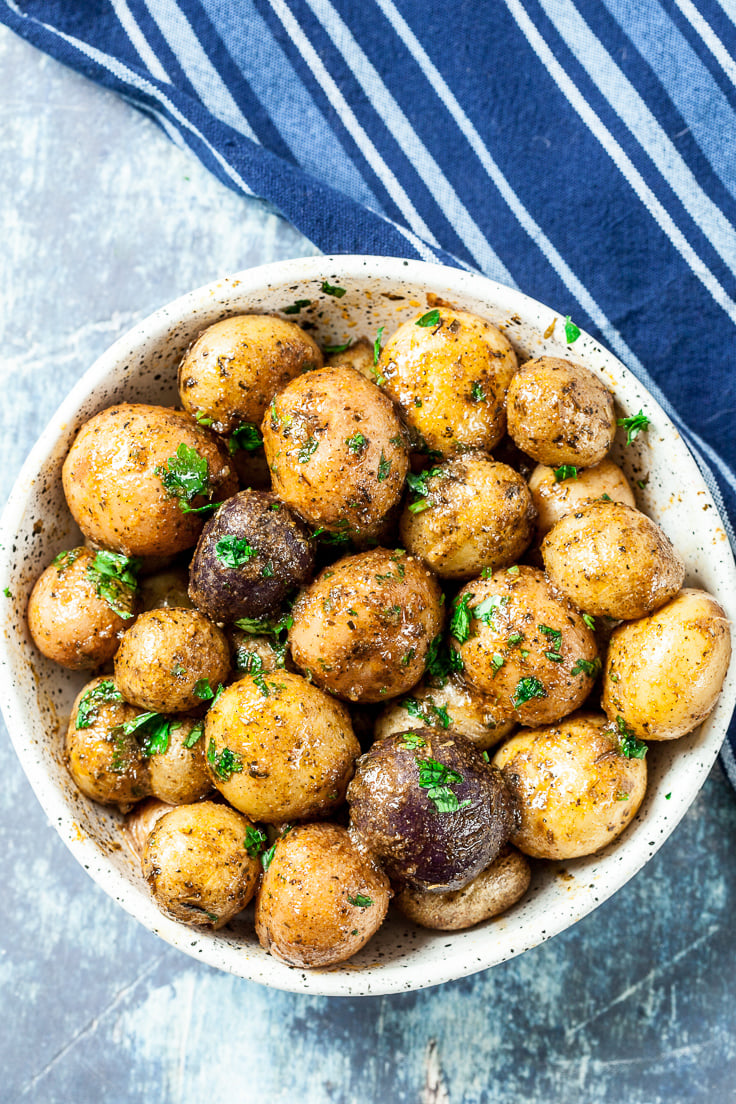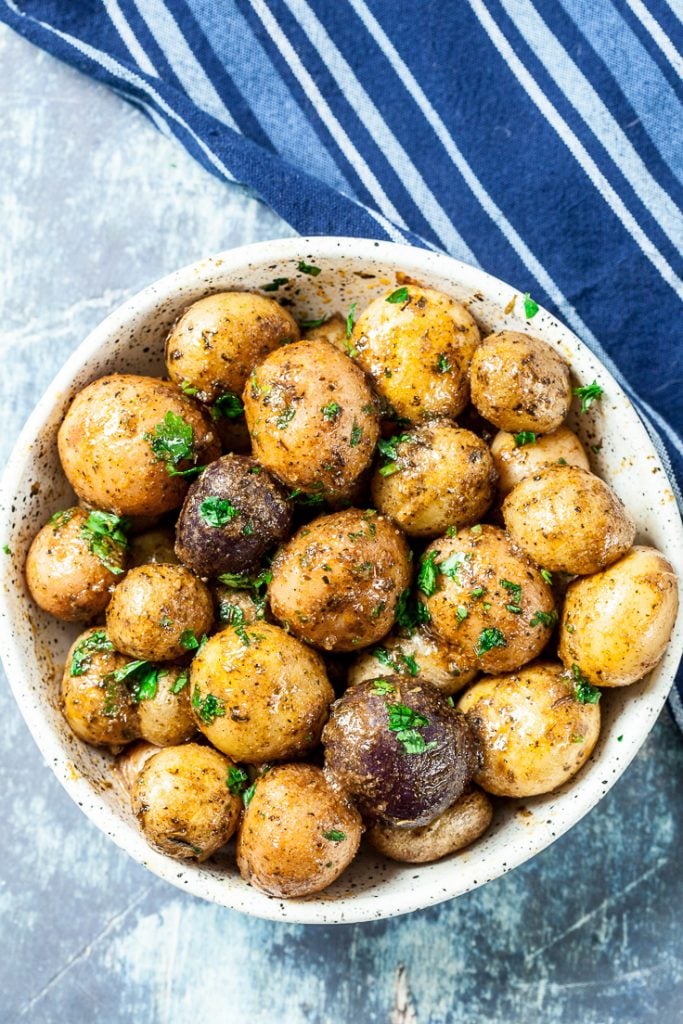 Instant Pot Baby Potatoes
Our three boys didn't eat potatoes unless it was in the form of french fries or tater tots. I decided to make Instant Pot Baby Potatoes mostly because I impulsively threw a bag of baby potatoes into the cart while shopping on an empty stomach. I decided to make garlicky baby potatoes just for Hubby and myself, fully expecting the kids to decline. However, after one bite, all the boys experienced a sudden conversion into potato eaters.
I don't know if the unforeseen rise of potatoes into Devour Status is due to young peoples' ever changing taste buds or due to the deliciousness of these Instant Pot baby potatoes, but who cares? All I know is I've made this potato recipe 3 times this past week.
What You'll Love
About INstant Pot Potatoes
They're tender and full of flavor.
They require only 10 ingredients or less.
They're ridiculously easy to make.
Baby potatoes don't need to be peeled.
You don't need to heat up an entire oven.
It's an affordable, simple side dish that pairs well with everything from roasted chicken to garlic steak.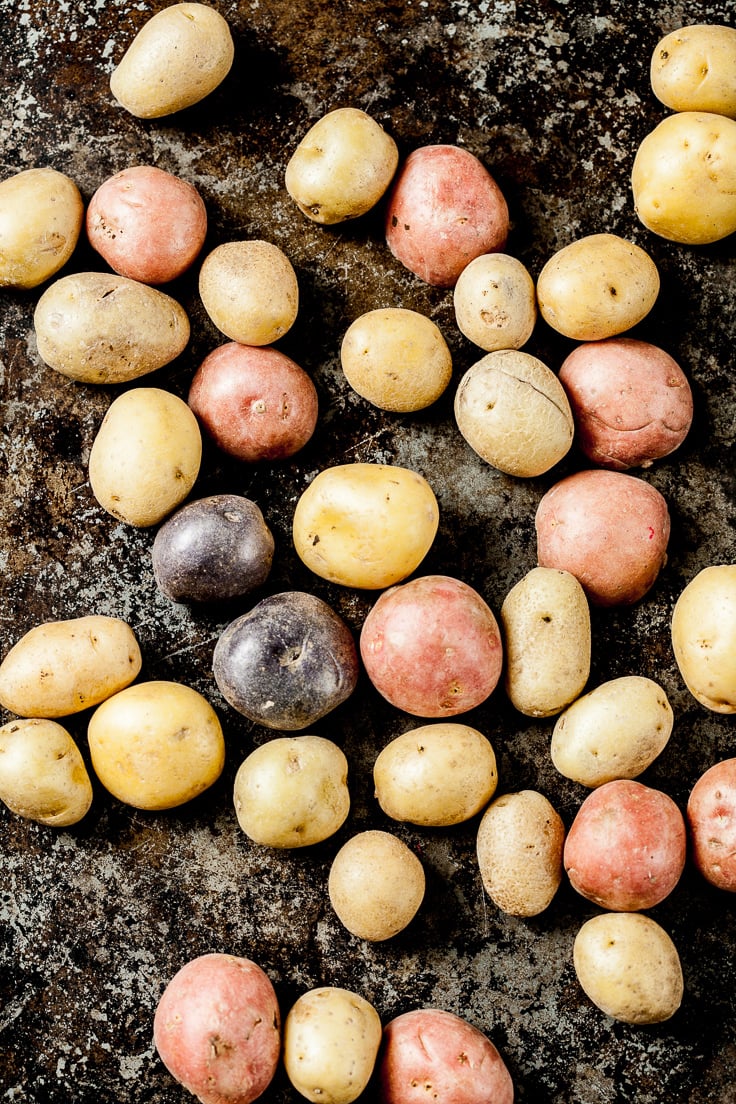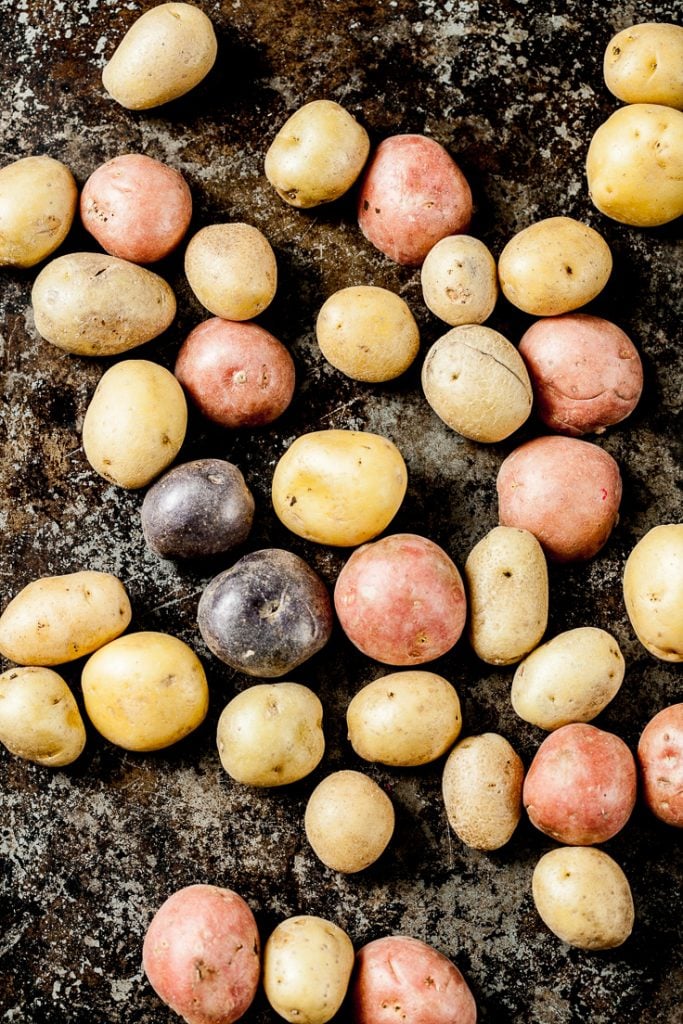 Pantry Staples: Basic Ingredients
2 lbs Baby Potatoes: You'll want fresh baby potatoes, about 1.5 inches each. That makes for a super fast spin in the Instant Pot, with even tenderness throughout each potato.
Dry Seasonings: We use Italian seasoning, onion powder, garlic powder, and paprika in the mix. A generous sprinkling of kosher salt and pepper are needed, as potatoes love to soak up the seasonings.
Olive Oil and Butter: The butter provides delicious flavor, while a bit of olive oil replaces some of the butter for a lighter dish.
Chicken Broth: A bit of broth provides just enough liquid to cook the potatoes to tender perfection, without the potatoes drying out.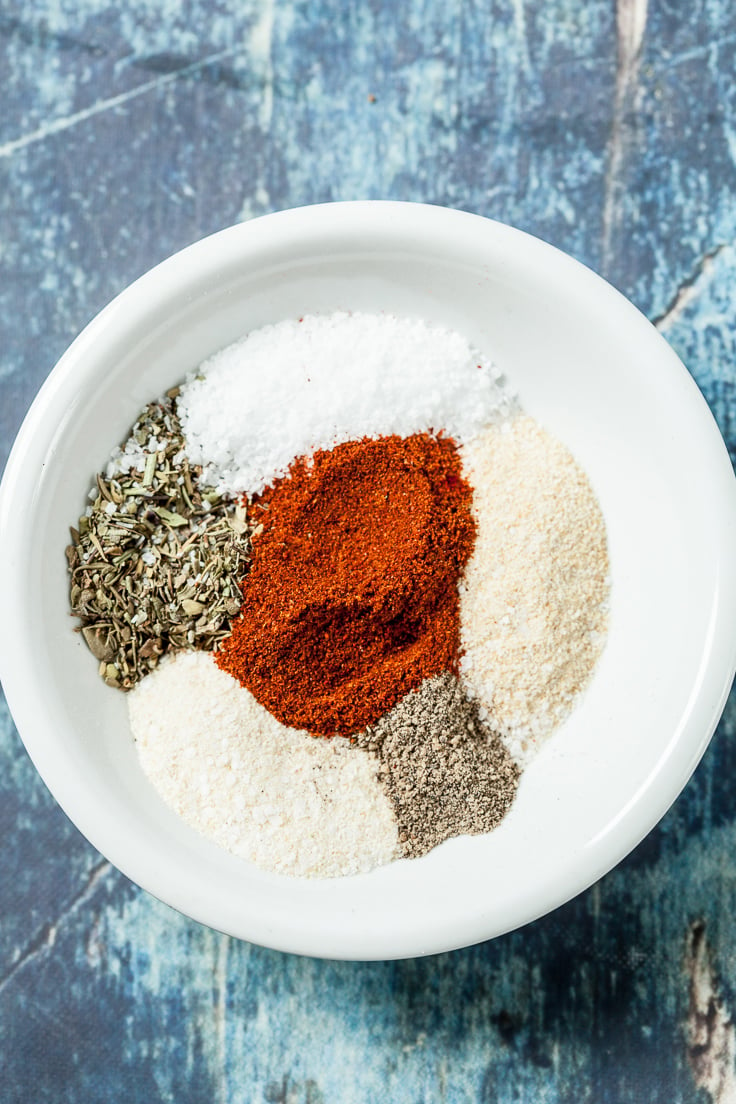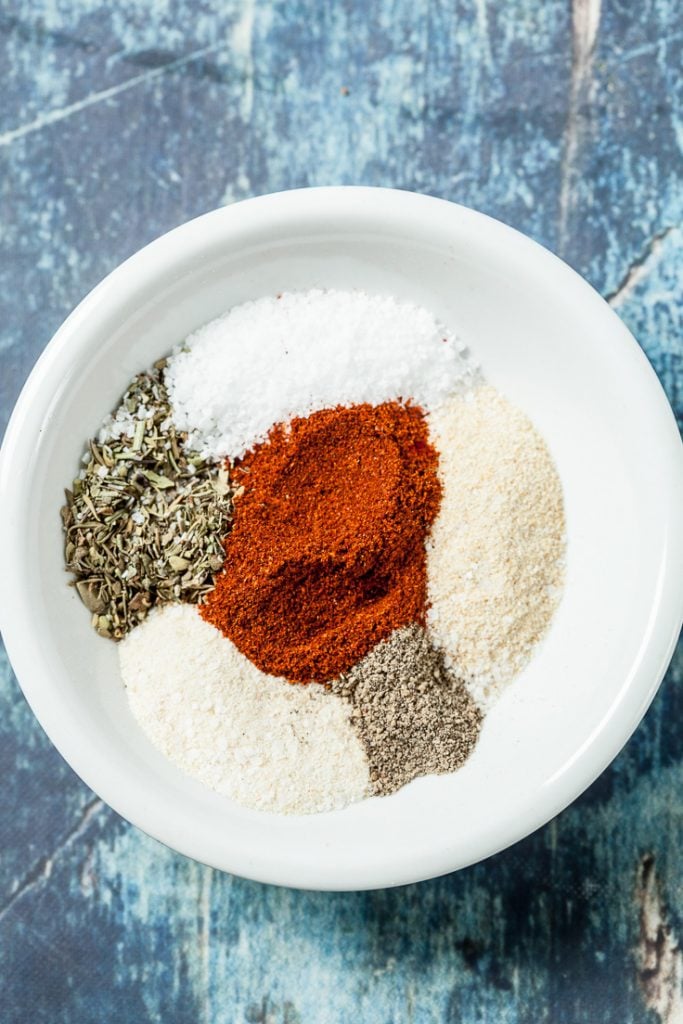 Tips For the best instant pot potatoes
Be sure to pat dry the potatoes in order to remove excess moisture
Mix the dry seasonings together in a bowl, prior to adding to the potatoes. It makes things way easier to pre-combine the seasonings
Be sure your oil/butter mixture is hot from Sauté mode button on Instant Pot, so potatoes can be quickly sautéed once they're added to the pot. You can do this in 2 batches, if your pot is smaller or too full.
Close, lock, and seal lid and pressure cook on high for 5 minutes. After testing and re-testing, we found 5 minutes to be the perfect cook time.
Once your Instant Pot beeps, do a Quick Release (manually)… carefully vent the vale fully, open lid, and enjoy the deliciousness.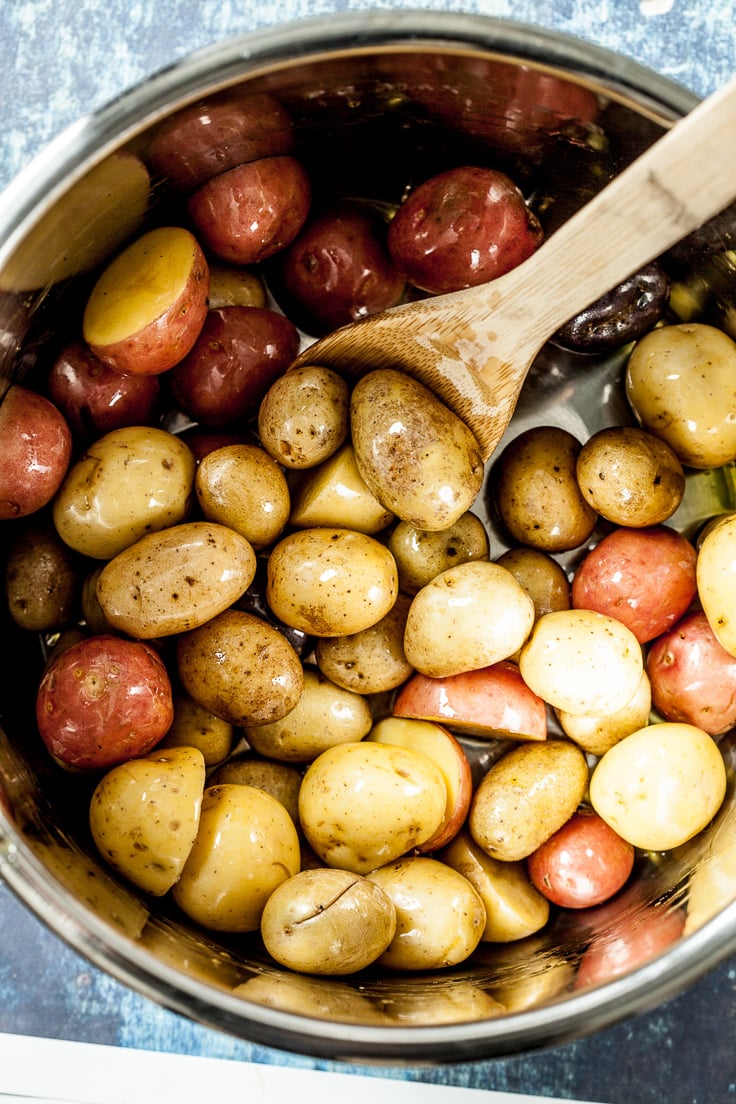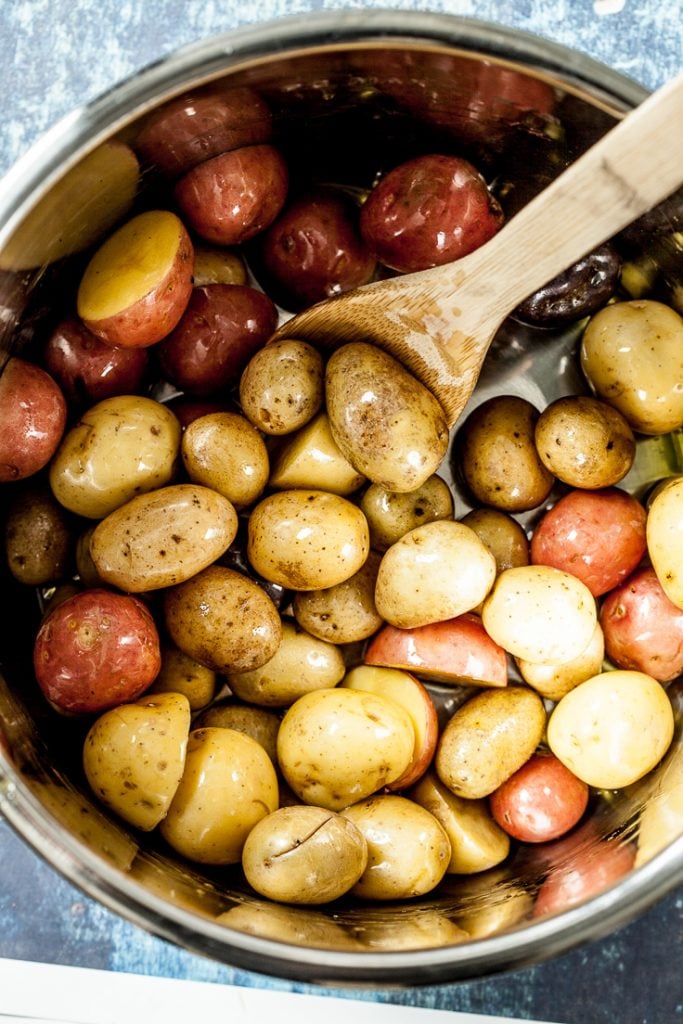 Why all the rage over Instant Pot Baby Potatoes?
They require only 5 minutes of cook time in the Instant Pot. Five and dine.
You get to use Quick Release method of venting, which means your Instant Pot potatoes will be done even faster.
The combination of herbs, olive oil, and butter creates a supremely flavorful potato dish.
These Instant Pot potatoes are simple and delicious, with a garlicky sauce that automatically occurs during cooking.
What is the texture of these Instant Pot potatoes?
After many batches of potatoes trialed in the Instant Pot, we discovered that pressure cooking is better at braising than at roasting. In fact, it does a spectacular job at braising these baby potatoes.
Because the Instant Pot requires a bit of liquid during cook time, it produces extremely tender, flavorful potatoes with a delicious, naturally occurring sauce to spoon over your finished dish.
If you prefer your potatoes crispy on the outside, you can place them in a single layer under the broiler just until the exterior turns crisp. It won't take long, so you'll want to watch your broiler closely.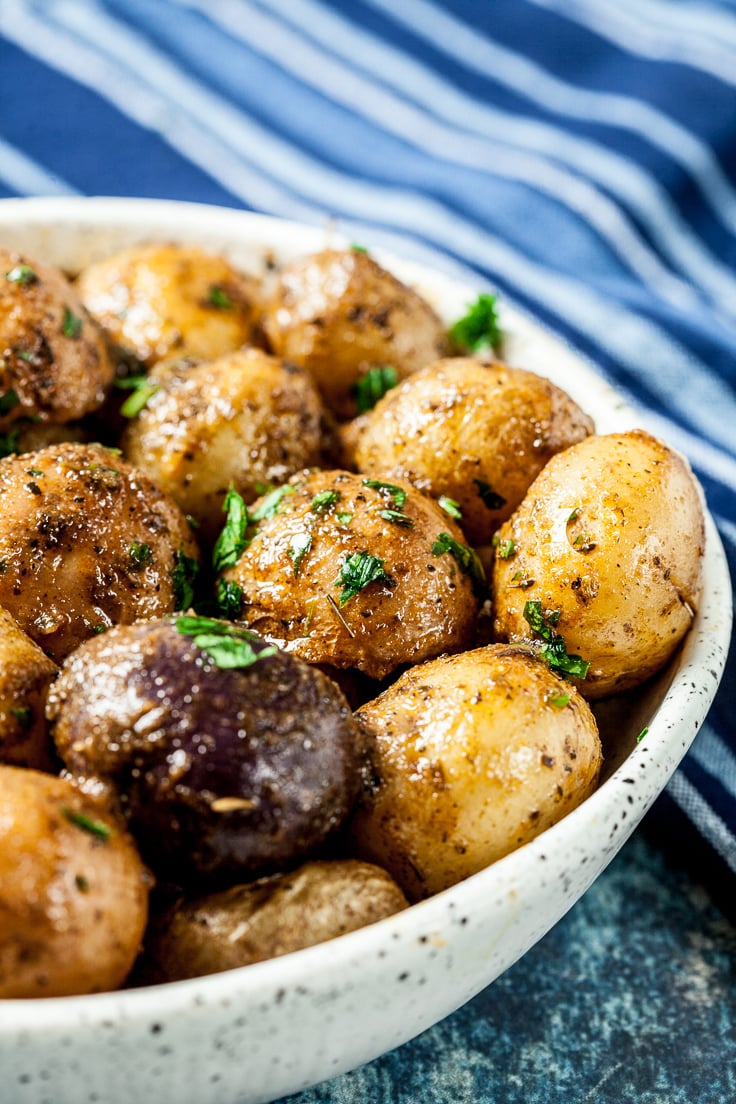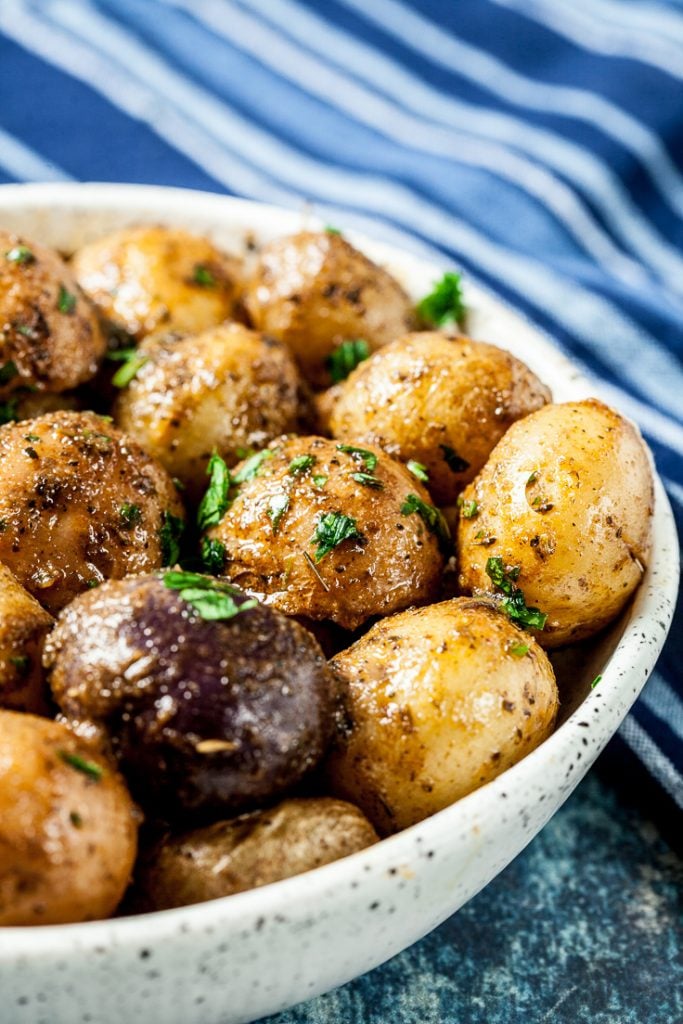 What to Serve with Baby Potatoes
Instant Pot Favorites
Did you make this?
Please give us a rating and comment below. We love hearing from you!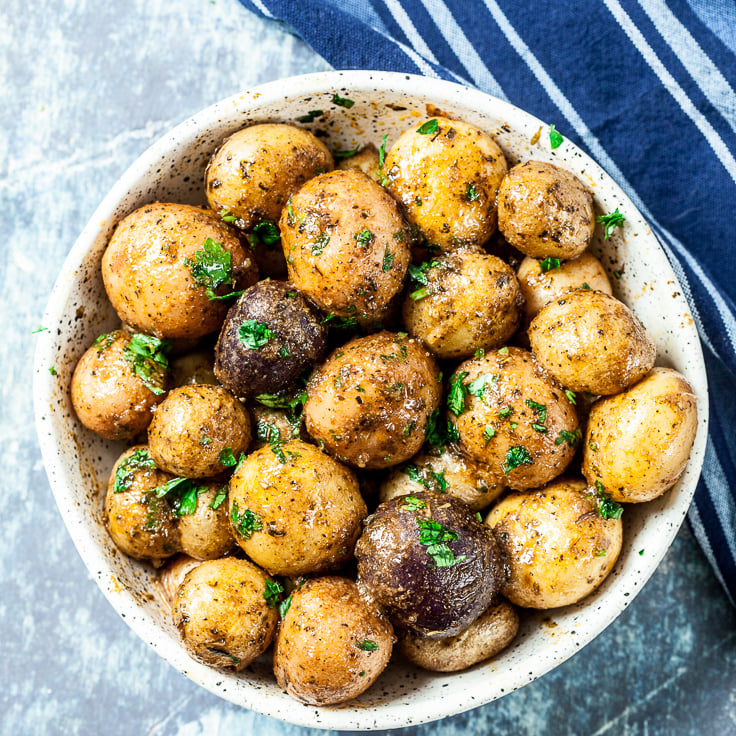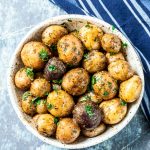 Instant Pot Baby Potatoes Recipe
This Instant Pot Baby Potatoes Recipe results in a supremely flavorful, tender potato dish. You'll have garlic roasted potatoes with just 5 minutes of cook time.
Instructions
In Instant Pot, add butter and olive oil. Press Sauté mode and heat oil until hot. Add potatoes (may need to do this in 2 batches if your Instant Pot isn't a larger model) and brown them lightly on all sides, about 5 minutes per batch.

Add Italian seasoning, onion and garlic powders, paprika, salt and pepper; stir to coat potatoes. Add stock, stir to combine, and close/lock the lid. Seal the valve and set your Instant Pot to Pressure Cook on High for 5 minutes.

Once the 5 minutes are done, do a Quick Release; carefully move valve to the Vent position (I use long-handled tongs for this.) Once Quick Release is done, unlock lid and use rubber spatula to gently toss potatoes. Add additional kosher salt and pepper to taste, if needed. Gently transfer to serving plates, spooning sauce in bottom of the pot over the potatoes. Enjoy while hot.
Notes
If you don't have dried Italian seasoning, sub with a mixture of dried oregano, basil, rosemary, thyme, and marjoram.
If you'd like crispy potato exteriors, place them in a single layer on sheet pan, under the broiler just until they're crisp – keep a watchful eye, as they can burn quickly.
If you want to keep it vegan, omit the butter and replace with extra olive oil
If you enjoyed this recipe, please come back and give it a rating ❤️
Nutrition (per serving)
Calories:
256
kcal
|
Carbohydrates:
38.5
g
|
Protein:
5
g
|
Fat:
10
g
|
Saturated Fat:
4.3
g
|
Cholesterol:
16.2
mg
|
Sodium:
808.1
mg
|
Fiber:
6.1
g
|
Sugar:
3.2
g