Magic Lemon Custard Cake
By Amy Dong
Published Apr. 23, 2015
Updated Aug. 17, 2022
This Magic Lemon Custard Cake is truly magnificent. There's no hocus pocus involved, though this cake may take you by surprise. One batter, 3 layers. All by itself. See for yourself. Better yet, taste it.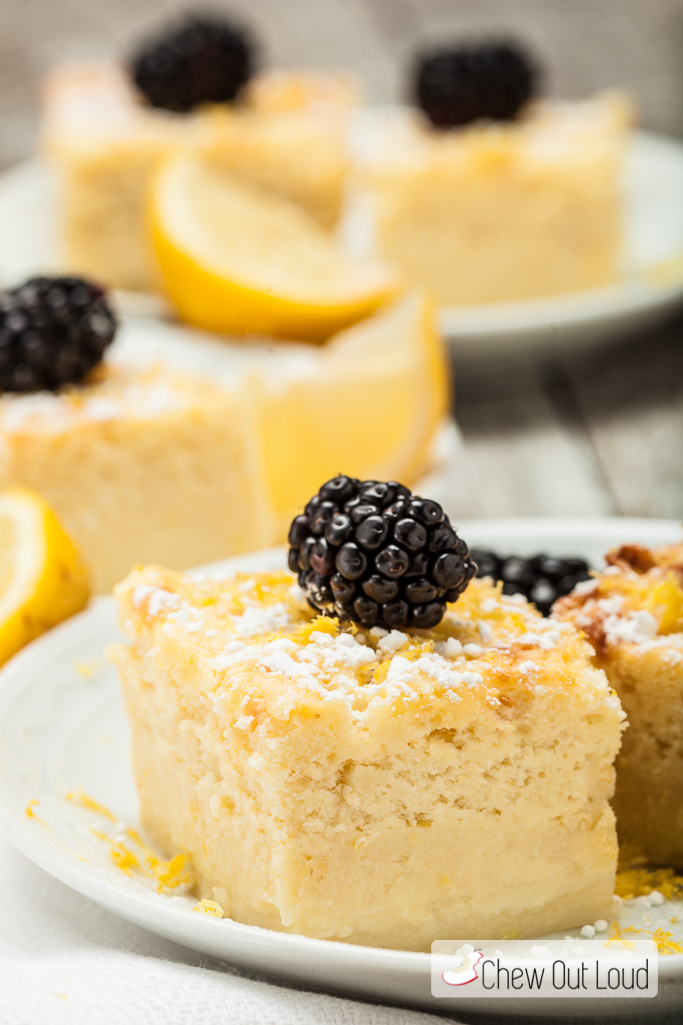 Magic Lemon Cake
If you're a Pinterest addict like me, you've seen The Magic Cake. I've long been fascinated by the 1 Batter ⇒ 3 Layers hoopla.
I finally carved out the time this week to turn my whisk into a wand.
But silly girl that I am, I always want to put a spin on well-enough. That can drive Hubby battybonkers sometimes (wink.) But then, he reaps the benefits of my recipe tampering.
I mean, check this…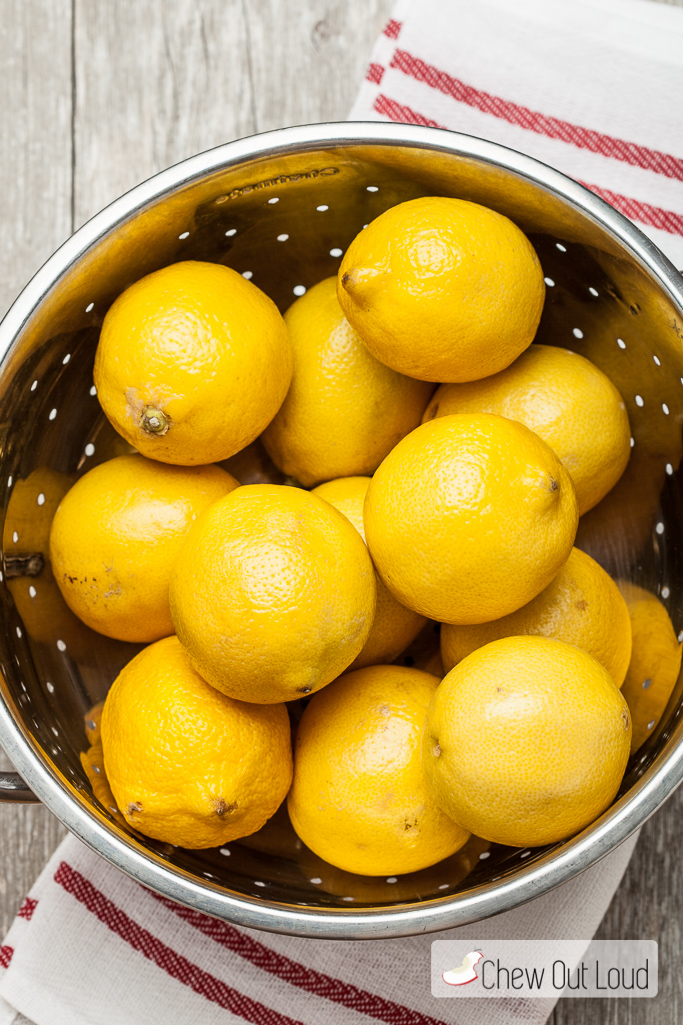 Refreshingly lemony Flavor
This gorgeous gaggle of lemons sat in my kitchen. All bright yellow and shouting out sunshine from the countertop.
Who can resist? Not me. I decided I'd lob some lemons into my Magic Cake. Thinking I was onto something cutting edge, I googled ideas on how to incorporate lemons into the batter. Duh, hello? It's already been done. Not such a brand spankin' new idea after all.
But I'm okay with that. Quite good, actually. Because, once again, check it ↓ ↓ ↓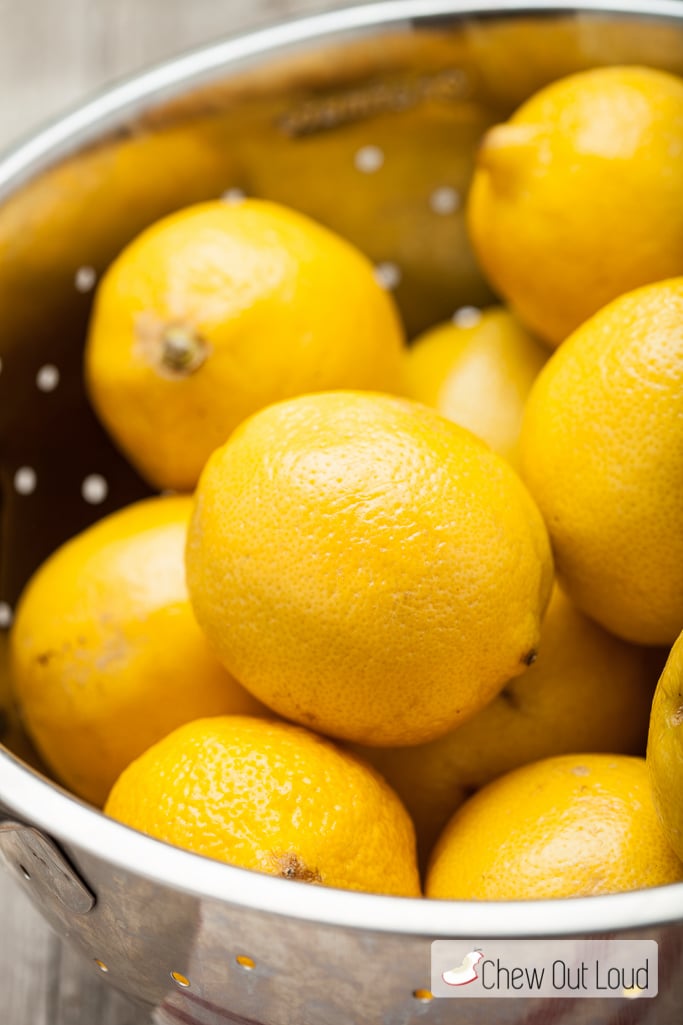 Delicious Lemon Custard
It's spring, we all crave sunshine by now, and lemons make us do the samba. Or rhumba. #dancingwiththestars
So yeah, I made good use of my lemons and made this Magic Lemon Custard Cake. Before you dive in: this is a custard cake. If you're into custard, you'll adore it. If custard doesn't float your boat, you're welcome to view the pretty pics and move on to this Lemon Bundt Cake instead.
Now about this recipe…its allure lies in how easy it is. No trickery. It's super duper easy.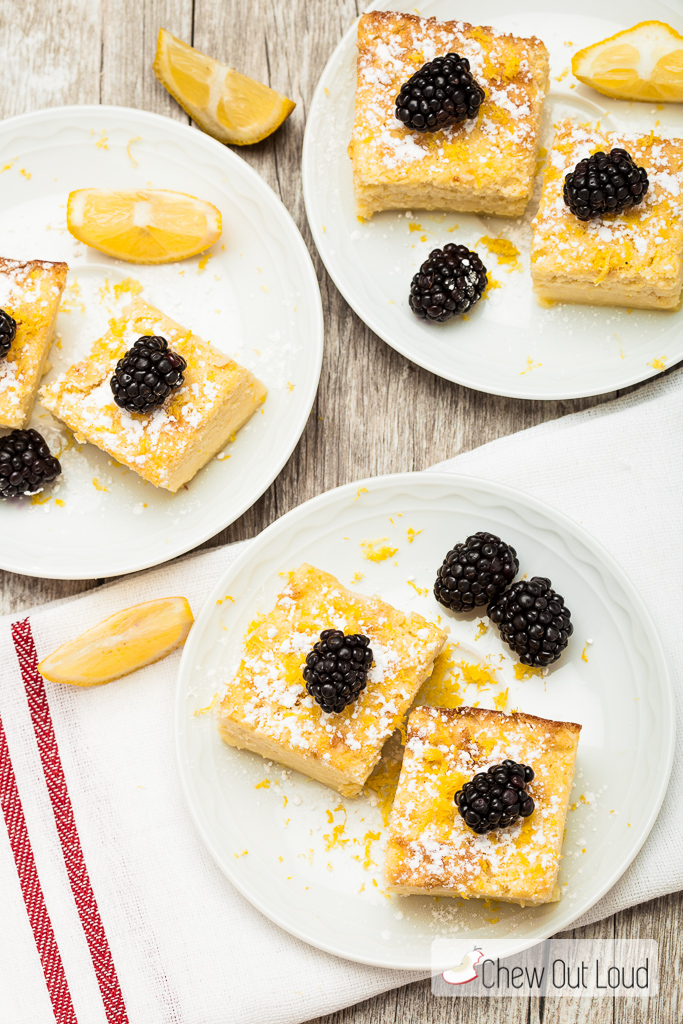 Whip Egg Whites all the way
Just combine 8 little ingredients, most of which you already have in your kitchen.
Just be sure to whip those egg whites to stiff peaks, as the recipe states. And very gently, gently fold the whites into the batter. If you've made chiffon cakes, you get the gist. If not, just go soft and easy so the egg whites get to do their job and keep the batter airy.
You'll simply make that one batter. Pop it into your oven. No peeking until it's time to peek.
Abracadabra.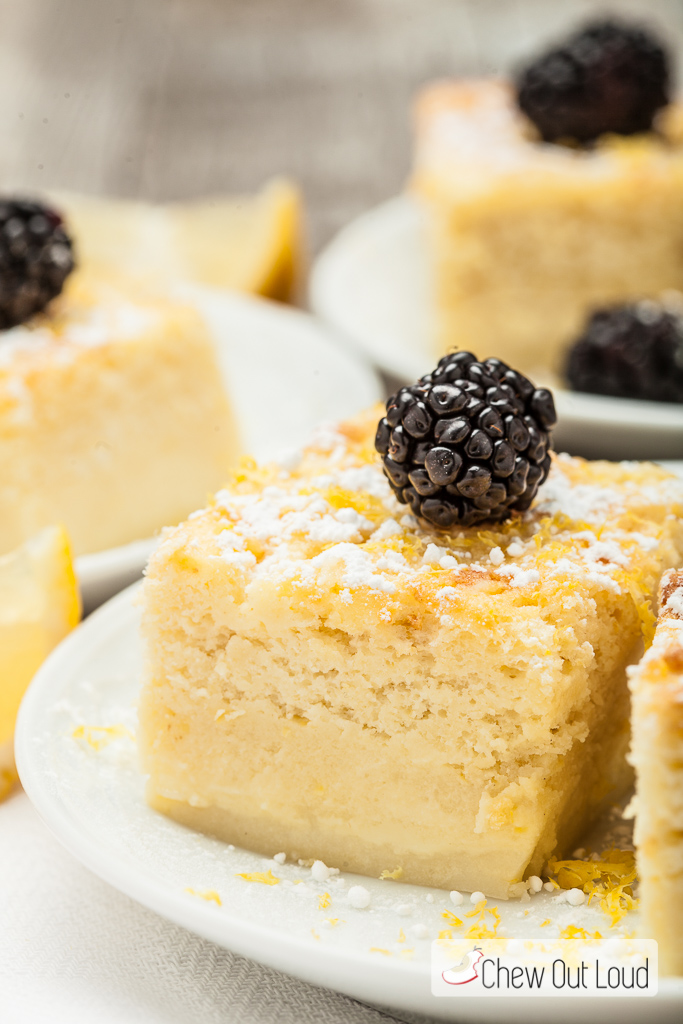 3 layer cake in one
Bam. Your one batter just baked up into separate tantalizing layers, all by itself.
The top layer is a deliciously light sponge cake. I am sooooo ecstatic that my top layer turned out nice and thick. Some recipes will result in a thin little sponge cake layer, but I am a sucker for sponge cake and love that this recipe delivered on that front.
The middle layer is a yummy lemony custard…mmmm. Followed by a thin base layer, almost like a "crust" that's essentially a very dense layer of custard. Don't forget the powdered sugar and lemon zest – they aren't just for vanity's sake; flavor power lies within.
Yumalicious goodness in every bite.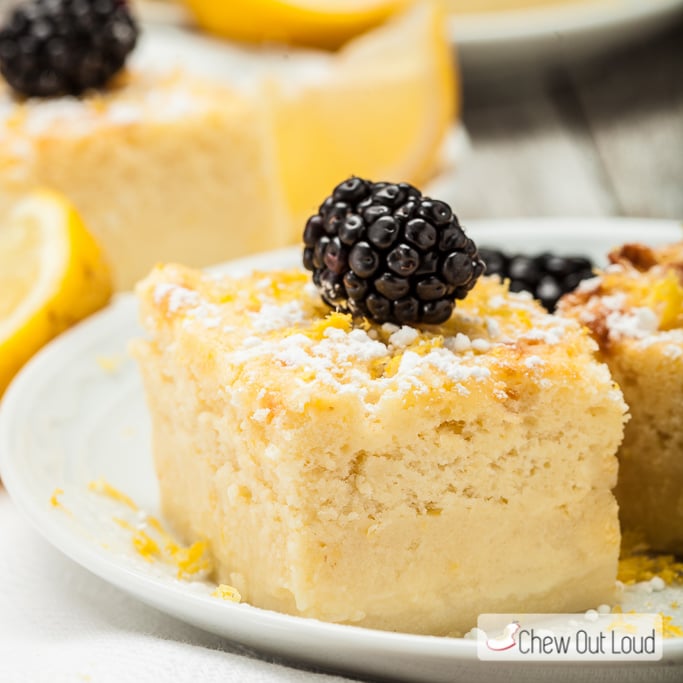 Did you make this?
Please give us a rating and comment below. We love hearing from you!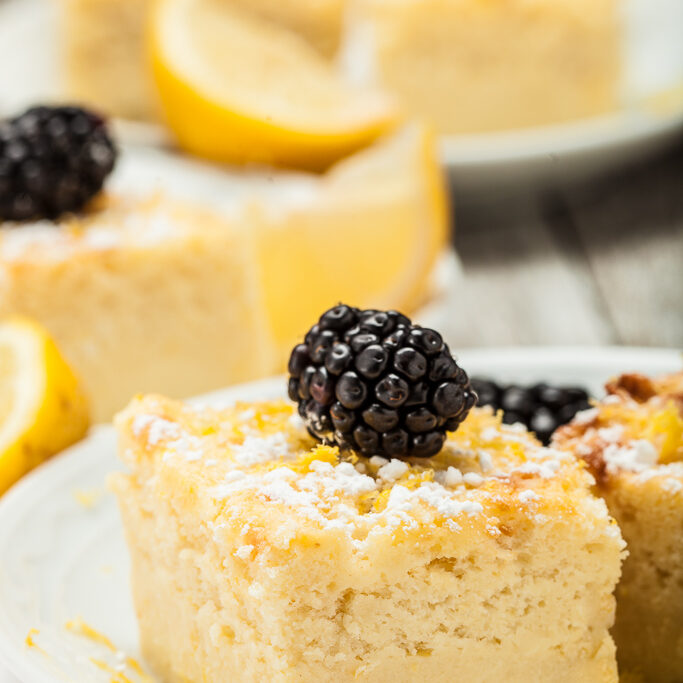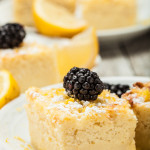 Magic Lemon Custard Cake (+Target Giveaway)
This Magic Lemon Custard Cake is truly special. Make one batter, bake it, and witness the magic. You'll find layers of sponge cake and custard waiting for you once it's done. Don't forget the powdered sugar and lemon zest on top.
Ingredients
4

large eggs

,

yolks and whites separated, room temp

¾

cup

granulated sugar

½

cup

melted butter

1

tsp

lemon extract

¾

cup

all purpose flour

¼

cup

freshly squeezed lemon juice

,

not from a bottle

zest from 2 lemons

,

divided

1 ¾

cup

lukewarm whole milk

powdered sugar and extra lemon zest for topping
Instructions
Preheat oven to 325F, with rack on middle position. Line bottom of 8x8 baking pan with parchment paper. Grease the parchment paper and sides of pan. Set aside.

In the bowl of a stand mixer, combine egg yolks with sugar and beat with paddle attachment on medium-high for 3 minutes, scraping sides down as needed.

Add butter and lemon extract and beat on medium 1 minute. Add flour and mix on low just until incorporated; don't over mix.

Add lemon juice and half of the lemon zest. Slowly add lukewarm milk and beat on low until batter is fully incorporated. Transfer batter to a large bowl and set aside.

Wash out the bowl of stand mixer and dry well (important for it to be clean before putting egg whites in.) Using whisk attachment, whisk egg whites on medium high 3-4 minutes or until stiff peaks form. Remove bowl from stand mixer. Using a rubber spatula, gently add egg whites to the large bowl of batter, using a gentle and soft folding action until all whites are folded in - note that there will still be bits of egg whites visible in the batter; looks like tiny bits of cheese curds floating around. That's ok.

Gently pour batter into prepared baking dish and bake 45-70 minutes or until the top is golden brown and center of cake feels firm to the touch; don't start checking until cake has baked at least 45 minutes. Oven temps vary, so bake time will vary.

Cool cake completely to room temp. Sprinkle on the rest of the lemon zest. Cover and chill until ready to serve (cake tastes best chilled.) Right before serving, sprinkle with powdered sugar.
Notes
If you enjoyed this recipe, please come back and give it a rating ♡
Nutrition (per serving)
Calories:
182
kcal
|
Carbohydrates:
20.7
g
|
Protein:
4.2
g
|
Fat:
9.4
g
|
Saturated Fat:
5.3
g
|
Cholesterol:
83.1
mg
|
Sodium:
40
mg
|
Fiber:
0.2
g
|
Sugar:
14.5
g