Marinated Seared Ahi Tuna
By Amy Dong
Published Jan. 4, 2022
Updated Jul. 11, 2023
Here's the most amazing Marinated Seared Ahi Tuna you can make at home! It's bursting with flavor, super easy to make, and fantastic as an appetizer or healthy dinner.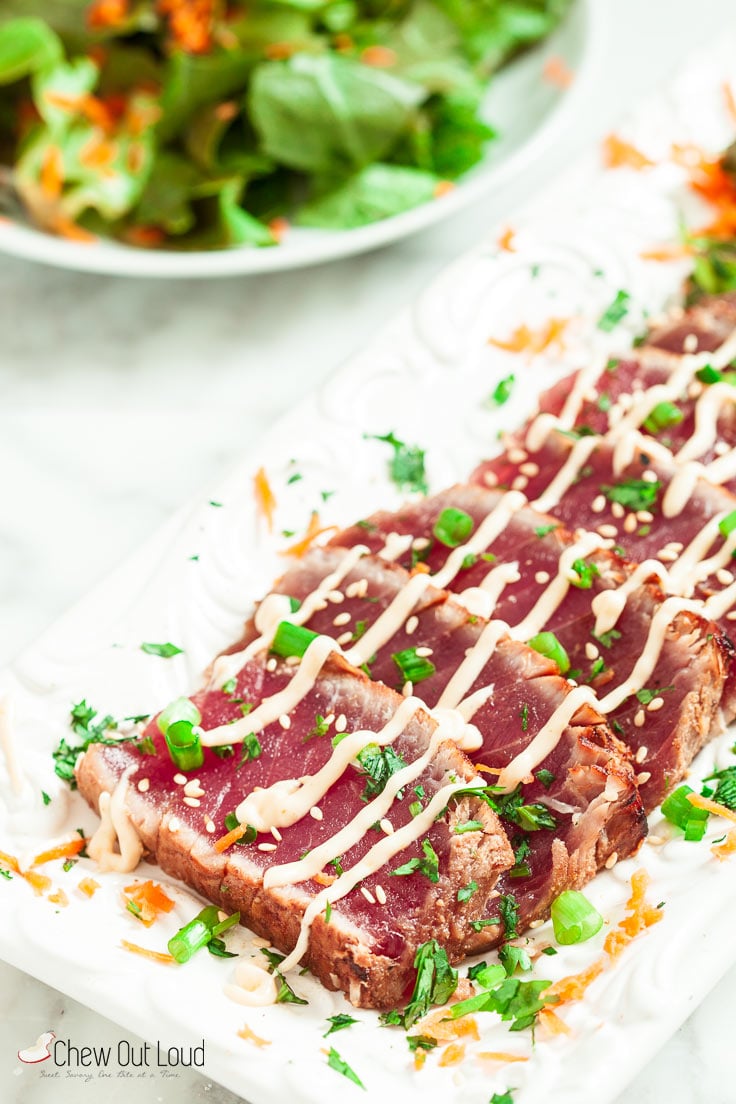 Marinated Seared Ahi Tuna
We're so pumped about today's recipe because it is one of our tried-and-true favorites for all the protein-packed, healthy, and flavorful meals .
It's time to spotlight this tasty, fast, and easy marinated seared ahi tuna recipe. If you thought seared ahi tuna sounded like a tantalizing menu item (it is) that only restaurant chefs could make (it's not)… you're about to discover how simple it is for you to make in your own kitchen.
By the way, if any of your eaters prefer their fish fully cooked, feel free to mosey on over to this delicious lemon butter fish or this Asian steamed fish for them.
Otherwise, get ready to reel in your own better-than-restaurant seared ahi tuna…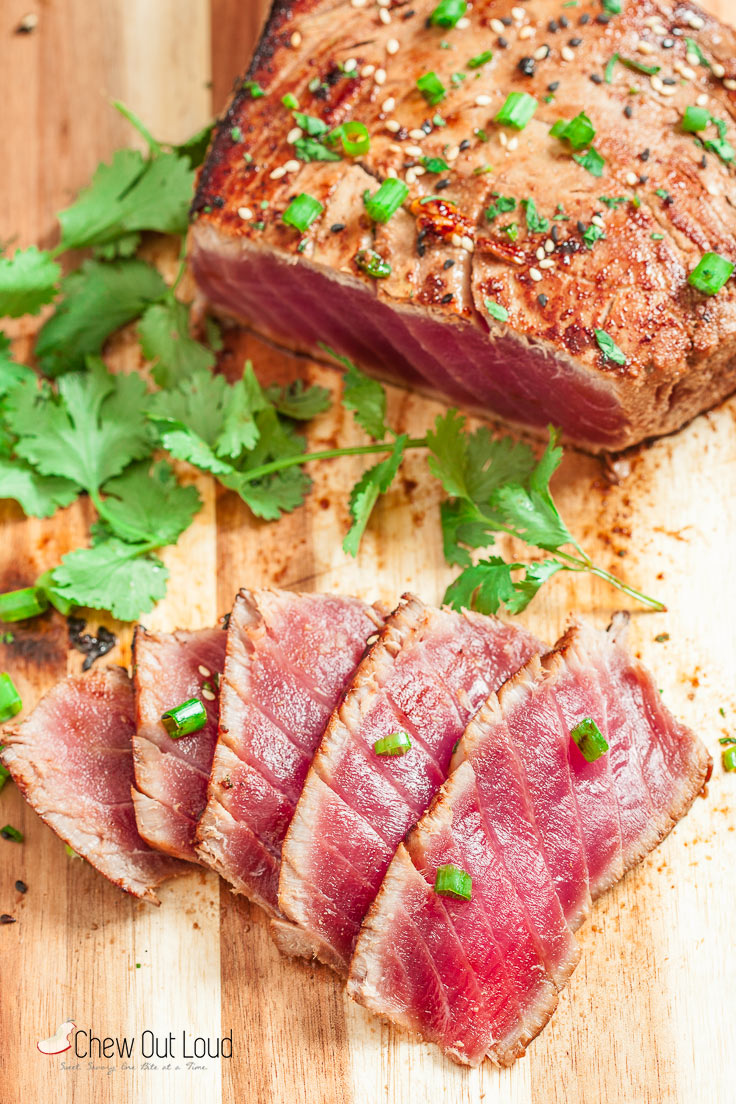 How To Sear Ahi Tuna Perfectly
Nothing compares to a fresh, beautiful ahi tuna steak, marinated thoroughly and seared to perfection from your own kitchen. When doing it yourself, there's no worries about being served over-cooked (and thus, tough) ahi tuna. Plus, you'll ensure that every bite of your fresh ahi is well seasoned — nothing bland here.
Use a heavy, large aluminum or stainless steel skillet; forgo nonstick pans here. We've used our faithful All Clad stainless steel skillet for many, many years, and it continues to serve us well. It's a heavy duty work horse in the kitchen and is meant to last a lifetime.
Get your cooking oil smoking hot (we mean hot) prior to laying down the tuna. It's the sizzling hot oil that will give you a perfect sear.
Once the fish is on the pan, don't keep moving it around. Sometimes we stir and sauté, and sometimes we just let it rest on the pan. This is a let-it-rest situation.
Don't overcook the ahi. You'll only need about 1 1/2 minutes per side, for ahi steaks that are between 1-2 inches thick. Remember, it will continue to cook a bit more while resting on the cutting board, so you'll want to carefully manage the minutes your tuna sits on the pan.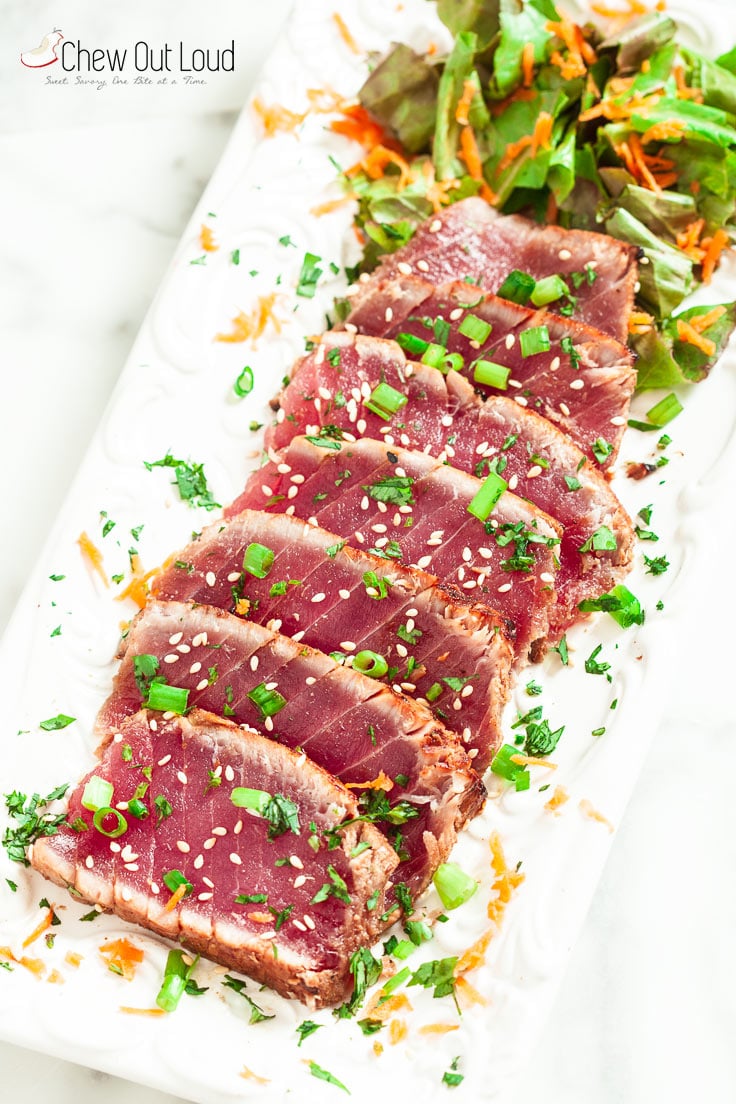 What to serve with seared ahi tuna
It's easy to pair your perfectly seared tuna with healthy side dishes, for a well-rounded meal:
Try serving seared ahi tuna with Perfect Brown Rice in place of white rice, for whole-grain goodness and nutty flavor.
Asian Rice Salad combines a simple rice medley with a variety of fresh fruits and vegetables, topped with a tantalizing dressing.
Our Crunchy Asian Cabbage Ramen Salad is hands-down a favorite dish of all our friends and family. It's crispy, delicious, and can be mostly prepared in advance.
Bonus: Wine Pairing
If you're so inclined, enjoy your perfectly seared ahi with the perfect wine pairing. This Asian style ahi with sesame-soy flavors is crazy good with a quality Riesling.
A crisp, slightly sweet riesling is the prime wine pairing for your next backyard gathering, date night on the deck, or whatever excuse you can think of to make the combo happen.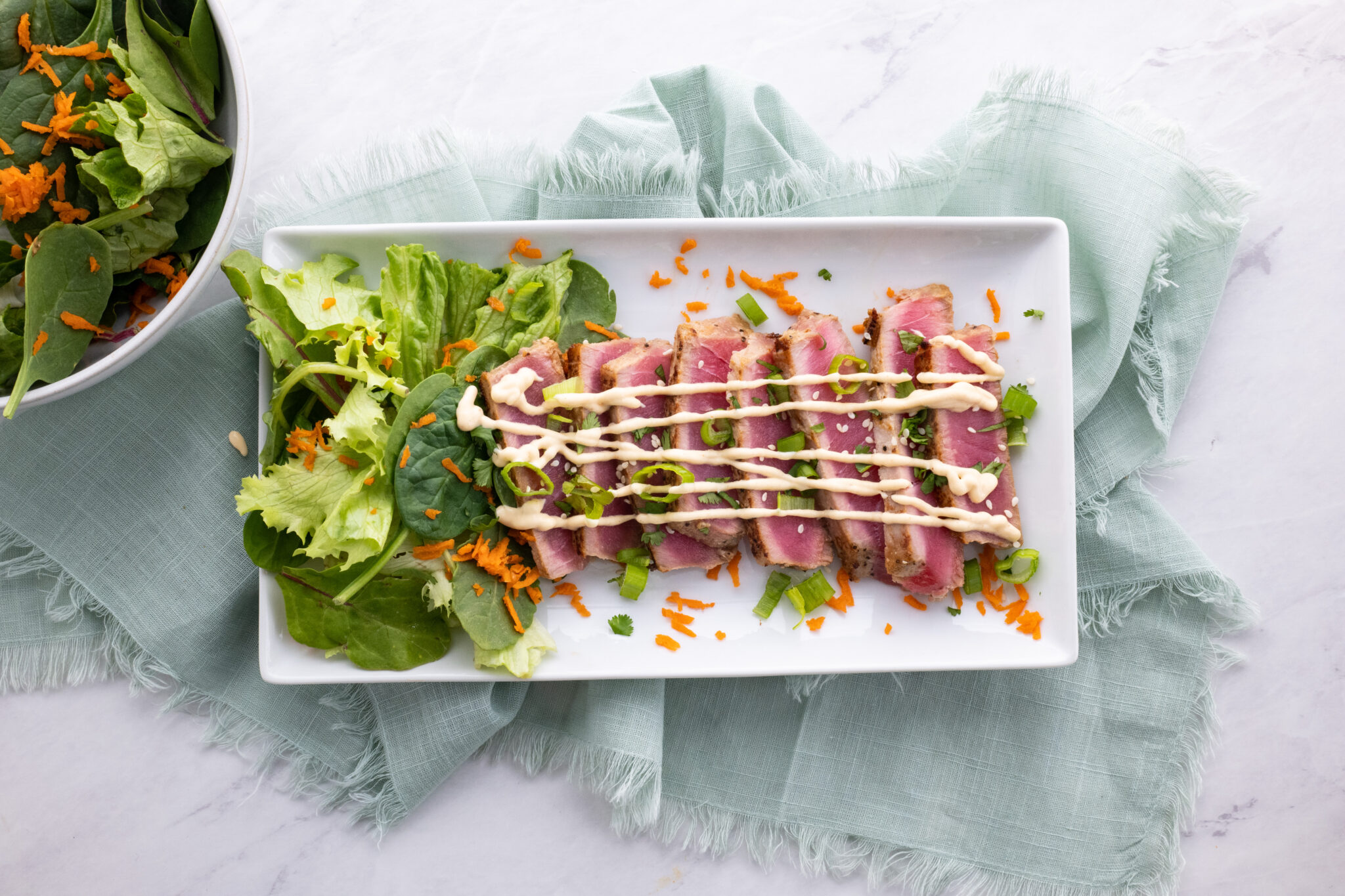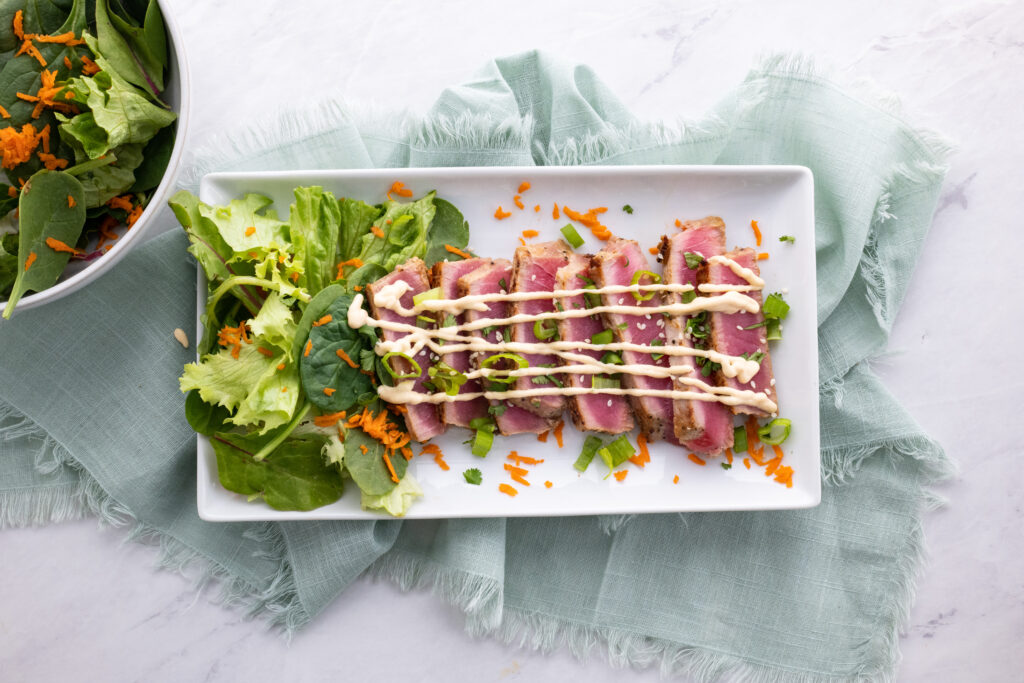 ---
Common Questions and Answers
Is it safe to eat seared ahi tuna?
Ahi tuna is almost always served raw in the middle, so it's safest to use high quality, sushi-grade (or grade 1) ahi from a reputable seller. The fish market or counter should be able to answer any questions you have about the quality/source of their ahi tuna.
Can you cook ahi tuna until it's fully cooked?
Technically, you can serve fully cooked ahi tuna, but it will taste completely different from seared ahi tuna. Tuna that has been cooked all the way through tends to be more like canned tuna; dry and flaky. Pan-seared is generally considered the best way to cook ahi tuna.
How do you know when ahi tuna is done cooking?
It's important to ensure your ahi tuna is not overcooked, as overcooking creates an unpalatable texture that's chewy and dry. For ahi tuna steaks that are at least 1 1/2 inches thick, we recommend searing on high heat for 1 1/2 minutes per side. For thinner tuna steaks, sear only 1 minute per side.
---
seared ahi Tuna, In action:
---
Did you make this?
Please give us a rating and comment below. We love hearing from you!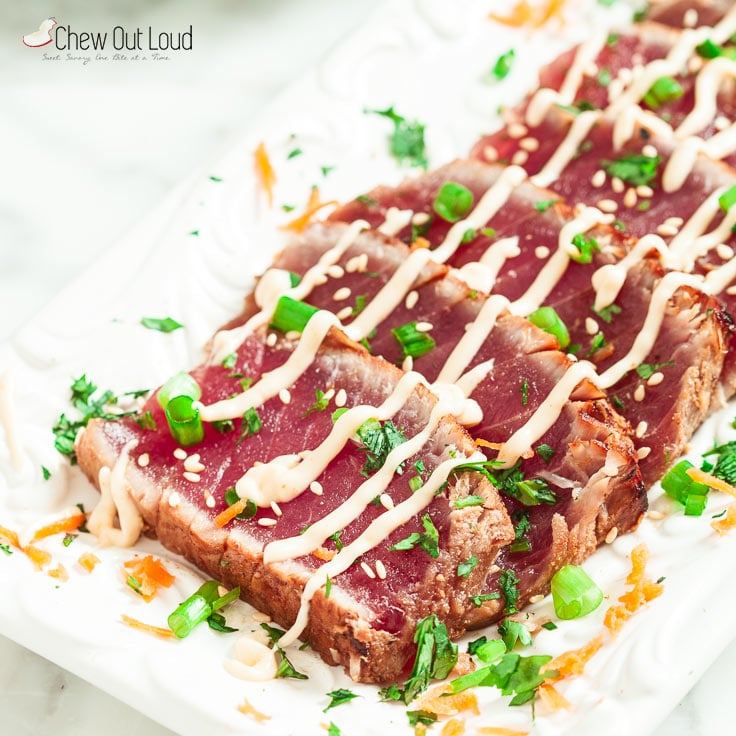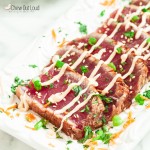 Marinated Seared Ahi Tuna
Here's the most amazing Marinated Seared Ahi you can make at home! It's bursting with flavor, super easy to make, and fantastic as an appetizer or healthy dinner.
Ingredients
For Ahi Tuna
2 ½

pounds

fresh ahi tuna steaks

,

about 1 1/2-1 2/3 inches thick

3

TB

canola or vegetable oil

,

for searing

Optional: freshly chopped cilantro

,

green scallions, sesame seeds for garnish.

Optional: Sriracha mayo for drizzling,

really good!
Instructions
In a bowl, whisk together the first 7 ingredients to make the marinade.* Towel dry tuna steaks and place in a glass or ceramic dish. Pour marinade over the fish, turning to coat well throughout. Cover tightly and chill several hours, up to overnight; turn fish over at least once in the middle of marinade time.

Heat 3 TB oil in a large heavy skillet – use aluminum or stainless steel; not nonstick, as it won't sear – until oil is smoking. Sear ahi steaks 1 1/2 minutes per side on high heat, taking care to flip carefully with a flat, steel spatula. (If your tuna is less than 1 1/2 inches thick, sear for only 1 minute per side.)

Transfer seared ahi to a large cutting board and let rest/cool 10 minutes. Use a very sharp (serrated works well) knife to slice thinly across the grain.

Serve chilled or at room temp. Sprinkle with sesame seeds and cilantro or green onions, if desired. Drizzle with Sriracha mayo if desired.
Notes
If marinading the ahi overnight and you're concerned about ahi tuna steaks being "cooked" in acidity, you can choose to add lemon juice 1-2 hours prior to cooking.
Seared ahi is best eaten on same day. However, leftovers can be tightly wrapped and chilled for up to 1 day.
For lower sodium version, use reduced sodium soy sauce.
To keep dish gluten-free, double check that your soy sauce is labeled gluten-free. Our favorite gluten-free soy sauce is Tamari.
If you enjoyed this recipe, please come back and give it a rating 🙂
Nutrition (per serving)
Serving:
1
g
|
Calories:
246
kcal
|
Carbohydrates:
8.7
g
|
Protein:
36.6
g
|
Fat:
7
g
|
Saturated Fat:
1.6
g
|
Cholesterol:
63.5
mg
|
Sodium:
922.4
mg
|
Fiber:
0.4
g
|
Sugar:
3.8
g