Best Pumpkin Cheesecake Recipe
Our Best Pumpkin Cheesecake is better than Cheesecake Factory. Rich, dense, and high. Creamy, smooth, and satiny. Thick gingersnap crust. The flavors of fall spices, pumpkin, and cream cheese meld together like no other.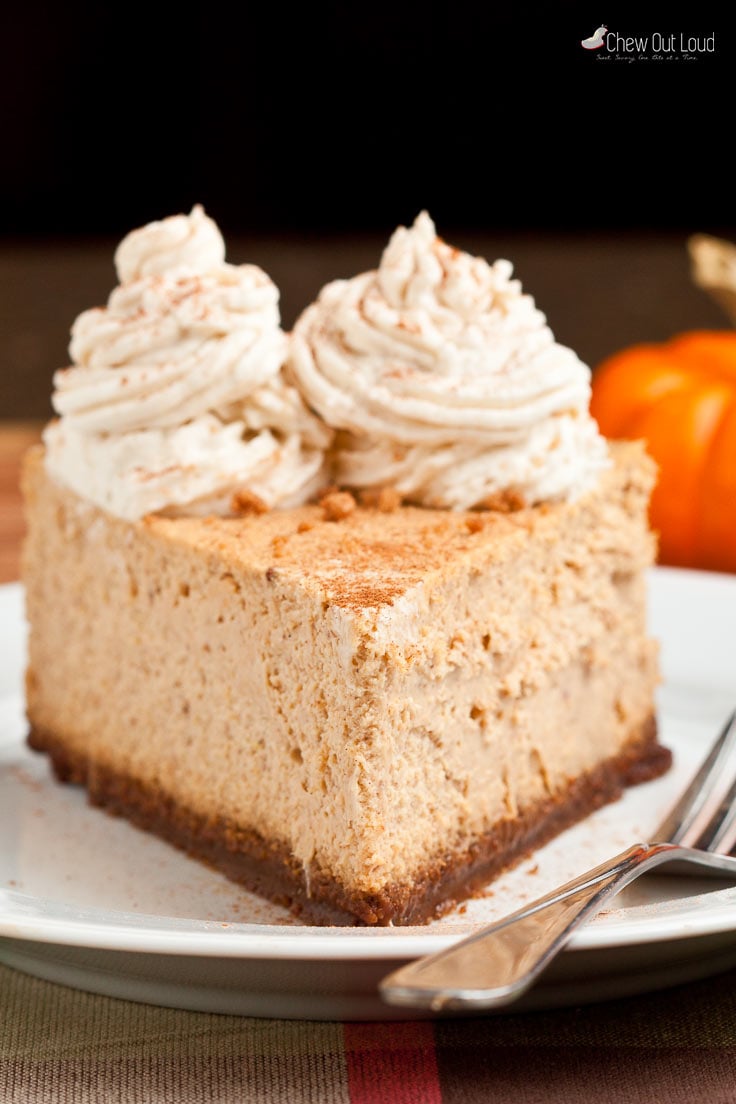 Best Pumpkin Cheesecake with Gingersnap crust
The upcoming holidays are making their way to the forefront of people's minds and plans. Busy season, celebratory season…that time of year is just around the corner.
Not wanting to get overly caught up in the hustle and bustle of holiday fanfare, I've made an effort in recent years to slow down enough to truly enjoy the beautiful holiday season.
Many of my friends have taken to social media to share a piece of gratitude each day of November, in honor of Thanksgiving. I haven't jumped on that bandwagon, but I have been knuckling down to being present in the moments. And noticing the blessings in the moments.
Not that I've been altogether successful, because I'm not naturally slow and unhurried. Like most of you, I wear many hats, including pumpkin cheesecake recipe maker.
Watch Pumpkin Cheesecake, In Action

Thanksgiving around the corner
I'm indescribably thankful to have read (and re-read) my favorite book that's perfect for November: One Thousand Gifts. There's a reason there are that many reviews for it. It's written by NY Times Bestseller by Ann Voskamp, whom some of you undoubtedly know of.
This is not an advertisement or anything sponsored. I just can't possibly stroll through Thanksgiving season without sharing what I'm reading and loving this month with you.
Let's dive into the best pumpkin cheesecake recipe you'll ever need or want. It's adapted from an old magazine recipe I saved in my files years ago. Once you taste this, you'll discover that Cheesecake Factory's pumpkin cheesecake recipe isn't nearly as delicious as the one you made yourself.
This is truly a New York style pumpkin cheesecake recipe that's worth every single bite.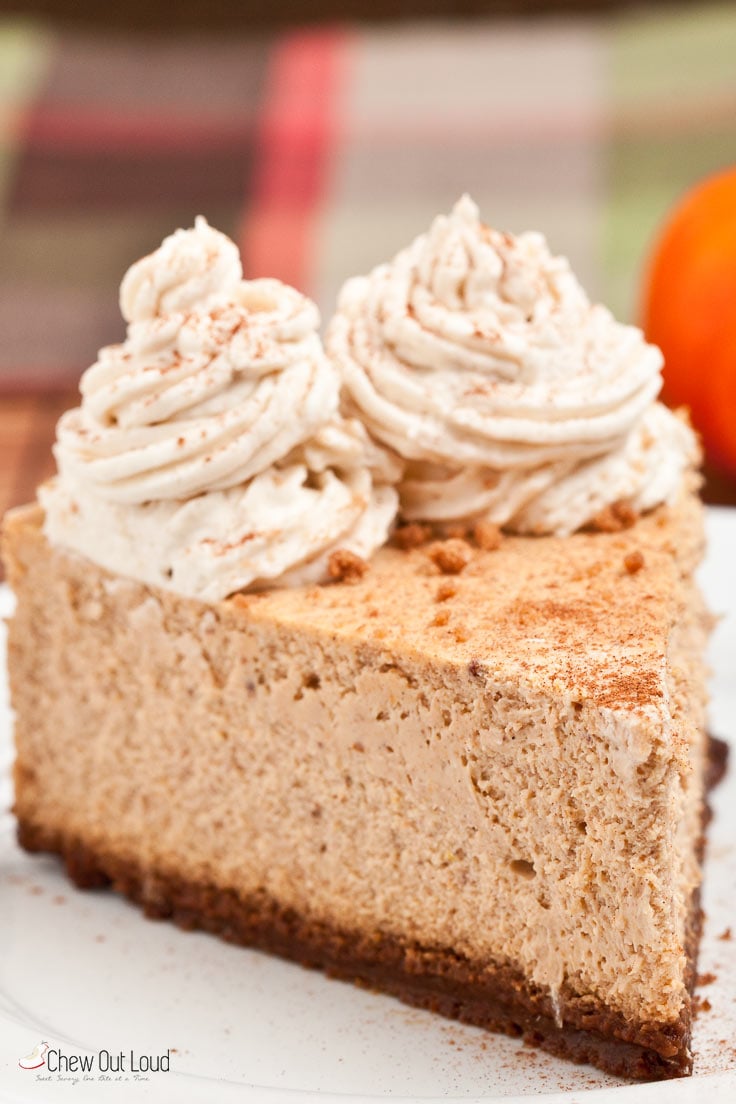 Velvety Smooth Pumpkin Cheesecake
By New York style pumpkin cheesecake, we mean: gloriously rich, dense, and high.
Creamy, smooth, and satiny. Thick gingersnap crust. The flavors of fall spices, pumpkin, and cream cheese meld together like no other.
Please don't forget the stabilized whipped cream that guarantees your whipped cream won't get watery and lose shape while waiting to be gobbled up.
Happy November 🙂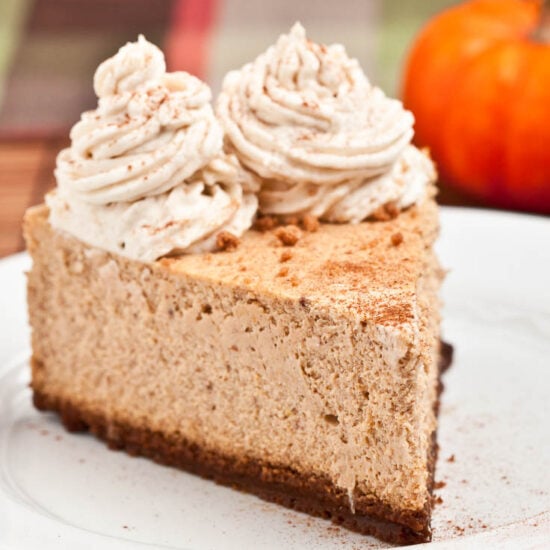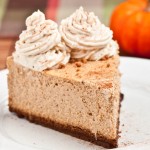 New York Style Pumpkin Cheesecake
Every bit as good or better than Cheesecake Factory's seasonal pumpkin cheesecake. NY style Pumpkin Cheesecake that's high, dense, rich, and full of the best fall flavors. On top of a gingersnap crust. Seriously. Give it 24 hours to chill.
Ingredients
For the Crust:
12

oz

gingersnap cookies

,

crispy

½

cup

salted butter

,

melted
Instructions
Preheat oven to 350F, with rack in center.

Using a food processor (or heavy duty blender or freezer bag and rolling pin,) crush all gingersnaps until they are fine crumbs. In bowl, drizzle melted butter into the cookie crumbs, and mix until it begins to stick together.

Grease the bottom of 10-inch springform pan. Press crust mixture into the bottom of pan and bake for 9 minutes. Let cool on rack. Grease the sides of pan. Place large pan of very hot water on lowest rack in oven, and drop oven temp to 225F.

Using paddle attachment of stand mixer, mix softened cream cheese on medium until it is smooth and creamy. Add the sugar and beat until smooth and fluffy. Beat in eggs on low, 1 at a time, just until incorporated.

Add pumpkin and remaining ingredients. Beat just until incorporated and smooth. Pour filling into prepared crust.

Place cheesecake pan on a large baking sheet and bake at 225F on center rack, about 4 to 4 1/2 hours, or until filling is softly set and golden brown. Center will still jiggle, but edges should be slightly puffed and somewhat set. Turn oven off. Crack oven open a bit, using a wooden spatula to prop open just a bit. Let cheesecake cool at least 2 hours in the oven (I often let it cool in cracked oven even longer, until it is almost room temp.) Place on wire rack and let cheesecake cool to room temp – this gradual baking method prevents cracking/sinking on top.

Cover and let it completely chill in fridge overnight or 24 hours. Gently run a thin plastic knife around sides of cheesecake to loosen from pan. Release sides of springform, place cheesecake on serving platter, and serve chilled.
Notes
If you need a faster baking method, you can bake at 350F for about 1 hour, 30 minutes. Still let it cool in the oven with door ajar for at least 1 hour before removing. Let cool on wire rack to room temp. Then cover and completely chill in fridge overnight or 24 hours before serving. Cheesecake may always crack or sink a bit with the higher baking temp.
Cheesecake may be fully prepared up to 2 days ahead of time. Keep covered and chilled in fridge until ready to eat! You can even pipe stabilized whipped cream prettily on top and keep it covered/chilled without worrying about a whipped cream melt down.
Nutrition
Serving:
1
serving
|
Calories:
454
kcal
|
Carbohydrates:
51
g
|
Protein:
6
g
|
Fat:
38
g
|
Saturated Fat:
22
g
|
Polyunsaturated Fat:
2
g
|
Monounsaturated Fat:
10
g
|
Trans Fat:
0.3
g
|
Cholesterol:
103
mg
|
Sodium:
397
mg
|
Potassium:
256
mg
|
Fiber:
2
g
|
Sugar:
34
g
|
Vitamin A:
6053
IU
|
Vitamin C:
1
mg
|
Calcium:
107
mg
|
Iron:
2
mg
Did you make this?
Leave a comment below and tag @chewoutloud on Instagram
P.S. Don't forget Stabilized Whipped Cream – no more runny, temperature-sensitive whipped cream!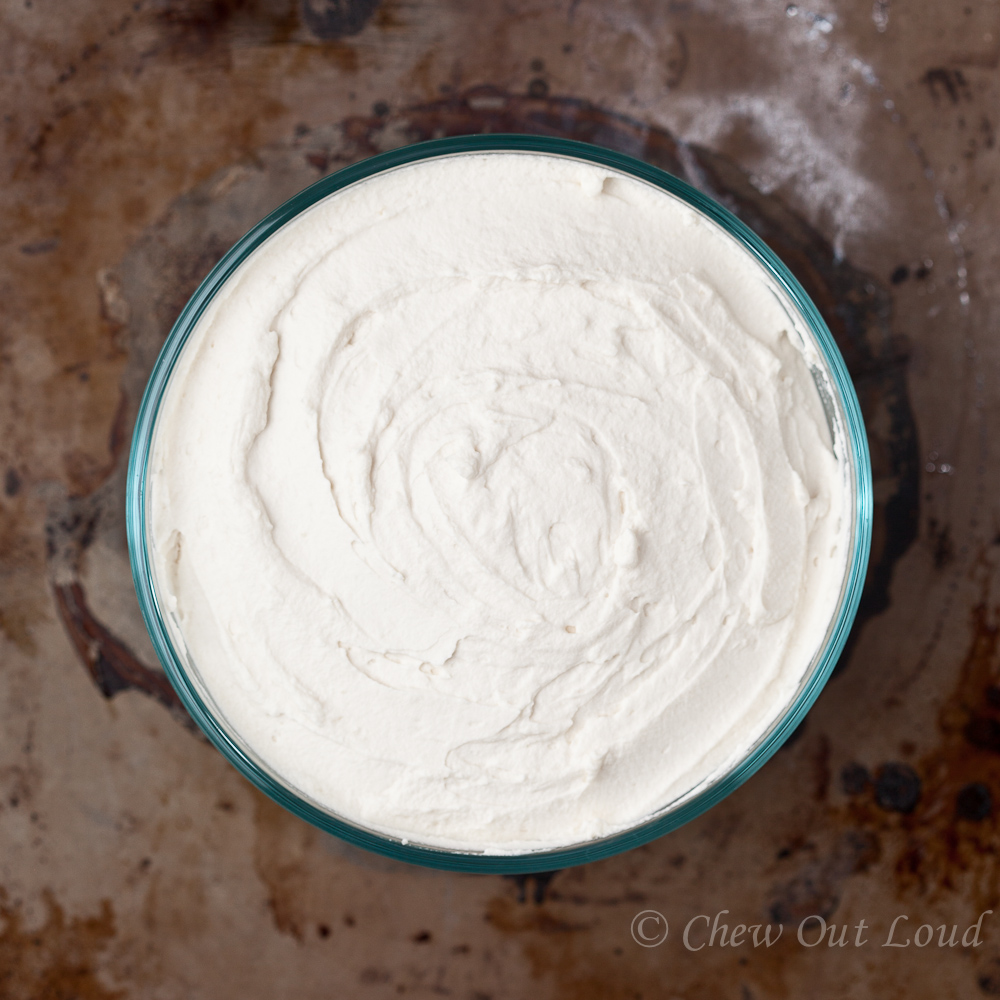 Better Than Cheesecake Factory? Try for yourself: