Orange Chicken Recipe (Extra Crispy!)
Orange Chicken is a popular dish at any Chinese restaurant. Learn this simple method to make your own sweet and spicy Orange Chicken Recipe at home. Pairs well with rice.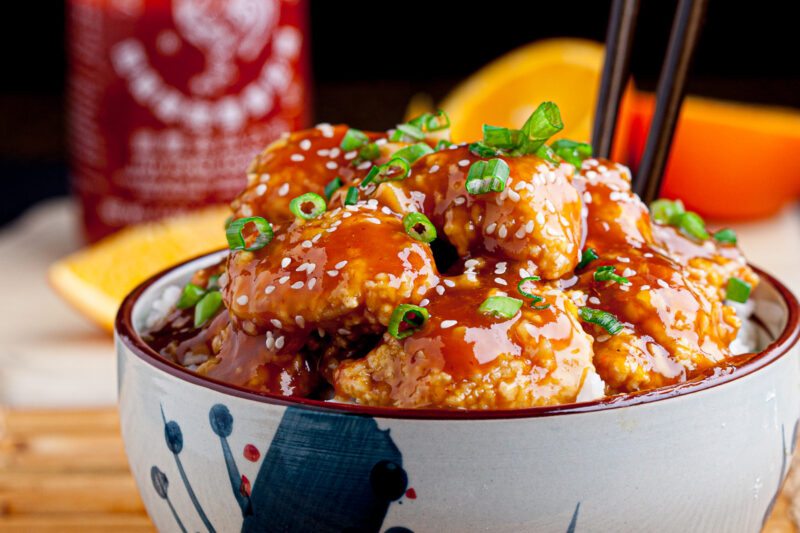 Articles may contain affiliate links, for which we earn a very modest amount, at no cost to you. Thank you for supporting our small business.
Watch Us Make Crispy Orange Chicken
Orange Chicken Recipe
Inspired by everyone's favorite Chinese takeout dish, this Orange Chicken Recipe is sweet, savory, tangy, and packs just a bit of heat thanks to the addition of Sriracha. Both gooey and crispy, it's even better than the restaurant versions. Plus, it's best served fresh so it will never sit in a warming tray all afternoon. Just be ready for the mad dash to the dinner table when the dinner bell is rung!
What You'll Love About This Orange Chicken Recipe
It's made in the comfort of your kitchen so you never have to wait in line.
You can easily dress it up with garnishes such as green scallions or sesame seeds.
A filling main dish, it pairs well with Asian sticky rice, perfect Instant Pot brown rice, or Lo Mein noodles.
Both chicken breasts and chicken thighs can be used.
This recipe is the perfect way to impress even the pickiest of guests.
You can adjust the spice level, adding more or less sriracha to fit your needs.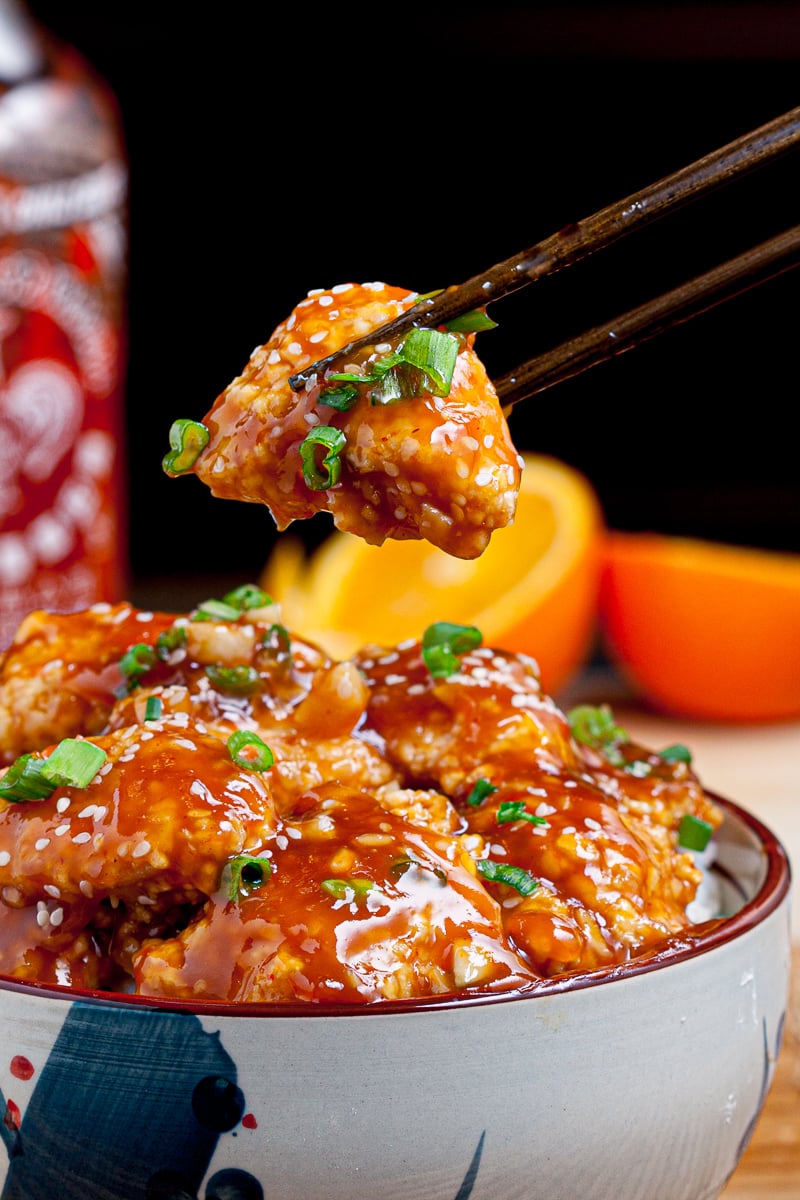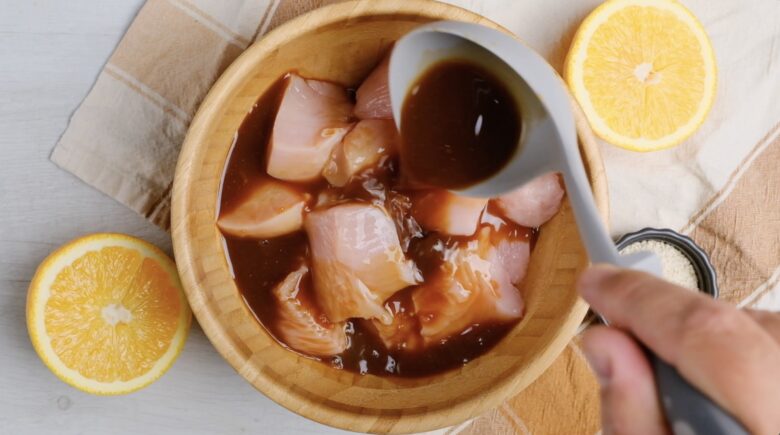 How To Get The Crispiest Orange Chicken
There are a few tricks to achieving the crispiest orange chicken.
Marinate the chicken pieces for at least 30 minutes or longer.
After marinading, be sure to drain the chicken.
Dip the chicken into the egg mixture, and let the excess liquid drip off.
Heat the frying oil in a saucepan until it gets very hot.
Don't overcrowd the pan while frying the chicken.
Work in batches, resting the chicken pieces on paper towels to absorb the leftover oil.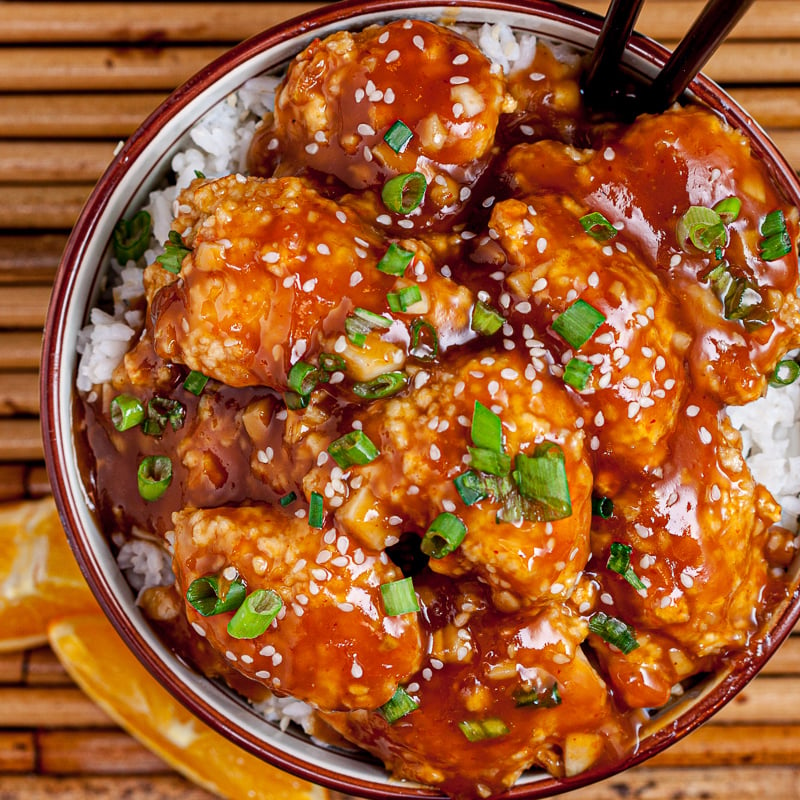 Orange Chicken Commonly Asked Questions
Is Orange Chicken an authentic Chinese dish?
No, Orange Chicken is not found in traditional Chinese cuisine. In fact, rumor has it that the recipe was invented by the American fast food chain, Panda Express.
Can I make this recipe ahead of time?
We don't recommend it. This recipe is best served hot and fresh. Otherwise, the chicken may become a bit soggy.
Do I have to use peanut oil for frying?
Due to its high smoke point and nutty flavor, peanut oil works best for this recipe. However, you could also use sesame oil or canola oil.
---
More To Cook And Eat
---
Did you make this?
Please give us a rating and comment below. We love hearing from you!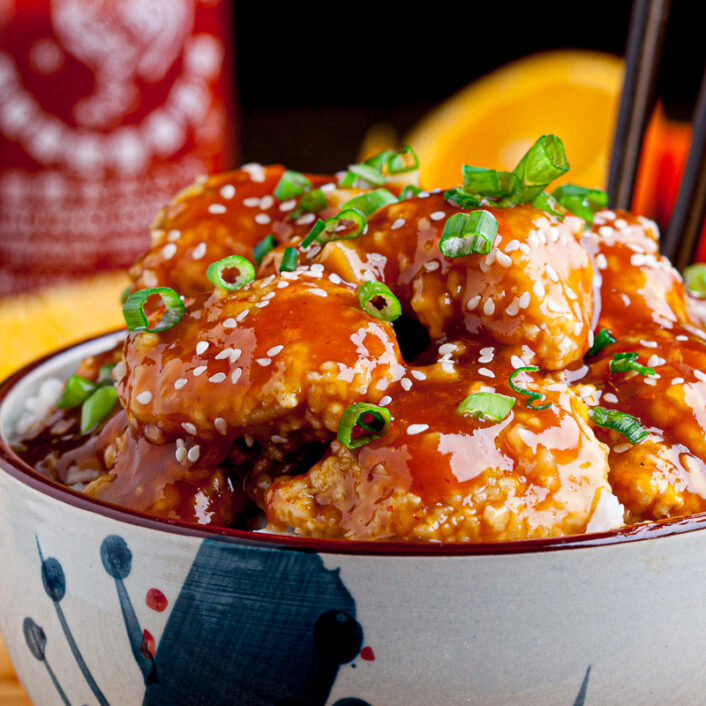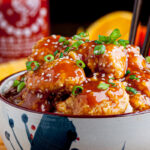 Orange Chicken Recipe
Orange Chicken is a popular dish at any Chinese restaurant. Learn this simple method to make your own sweet and spicy Orange Chicken Recipe at home. Pairs well with rice.
Ingredients
For the Chicken:
1

lb

boneless

, skinless chicken breasts or thighs, cut into bite-size chunks

1

cup

cornstarch,

in a pie pan

2

large eggs,

beaten, in a pie pan

1

cup

peanut oil for frying
Optional: sesame seeds and green onions for garnish
Instructions
Make the Marinade: Combine all marinade ingredients together in a bowl, and whisk to incorporate well. Combine chicken with 1/2 cup of the marinade, making sure that all pieces are thoroughly covered with the marinade. Let it marinate for at least 30 minutes or longer.

Boil and Thicken: Meanwhile, in a medium saucepan, bring remaining marinade to a boil over medium heat, stirring frequently. Sauce will thicken as it gets to a boil. Once sauce is thickened, turn heat off. Keep sauce warm while you fry the chicken.

Coat: Remove the chicken from the marinade, and discard leftover sauce. Dip chicken pieces a few at a time into the pan of beaten eggs. Let excess eggs drip off, and dredge chicken pieces in the pan of cornstarch. Press to coat well. Repeat until all pieces are coated.

Fry: Heat oil in a large saucepan over medium-high to high heat, until oil is very hot. Add chicken pieces, taking care not to overcrowd, and fry until cooked through, about 1-2 min. Place fried chicken on paper towels, and work in batches until all chicken is fried.

Toss and Serve: Combine the chicken with warm sauce, and serve immediately. Serve over rice and garnish as desired.
Notes
For gluten-free recipe, use Tamari sauce in place of soy sauce.
If you enjoyed this recipe, please come back and give it a rating 🙂
Nutrition (per serving)
Calories:
375
kcal
|
Carbohydrates:
33.5
g
|
Protein:
30.8
g
|
Fat:
12.4
g
|
Saturated Fat:
2.6
g
|
Cholesterol:
177
mg
|
Sodium:
510.3
mg
|
Fiber:
0.3
g
|
Sugar:
29.3
g