Perfect Instant Pot Brown Rice
By Amy Dong
Published Feb. 20, 2019
Updated Sep. 4, 2023
Once you've experienced the perfect ease of Instant Pot Brown Rice, you'll never go back to cooking brown rice any other way. Say goodbye to stovetop messes, single-purpose rice cookers, and inconsistent results. Get perfect brown rice, every time.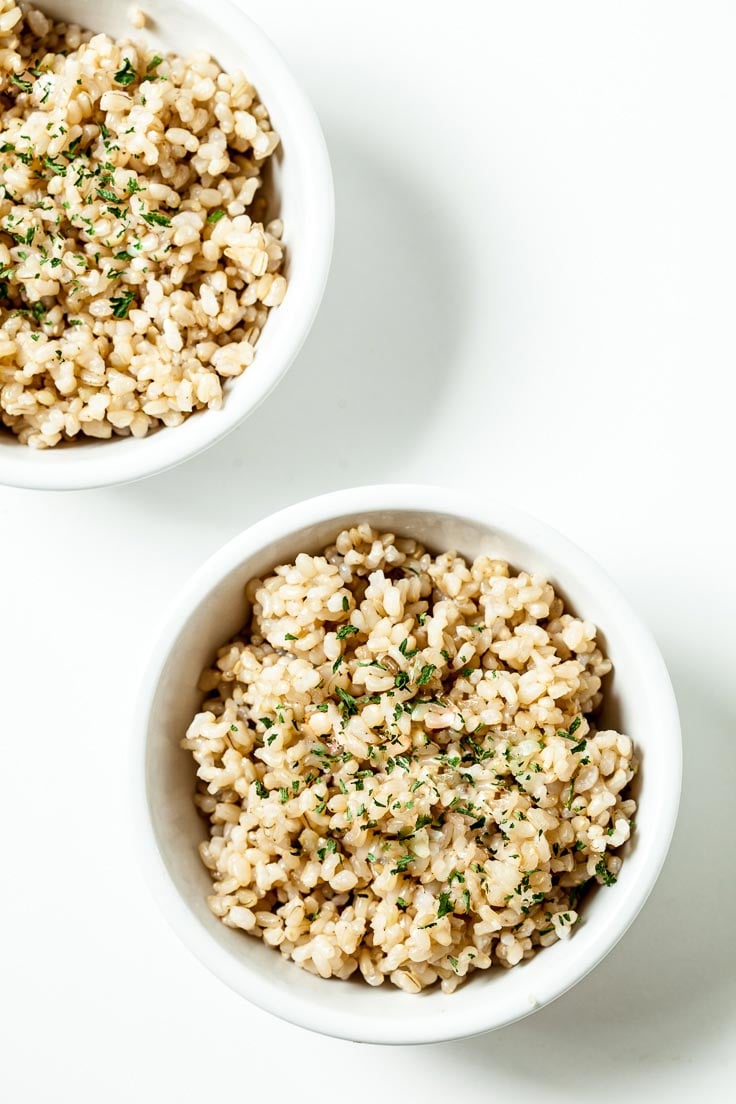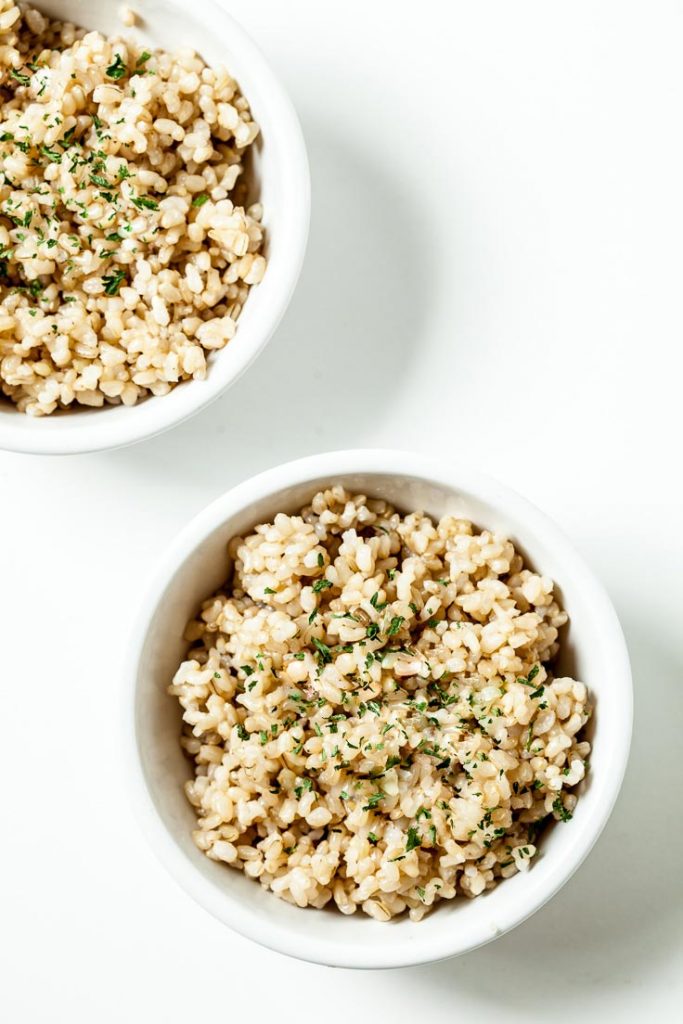 A big 'ol rice cooker was a constant fixture in my parents' kitchen from the day I was born. I don't think that hefty rice cooker has ever taken a day off…it still sits in Mom's kitchen. Though Dad's favorite was aromatic jasmine rice, we usually had a pot full of pearly short grain because that's what Mom liked. Much to her chagrin, I totally was not a rice fan at all until I entered my adulting years.
These days, my tribe of five regularly noshes on all varieties of rice, in all shapes and form. We devour everything from Easy Rice Pilaf with Mushrooms to Creamy Chicken Wild Rice Soup. But our go-to, everyday healthy grain is this perfect Instant Pot brown rice recipe.
Thank you, Instant Pot, for making my brown rice situation way more manageable. Gone are my stovetop mess 'n guess days. At least where rice is concerned.
Most importantly, my brown rice now comes out consistently tender yet chewy, with the perfect texture every single time….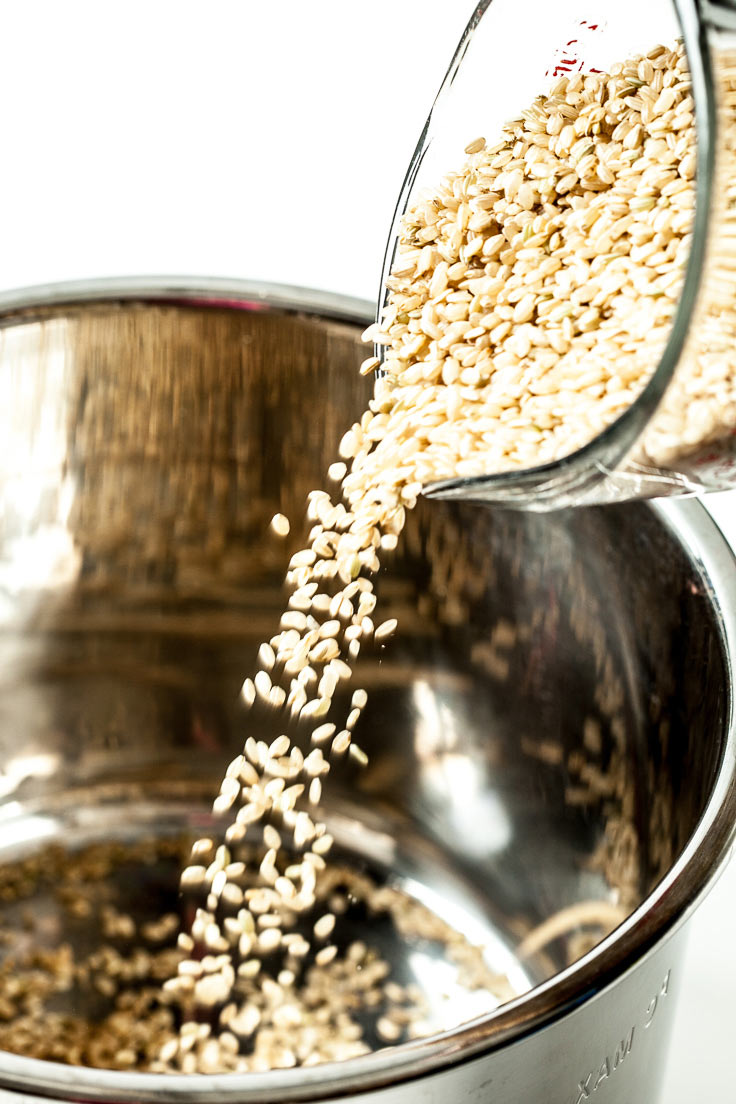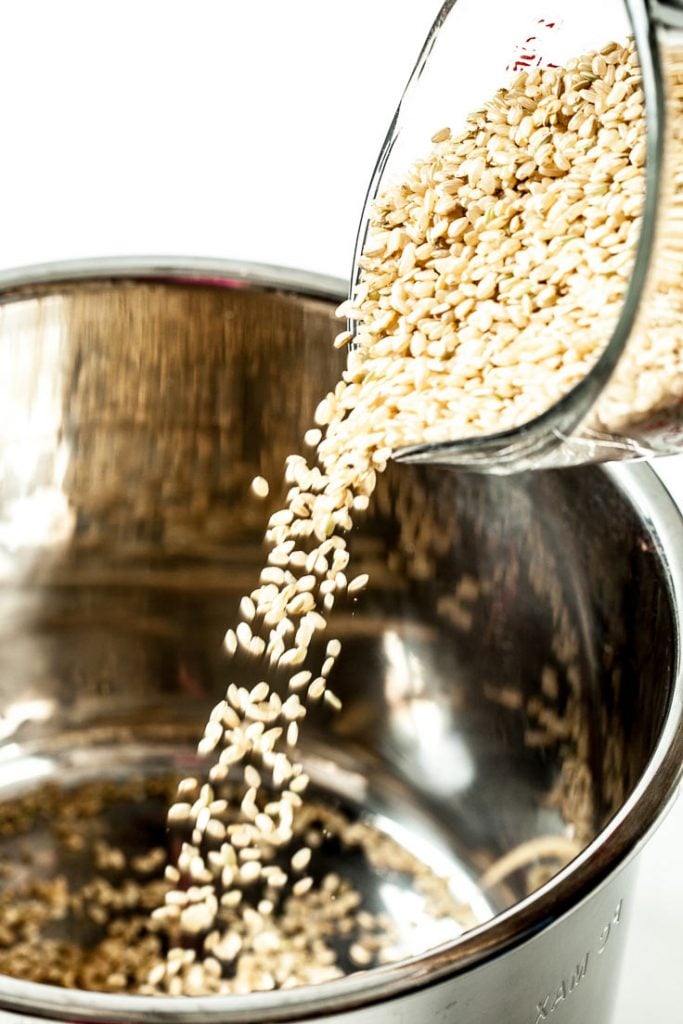 Does the kind of rice make a difference?
Brown rice, whether in long or short grain variety, is generally much heartier, fuller in texture, and chewier than white rice varieties. Brown rice contains fiber, protein, and many more nutrients than white rice. Because of its denser and heartier nature, brown rice takes longer to cook and retains a chewy bite.
If you're watching the waistline, brown rice is the better bet, as it takes longer to chew, which translates to slower eating and easier portion control. And because it's packed with fiber, we feel full a lot faster with a bowl of brown rice in front of us.
There's even a difference between long grain brown rice vs. short grain brown rice. Both are comparable in nutrients, but long grain brown rice tends to cook up "looser," retaining individual grains. It's perfect for pilaf dishes and fried rice dishes. Short grain brown rice has more binding power, resulting in a stickier and sushi-worthy finish.
What's the rice to water ratio?
The water to rice ratio is different between brown and white rice. White rice is almost a 1:1 ratio in an Instant Pot, whereas brown rice is more of a 1 to 1.5 ratio in the IP.
Rather than using plain 'ol water, I go with chicken broth. It just adds flavor and interest, and we like a bit of interesting on our plate. Plus, chicken broth allows me to eliminate the pinches of salt and butter that often go into a pot of rice.
Feel free to use veggie broth, beef broth, homemade broth, or just go the water + pinches of salt route.
Bottom line: 1 part rice, 1.5 part liquid.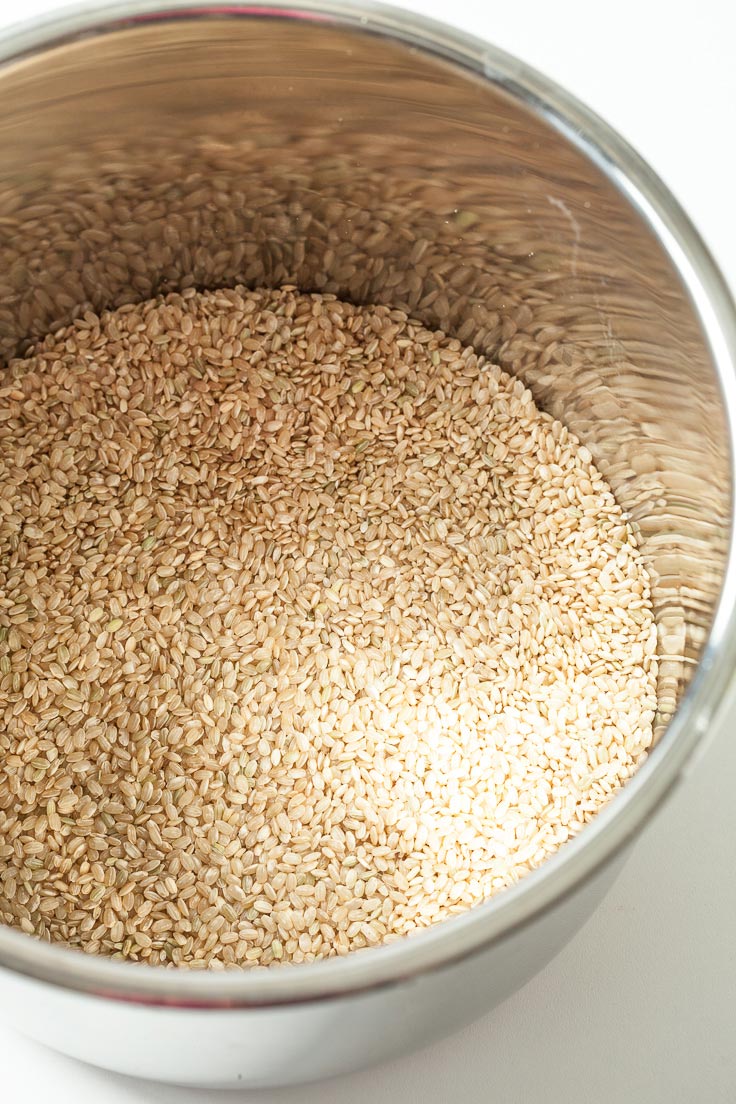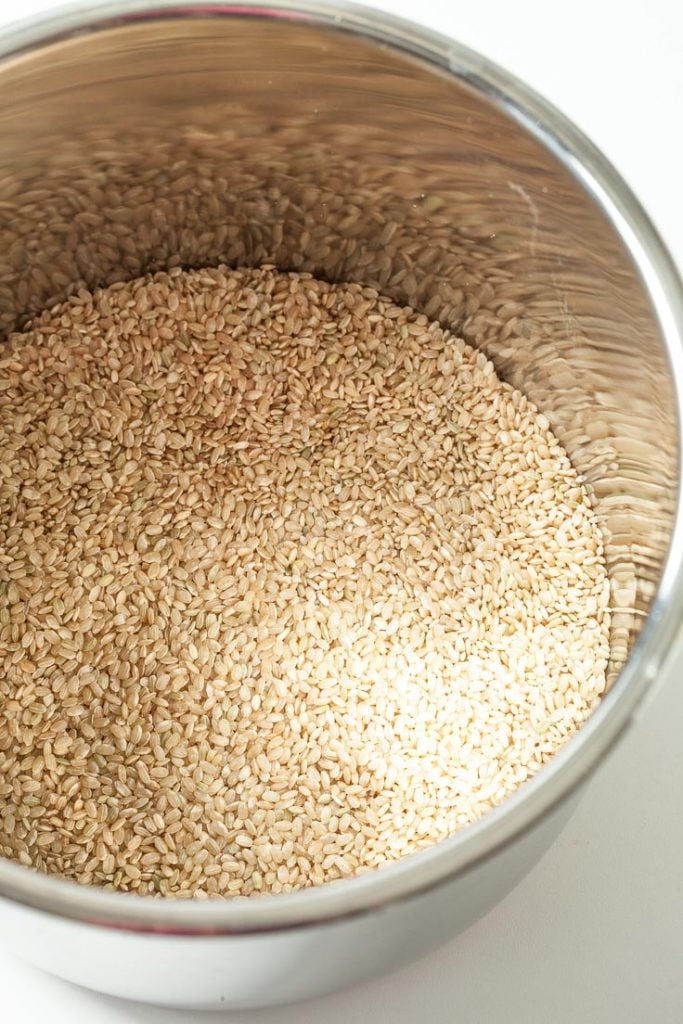 How long do you cook brown rice in an Instant Pot?
This is my favorite part of all. It takes only 20 minutes of pressure cook time in the Instant pot for brown rice to cook up perfectly: tender yet chewy. Do account for the time it takes for your IP to build up to pressure and the time it takes to release that pressure.
All in all, it's still faster than my stovetop method, and trustier than all the methods I've ever cooked rice with.
What kind of release method is best?
You'll do a natural release here. At least 10 minutes natural release time is recommended, but I usually get lost in my work or social media or whatevs while the pressure cooker is doing its own thing and I don't bother timing the natural release.
Once the pressure cooker is finished cooking, I press cancel and let it natural release fully until it's lost all steam. If I'm not ready to serve, I let it go to Warm setting until I'm ready.
Then, open the lid, fluff your rice, and serve it up.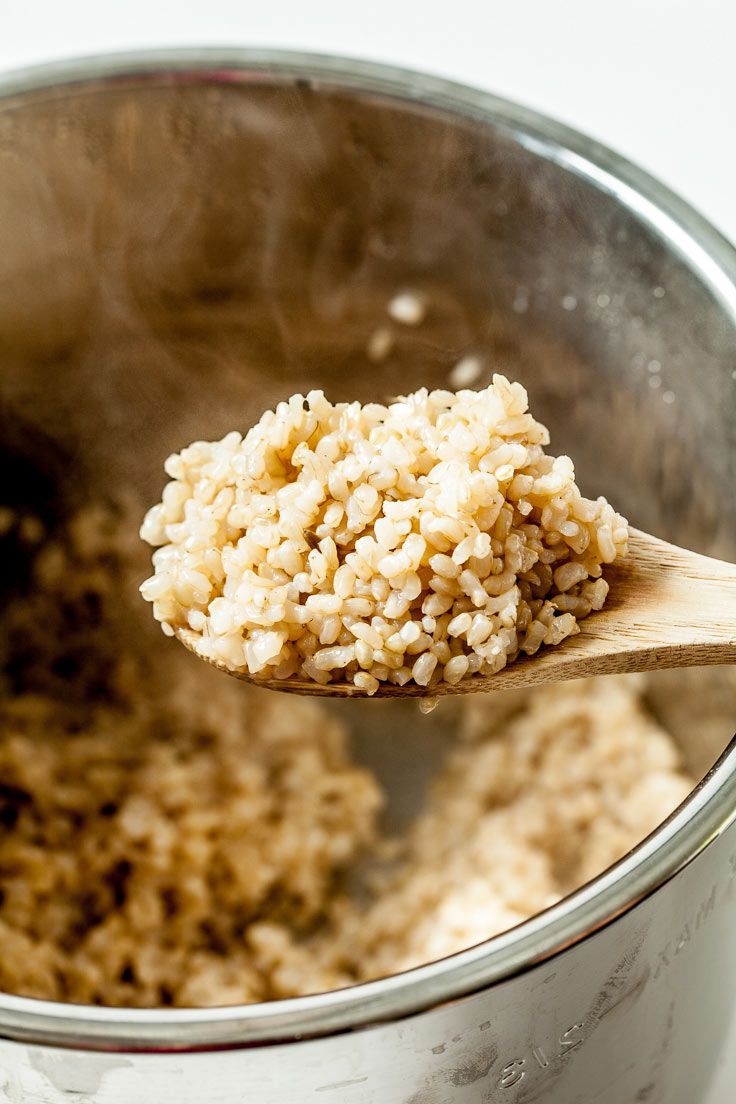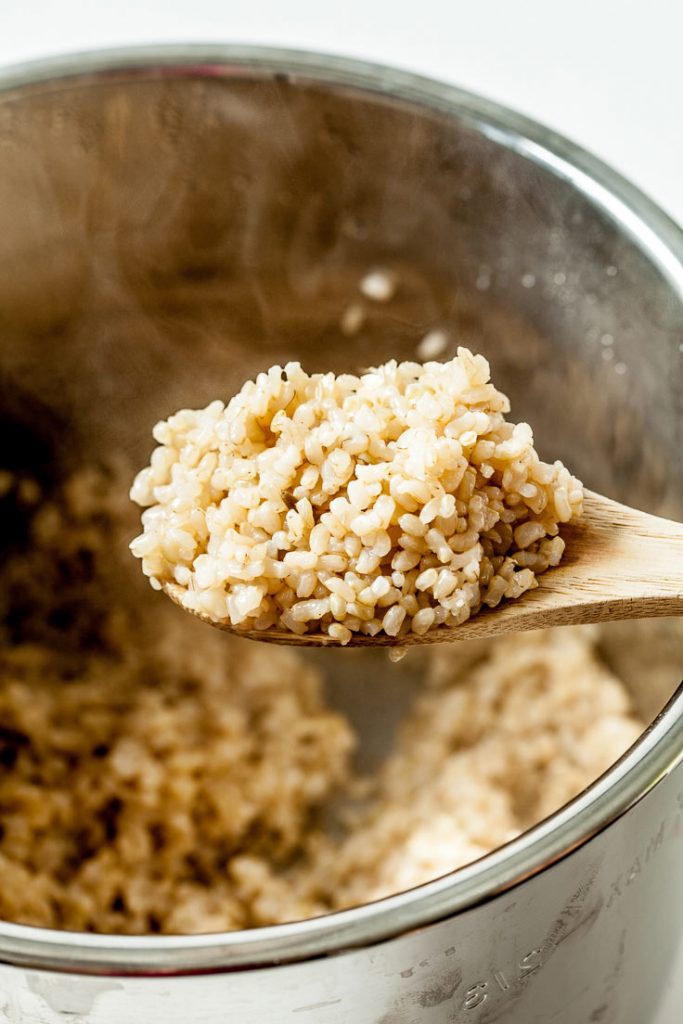 BONUS: Seriously Helpful Instant Pot Tips
Be sure your IP is in a location where it's safe for natural release to vent upwards. I only say this because I've had it sitting under the tall cabinets in the kitchen before, and the cabinets took a major steam bath. Warped cabinet paint is not ideal.
If you can't avoid cabinets due to space, at least position your Instant Pot so the steam spout points away from cabinets. Better yet, use a steam diverter.
Definitely be sure to cook only the amount of rice that will work for the size of your Instant Pot. Otherwise, you'll experience a steamy mess on the lid afterwards.
No matter what, we do have to wash those sealing rings, which can be tricky. It's a smart idea to have 2 sealing rings to switch out; try blue for sweets and red for savory.
What to serve with brown rice
We love this 30-Minute Skinny Orange Chicken OR go with beef, is that's your craving 30-Minute Asian Orange Beef.
Asian Baked Salmon Recipe is delicious with this brown rice, as are these super easy Easy Asian Glazed Meatballs.
If you make this brown rice, we'd love to see it! Tag us @chewoutloud on Instagram so we can share the foodie love! 💖
Did you make this?
Please give us a rating and comment below. We love hearing from you!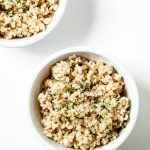 Perfect Instant Pot Brown Rice
Once you've experienced the perfect ease of Instant Pot Brown Rice, you'll never go back to cooking brown rice any other way. Say goodbye to stovetop messes, single-purpose rice cookers, and inconsistent results. Get perfect brown rice, every time.
Ingredients
2

cups

brown rice

,

dry (I use organic short grain)

3

cups

broth of your choice*
Instructions
Add rice and liquid to the inner pot of Instant Pot. Lock the lid, ensuring the release cap is in correct position. Set to Pressure Cook for 20 minutes.

Once timer is up, press Cancel and let your Instant Pot naturally release, 10-20 minutes. It's ok to allow natural release to take its time or to let the rice sit in pot on Warm Setting until you're ready to serve. When ready to serve, carefully open lid and fluff rice to serve.
Notes
*I like chicken broth for this recipe. You can use veggie or beef broth, as well as just water and a pinch of salt. Add 1-2 TB melted butter to the pot if you'd like extra flavor.
Nutrition (per serving)
Calories:
235
kcal
|
Carbohydrates:
50
g
|
Protein:
5
g
|
Fat:
2
g
|
Saturated Fat:
0.3
g
|
Polyunsaturated Fat:
1
g
|
Monounsaturated Fat:
1
g
|
Sodium:
473
mg
|
Potassium:
170
mg
|
Fiber:
2
g
|
Sugar:
1
g
|
Vitamin A:
250
IU
|
Calcium:
21
mg
|
Iron:
1
mg