How to Make Perfect Macaroni and Cheese
By Amy Dong
Published Nov. 12, 2020
Updated Aug. 17, 2022
Homemade macaroni and cheese is cozy, warm, and comforting. Your entire family – both kids and grownups alike – will adore this creamy, cheesy mac 'n cheese recipe.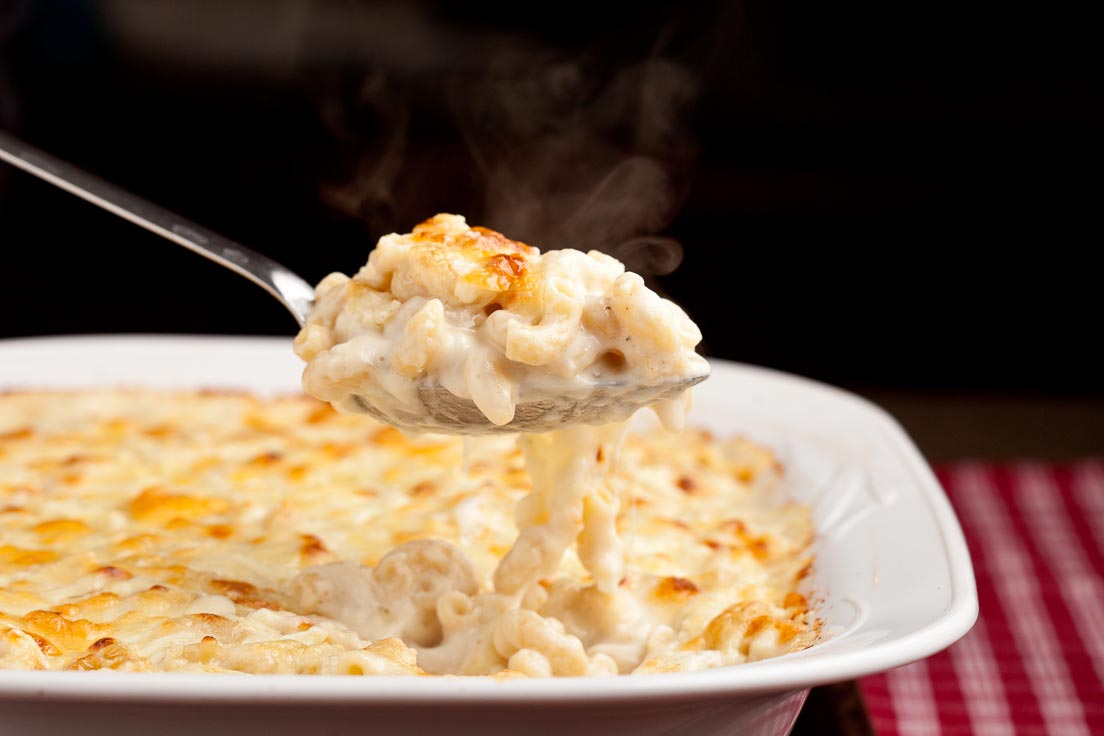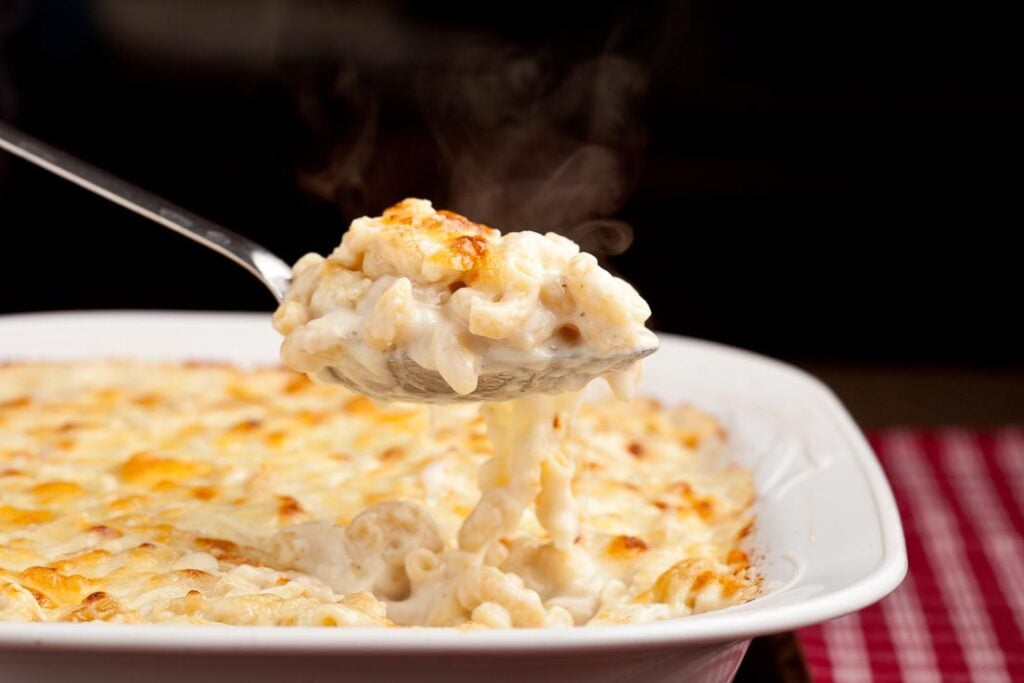 HOMEMADE MACARONI AND CHEESE that's way better than the box
I still remember coming home from school feeling famished after skipping breakfast and choosing to nourish my teen brain with candy bars for lunch. Does it sound at all more reasonable if I said they were Snickers bars packed with peanuts?
There were plenty of days when I'd rush home right after the bell rang, head straight into the kitchen, and cook myself a store bought box shells and cheese. Tthe kind with a foiled squeeze pouch filled with perplexing ingredients that added up to not-real-cheese.
Fast forward a couple decades and I've tested a mountain of homemade macaroni and cheese recipes, hoping to capture a rich and creamy texture using real cheese and fresh ingredients. Nothing artificial nor unpronounceable.
It's a happy day, because you're about to own the recipe for the perfect homemade macaroni and cheese, natural ingredients and all.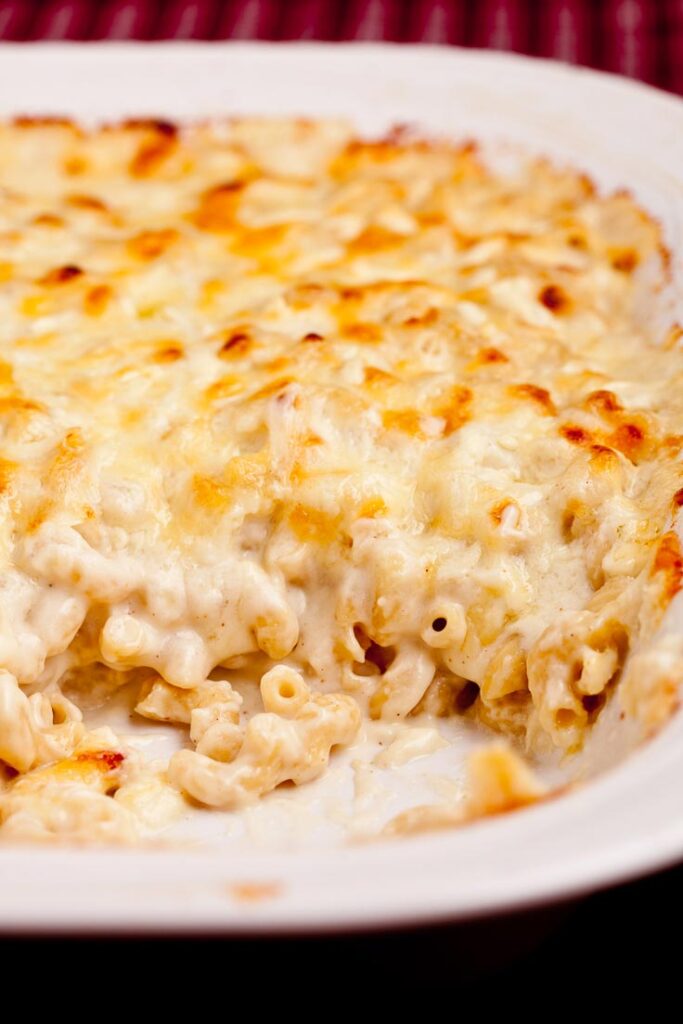 Specific Cheese Makes All the Difference
This macaroni and cheese is perfectly creamy, rich, superbly cheesy, and big on flavor. It's fabulous right out of the oven, and it manages to reheat surprisingly well. If you've ever tried reheating leftover mac 'n cheese, you know it's no easy task and you'll appreciate this recipe all the more.
Sharp white cheddar makes all the difference, with its super creamy and smooth texture upon melting. Buy a good quality block of sharp white cheddar cheese, rather than the pre-shredded bags, as bagged shredded cheese often contains additional ingredients that hinder its ability to achieve a melty-smooth texture.
We prefer sharp cheddar for its bolder, more pronounced flavor, thanks to being aged for more years than mild cheddar. If you prefer a more orange hue, you can use sharp yellow cheddar instead of the white; the main difference is the annatto coloring typically added to yellow cheeses.
The second good block of cheese you'll need is Pecorino Romano — it brings this dish over the top. It's deliciously savory, adding another irresistibly cheesy dimension to your homemade macaroni and cheese. Again, grate your own fresh block of cheese to ensure a velvety texture.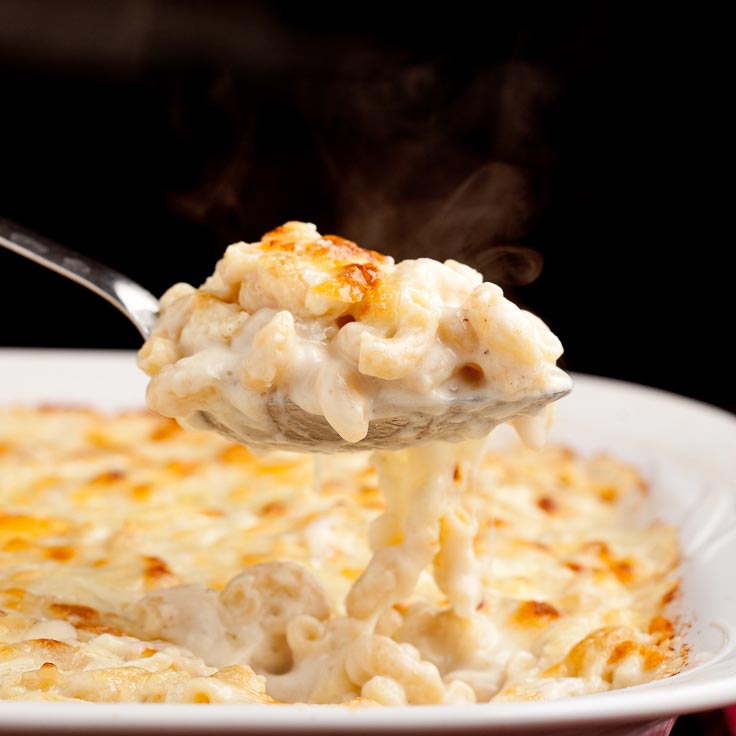 Whisk, Whisk Away
The most creamy and smooth cheese sauce starts with a simple roux (pronounced roo.) Roux is a fancy term for a mixture of flour and butter that are combined over heat to help thicken sauces and gravies. When in luck, it's used for cheesy corn au gratin.
Roux for mac 'n cheese is simple; just be sure to whisk constantly until the mixture bubbles and becomes thick. Its the constant whisking that will prevent a slightly gritty texture and helps your cheese sauce stay velvety. Just the way mac 'n cheese lovers like it.
---
Try One-Pan Gnocchi with Spinach and Chicken, Too:
---
Did you make this?
Please give us a rating and comment below. We love hearing from you!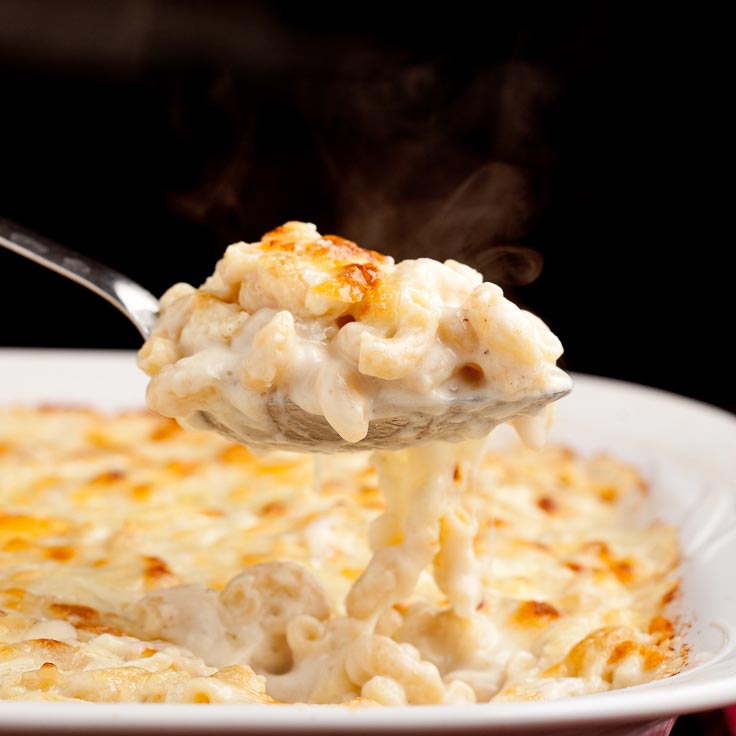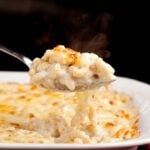 How to Make Perfect Macaroni and Cheese
Homemade macaroni and cheese is cozy, warm, and comforting. Your family, both kids and grownups alike, will adore this creamy, cheesy mac 'n cheese recipe.
Ingredients
1

lb

dry elbow macaroni pasta

6

TB

regular butter

5 ½

cups

whole milk

½

cup

all purpose flour

½

tsp

garlic powder

½

tsp

onion powder

¼

tsp

ground nutmeg

¼

tsp

fresh ground black pepper

¼

tsp

dry mustard

4 ½

18 oz cups freshly grated sharp white cheddar

1 ¼

cups

5 oz freshly grated Pecorino Romano
Instructions
Heat oven to 375F with rack in middle position. Grease a 9x13 casserole dish and set aside.

Fill large pot with salted water. Bring to boil, add macaroni and cook 2 minutes fewer than the package states for al dente. You want the pasta a bit undercooked, as it will continue to cook in oven. Transfer cooked macaroni to colander, rinse well with cool water, and set aside to drain.

In saucepan, heat milk until hot and set aside (watch that it doesn't spill over.) In a large pot, melt butter over medium heat. When butter starts bubbling, add flour and cook 1-2 minutes, constantly stirring.

Add hot milk into flour-butter mixture, whisking constantly. Continue cooking/whisking on medium heat until mixture bubbles and becomes thick, about 10 min.

Turn heat off. Stir in garlic and onion powder, nutmeg, black pepper, and dry mustard. Add 3 cups of the white cheddar and 1 cup of the Pecorino Romano. Mix thoroughly until cheeses are melted and sauce is smooth and creamy.

Add cooked macaroni into cheese sauce and stir to combine well. Pour mixture into greased casserole dish, distributing evenly. Sprinkle top with remaining 1 1/2 cups white cheddar and 1/4 cup Pecorino Romano. Bake until top is golden brown, about 30 min. If needed, set under broiler for just a minute or two until browned to your liking. Let cool 5 minutes and serve.
Notes
For bread crumbs: Cube 6 slices of good quality (crust removed) bread into small pieces. Place in bowl and mix with 2 TB melted butter. Scatter breadcrumbs over top of casserole right before baking.
Yields about 12 servings as a side dish.
If you enjoyed this recipe, please come back and give it a rating ♡
Nutrition (per serving)
Calories:
450
kcal
|
Carbohydrates:
39.6
g
|
Protein:
20.7
g
|
Fat:
23
g
|
Saturated Fat:
13.1
g
|
Trans Fat:
0.5
g
|
Cholesterol:
66.5
mg
|
Sodium:
373.7
mg
|
Fiber:
1.4
g
|
Sugar:
7
g
---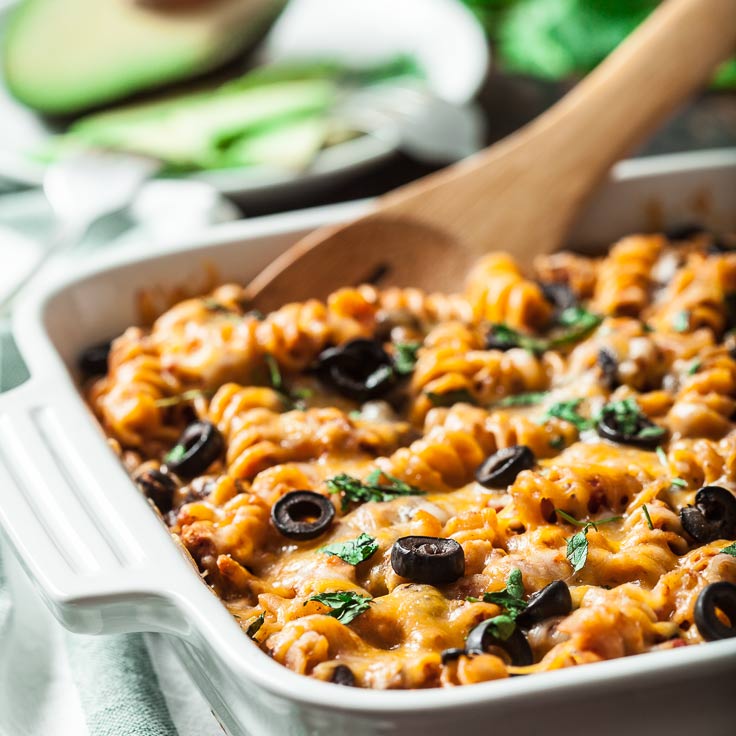 ---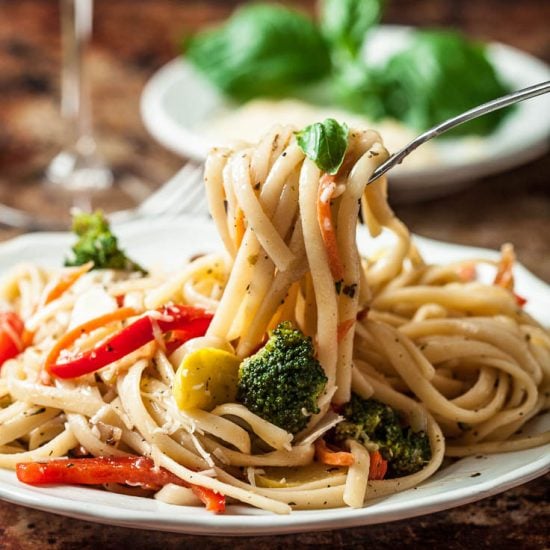 ---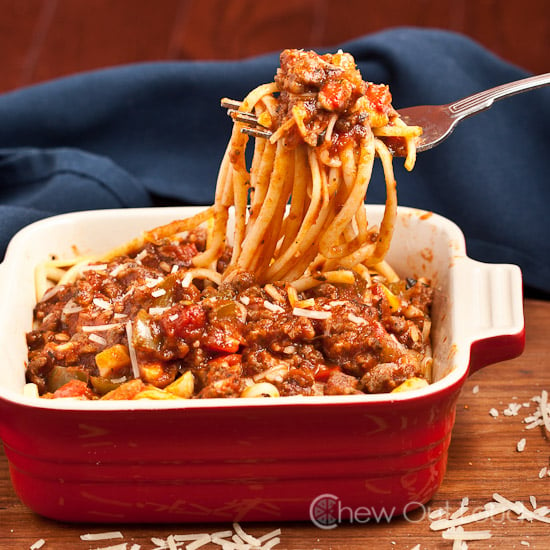 Your family will love this healthy and tasty chunky pasta sauce with vegetables and sausage. Toss it over your favorite kind of pasta.