Pork Carnitas Recipe (Mexican Pulled Pork)
By Amy Dong
Published Jun. 16, 2020
Updated Oct. 18, 2023
Braised and broiled to crispy and tender perfection, this Mexican Pulled Pork or Pork Carnitas will quickly become a family favorite dinner. These pork carnitas are a hands-down winner.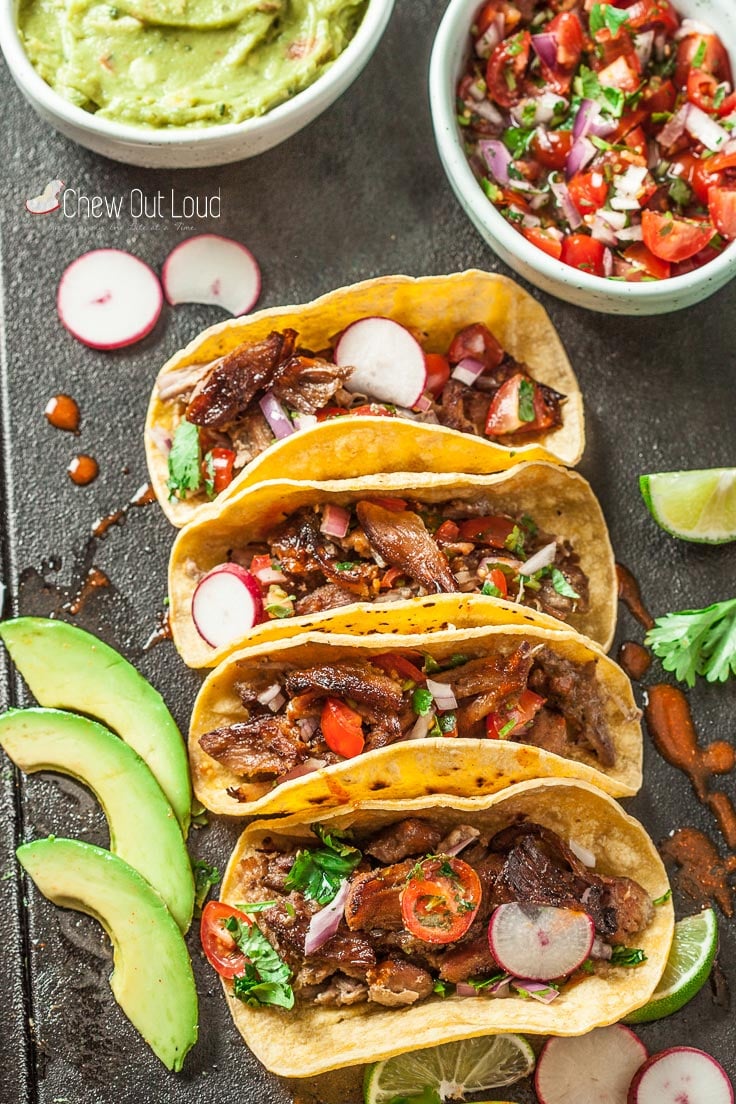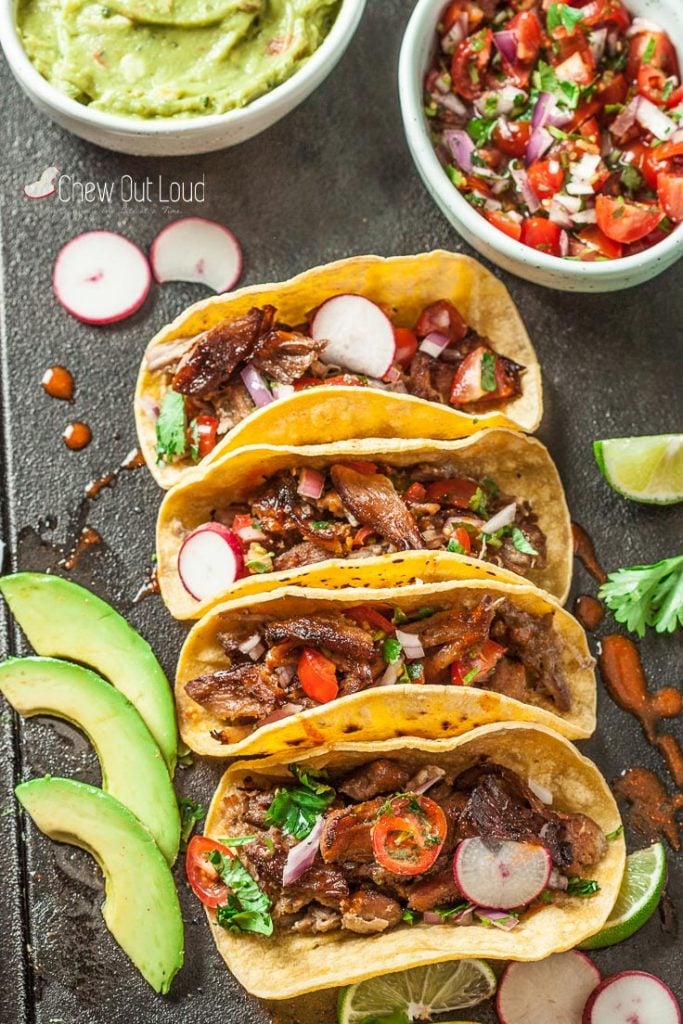 The Most Tender Pork Carnitas
If you've landed here today, you're in for an insanely mouthwatering treat. We're talking about a game-changing, epic, foolproof deal. And it doesn't even involve sugar 😇
It's healthy, clean eating that will make your mouth and tummy so, so happy. Your people will think you're a genius in the kitchen and you'll graciously accept that title.
This Pork Carnitas Recipe is by far the very best, tender pork carnitas we've ever devoured. We've had more than our share of pork carnitas at restaurants everywhere, and we've trialed many a carnitas recipe.
There's good reason we keep coming back to this particular pork carnitas recipe: it consistently makes the best, most crispy + tender carnitas tacos ever.
If you've never made your own carnitas, this recipe will change your pulled-pork game forever. If you have made carnitas before but are still searching for the perfect version, let this take your meals to the next level…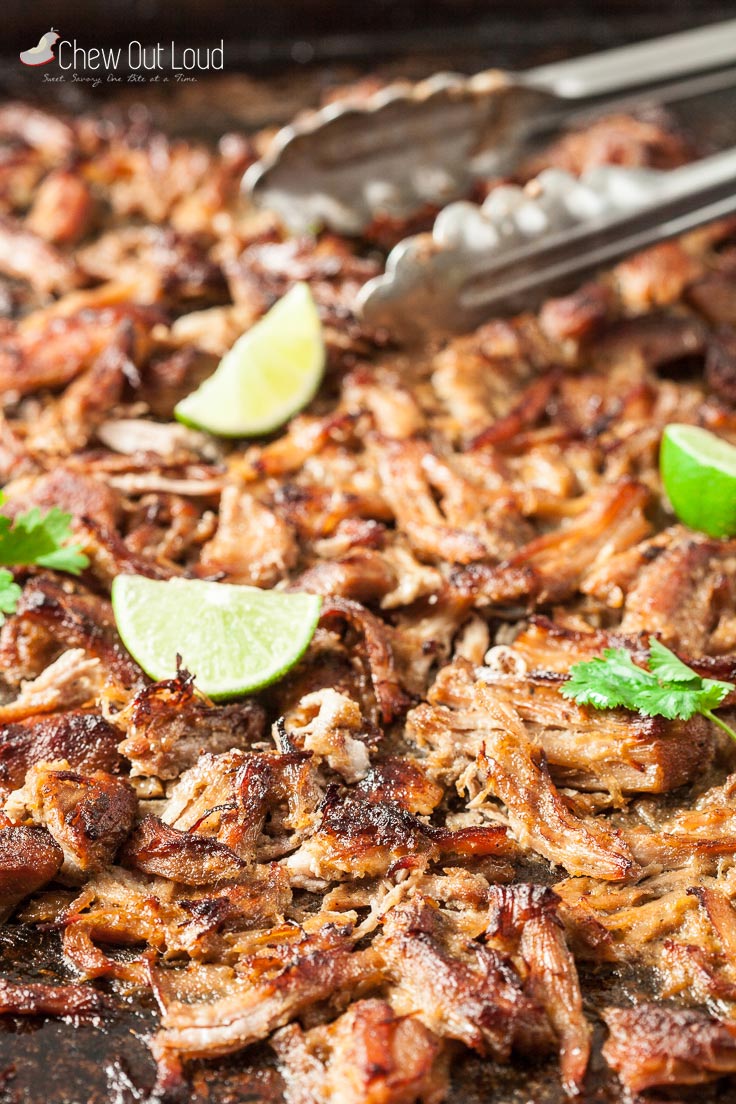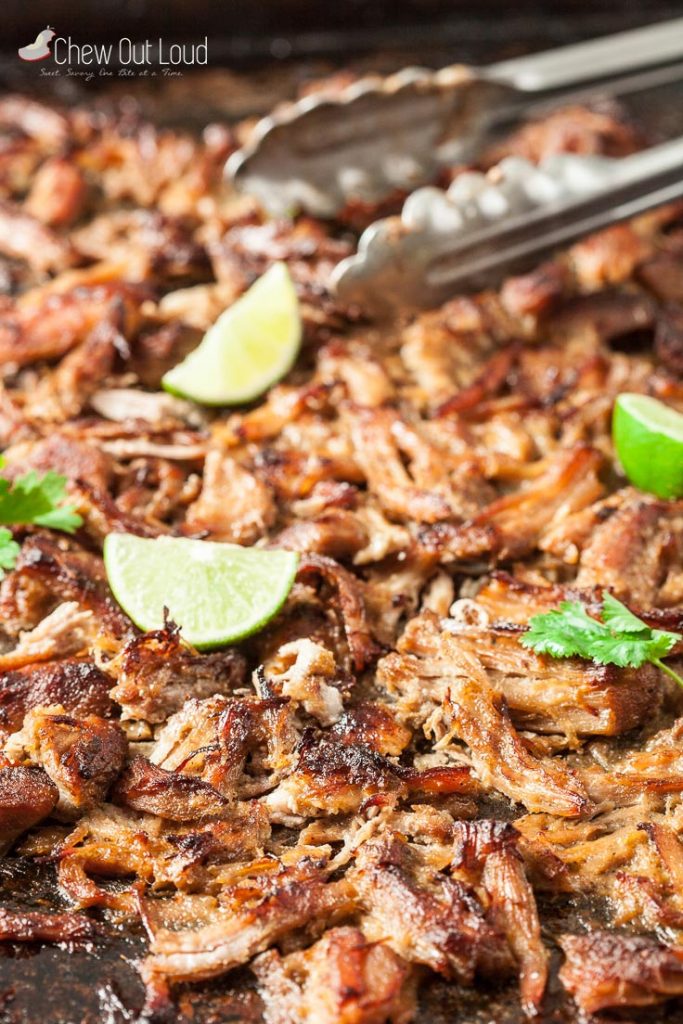 Dutch Oven = Amazing Braising And More
A good Dutch oven is your friend here. A nice sized, heavy Dutch oven is super effective at slow braising a large pork roast, as well as cooking up a super tender and affordable chuck roast for Indian Rogan Josh.
Dutch ovens are perfect for going from stovetop to oven. They're able to withstand high heat, they cook foods evenly, and are one of the hardiest and hardest working pots you'll ever own.
Use the Right Cut of Pork
Pork shoulder/butt is best; it's an affordable cut that really likes to be slow braised in flavorful juices. Once the pork is immersed in all the seasonings in your Dutch oven, it's given a couple of hours to slow cook until every bite is triumphantly tender.
Truly authentic carnitas may have incorporated the use of lard. Though we're not using lard here, we are most definitely slow cooking this beautiful pork to crispy, tender perfection.
All the usual carnitas recipe suspects are invited: onions, bay leaves, orange, lime, and simple aromatic spices…they all come together in a slow dance that results in fork-tender pork carnitas.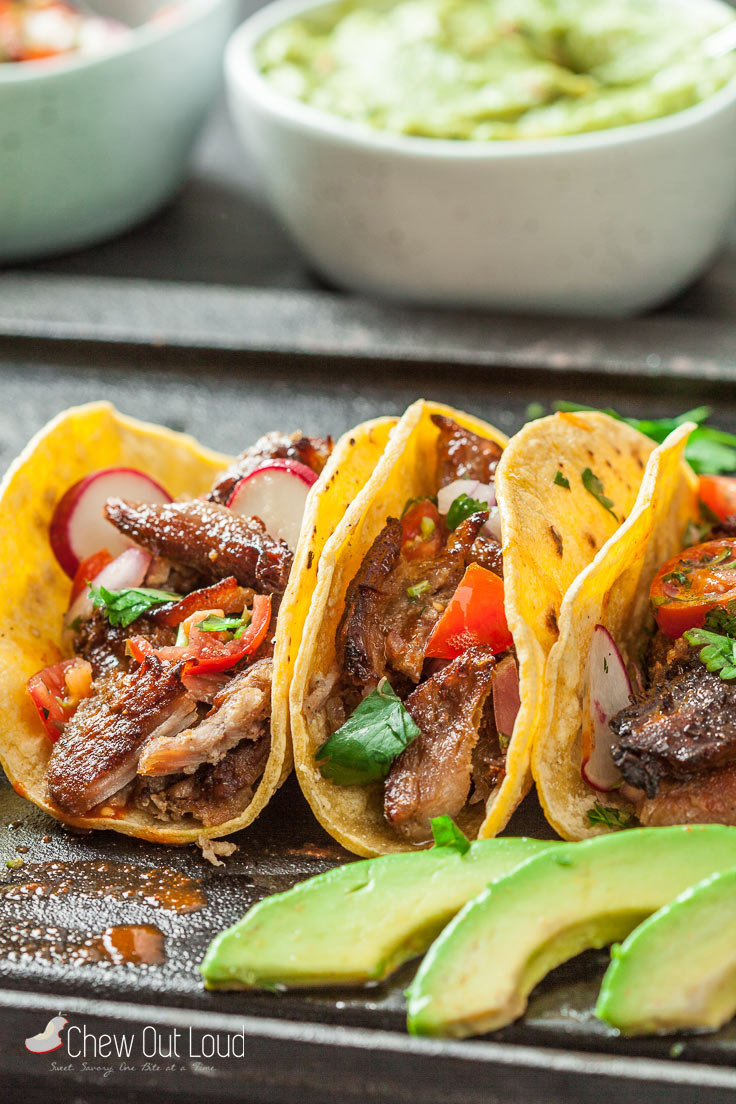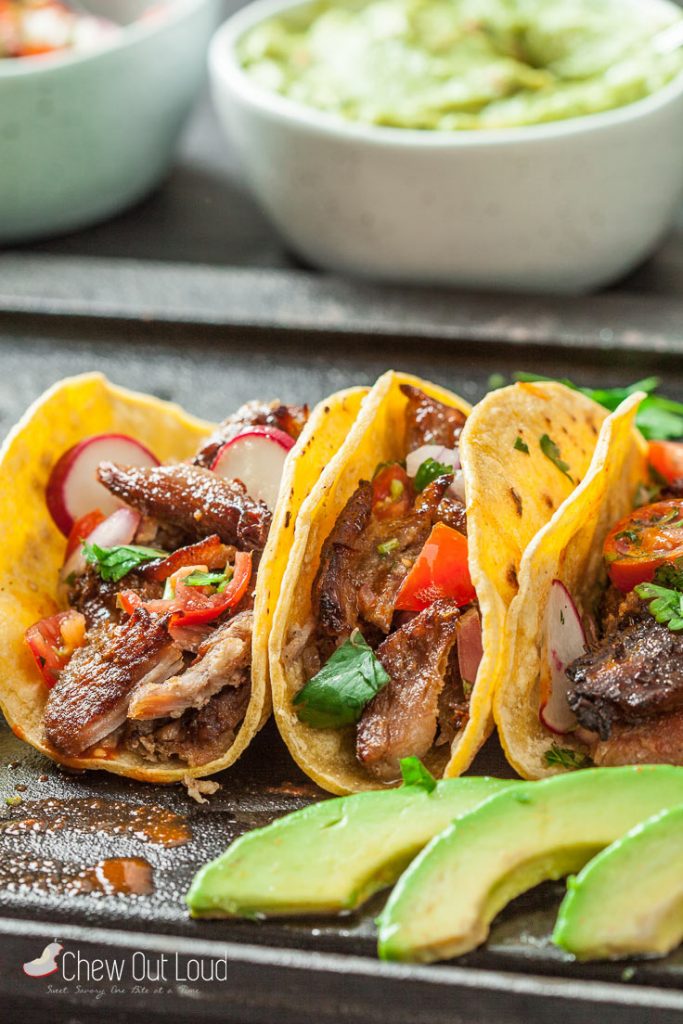 How Do I Make Carnitas Crispy?
We don't deep fry, nor do we bother with a skillet at all here.
The secret is in the broiler. Once the pork carnitas have been slow-braised in savory juices in the Dutch oven, we transfer the pork to a large rimmed baking sheet and put it under the broiler for a few minutes. That's it. Simple yet totally effective.
You do want to serve your pork carnitas immediately after broiling, to keep the exterior crispy. It's easy enough to do this if you're at home. When people are gathered 'round and ready to eat, just give the carnitas a few minutes under the broiler and serve.
Tip: When I bring carnitas tacos to a dinner party that's not at my home, I prepare the entire recipe up to the point of broiling. Once I arrive at my destination, I give the braised/shredded pork a quick broil on my baking sheet and serve it up with all the fixings.
P.S. You can make these carnitas a day or two before and just broil when ready to eat.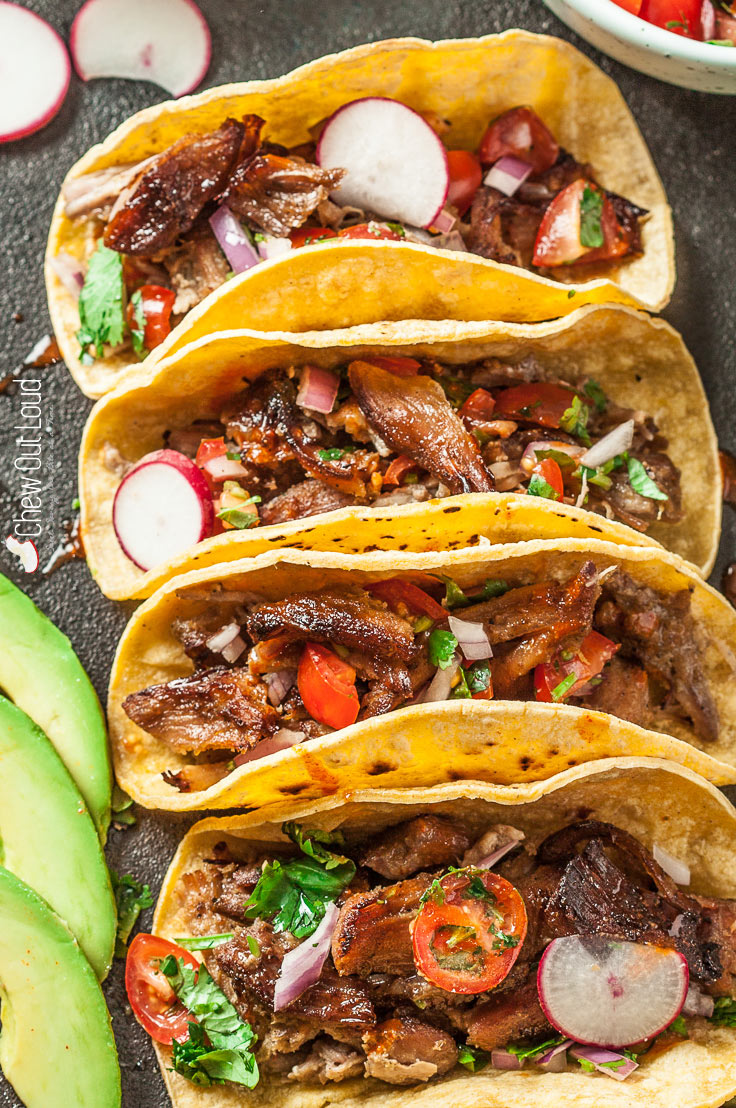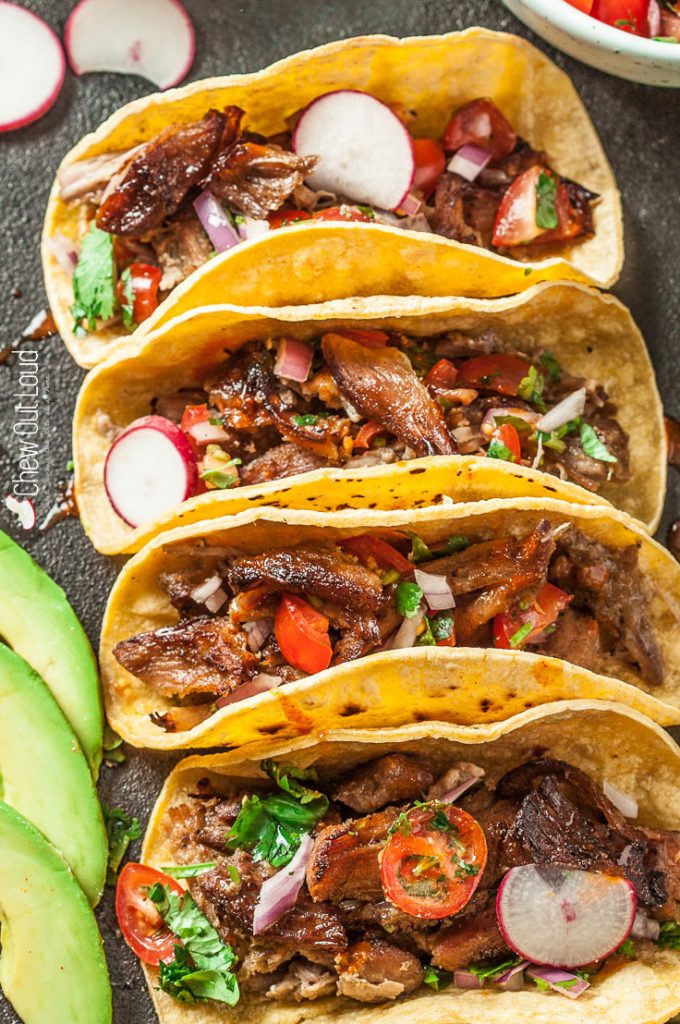 What To Serve with carnitas tacos?
This is the easiest and best part. Our favorite popular toppings include: chunky salsa, fresh lime wedges, homemade guacamole, chopped cilantro, thinly sliced radishes, and traditional Tapatio, of course. There's really no other hot sauce that will do when it comes to authentic pork carnitas.
We're addicted to this Easy Mexican Rice as well as Cuban Rice and Beans for serving alongside of this pork carnitas recipe. Mexican Rice Salad and Cheesy Mexican Bean Dip are jackpots, too.
Video: Watch Us Make This Recipe
Did you make this?
Please give us a rating and comment below. We love hearing from you!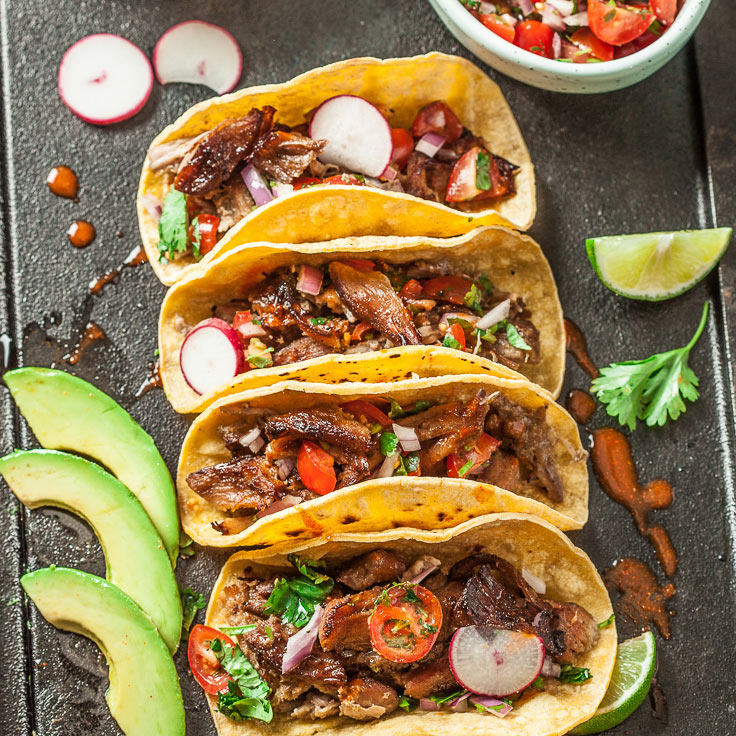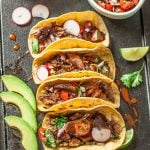 Pork Carnitas Recipe (Mexican Pulled Pork)
Braised and broiled to crispy and tender perfection, this Mexican Pulled Pork will quickly become a family favorite dinner. These pork carnitas are a hands-down winner.
Ingredients
1

3.5 to 4 lb boneless pork butt, fat trimmed to 1/8 inch thick, and cut into 2-inch chunks

1

brown onion

,

peeled and halved

2

whole bay leaves

1

tsp

dried oregano

2

tsp

ground cumin

1

tsp

garlic powder

table salt and ground black pepper to taste

2

cups

water

2

TB

juice from 1 fresh lime

1

medium orange

,

quartered

18-20

6 inch corn tortillas, warmed

Optional garnishes: lime wedges,

minced red onion, fresh chopped cilantro, salsa, thinly sliced radish, diced avocado, Tapatio hot sauce
Instructions
Adjust oven rack to lower middle position. Preheat oven to 300F.

Combine pork, onion, bay leaves, oregano, cumin, garlic, 1 1/2 tsp table salt, 1 tsp pepper, water, and lime juice in a large Dutch oven Liquid should barely be covering the meat. Juice the orange in a bowl and add both the juice and orange remnants to the pot. Bring mixture to simmer over medium high heat, stirring occasionally. Cover pot and transfer to oven. Cook until meat is soft and is fork tender, about 2 1/2 hours, stirring meat around once during cooking.

Remove the pot from oven. Transfer pork to a bowl with slotted spoon. Remove orange halves, onion, and bay leaves from the liquid and discard. Do not skim fat from liquid. Place pot over high heat and simmer liquid, stirring often, about 10-12 min. You should end up with 1 cup of reduced liquid. Turn oven to broil.

Shred pork roughly; not too finely. Fold in the reduced liquid, season with salt and pepper to taste. Spread pork in even layer on rimmed baking sheet. Place sheet on an upper rack and broil until top of meat is well browned but not charred. Edges should be slightly crisp. 5-7 in. Serve immediately with your choice of garnishes and warm corn tortillas.
Notes
If you enjoyed this recipe, please come back and give it a rating 🙂
Nutrition (per serving)
Calories:
183
kcal
|
Carbohydrates:
9.5
g
|
Protein:
25.9
g
|
Fat:
4.7
g
|
Saturated Fat:
1.3
g
|
Cholesterol:
75.4
mg
|
Sodium:
218
mg
|
Fiber:
0.8
g
|
Sugar:
4.3
g
Mexican Style Eats