Red Bean Mochi Bars
By Amy Dong
Published Jan. 20, 2014
Updated Aug. 17, 2022
This mochi recipe is out of this world delicious. It boasts just the right sweetness and a melt-in-your-mouth texture. These red bean mochi bars are ridiculously easy to make and keep well, too.

The Best Mochi Recipe (Red Bean Mochi)
Many of you are familiar with Mochi. If so, then you also know all about sweet red bean. The two are a match made in paradise.
How about this radical twist on the ever-popular red bean mochi? But this isn't just any mochi recipe.
This mochi recipe comes in bar form. I promise, it's a mochi-hack. Totally life changing. It's even gluten-free, if that interests you.
I've been making these Red Bean Mochi Bars for so many years, and my big extended family back in CA waits for me to make these for them whenever I travel back.
This marvelous mochi recipe is from my old friend, Priscilla, who is a diva in the kitchen. She's the one that inspired this ever-popular Honey Mustard Chicken with Curry, one of my readers' favorite weeknight meals.
And this Red Bean Mochi is about to become many peoples' favorite red bean mochi! It's easy to make (surprise!) and it's tastier than traditional red bean mochi balls…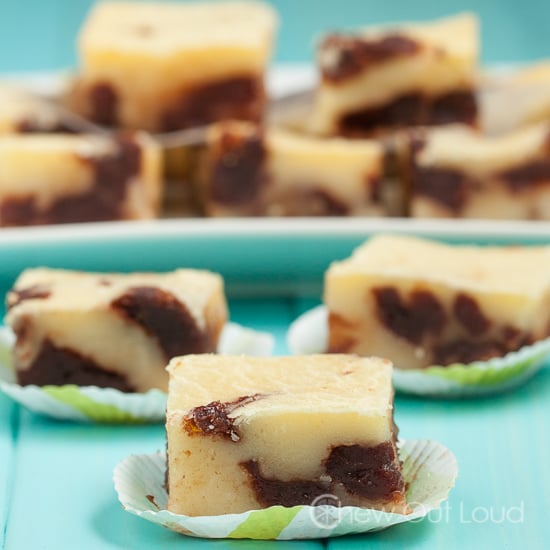 This mochi recipe is way easier than classic red bean mochi balls and tastes even better
This red bean mochi is everything it should be… super soft, melt-in-your-mouth chewy, sweet (but not overly sweet – just perfect)… and strewn throughout with deliciously smooth red bean paste. It's a way-easier twist from traditional red bean mochi balls, which is a classic Japanese and Chinese dessert.
It's SO hard not to eat the entire pan. Which is why I have to give it away every time I make it. When I make this for friends, they will drive over an hour to my house for it. They will set aside their carb-free, sugar-free diet for a plate of this. Friends, you know who you are 🙂
Enjoy!
P.S. You can find Mochiko in most major grocery stores, in the Asian aisles. Sweet red bean paste might be there also – if not, it is found in Asian grocery stores. Be sure to get the smooth red bean paste, not the kind with chunks of red beans in it.
Did you make this?
Please give us a rating and comment below. We love hearing from you!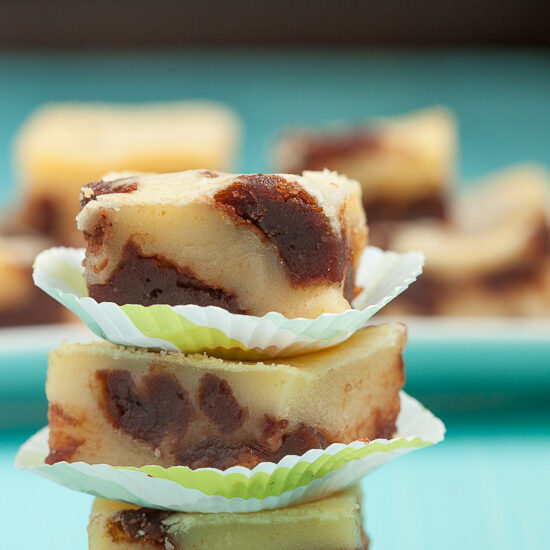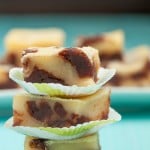 Red Bean Mochi Bars
If you are a red bean mochi fan, you will seriously fall in love with these red bean mochi bars. They are the perfect amount of sweetness, softness, and melt-in-your-mouth chewiness. It's even gluten-free!
Ingredients
1

lb.

box Mochiko

,

sweet rice flour; though sometimes called "glutinous" rice flour, it's made completely of rice, and does not contain gluten.

1

cup

granulated sugar

3

large eggs

2

cups

whole milk

1

cup

vegetable oil

2

tsp

vanilla extract

1

18 oz can or package of smooth, sweetened red bean paste
Instructions
Preheat oven to 350F, and generously grease a 9x13 baking pan.

Mix the first six ingredients together in a large bowl (stand mixer works well.) Beat with whisk attachment on high for about 5 minutes, or until completely smooth.

Pour into greased pan.

Using a small spoon, drop sweetened red bean paste by small spoonfuls throughout the batter, distributing evenly (I go over the entire batter a few times with the spoonfuls of paste.) Some will sink, which is fine.

Bake for 1 hour, uncovered. Top will look golden brown and somewhat puffed up.

Allow to cool completely at room temp (don't put in fridge.) Once it's cool, use a sharp serrated knife to cut into squares.
Nutrition (per serving)
Calories:
161
kcal
|
Carbohydrates:
19.1
g
|
Protein:
2.7
g
|
Fat:
8.4
g
|
Saturated Fat:
6.4
g
|
Cholesterol:
20.2
mg
|
Sodium:
14.5
mg
|
Fiber:
0.4
g
|
Sugar:
7.6
g