Red Potato Ranch Salad- Simply Yummy
With the upcoming Labor Day Weekend, many folks will be enjoying a BBQ cookout at the park, in someone's backyard, or their own pad. Whether you are the host or a party goer, you'll want easy-to-make, tasty side dishes to go along with those burgers or hot dogs.
Enter this super easy, fuss-free red potato salad. It is tender, tasty, and simple. Dare I say, fail-proof?
This tasty red potato salad is comprised of just a few simple ingredients. If you love ranch dressing, you'll adore this potato salad, as its base is ranch rather than the traditional mayo or sour cream. Throw on green onions, bacon, and season to taste! It's tastes as great as it looks. The red skin on these potatoes is gorgeous.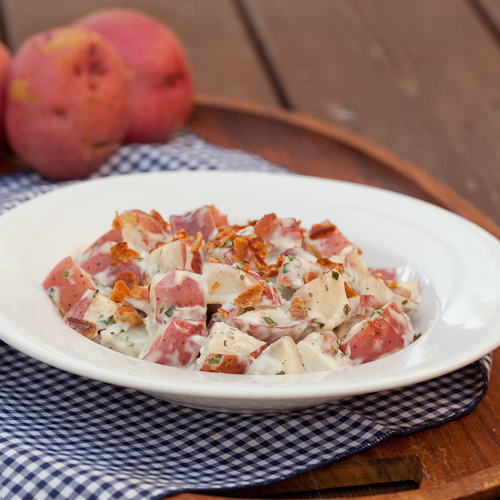 I usually make this red potato salad a day beforehand and let it sit in fridge until I am ready to pack it for a picnic or potluck. The flavors meld together when it has a little time to sit. It's one less thing to worry about on picnic/party/BBQ day.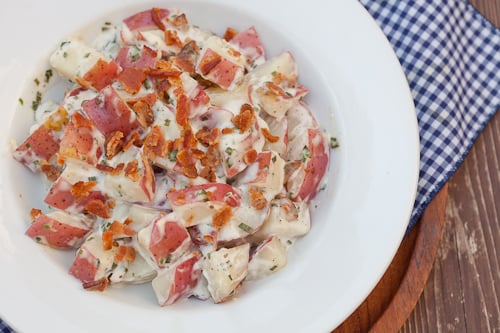 Even those who don't usually like potato salads (me) go back for seconds on this one. Potatoes, ranch, and bacon? What's not to like? Bonus: It somehow just looks and feels like this potato salad is a little healthier than most, since it doesn't rely on loads of mayo and sour cream. I can't guarantee it really is much healthier, but it gives off that vibe 🙂
If you have any leftovers, red potato salad keeps very well in the fridge for a couple of days, as long as it hasn't been sitting outdoors too long. Happy Labor Day Weekend, and take some time to rest!
RECIPE (10-12)
INGREDIENTS
3 lbs Red skinned potatoes, skin on, washed and cubed to bite-size
3-4 stalks green onions, thinly sliced
1 large bottle good ranch dressing (Hidden Valley Ranch or other good ranch b/c it makes a diff!)
6 slices bacon, cooked and crumbled
kosher salt to taste
freshly ground black pepper to taste
optional: dashes of garlic powder
DIRECTIONS
Fill a large, heavy pot with salted water about 2/3 full. Bring to boil. Boil cubed potatoes for about 8-9 minutes or to desired tenderness. Do not overcook, or results will be mushy. Drain and rinse potatoes with cold water to cool it down. Gently work in as much ranch dressing as needed, to desired consistency. Mix in sliced green onions and crumbled bacon. Add kosher salt and freshly ground black pepper to taste. Add a dash or two of garlic powder, if desired. Chill and enjoy!