Slow Cooker Teriyaki Chicken
By Amy Dong
Published Nov. 10, 2022
Updated Jun. 23, 2023
Even better than takeout, this slow cooker teriyaki chicken is made with simple ingredients for an unbelievably easy recipe. Pair it with all your favorite sides for a filling weeknight meal!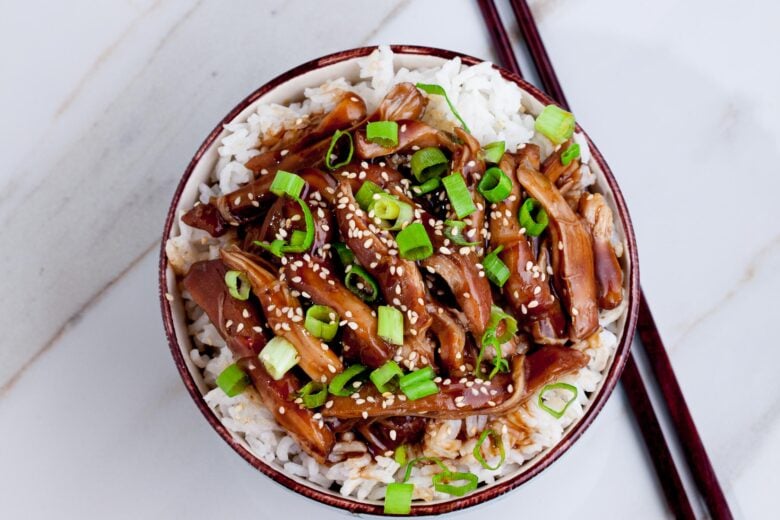 What Is Teriyaki Chicken?
Traditionally, the term teriyaki is used to refer to a Japanese cooking technique in which meat is grilled or broiled with a teriyaki sauce consisting of soy sauce, mirin, and sugar. However, today, chicken teriyaki is a term used to refer to any chicken that has been coated in a homemade or store-bought teriyaki sauce regardless of how it is cooked. As a result, there are many different versions of chicken teriyaki including this slow cooker recipe, grilled teriyaki chicken, and even stovetop teriyaki chicken.
Is It Healthy?
A high-protein recipe, slow cooker chicken teriyaki is made with mostly healthy ingredients. As a result, it is a fairly nutritious dish, especially when it is paired with sides like air fryer broccoli or roasted vegetables.
Simple Slow Cooker Teriyaki Chicken Ingredients
For this version, we opted to create our own sauce, but don't worry! We kept the ingredient list short and simple. Here's everything you'll need:
High-quality boneless chicken thighs provide tons of flavor and keep this dish extra juicy and tender. If preferred, chicken breasts could be used as well – they'll still be tasty, but they're not as forgiving in terms of tenderness.
Cornstarch is first dissolved in water and then added to the sauce as a gluten-free thickening agent.
Soy sauce, white sugar, brown sugar, and mirin are also added to the mix to create a sweet, tangy, and slightly salty taste that's out-of-this-world delicious.
For even more flavor and a bit of an extra kick, minced garlic, grated ginger, and a pinch of black pepper are stirred in with the rest of the ingredients.
For an Instagram-worthy presentation and a bit of texture, chopped scallions and toasted sesame seeds are sprinkled on top.
Pro-Tips to Make the Best Slow Cooked Chicken Teriyaki
Thanks to the use of the slow cooker, this chicken teriyaki is magnificently tender and so easy to make!
Nearly cover the chicken. Pour the teriyaki sauce over the chicken, stopping just before it is completely submerged. This will help keep it tender and moist as it cooks!
Save the sauce for later. Double the ingredients for the sauce, and save the leftovers for serving your chicken. Or, pair it with other meals like fish, shrimp, veggies, and more!
Be careful not to overcook! If you need to have your chicken cook longer than 3 hours, use a low setting, and adjust the cooking time as needed. This will help prevent it from drying out and becoming tough.
Shred carefully. You want to use two forks to shred the chicken into bite-sized pieces. However, keep in mind that it will continue to break up when combined with the sauce. So, you don't want to shred it too small!
Make Ahead and Storage Options
This slow cooker chicken teriyaki makes for great meal prep to enjoy throughout the week:
To Store: Once cooled, transfer the chicken to an airtight container, and store it in the refrigerator for up to 4 days.
To Freeze: Kept in an airtight container, leftovers can be frozen for up to 3 months. Just be sure to let them thaw in the fridge overnight when you're ready to eat.
To Reheat: To enjoy, warm leftovers in a skillet over medium heat. Or, just pop them in the microwave until your desired temperature is reached.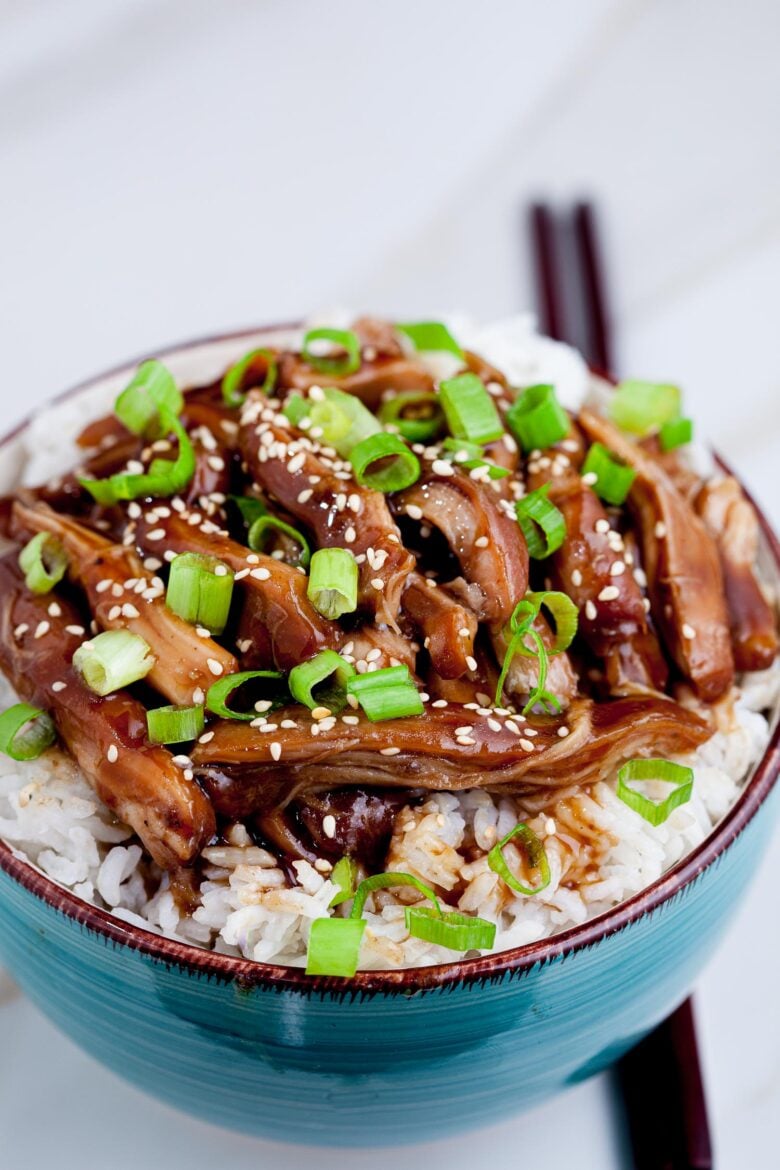 Common Questions About Slow Cooked Teriyaki Chicken
Is it safe to cook chicken teriyaki in a slow cooker?
As long as the chicken is fully thawed, it is safe to cook in a slow cooker. To ensure it is fully cooked, use a meat thermometer to check that it has reached an internal temperature of 165 degrees Fahrenheit before serving.
Can you add vegetables to the slow cooker?
Yes, if you want to turn this dish into a one-pot dinner, feel free to add your favorite vegetables to the slow cooker for the last 20-30 minutes of cooking.
---
More to Cook and Eat
---
---
Did you make this?
Please give us a rating and comment below. We love hearing from you!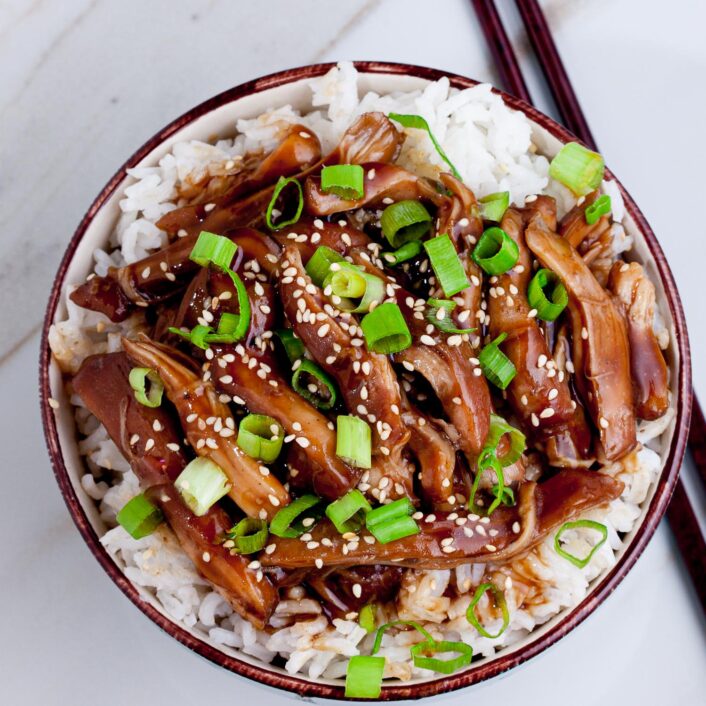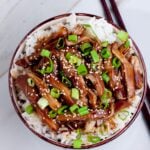 Slow Cooker Teriyaki Chicken
Even better than takeout, this slow cooker teriyaki chicken is made with simple ingredients for an unbelievably easy recipe. Pair it with all your favorite sides for a filling weeknight meal!
Ingredients
3

lbs

chicken thighs

, boneless, skinless

3

TB

cornstarch,

divided

¾

cups

Tamari sauce,

or regular soy sauce

¾

cups

white sugar

⅓

cups

brown sugar,

tightly packed

⅓

cups

mirin,

Japanese sweet rice wine; not rice vinegar

2

cloves

garlic,

minced

1

T

ginger,

freshly grated

2

TB

water
Optional: Chopped scallions and toasted sesame seeds for garnish
Instructions
In a bowl, whisk together 1 TB cornstarch, soy sauce, granulated sugar, brown sugar, mirin, garlic, ginger, and black pepper. Whisk until smooth.

Place the chicken thighs in a single layer in the slow cooker. Pour enough sauce to almost cover the top of chicken. (Save any leftover for boiling after the chicken is cooked or keep it in fridge for future use.)

Cook on high for 3 hours, on low for 5 hours, or just until chicken is cooked through. To keep meat tender, don't overcook.

Remove the chicken with slotted spoon, and gently shred or cut into pieces. (Don't shred too finely, as it will break up more in the sauce.)

Transfer the sauce from the slow cooker into a saucepan. Dissolve 2 TB cornstarch in 2 TB water. Add the mixture to the saucepan, stirring well. Bring to a low boil, stirring continuously, until sauce is thickened.

Pour sauce over chicken and rice. Garnish with green onions and sesame seeds, if desired.
Notes
We highly recommend using chicken thighs, as they'll yield much more tender results than chicken breasts would; chicken breasts tend to dry out in a slow cooker.
If you enjoyed this recipe, come back and give it a rating ♡
Nutrition (per serving)
Serving:
1
serving
|
Calories:
368
kcal
|
Carbohydrates:
48
g
|
Protein:
47
g
|
Fat:
9
g
|
Saturated Fat:
2
g
|
Polyunsaturated Fat:
2
g
|
Monounsaturated Fat:
3
g
|
Trans Fat:
0.04
g
|
Cholesterol:
215
mg
|
Sodium:
581
mg
|
Potassium:
638
mg
|
Fiber:
0.3
g
|
Sugar:
40
g
|
Vitamin A:
55
IU
|
Vitamin C:
0.3
mg
|
Calcium:
39
mg
|
Iron:
3
mg