Slow Cooker Pork Loin with Gravy
By Amy Dong
Published Sep. 21, 2020
Updated Nov. 3, 2022
This Slow Cooker Pork Loin with Gravy is perfect for those busy work days. Put everything into your slow cooker and let the flavors happen. The gravy is incredible.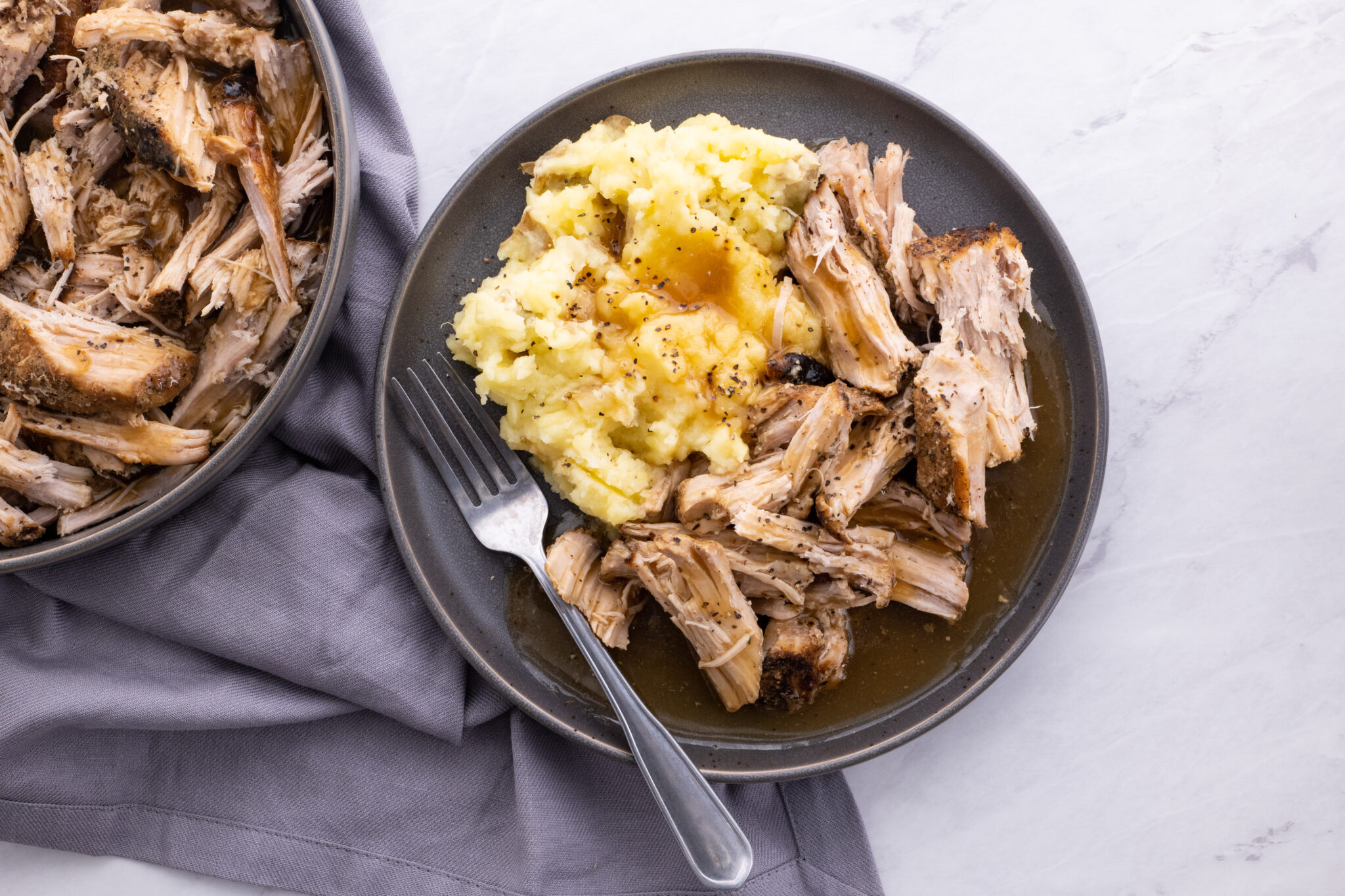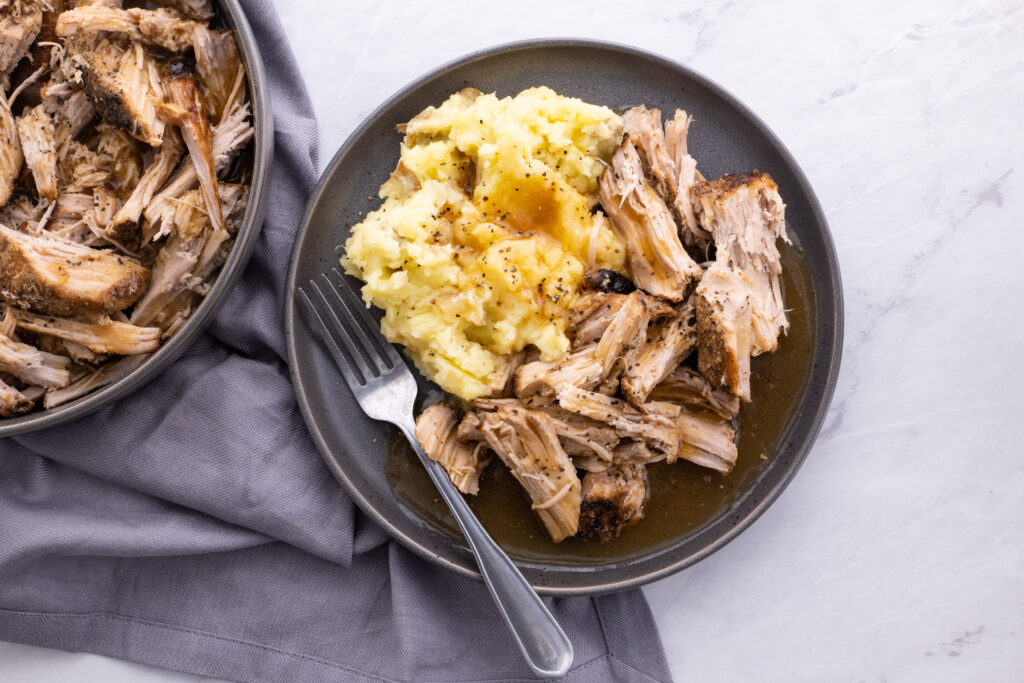 Tender, Flavorful Slow Cooker Pork Loin
We all have those busy work weeks. Whether it's time on the road, tightly scheduled meetings, or kids' activities…it's common to find ourselves with the what's-for-dinner conundrum.
When you need dinners that are manageable and able to be prepped ahead of time, slow cooker meals are hard to beat. Sometimes a delicious Beef Pot Roast with Gravy hits the spot. If chicken is what's in the fridge, Slow Cooker Roast Chicken is here to save the day.
And when you find that pork loin on sale at the store (or in the back of your freezer) do yourself a huge favor and make this Slow Cooker Pork Loin with Gravy. It's everything you'd want in a family meal: it's easy, outstanding in flavor, and set-it-forget-it Crockpot style.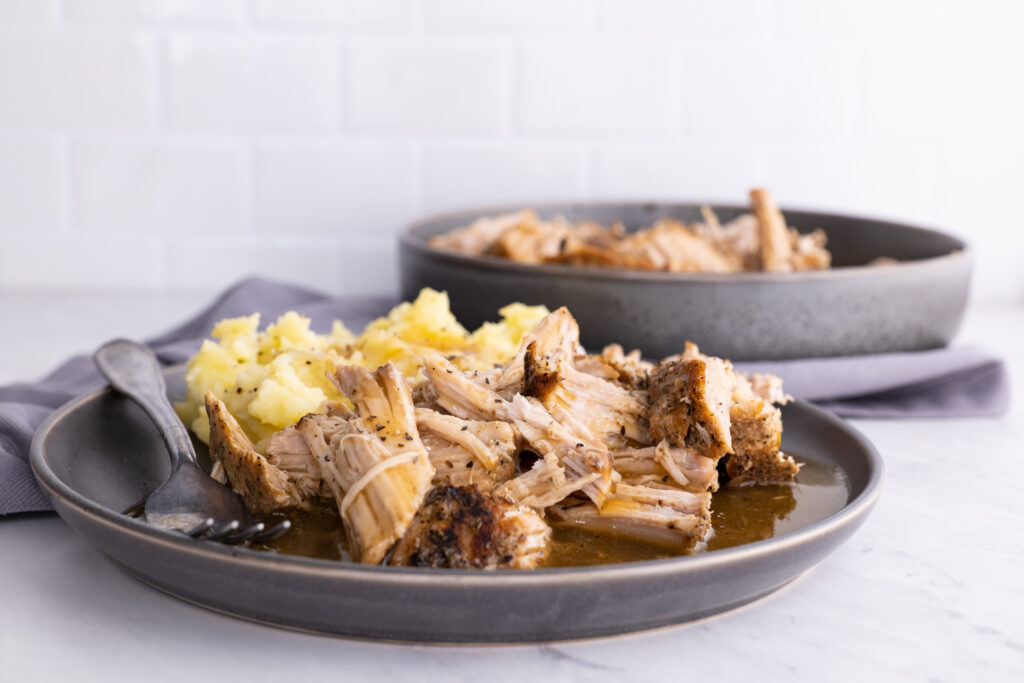 Your Strategy For Prepping ahead
This slow cooker pork loin is guaranteed to turn out tender, flavorful, and produces a gravy so good, you'll want to pour it over everything on the plate.
If your pork loin is frozen, be sure to defrost it a few days ahead of time by placing it (airtight) in fridge. Because pork loin is generally a thicker roast, it takes time to defrost thoroughly.
Make the dry rub mixture ahead of time; garlic powder, ground ginger, onion powder, dried thyme, salt, and pepper are your basic pantry seasonings for this dish. Simply combine the seasonings ahead of time; keep in an airtight container or baggie until ready to use. This can be done days ahead.
It takes less than 30 minutes to throw everything into the Crock pot the night before, put it in the fridge overnight, and let it cook on low setting the next day while you're at work or taking care of all the other things.
Because one roast can feed 8-10 hungry people, this works as a great meal prep recipe that can be prepared ahead of time and can feed the family two nights in a row. Busy moms (and dads) know leftovers are a very good thing.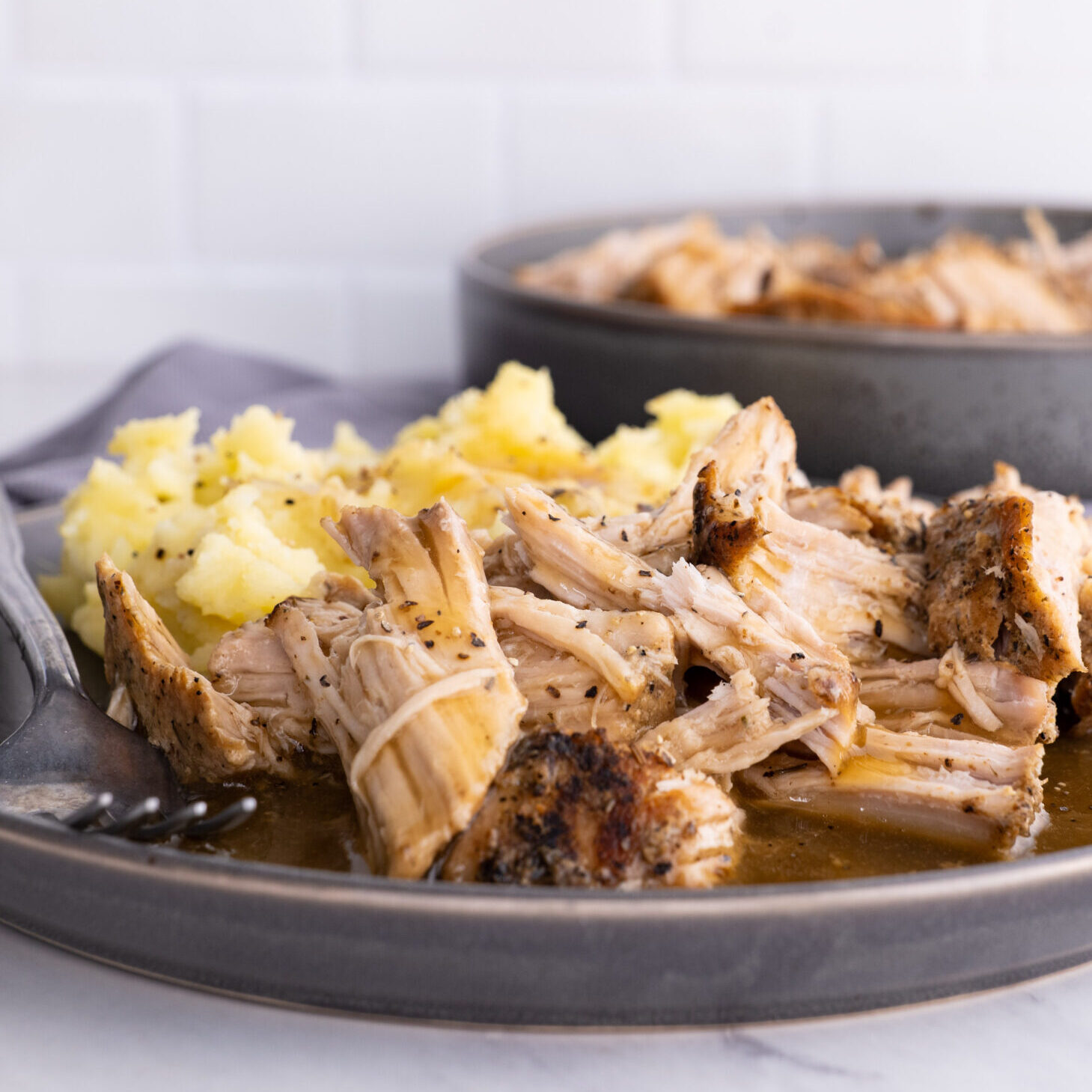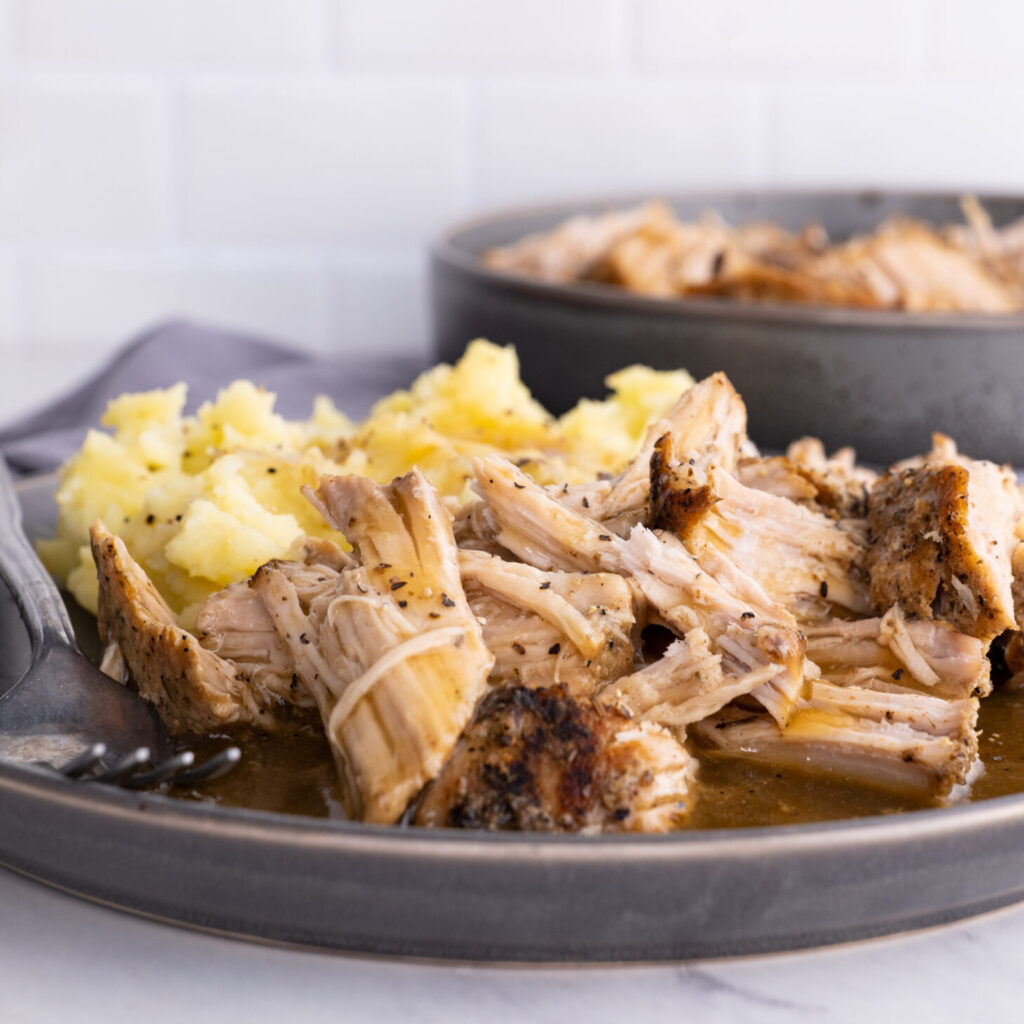 Low for 7 hours
The flavors of garlic and thyme are fabulous in this slow cooker pork loin. The gravy is aromatic and richly flavorful. Your eaters will be slurping up the gravy on their plates.
Pork loin should be nice and tender with 7-8 hours on low setting. Anything longer than that will likely result in overcooking. Just to be safe, time it so that you can check the results in 7 hours, to see if the pork is fork tender…if so, remove pork from heat (keep in mind pork will continue to cook a bit as it rests on cutting board.) All that's left is to thicken up that gravy a bit, slice the pork, and serve it generously drenched with sauce.
Favorite side dishes to serve with this pork loin are Instant Pot Mashed Potatoes, Instant Pot Baby Potatoes, or Wild Rice Pilaf. You cannot go wrong with any of these choices.
watch This Recipe in Action:
Did you make this?
Please give us a rating and comment below. We love hearing from you!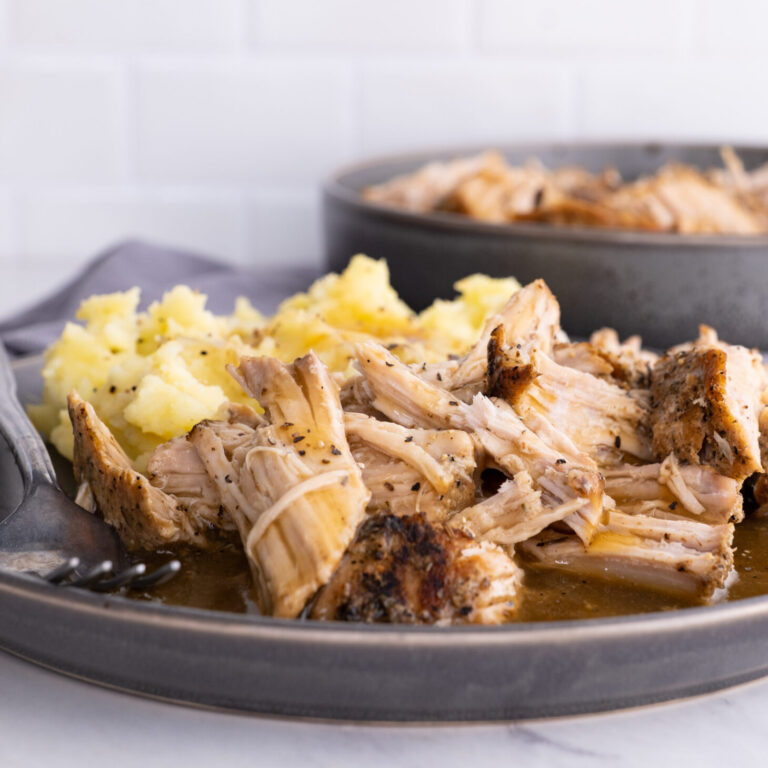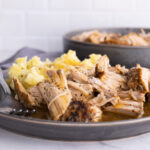 Slow Cooker Pork Loin
This slow cooker pork loin is fork-tender, flavorful, and has the best gravy! You can also use the smaller tenderloin cut, but be sure to lessen cook time to about 4 hours instead of 7. Serve with mashed potatoes and veggies, drizzled with this gravy!
Instructions
In a small bowl, combine garlic powder, ground ginger, onion powder, salt, thyme, and pepper, whisking to combine. Rub seasoning all over the entire surface of pork loin. Do not trim pork loin, as it needs a bit of fat for a tender result.

Heat oil in a large skillet until very hot. Brown pork loin on all 4 sides, a few minutes per side.

Transfer pork loin to slow cooker. Add chicken broth, lemon juice, and soy sauce. Pour over the pork. Cover and cook on low for 7-8 hours. (If using tenderloins, reduce cook time to about 4 hours.)

When finished, baste pork loin and transfer the pork to a plate and keep warm.

Pour all the liquid from the slow cooker into a sauce pan. Add dissolved corn starch. Stir well. Cook on medium heat, stirring constantly, until sauce turns thick and gravy-like. Season with additional salt and pepper, if desired.

Serve warm roast with gravy.
Notes
It's important that cornstarch is fully dissolved in water prior to using in recipe. There should be no white spots or streaks that remain. It should have somewhat of a "chocolate milk" appearance (even miniature cornstarch bits that aren't fully dissolved will result in a lumpy gravy, which you don't want.)
This recipe is written for pork loins. If you're using the smaller cuts of pork tenderloins, be sure to reduce cook time as specified.
If you enjoyed this recipe, please come back and give it a rating ♡
Nutrition (per serving)
Serving:
1
serving
|
Calories:
422
kcal
|
Carbohydrates:
49.8
g
|
Protein:
36.8
g
|
Fat:
7.4
g
|
Saturated Fat:
4
g
|
Cholesterol:
111.7
mg
|
Sodium:
507.6
mg
|
Fiber:
0.8
g
|
Sugar:
2.1
g
If you've got a hankering for BBQ on the buns, try this super delicious Smoky Pulled Pork in the Crock Pot. One batch goes a long way, so it's perfect for meal prep.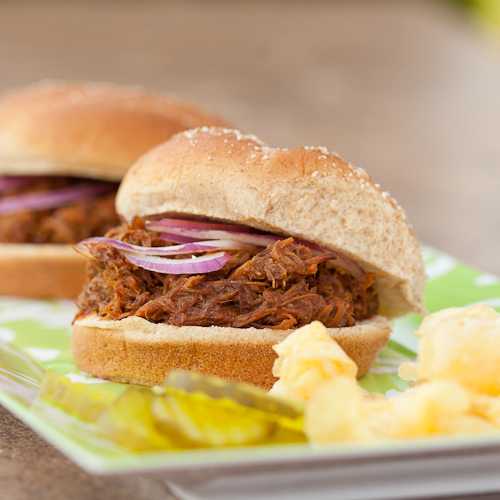 This is my Slow Cooker Pot Roast – my #1 favorite meal to bring to others when they need a meal, because people really really like it. Another great meal prep recipe.