At this time of year, all our favorite pumpkin desserts are on the brain.  Many of us are dreaming about what we'll be baking up, whether it's for a dinner party or a casual date night.  Most of my classic favorites are undoubtedly rich, with pumpkin cheesecake topping my list (more on that soon!)  To balance out all those classic yet dense offerings, we were instantly intrigued with the idea of a lighter pumpkin dessert.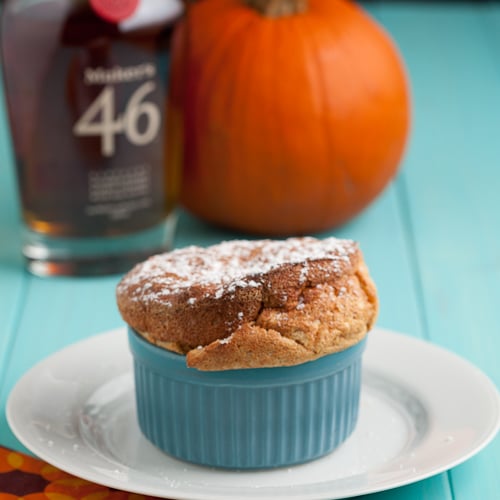 Hello, Pumpkin Souffle.  Wow, this is a good one!  This spiced pumpkin souffle is heavenly, reaching up and away as it puffs beautifully in your oven.  The result is an airy, fluffy, light dessert that is immensely satisfying.  Your sweet tooth will be absolutely fulfilled, without feeling stuffed. Even if you've just finished off a full meal, you'll happily polish off this lively treat.
The earthy pumpkin and spice flavors complement each other perfectly.  Make this easy Molasses Bourbon sauce for an unbelievably impressive finale.  This decadent sauce was born to go hand in hand with its souffle partner.  The souffle just wouldn't be the same without the sauce; it's scrumptious together.
The Pumpkin Souffle will likely deflate as it cools, but it doesn't change the yum-factor in any way.  Mine  actually rose comically high while baking in the oven, so I took them out.  They shrunk upon cooling and still tasted delicious, but my extra large ramekins could have used an extra minute or so.  If you have 6-ounce ramekins, you won't have to play with the bake time much.   To ensure a nice big puff for presentation, serve these immediately out of the oven.  Oh, and keep leftover Molasses Bourbon sauce on the table, because someone just might want a second drizzle.  Your guests will be wowed.  Enjoy!
RECIPE (8 six-ounce servings)
INGREDIENTS
Pumpkin Souffle:
1/2 cup whole milk
1 TB cornstarch
1/4 tsp ground nutmeg
1/4 tsp grouind cinnamon
1/4 tsp ground allspice
1/8 tsp ground cloves
3/4 cup, plus 1 TB white sugar, divided
3/4 cup canned pure pumpkin
10 large egg whites
1/4 tsp fine salt
Molasses Bourbon Sauce*
1/4 cup sugar
1 TB salted butter
1 TB pure molasses
3 TB water
2 TB Bourbon
DIRECTIONS
Make the Molasses Bourbon Sauce (can be done ahead of time):
Stir all sauce ingredients, except for Bourbon, in a heavy small saucepan.  Cook on medium, stirring frequently, until sauce bubbles.  Turn heat down to simmer.  Simmer about 5 minutes, stirring frequently.  Add Bourbon, continuing to stir.  About 2 minutes.  Remove from heat and let cool at room temp.  Sauce will thicken upon standing.  If desired, warm up sauce a bit before serving.
Make the Souffle:
Whisk together the milk, cornstarch, nutmeg, cinnamon, allspice, cloves, and 1 TB sugar in a small, heavy saucepan.  Bring to a boil at medium heat, whisking.  Lower heat to simmer.  Whisk on simmer another 2 minutes.  Remove from heat and transfer to a large bowl.  Whisk in pumpkin and let cool to room temp.
Preheat oven to 400F.  Put rack on lower third.  Butter ramekins and coat with granulated sugar, shaking off excess.  Place prepared ramekins in a large shallow baking pan.
Beat egg whites with salt in a large bowl, using electric mixer.  Beat until soft peaks.  Add remaining 3/4 cup sugar a little at a time, beating.  Beat until stiff and glossy peaks.
Very gently fold one third of egg whites into cooled pumpkin mixture.  Fold in remaining whites very gently but thoroughly.  Divide mixture among ramekins, mounding if needed.
Bake souffles until puffed and golden brown.  About 18-20 minutes.  Dust with powdered sugar, if desired.  Serve immediately with yummy sauce.
by chewoutloud, adapted from Gourmet
*Note:  A little of the Molasses Bourbon sauce goes a long way, but if you'd like more sauce, double the amount.  It's great for pancakes, waffles, on ice cream, etc. too!