Grilled Shrimp Kabobs (Skewers)
These Grilled Shrimp Kabobs are succulent, tender, and quickly grilled to perfection. This healthy dish comes together within 10 minutes.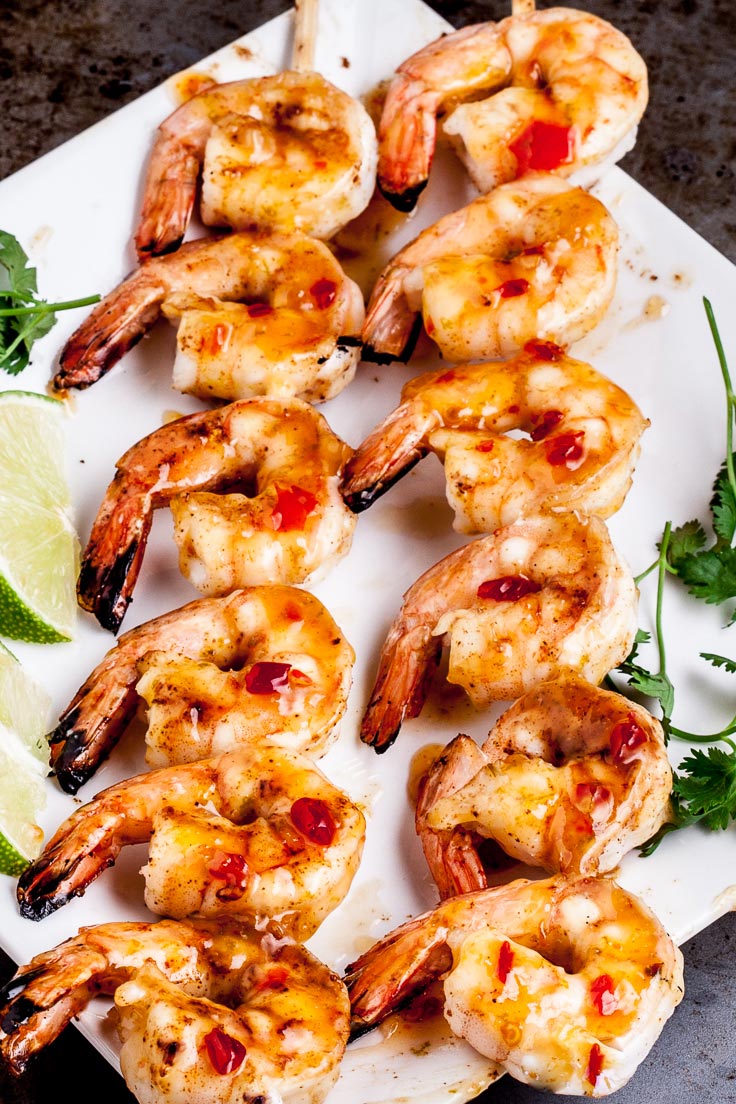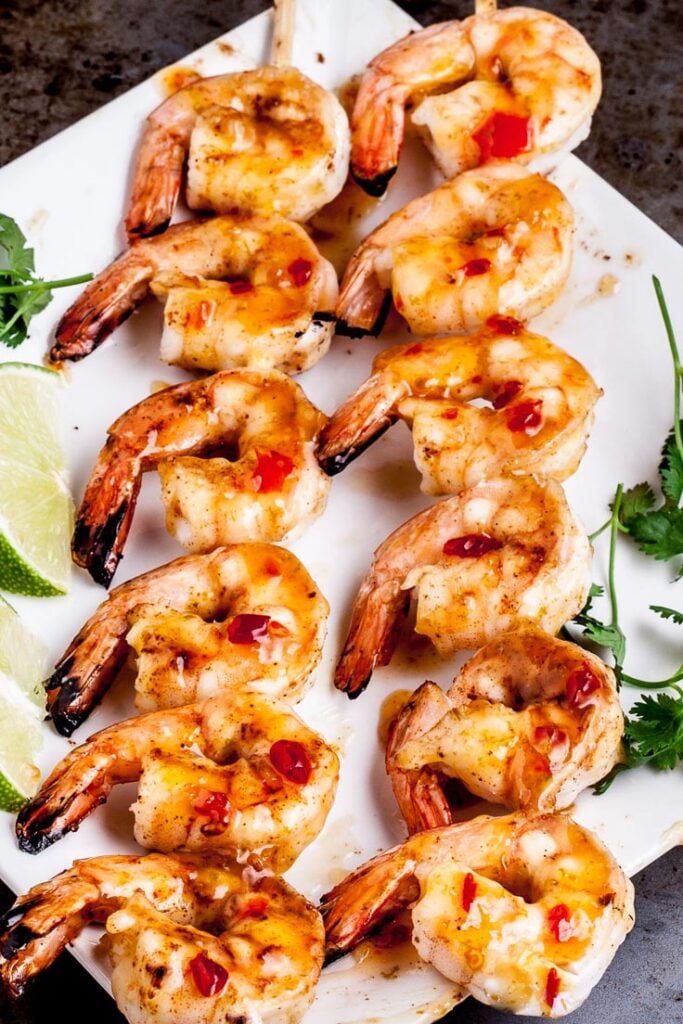 Video: Watch Us Make This Recipe
Succulent Grilled Shrimp Kabobs
Summer is hands-down my favorite season. Here in the Twin Cities, it's also the season that's notoriously way too short. The breezy lake days of summer go by in a blink. I know, I know. I'll try not to say it out loud.
The best method I know to make summer last as long as possible is just to get out there and enjoy every bit of warmth there is. Thus, the shorts and flip-flops tan lines are quickly gained and who cares. I'll take it if it means glorious sunshine.
We also do our best to make the most of summer food. Translation: Ice cream that's crazy creamy … Smoothies that taste like the tropics … Cocktails that cool, and of course The Mighty Grill.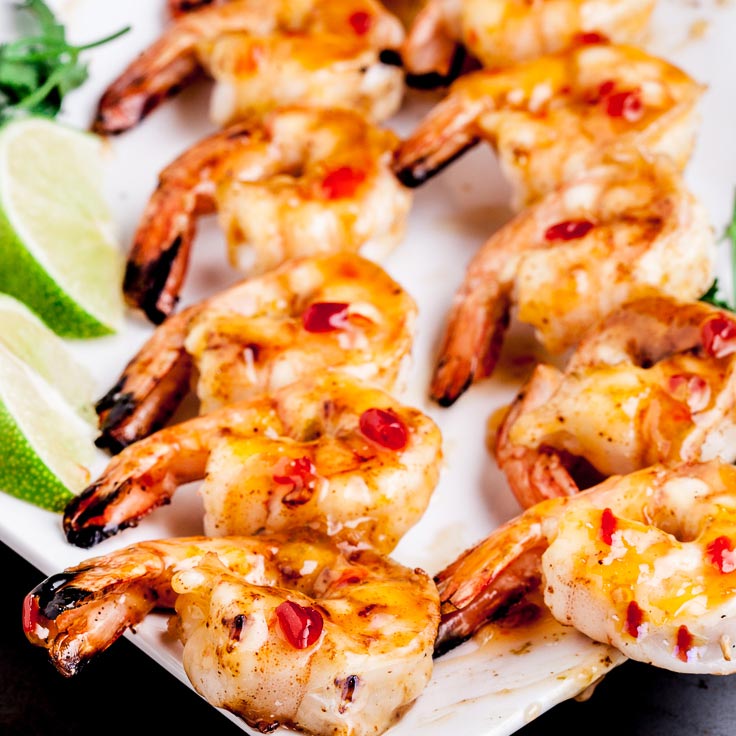 How Long to Cook Shrimp
This Spicy Thai Grilled Shrimp is simply irresistible. The shrimp is absolutely succulent, tender, and grilled to perfection in just 60 seconds. Thai style shrimp kebabs boast a nice kick – take down the cayenne if you wish, but it's ridiculously good the way it's written. They're sweet, tangy, and 100% worth every bite.
The super fast cook time is one of the great virtues of shrimp – it cooks in mere seconds, which makes it equally great for busy weeknights and weekend gatherings. We cook them 30-60 seconds per side, depending on temperature of grill. Never over-cook shrimp – immediately remove them from heat once they turn opaque.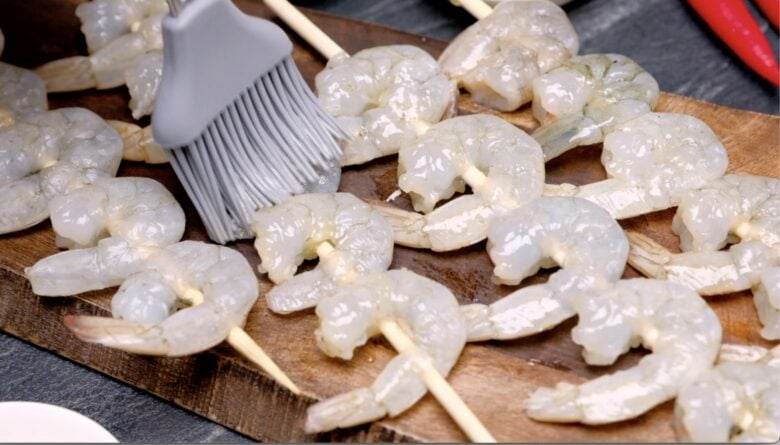 Key Ingredients
Jumbo Shrimp – you'll want the big ones, as they thread nicely and will shrink upon cooking.
Salted Butter – salted butter provides caramelized flavor.
Cayenne Pepper – this gives beautiful coloring, as well as a big of heat.
Kosher Salt – there is a big difference between kosher salt vs. regular table salt.
Thai Sweet Chili Sauce, sometimes labeled "for chicken" found in major grocery stores' Asian aisle. Look for a a thick orange-red sauce with red pepper flakes.
Limes – you'll need fresh lime juice and lemon zest for a refreshing tangy flavor.
Key Tips for Success
Shrimp is notorious for being easily overcooked. Though we provide suggested cook times, your actual cook time depends largely on the temperature of shrimp prior to cooking and the temperature of the grill.
Remove shrimp from heat as soon as it turns opaque – raw shrimp is translucent, but gradually turns opaque as it cooks. Once the color change happens, take them off the grill.
Always pat-dry shrimp with clean paper towels prior to cooking; excess moisture will affect the ability of seasoning to adhere to the shrimp.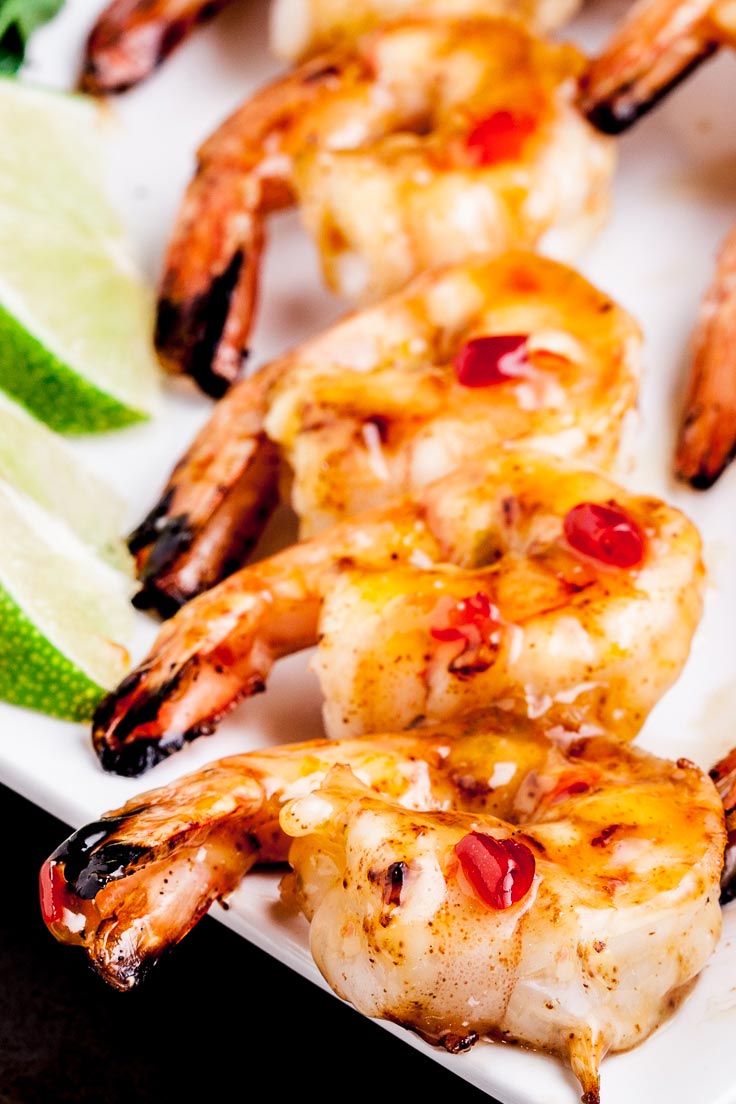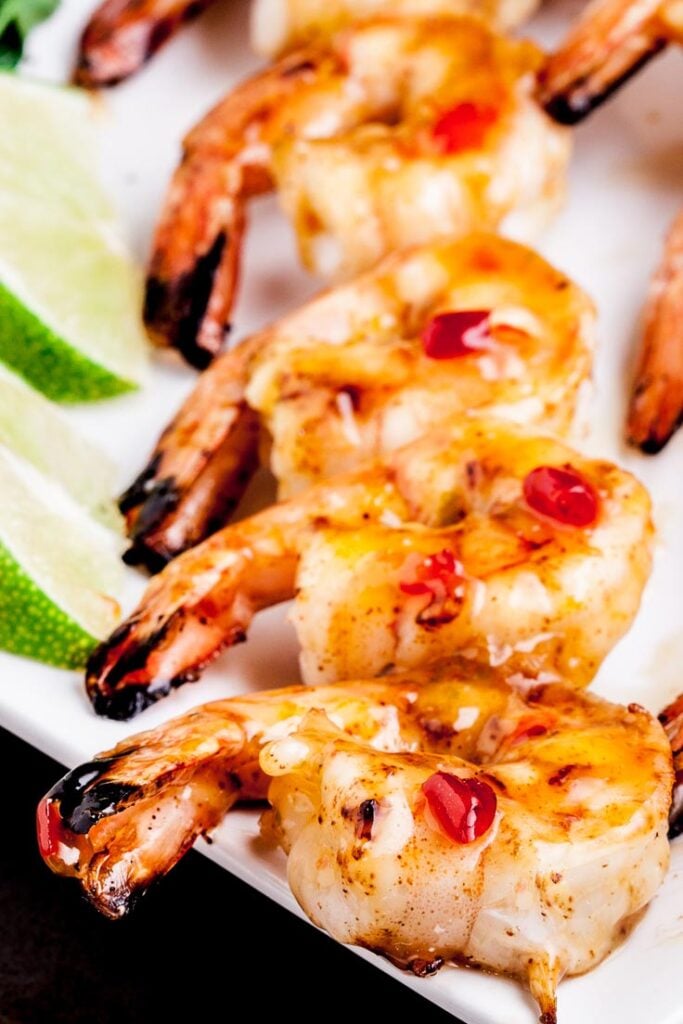 What to Serve with Shrimp Kabobs
Because shrimp skewers cook in a flash, it's an amazing option to include in your easy party menu. To make it even easier on yourself, you can prepare the shrimp and the sauce ahead of time; chill both until ready to fire up the grill.
The cooking part is super fast; it will only take 60 seconds or less, depending on how hot your grill is and size of your shrimp. This makes these shrimp skewers ideal for party appetizers, so your family and friends can nibble on their succulent shrimp kabobs while waiting for the steak or burgers to finish cooking.
At your next backyard cookout, consider placing some of these grilled shrimp kabobs on the grill for appetizers, along with this easy mango cooler cocktail. Or serve these shrimp kabobs alongside these sweet 'n spicy glazed chicken skewers for a kabob party.
Appetizers: These Shrimp Kabobs and Mango Cooler Cocktails – both can be prepared ahead.
Main: Garlic Marinated Steaks – we love ribeye or New York steak cuts; can be prepared ahead prior to grilling. Steaks would be great served next to these shrimp skewers, for a surf and turf meal.
Side: Asian Style Pasta Salad – can be prepared ahead.
Dessert: Have someone else bring the dessert, or make these Chewy Cookie Bars ahead of time and keep them airtight at mild room temperate or in fridge. For a super refreshing Asian dessert, try Easy Homemade Almond Jello.
Commonly Asked Questions
What are shrimp kabobs?
Shrimp kabobs are a popular summer dish made by skewering shrimp onto a bamboo skewer and grilling them. Vegetables or fruits are sometimes added onto the skewers; ideas include bell peppers, pineapple, tomatoes, and zucchini.
What vegetables can I use for shrimp kabobs?
You can use a variety of vegetables for shrimp kabobs. Some common options include any color of bell peppers onions, cherry tomatoes, zucchini, and mushrooms, or pineapple. Feel free to experiment with different vegetables.
Can I use frozen shrimp for kabobs?
Yes, you can use frozen shrimp for kabobs. Thaw the shrimp, drain really well, and pat dry with clean towels before marinating and skewering them. It's best to thaw them in the refrigerator overnight or under cold running water. Always pat dry before marinating.
What are some marinade options for shrimp kabobs?
Asian marinades that are sweet, tangy, and savory are perfect for shrimp. Some other popular choices include lemon garlic marinade, teriyaki marinade, Cajun seasoning, and Mediterranean-style marinade with olive oil, lemon juice, and herbs. You can also use store-bought marinades in a pinch.
Can I prepare shrimp kabobs in advance?
Yes, you can prepare shrimp kabobs in advance. You can marinate the shrimp and skewer them a few hours before grilling or even the night before. Keep them covered and refrigerated until you're ready to season and cook them. It's a definite time-saver when entertaining!
Did you make this?
Please give us a rating and comment below. We love hearing from you!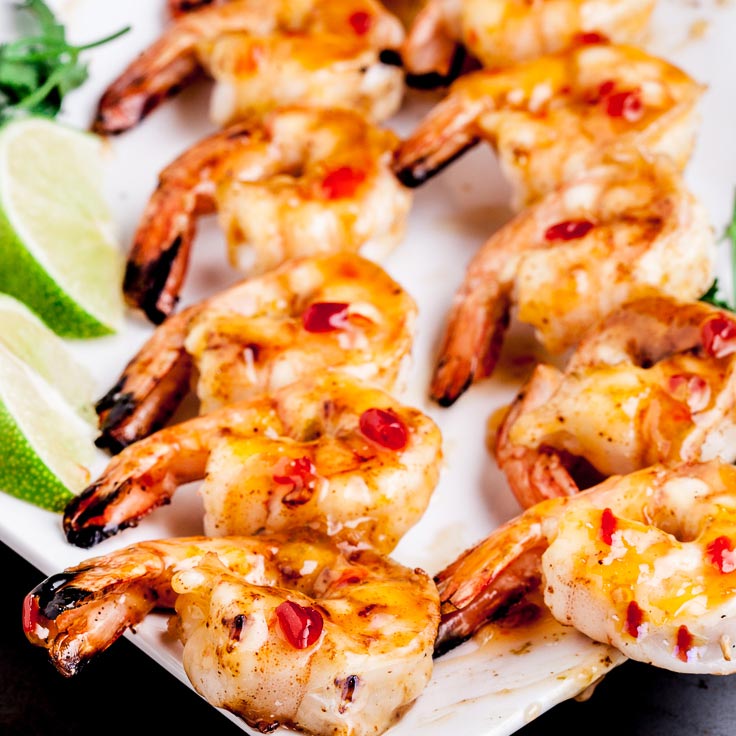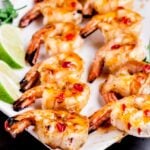 Grilled Shrimp Kabobs (Skewers)
This Spicy Thai Grilled Shrimp is succulent, tender, and mouthwatering. The sauce is amazing. Be sure shrimp is cold when you put it on the grill, to avoid over cooking. It cooks super fast!
Ingredients
1 ½

lbs

jumbo shrimp

,

peeled and deveined, kept cold

4

TB

salted butter,

melted

¼

tsp

cayenne pepper

½

cup

Thai Sweet Chili Sauce*

2

TB

fresh lime juice

1

tsp

lime zest
Instructions
Pat shrimp dry with paper towels and thread shrimp onto four 12-inch skewers. Bamboo skewers must be pre-soaked in water first. Brush with 1 TB butter and season with cayenne and a pinch of salt on both sides. Keep chilled until grill is ready.

Heat Thai sweet chili sauce in a small saucepan over medium heat until bubbling. Off heat, whisk in remaining butter, lime juice, and lime zest. Cover and keep warm.

Grill shrimp over hot fire, about 30-60 seconds per side. Brush with glaze and serve immediately.
Notes
You can also use reusable skewers that don't need to be presoaked.

Sometimes Thai Sweet Chili Sauce is labeled "for chicken" and can be found in major grocery stores' Asian aisle. Look for a thick orange-red sauce with red pepper flakes in it.

See original article for ideas on what to serve shrimp kabobs with, including Coconut Rice.
If you enjoyed this recipe, please come back and give it a rating ❤️
Nutrition (per serving)
Serving:
1
g
|
Calories:
222
kcal
|
Carbohydrates:
2
g
|
Protein:
23
g
|
Fat:
13
g
|
Saturated Fat:
7
g
|
Polyunsaturated Fat:
1
g
|
Monounsaturated Fat:
3
g
|
Trans Fat:
0.5
g
|
Cholesterol:
244
mg
|
Sodium:
853
mg
|
Potassium:
199
mg
|
Fiber:
0.1
g
|
Sugar:
0.03
g
|
Vitamin A:
708
IU
|
Vitamin C:
0.2
mg
|
Calcium:
96
mg
|
Iron:
0.4
mg
Get more out of your grill with this fantastic Teriyaki Grilled Chicken. It's our favorite way to grill chicken every summer.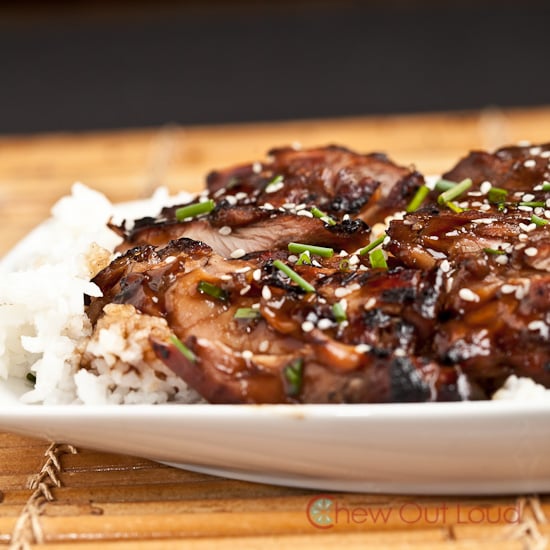 Glass Noodle Salad with Shrimp is an amazing Asian style salad that hits the spot on a hot day.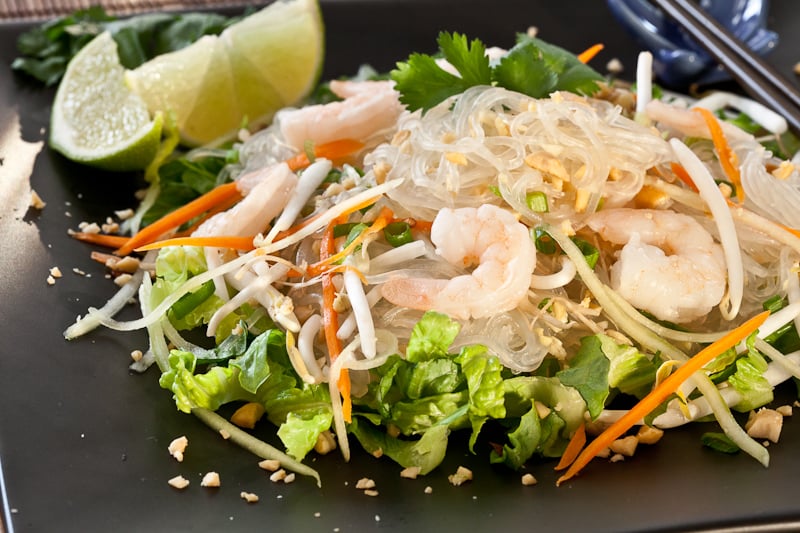 We love our stir fry dishes around here, and this Shrimp with Snow Peas is both easy and deeelish!