Tortellini Pasta Salad with Pesto Sauce, Tomatoes, and Mozzarella
By Amy Dong
Published May. 25, 2021
Updated Aug. 17, 2022
Tortellini Pasta Salad with Pesto Sauce, Tomatoes, and Mozzarella showcases the brilliant flavors of fresh homemade pesto sauce…it's SO good, you'll want to use it on everything.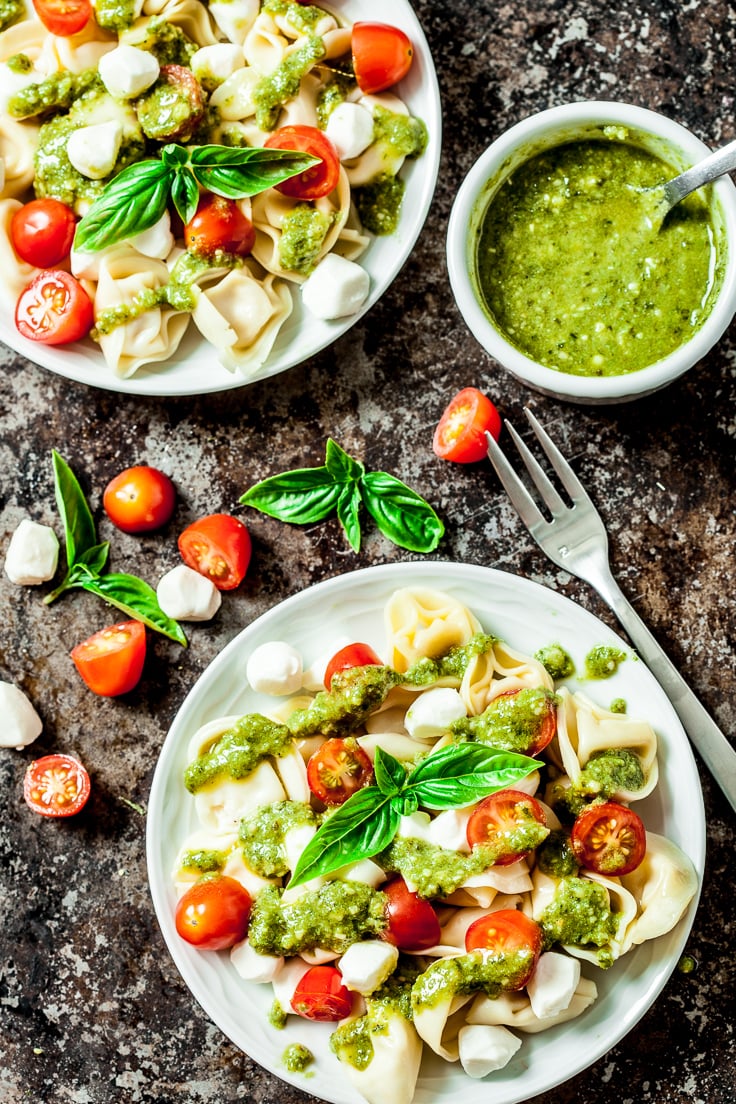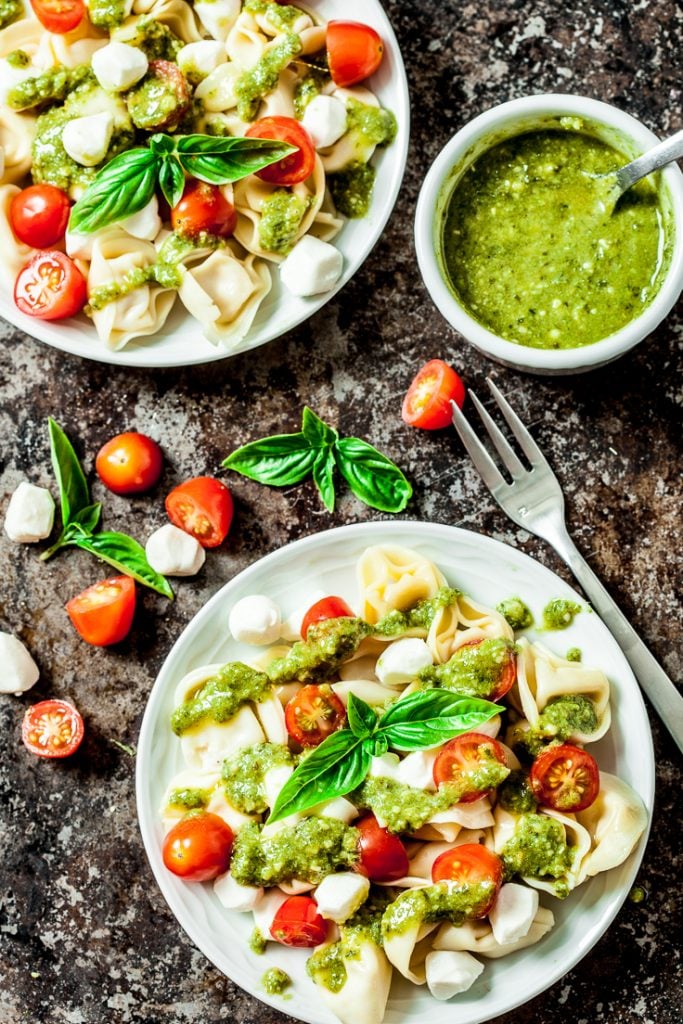 Tortellini Pasta Salad with Pesto Sauce, Tomatoes, and Mozzarella
The season's explosion of ripe, sweet tomatoes and zesty herbs cannot be ignored. If you're lucky enough to have your own herb and tomato garden or you have access to a local farmer's market, you're ready to take advantage of the fresh flavors.
We can't let the gorgeously warm summer slip by without taking advantage of all the fresh basil and tomatoes. They're a classic combination for Caprese Pasta Salad. Now, bring in the cheesy tortellini pasta and you'll be savoring the best tortellini pasta salad all summer long.
This tortellini pasta salad with pesto sauce tastes is a sunny burst of flavor in every bite. It's healthyish, super simple to make, and perfect for picnics and summer gatherings.
Bonus: the pesto sauce is so darned good, you'll want to slurp it up with a spoon. We highly suggest making extra pesto sauce to keep on hand in the fridge all season long.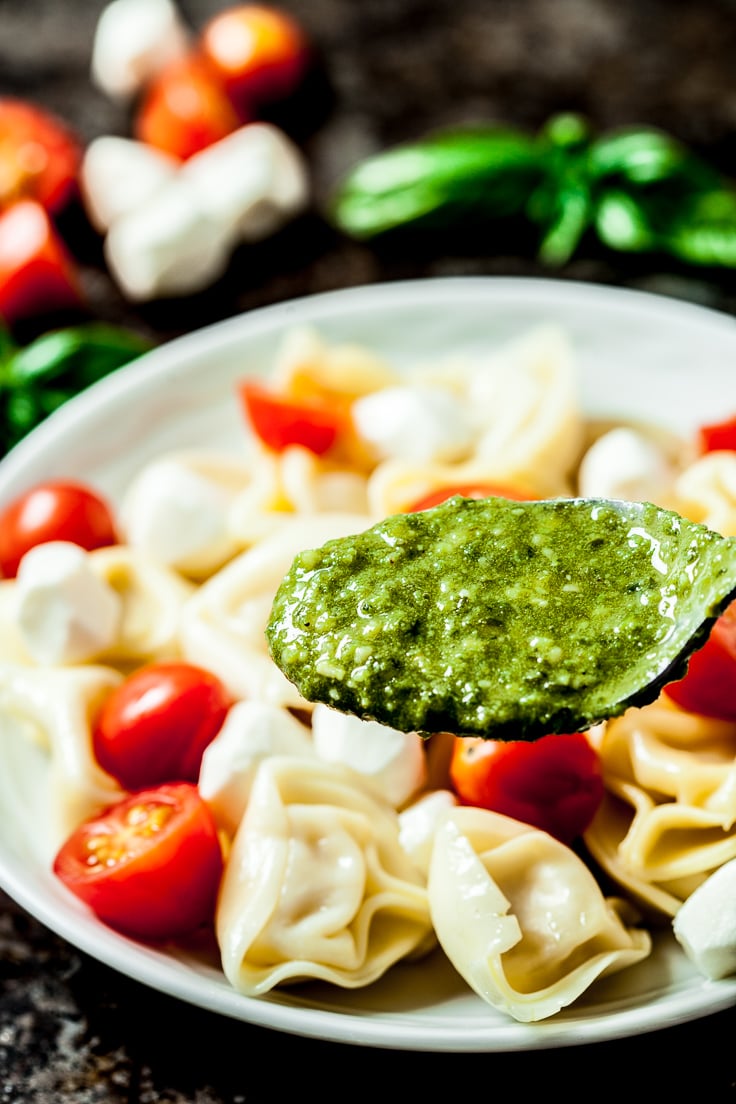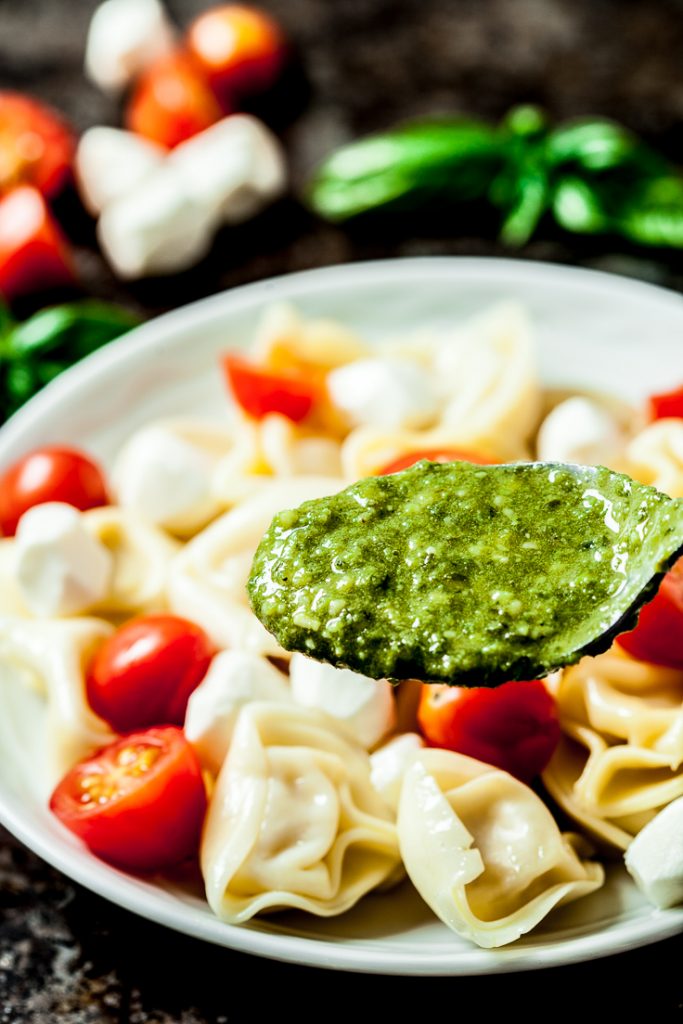 Cheese Tortellini
Use your favorite brand of fresh cheese tortellini from the refrigerated section of your grocery store. You can also use frozen cheese tortellini. Prepare the tortellini according to package instructions; we prefer ours cooked to al dente, just to ensure we never overcook it.
Grape or Cherry Tomatoes
We love the sweetness of grape or cherry tomatoes, particularly when fresh from the farmer's market or homegrown. These baby tomatoes tend to be sweeter and more crisp than larger tomatoes. Plus, they're a whole lot easier to use in pasta salads, as they don't emit as much excess liquid and they're super easy to prep: just slice in half and they're ready to go.
Fresh Pearl Mozzarella Balls
Fresh mini mozzarella balls are crazy fun to use in recipes (we love them in Caprese Pasta Salad.) Use the smallest ones you can find, often labeled mozzarella pearls. These tiny mozzarella balls need no slicing; just drain and toss them right into your recipe.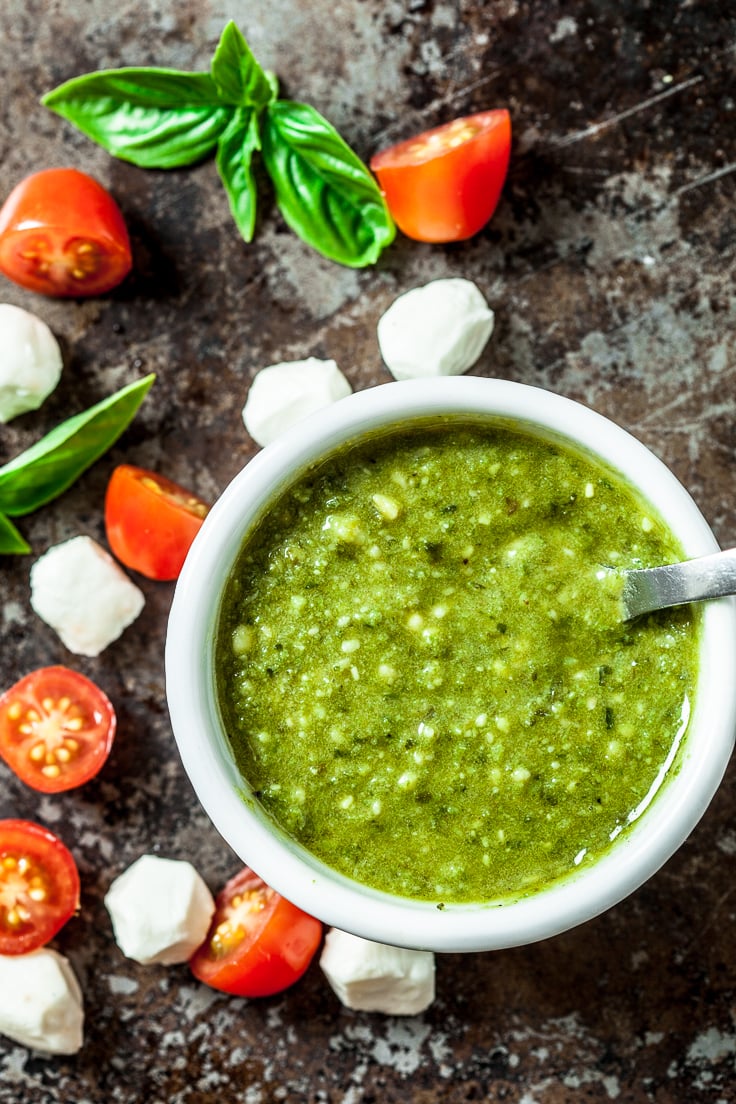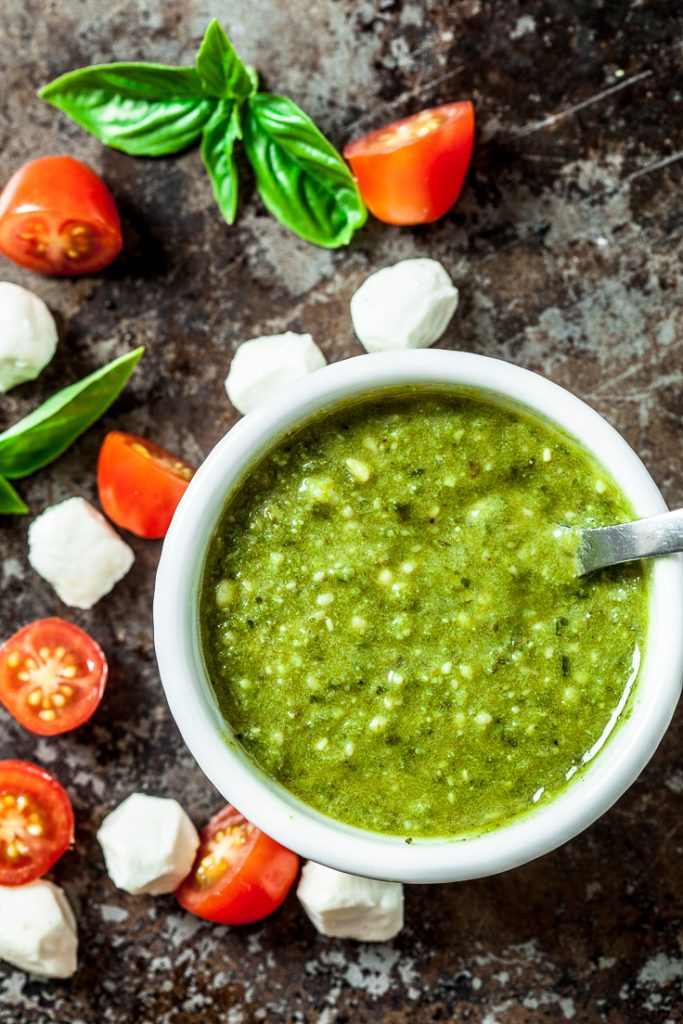 How to make the best pesto sauce
Really good pesto sauce needs only a handful of real, simple ingredients. Thus, every ingredient counts. For starters, you'll want plenty of fresh basil. Two cups, packed. Sounds like a lot, but believe: you'll want it all 🙂
Get out a food processor or strong blender to mix up this delectable pesto sauce:
Use the freshest young basil leaves, preferably Genovese or sweet basil variety, as the flavor profile of sweet basil is ideal for pesto.
Extra virgin olive oil is ideal, as it boasts a golden-green color and a light peppery flavor that works beautifully for dressings, dips, and pesto.
Be sure to use fresh garlic cloves rather than garlic powder or dehydrated garlic; the fresh cloves are more robust in flavor.
Toasted pine nuts provide an amazing depth of flavor to fresh pesto; if you have raw pine nuts, take a moment to toast them with a bit of olive oil in an oven at 350F for about 5 minutes. You can also toast them with a bit of olive oil in a skillet for about 2 minutes.
For the best fresh pesto, use freshly squeezed lemon juice and fresh lemon zest for bright flavors; this is not the time for bottled lemon juice.
Grate your own parmesan cheese
A really great parmesan cheese does wonders for pesto sauce. You'll notice a big difference when you grate your own favorite block of parmesan cheese, versus using pre-shredded parmesan cheese or parmesan cheese powder.
Pesto Sauce can be made in advance
This fresh basil pesto can be made several days in advance, which makes it ideal for meal prep. It can keep fresh for 5 days in an airtight container in fridge.
To freeze fresh pesto, divvy up the sauce into sealable containers. Pour a thin layer of olive oil on top to minimize browning in the freezer. Seal airtight, and freeze for 3-4 weeks.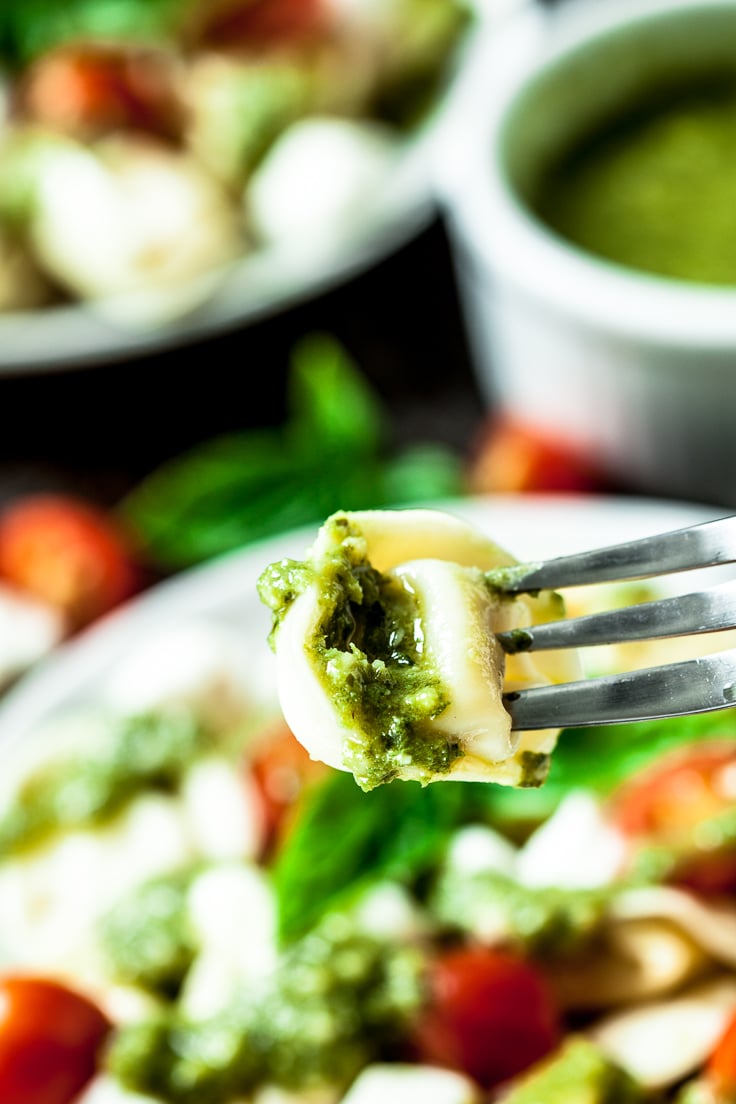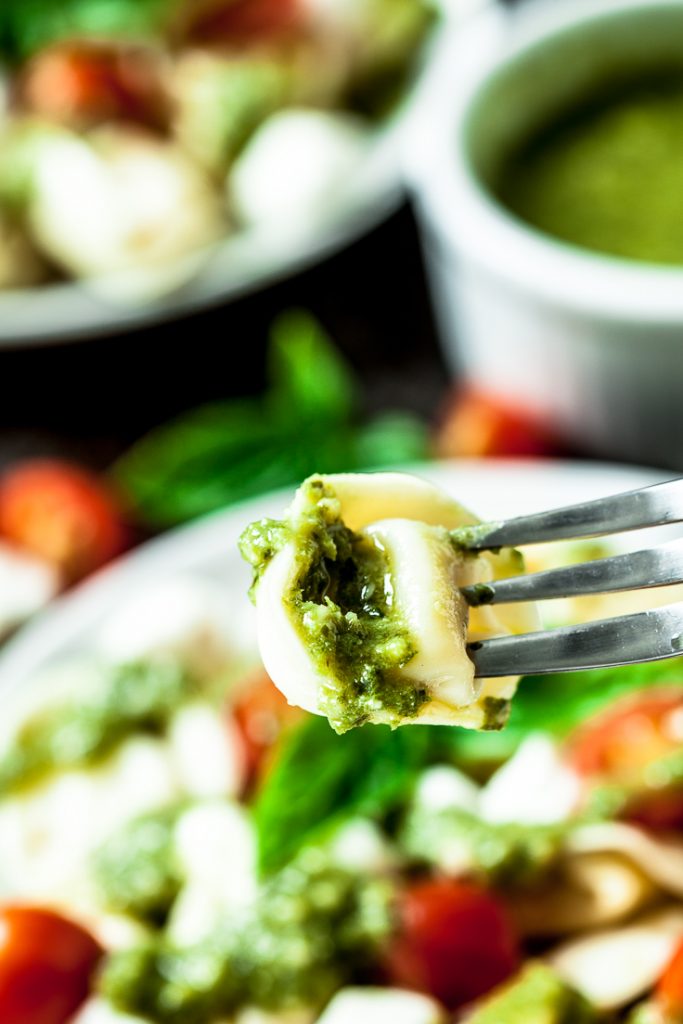 Ways to Use Pesto Sauce:
Here are some mouthwatering ways to get the most out of your homemade jar of pesto:
Slather it on your sandwich, instead of mayo or other less-healthy sauces
Drizzle it over grilled chicken, shrimp, or fish. I'm thinking it would be awesome with a firmer, thicker fish like swordfish or mahi mahi.
Spread it over toasted baguette slices, for a healthy and yummy crostini topping.
Use it on your pizza in lieu of tomato or white sauce
Dollop it into your next grilled cheese sandwich, prior to grilling it. So. Good.
Use a spoonful of pretty pesto over your eggs in the morning
Include it into your next quesadilla.
Spread it onto your burger or hot dog or brat at your next cookout.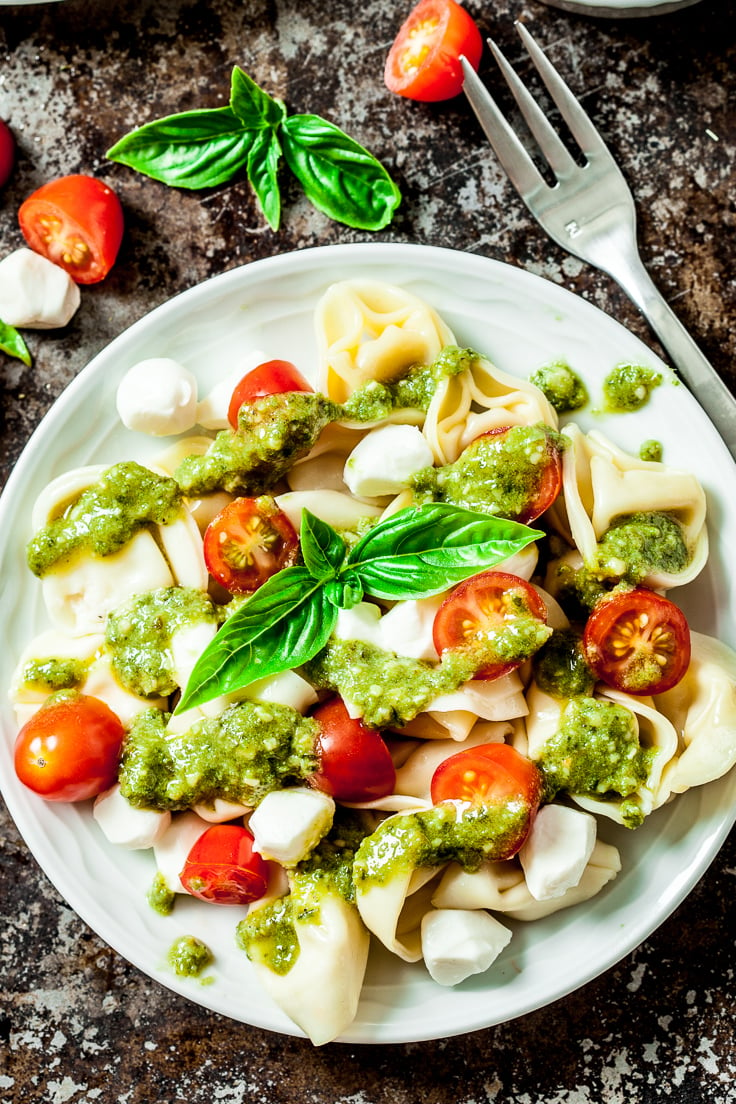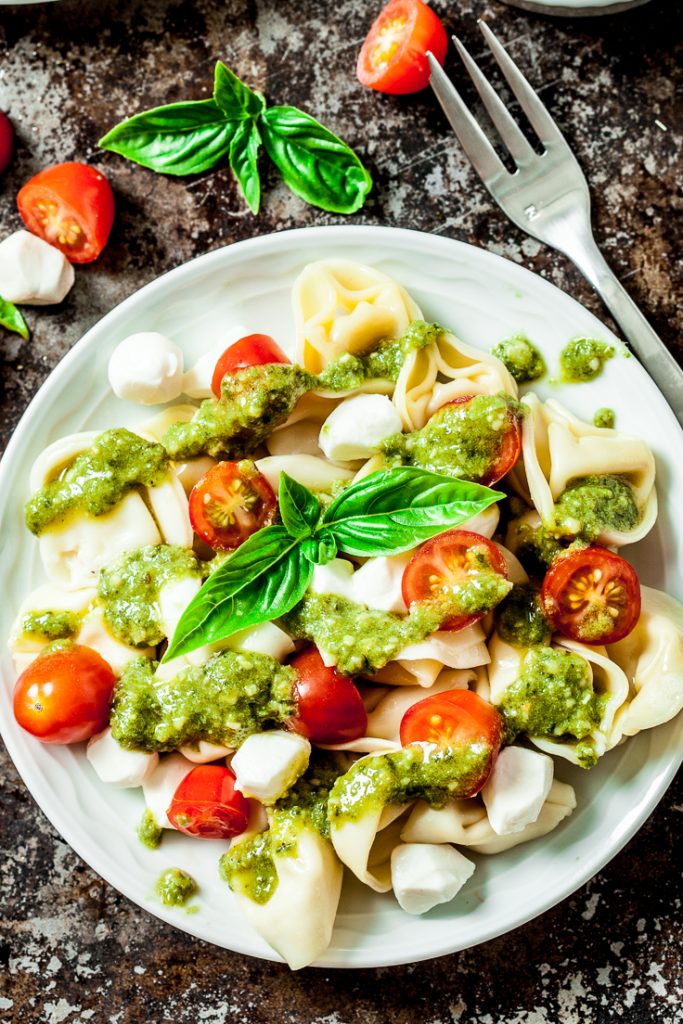 More to Cook and Eat:
Try this Magic Honey Mustard Sauce, too:
---
Did you make this?
Please give us a rating and comment below. We love hearing from you!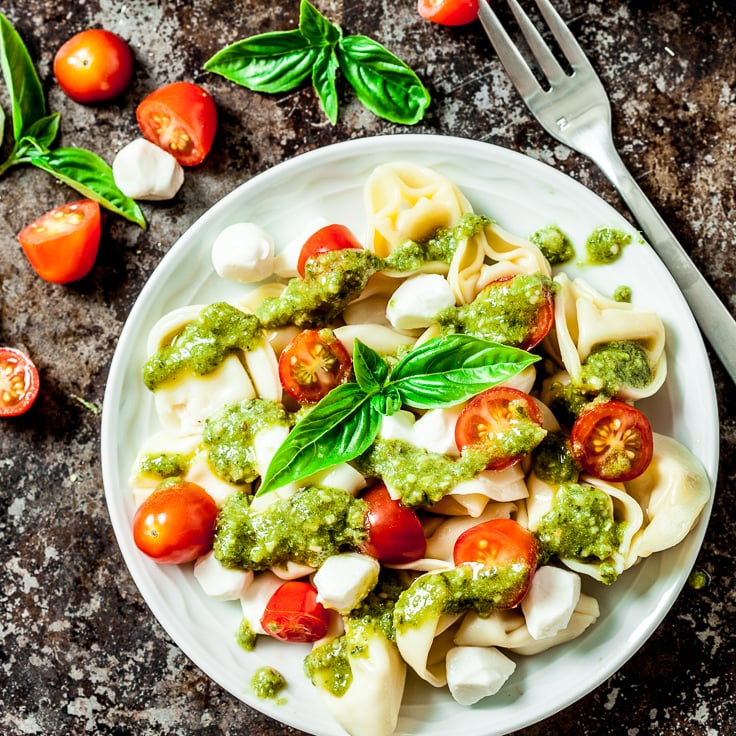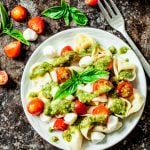 Tortellini Pesto Caprese Recipe
Tortellini Pasta Salad with Pesto Sauce, Tomatoes, and Mozzarella showcases the brilliant flavors of fresh homemade pesto sauce...it's SO good, you'll want to use it on everything.
Ingredients
For the Pesto Sauce:
2

cups

fresh basil leaves

,

tightly packed

3-4

cloves

garlic

,

peeled

¼

cup

toasted pine nuts

½

cup

extra virgin olive oil,

plus extra for tossing

Juice and zest of 1 small lemon

1

cup

freshly grated parmesan cheese*

kosher salt and freshly ground black pepper

,

to taste
For the Pasta Salad:
1

pound

fresh cheese tortellini

8

ounces

fresh mini mozzarella balls

,

pearl sized

1

pint

sweet cherry/grape tomatoes

,

halved
Instructions
Sauce: add basil, garlic, and pine nuts in food processor and pulse several times until chopped. Add olive oil and lemon juice with zest. Process until smooth and well blended. Add freshly grated parmesan and pulse a few times just to combine.

Transfer: use rubber spatula to scrape all of the pesto sauce into a container; season with kosher salt and fresh pepper to taste. Cover airtight and chill until ready to serve.

Cook: in pot of generously salted water, cook tortellini to al dente according to package instructions. Drain, but do not rinse. Toss with 2 tablespoons olive oil to prevent sticking.

Combine: gently toss tortellini with mozzarella and tomatoes in a serving bowl. Add desired amount of pesto sauce. Save any leftover sauce in airtight container to keep in fridge.
Notes
For noticeably better results, grate your own parmesan cheese from a good quality block of cheese.
If your pine nuts are not toasted already, you can toast them quickly in the oven or stovetop: mix pine nuts with a bit of olive oil, single layer on a baking sheet and bake in oven at 350F for about 5 minutes. For stovetop, stir pine nuts with a bit of olive oil in a skillet for about 2 minutes on medium heat. Once lightly browned and aromatic, your pine nuts are perfectly toasted.
If you enjoyed this recipe, please come back and give it a rating ♡
Nutrition (per serving)
Calories:
315
kcal
|
Carbohydrates:
21.4
g
|
Protein:
14.2
g
|
Fat:
19.9
g
|
Saturated Fat:
5.2
g
|
Cholesterol:
26.8
mg
|
Sodium:
440.6
mg
|
Fiber:
1.4
g
|
Sugar:
1.3
g