Welcome! We're so glad you're here.
At Chew Out Loud, we focus on helping you cook smarter, not harder.
If you're looking for reliable, kitchen-tested recipes that are accessible, budget-friendly, and taste incredible, you've come to the right place.
Our goal is to help you cook well for your family and friends, giving you reliable recipes, tools, and strategies to help you succeed. Whether you're making dinner on a busy weeknight or hosting a gathering, we're here to help you be confident in the kitchen.
We help you take the guesswork out of planning doable, delicious meals for the family (while maintaining sanity.)
We guide you with tips, tricks, and strategies for entertaining friends with ease. From brunch to dinner to dessert, we've got you covered. You can have fun and enjoy your guests rather than spend the whole time anxiously behind the stovetop.
All while keeping things practical and affordable.
---
My name is Amy, and I'm the author and recipe developer here at Chew Out Loud. I'm a huge dog-lover, avid runner, and God's girl. I'm proud mama of three very busy boys. My world is loud and gloriously wild (the outdoors are my friend.) We travel the world and eat all the food. My favorite space to return to is my kitchen.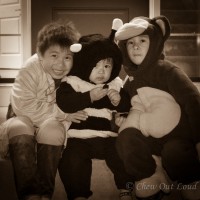 *All photos are original and copyrighted property of Chew Out Loud. We love it when you like what you see – if you want to share our photos or recipes, please provide a clear link back to Chew Out Loud. Thank you 😊