Hi, and welcome to our food blog!
I'm Amy, the cook/author and photographer behind Chew Out Loud.
I'm wife to the smartest guy I know, who also happens to be a willing partner in foodie-crime.  He mostly eats the food, but he does deserve tech props.
My grandfather-in-law was a rock star chef in downtown Los Angeles. After retiring, he cooked seven-course meals out of locally fresh ingredients for family dinners.  Every. Single. Night.  (Not me, thanks.)
My own folks cooked up a storm as an expression of love. But you won't find a recipe book in their kitchen; all of it is handed-down, homegrown cooking. They were my best teachers.
When I'm not driving my family crazy, I'm:
 A dog-lover, marathoner, and God's girl.
 Proud mama of three very busy boys.  My world is loud.  And gloriously wild.
 Teacher on lengthy sabbatical.  Currently my days are filled with volunteer work, blogging, and chasing after said boys and a bulldog. 🐶
*  Hunter of as many Zagat-worthy eats as possible, for every city we travel to.
Cooking is my hobby-therapy.  I can't sing like Celine nor sew like Martha. But I'm passing down precious memories made in our kitchen and around the table.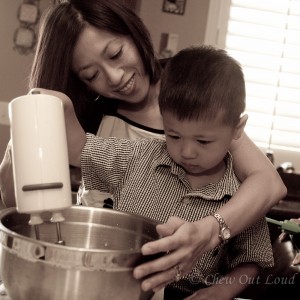 I only post the best recipes certified yummy by family and friends. If we don't love it, you won't see it here. I believe busy home cooks (me and you!) can make extraordinary tasting meals out of ordinary ingredients.
I veer towards super-tasty and healthy dishes, with a diverse flavor profile. There's definitely a sweet tooth working in our midst as well 😇
Thanks for coming over to our little space on the web.  Grab some coffee or chocolate and hang with us for awhile.  We would LOVE to hear from you.
Happy looking, cooking, and…chewing! 💓
Amy
P.S.  This blog is dedicated to the Three Little Monkeys.  You know who you are. 🙈    🙉   🙊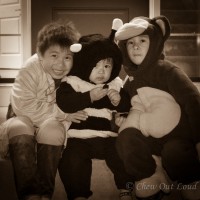 *A good portion of this blog's proceeds goes directly towards bringing children medicine, food/water, clothing, and education every month.  
*All photos are original and copyrighted property of Chew Out Loud.  We love it when you like what you see –  if you want to share our photos or recipes, please provide a clear link back to Chew Out Loud.   Thank you 😊