Amazing One Pot Pasta (Tomato Basil)
If you're a Pinterest addict like myself, you've surely seen this think-outside-the-box weeknight pasta idea. If you haven't seen it, you're in for a game changing surprise.
The reason this pasta is labeled One Pot is because all the ingredients get tossed into one big 'ol pot. And, voila! Dinner is served.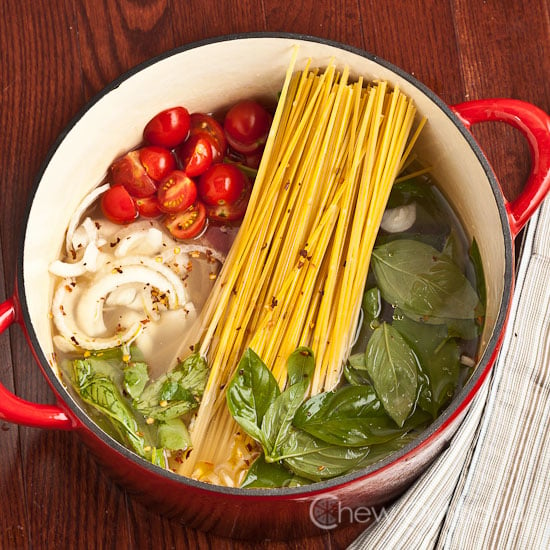 There are two reasons I knew I had to try this amazing One Pot Pasta. The first has everything to do with my abundance of late season tomatoes and basil growing profusely in my fall garden.
We already made and scarfed down this fantastic Bruschetta Tomato Basil Pasta. With this One Pot Pasta, my sweet cherry tomatoes and fresh basil were given the chance to shine once again.
The second reason I had to make this pasta: I gotta feed these guys on Wednesday night, and I better do it quick.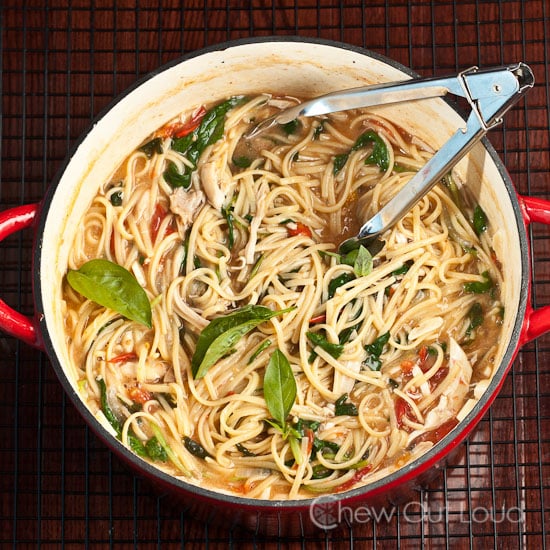 My parents frequently made a Chinese version of this one-pot pasta dish all the time, when weeknights were rushed and dinner needed to be done in 30 minutes or less.
So, the idea of throwing a bunch of pasta goodness into a pot and cooking it all at once is not new to me. I just never thought of doing it with anything other than Asian ingredients.
An aha moment for me. I'll definitely be toying with the diverse possibilities from now on.
We're already seeing new one-pot ideas pop up everywhere. Gotta love it.
Who doesn't love weeknight dinners that are easy, quick, and versatile? And feeds a crowd, to boot?
This is definitely some good grub.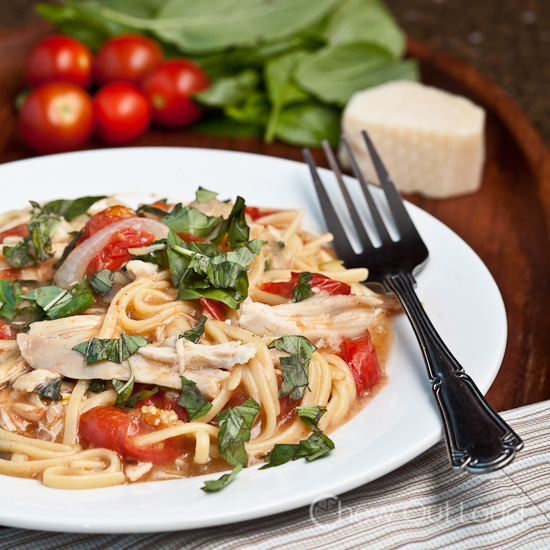 I modified the recipe with chicken broth, spinach and a few other things. I also added chicken to make it hearty enough for the men around here. It was super tasty and satisfying. Wholesome, nutritious, and delicious. And easy. So easy.
If you add more liquid, the pasta is has more of a slippery consistency, due to starch in the broth. If you add less liquid, it is a drier pasta dish. We preferred it with a bit of extra broth, but that is something you can play with.
Play away!
Enjoy!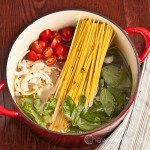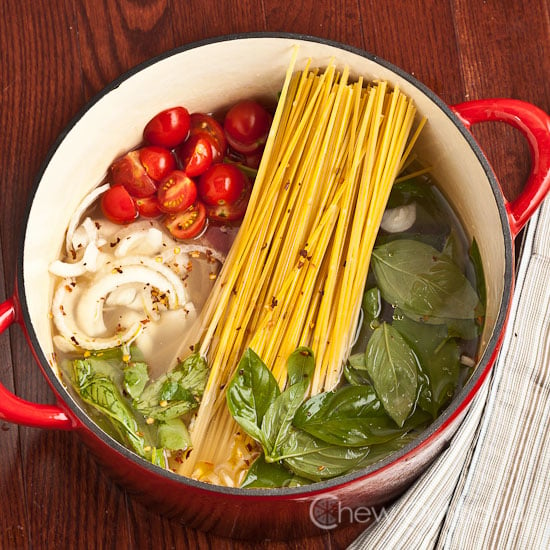 Amazing One Pot Pasta (Tomato Basil)
This One Pot Pasta is great grub food, easy and yummy. It feeds a crowd, and is extremely flexible; add your choice of meat, make it meatless, or add other veggies!
Ingredients
16

ounces

dry linguini

,

or whole box of your favorite pasta

2

cups

fresh sweet cherry or grape tomatoes

,

halved or quartered

1

large sweet Vidalia onion

,

thinly sliced

6

cloves

fresh garlic

,

thinly sliced

1

tsp

red pepper flakes

2

sprigs of fresh basil

,

roughly chopped (more for garnish, if desired)

1

tsp

Kosher salt

5

cups

regular chicken broth

,

up to 1/2 cup more, if desired

2

cups

shredded

,

cooked rotisserie chicken (store bought for ease)

1

bunch fresh spinach leaves

,

washed

Freshly grated Parmesan cheese for serving
Instructions
In a large, heavy pot combine all ingredients except basil, spinach, and chicken. Bring to a boil over medium-high heat, stirring frequently to prevent pasta from sticking.

Continue to boil pasta, stirring often, until pasta is almost al dente (according to package instructions), and water has nearly evaporated. About 9 minutes for linguini.

Add basil, spinach, and shredded chicken. Boil and stir another minute, just until veggies are wilted.

If needed, season to taste with more salt and pepper.

Divide among bowls, garnish with parmesan or basil, and serve warm.
Did you make this?
Leave a comment below and tag @chewoutloud on Instagram
Source: Chew Out Loud, adapted from apronstringsblog.com, via Martha Stewart.