Easy Jamaican Jerk Chicken Recipe
Try this Easy Jamaican Jerk Chicken Recipe for a deliciously simple version of Caribbean style roast chicken. This super tender, flavorful jerk chicken will quickly become a dinner favorite. Perfect for meal prep.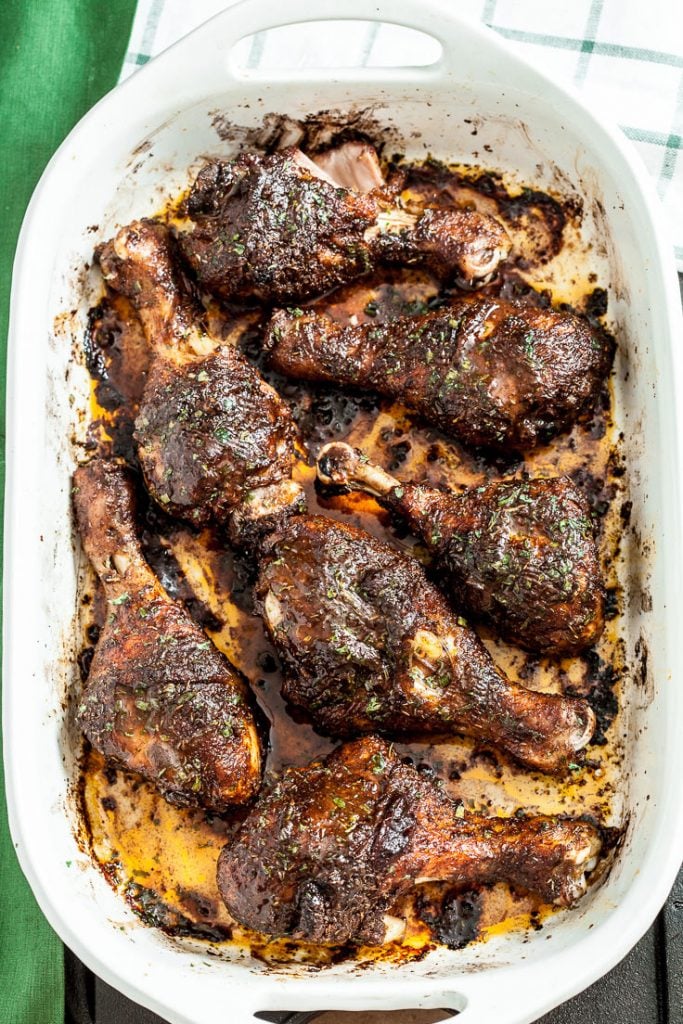 Easy Jamaican Jerk Chicken
Here's a fun bit of jerk history: the word jerk refers to a way of cooking that's popular in Jamaica. All varieties of meats and even vegetables are traditionally marinated in a paste or rub that includes allspice and Scotch bonnet peppers. Then it's slow smoked over long sticks of pimento wood.
Nowadays, you can get authentic Jamaican jerk eats from delicious smelling jerk huts on their island stomping grounds. So if you're lucky enough travel to Jamaica, send me some tasty pics and I'll live vicariously through you for a moment 😉
Since most of us aren't going to soak our chicken overnight in Scotch bonnet peppers and then slow-smoke it over long sticks of pimento wood, I'm here to share this simplified way of making delicious jerk chicken. [Aka, lazy but totally tasty.]
This easy jerk chicken recipe will result in extremely tender, tasty, smoky-ish chicken that can be made any busy weeknight. The jerk spice rub can be made weeks ahead of time and stored in your pantry for anytime use.
If that resonates with you, read on.
Watch Us Make Jerk Chicken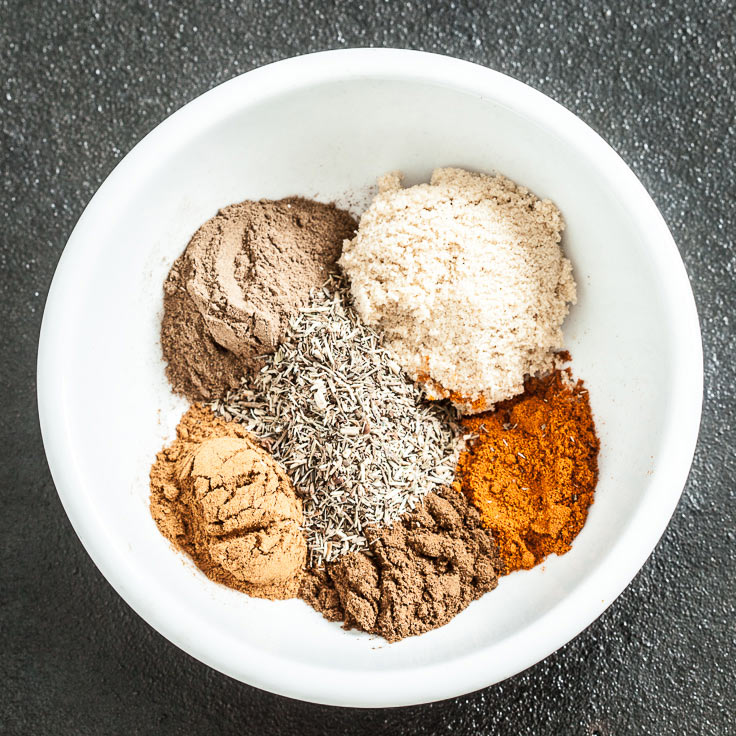 How to make jamaican jerk chicken
We're keeping things simple for all the crazy busy home cooks who need an easy way to liven up their same-o chicken routine. I'm talking about myself, but feel free to join the club.
All you'll need here are dry spices and fresh chicken legs. Do be sure your dry/ground spice are fresh (always throw out older spices that have lost some aroma and flavor.)
PREPARE AHEAD: The spice mixture can be prepared days ahead of time. Cinnamon, ginger, cloves, sugar, thyme, cayenne, allspice, onion, garlic, and smoked paprika can all be combined in advance. (You can get away with regular paprika, but smoked paprika is easy to find at many grocery stores these days, and it provides that smoky flavor you'd otherwise miss.)
Once you've combined the dry rub spices together, simply rub all that aromatic goodness onto and under the chicken skin. That's always my secret to well-seasoned poultry: get that rub under the skin – wear gloves if you'd like, but absolutely work the seasonings on top and underneath the skin throughout.
Option to marinate in advance: at this point, you can opt to marinade the chicken for several hours, up to overnight, if you'd like to have it ready to bake after work the next day. Otherwise, no marinade time is needed with this dish. Either way, you'll be rewarded with a fantastically tasty and tender chicken dinner that's amazing with this Rice and Beans Recipe.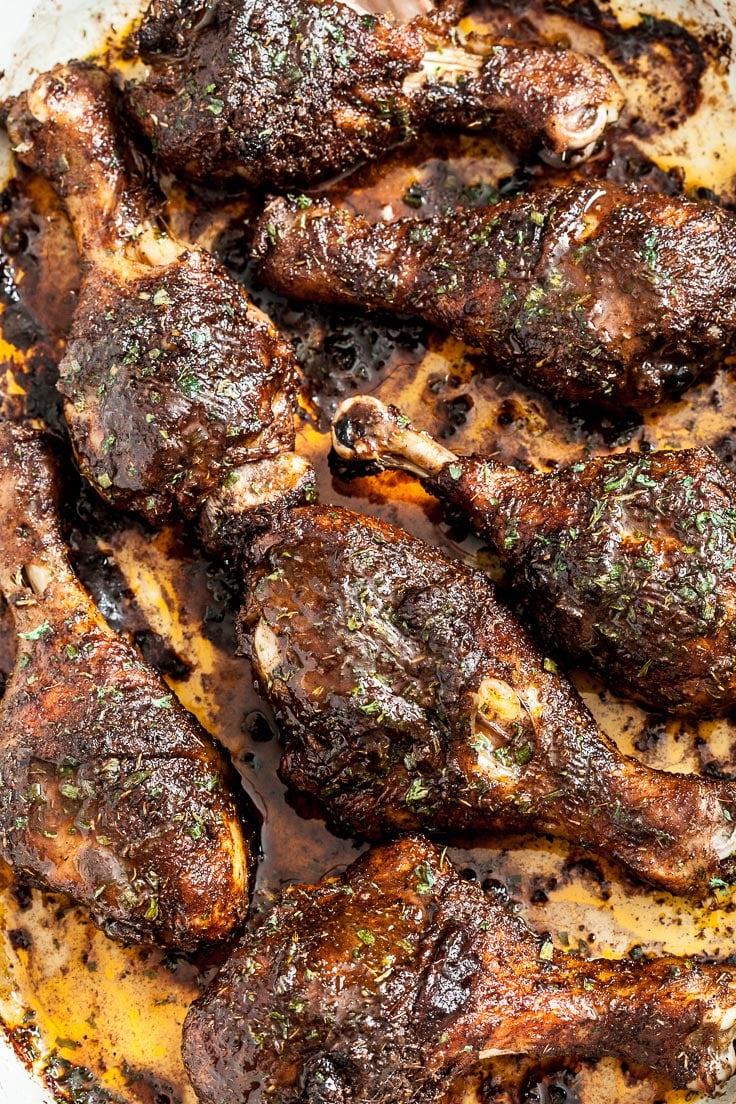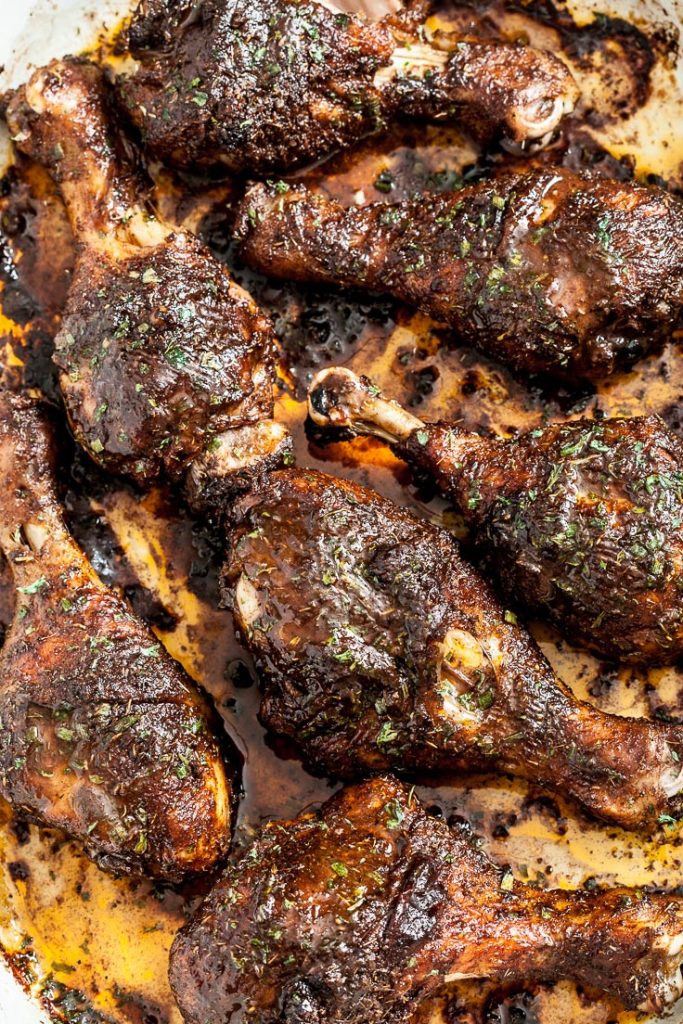 What to serve with jamaican jerk chicken
We 100% recommend and love this Rice and Beans recipe that's both easy and tasty; it's great with almost any meal. Even eaters who don't think they'd like rice and beans surprise themselves by going back for seconds!
This Coconut Rice is aromatic and delicious with chicken. We love it with any stir fry, vegetable, or protein dish.
Mango Black Bean Salsa Dip. Good enough to eat with a spoon all by itself, but really refreshing next to jerk chicken.
Plantains are a delicious side option for jerk chicken! Their easygoing crispness offer the texture you crave.
Can't resist including this island Mai Tai cocktail; so good…in fact, it's kind of always a good thing when this tropical cocktail shows up with your meal.
Jamaican Jerk Chicken
Commonly Asked Questions
What is jerk chicken in Jamaica?
Common throughout the Caribbean, jerk chicken often refers to a spicy grilled chicken dish. Our recipe can be used for grilling or baking.
What does Jamaican jerk chicken taste like?
With spices such as allspice and cumin, the flavor profile tends to be earthy, exotic, and slightly sweet with a bit of sugar in the mixture.
Is Jamaican jerk chicken healthy?
This dish is definitely on the healthy side, especially if you don't eat the chicken skin. Because it's grilled or baked and not fried, it doesn't absorb much oil (plus, we use olive oil for the paste.)
Is jerk chicken good for meal prep and reheating?
Yes, this is a great recipe for meal prep. Make a large batch at the beginning of the week, along with easy rice and beans, to enjoy for several days.
More to Cook and EAt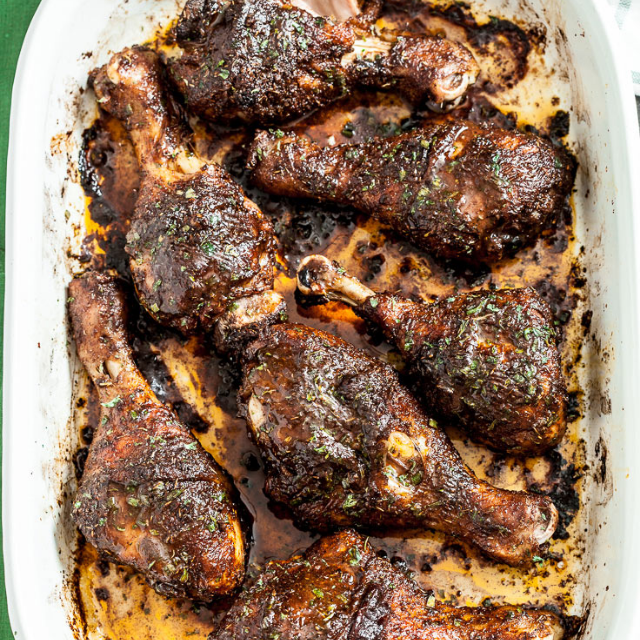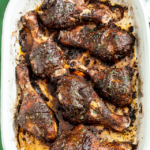 Easy Jamaican Jerk Chicken Recipe
Try this Easy Jamaican Jerk Chicken Recipe for a deliciously simple version of Caribbean style roast chicken. This super tender, flavorful jerk chicken will quickly become a dinner favorite.
Instructions
Prepare: Preheat oven to 425F with rack on lower middle position. Use paper towels to thoroughly dry chicken legs of excess moisture. Use fork to poke holes on all sides of chicken legs. Set aside.

Mix: In a bowl, combine all remaining ingredients to form a spice rub/paste mixture. Evenly rub mixture underneath the skin of chicken legs (easiest to use clean hands to really push the mixture as far underneath skin as you can) as well as on top of skin.

Bake: Place chicken on large rimmed/foil-lined baking sheet, with space in between each piece. For smaller-sized chicken legs, bake about 40 minutes; for larger-sized chicken legs, bake about 50 minutes or until nicely browned. Serve immediately, with drippings from baking pan.
Notes
Jamaican jerk seasoning classically contains ground cinnamon. However, if you're sensitive to cinnamon, feel free to start with 1/4 tsp the first time making this dish.
This jerk chicken is delicious served alongside of this easy, super tasty Rice and Beans Recipe If you like this recipe, be sure to make extra dry spice rub to keep in pantry for easy future use (add the olive oil only when you're ready to use)
If you enjoyed this recipe, please come back and give it a rating ♡
Nutrition
Serving:
1
g
|
Calories:
232
kcal
|
Carbohydrates:
5
g
|
Protein:
25
g
|
Fat:
12
g
|
Saturated Fat:
2
g
|
Polyunsaturated Fat:
2
g
|
Monounsaturated Fat:
6
g
|
Trans Fat:
0.02
g
|
Cholesterol:
117
mg
|
Sodium:
654
mg
|
Potassium:
338
mg
|
Fiber:
1
g
|
Sugar:
2
g
|
Vitamin A:
324
IU
|
Vitamin C:
0.4
mg
|
Calcium:
23
mg
|
Iron:
1
mg
Did you make this?
Leave a comment below and tag @chewoutloud on Instagram