Mahi Mahi with Mango Pineapple Salsa
This delightful Mahi Mahi with Mango Salsa is absolutely delicious and not at all fishy. The texture is a firm white fish, with a brilliantly tropical flavor profile.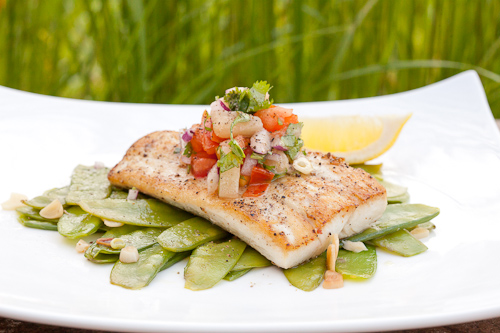 I love fish and pretty much any kind of seafood. On those occasions where Hubby and I are able to get a good sitter for our boys, we enjoy hitting the town for a grown-up dinner. We so look forward to these occasional outings that we often anticipate ahead of time what we might order. As it turns out, I almost always order something that features seafood. I must have passed that seafood love down to my kids, because they also could live on all sorts of ocean fare. It still boggles my mind that my 8 year old, who couldn't eat anything solid for the first 2 years of his life due to complications with GERD, is now the kid who wolfs down platefuls of mussels and clams. Needless to say, fish is a popular protein around here. So guess what happened when I saw Mahi Mahi at the local market?
Mahi Mahi has a wonderfully flaky, firm texture. With the warm weather around here, I decided to pair the Mahi Mahi with a sweet pineapple-mango salsa. Awesome call – it was refreshingly delicious!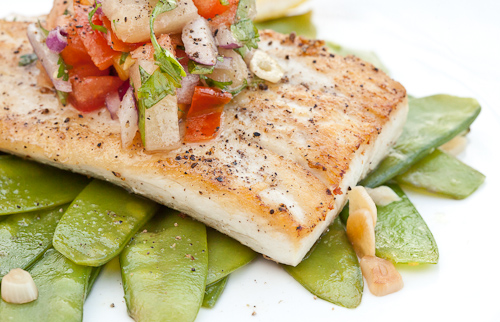 Pan searing is a fantastic way to do fish, as it gives the fillet a nice brown "crust" while leaving the middle tender. As with all methods of cooking fish, it's important to watch carefully and not overcook it. When fish is overcooked, it loses its tenderness and becomes dry and tough (not so yum). My recipe uses Mahi Mahi, but any firm white fish will be great. Halibut is one of my all time favorites for pan searing, so if you have halibut, go for it. Your actual cook time will really vary, depending on the cut/thickness of your fillet. My fillets here were about 1 inch thick. My cook time would be different for a thicker or thinner fillet.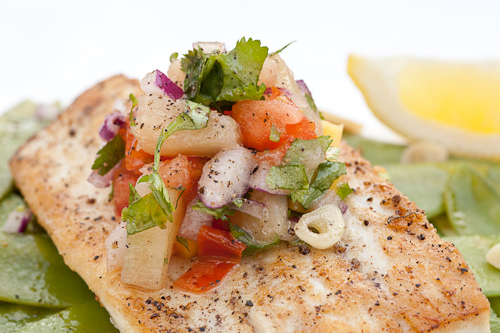 You'll love the sweet salsa with whatever fish fillet you choose to sear up, so be prepared to have extra on hand!
RECIPE (serves 4)
INGREDIENTS
Four Mahi Mahi fillets (4-6 oz each, about 1 inch thick)
Oil for pan frying (light olive oil works well)
Coarse Kosher salt and freshly ground black pepper
For the Salsa:
1/2 red onion, diced
1/4 cup cilantro, chopped
1 ripe mango, diced
1 vine-ripened tomato, diced
1 can diced pineapple, drained
Juice of 1 lime
2 tsp honey
1 tsp freshly ground black pepper
1/2 tsp coarse kosher salt
DIRECTIONS
For the Pineapple-Mango Salsa: Mix the salsa together well, cover, and chill until ready to serve. Can be made up to 24 hours in advance.
For the fish: Sprinkle fillets liberally with salt and pepper on both sides. Heat about 5 TB oil in large frying pan at medium-high until very hot. Carefully set a fillet in hot oil and sear for 2 minutes – lift pan by the handle frequently and shake the pan back and forth briskly, so the fish is being moved around. You don't want the fish to sit in the same spot the entire time and get stuck on the pan. Carefully flip fish over, and turn heat to medium. Cook 4 minutes, still lifting and shaking pan here and there. Immediately remove fish from pan, and repeat for other fillets. Again, your actual cook time will vary depending on fish fillet thickness. If you prefer, you can use a thermometer to check for just-doneness. The fish is done at at 125F.
Serve immediately with prepared salsa.
Wine Pairing Note: This dish pairs beautifully with a dry Reisling or dry Rose.