Pan Seared Mahi Mahi (with Mango Salsa)
Mahi Mahi is a firm white fish that is perfect for pan searing or grilling. This pan seared mahi mahi with mango salsa is scrumptious all by itself, and tastes fabulous with the fish. Tender, flavorful, and flaky white fish can easily be accomplished!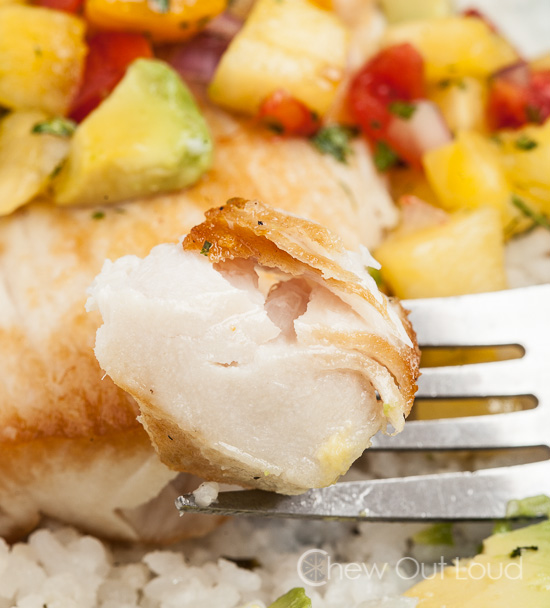 One of my first articles here was about a Pan Seared Mahi Mahi. Some things don't change, and when something is this good, there's a reason we keep making it over and over.
As soon as spring shows the promise of summer up ahead, I start craving tropical salsas. And nothing showcases a refreshing tropical salsa like a good white fish…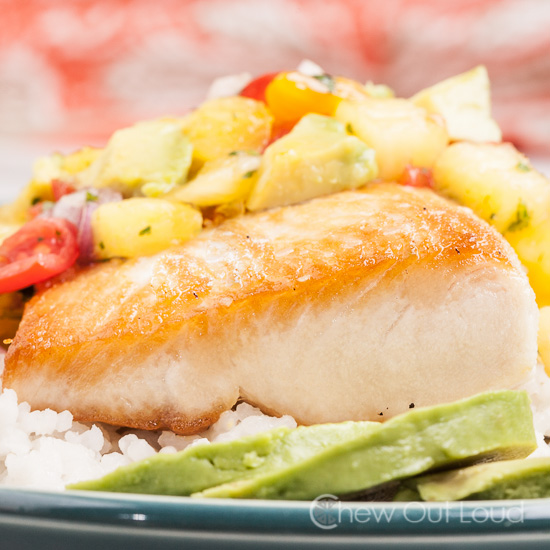 We always say this whenever we go on foodie restaurant outings: You can tell a lot about how good (or not) a restaurant is by how well it cooks up its fish. Seafood is one of the easiest things to overcook, and once overcooked, it's game over. I know this because I always order seafood.
In general, once seafood starts to turn opaque, it's done. Voila! No more heat on that baby, please! For fish, once it feels mostly firm to the touch and loses its transparency, it should be nicely done.
This Pan Seared Mahi Mahi with Mango Salsa is obviously done with mahi mahi fillets, which is a firm and somewhat flaky white fish that lends itself well to pan searing. Halibut would be another awesome choice for a hearty white fish with great flavor.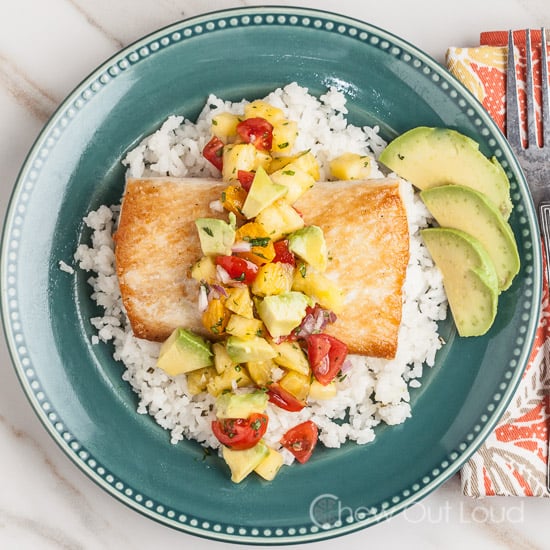 We served this Pan Seared Mahi Mahi just recently at our Gourmet Club. Gourmet Club has been one of our highlights since moving here. A few couples who have the love of food in common. We cook, do serious wine pairings, we bake, and we eat. It's all good. Very good.
Recently, we decided to switch things up and start doing themed dinners. It was high time to branch out and go global with our dishes. So when it was our turn to host, we chose to go with a tropical theme.
Which is how we ended up serving this tender, flaky, refreshing Mahi Mahi.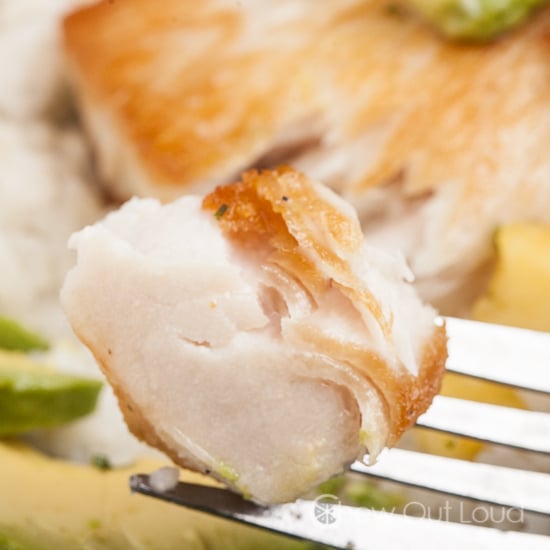 Pan Seared Mahi Mahi with Mango Salsa is simple yet impressive, and tastes absolutely divine.
Served alongside this scrumptious coconut rice or a simple rice pilaf, it would make a phenomenal meal for the weekend. Have a couple of friends over, and enjoy!
Did you make this?
Please give us a rating and comment below. We love hearing from you!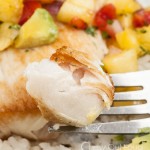 Pan Seared Mahi Mahi with Mango Salsa
This Pan Seared Mahi Mahi is absolutely mouthwatering! Perfect for spring and summer, but it works anytime of year, since it is pan seared! The salsa is truly something special. This recipe also works well with halibut!
Ingredients
For the Salsa:
½

red onion

,

diced

5

oz

grape/cherry tomatoes

,

chopped

¼

cup

cilantro

,

chopped

1

ripe mango

,

diced

10

oz

ripe pineapple

,

diced

Juice of 1 lime

2

TB

pure honey

1

tsp

freshly cracked black pepper

½

tsp

coarse kosher salt
For the Fish:
4

Mahi Mahi fillets

,

6 oz each, about 1 inch thick

Oil for pan frying

Coarse Kosher salt

Fresh cracked black pepper
Instructions
Prepare the Salsa: In a bowl, combine all salsa ingredients. Cover well and keep chilled in fridge.

For the fish: Sprinkle fillets liberally with kosher salt and pepper on both sides. Heat about 5 TB oil in large frying pan at medium-high until very hot.

Carefully set one or two fillets (don't overcrowd) in hot oil and sear for 2 minutes – lift pan by the handle frequently and shake the pan back and forth briskly, so the fish is being moved around. You don't want the fish to sit in the same spot the entire time and get stuck on the pan.

Carefully flip fish over. Lower heat to medium. Cook 3-4 minutes (or just until fish loses transparency and becomes fully opaque, mostly firm to the touch) still lifting and shaking pan here and there. Immediately remove fish from pan, and repeat for other fillets.

Plate the cooked fish and serve alongside prepared salsa.

*Note: Your actual cook time will vary depending on fish fillet thickness. If thicker than 1 inch, you may cook a bit longer. If thinner than 1 inch, lessen the cook time. The fish is done at at 125F.
Nutrition (per serving)
Calories:
195
kcal
|
Carbohydrates:
18.6
g
|
Protein:
30.8
g
|
Fat:
0.6
g
|
Saturated Fat:
0.1
g
|
Cholesterol:
78.2
mg
|
Sodium:
344.4
mg
|
Fiber:
1.6
g
|
Sugar:
16.1
g
If you enjoy shrimp, you'll love this easy peasy Stir Fry Asian Shrimp with Snow Peas. So tasty and scrumptious with every bite! Switch up the veggies easily to whatever you have on hand!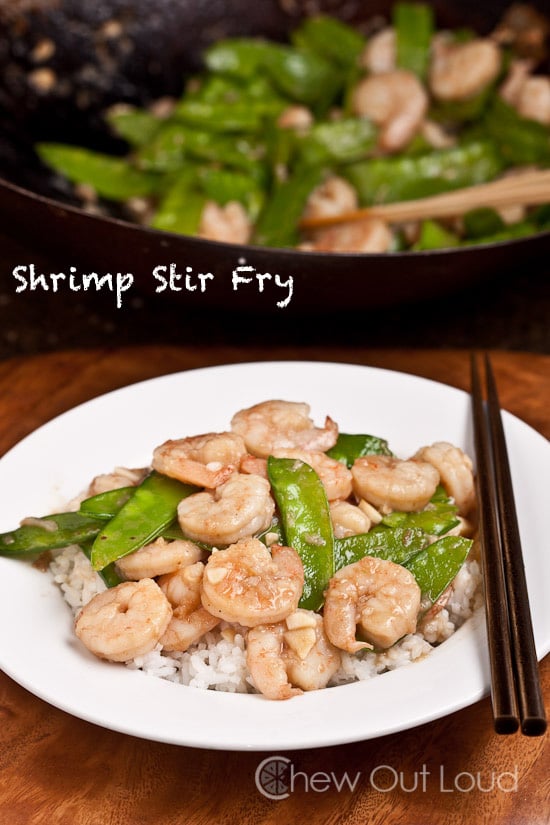 This one requires a bit of fearlessness, but if you're willing to try something a bit daring and reap the delicious rewards, you'll want to try this awesome Salmon Poke. A popular Hawaiian appetizer.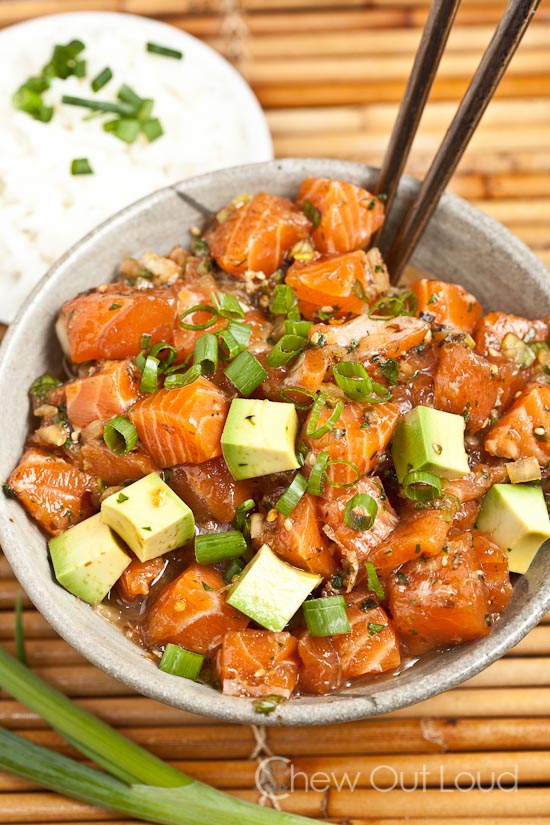 And if you've never made your own Cioppino (a San Fransiscan Seafood Stew)…. really, really, it must be made at least once in your lifetime. You will wonder where this has been hiding all your life.