13 Secrets to the Perfect Cheese Platter
By Amy Dong
Published Feb. 11, 2016
Updated Nov. 27, 2023
Here are the best tips for building a perfect cheese platter, plus a bonus recipe for Chocolate Cocoa Almonds!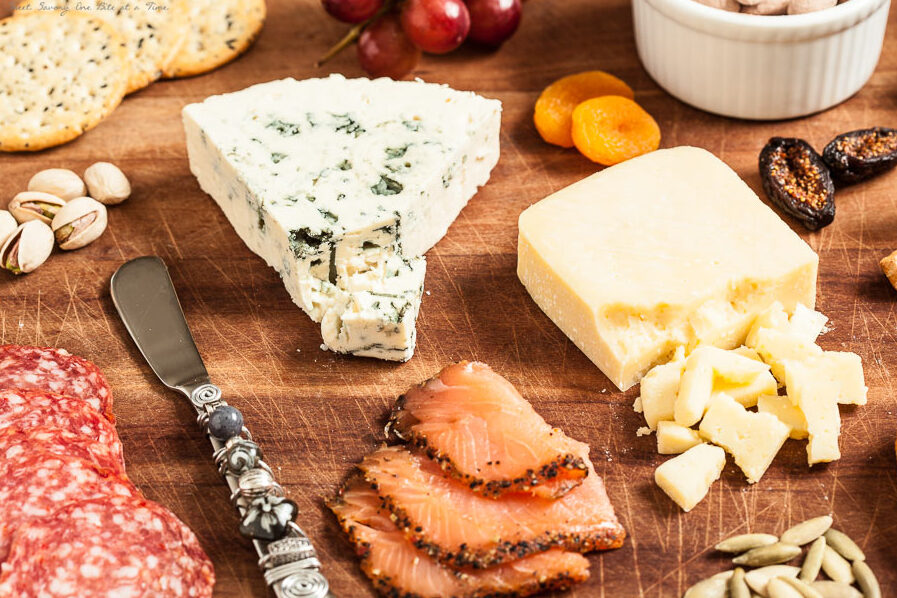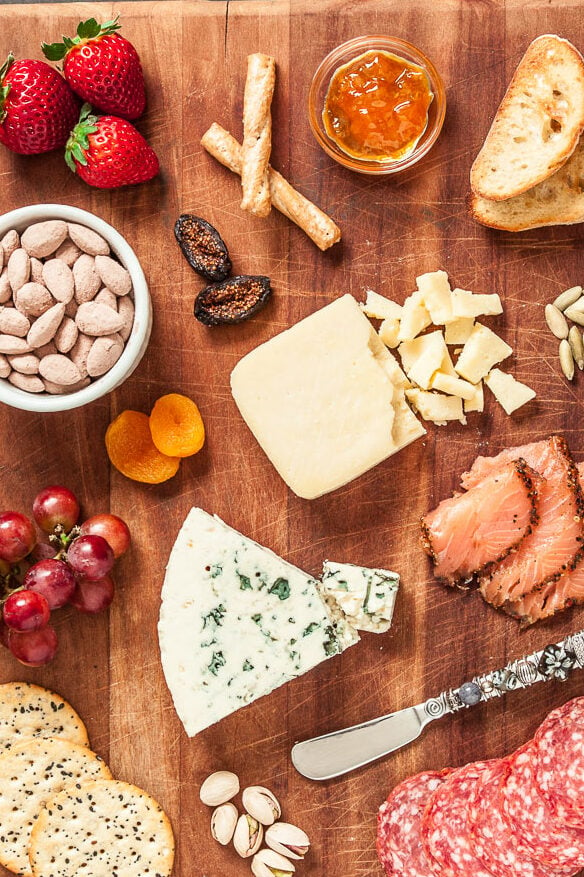 13 Tips to the Perfect Cheese Platter
I don't know anyone who doesn't appreciate a beautiful cheese platter. We break out cheese platters for casual and formal parties anytime of the year, which people quickly gravitate to. We also crave a good cheese board on date nights and casual parties.
Flavors, Textures, Colors
Balance the flavors, from strong to mild cheeses, such as blue to havarti.
Balance the textures from soft to hard cheeses, such as brie to parmigiano.
If either #1 or #2 above cause a big question mark, chat with your neighborhood cheese specialist and let them help you figure out what to include.
Separate knives or serving tools for strong vs. mild cheeses is a good idea. You can even pre-slice some of the cheeses for ease.
Have a variety of colors, shapes, and sizes of goodies. This includes your cheeses- for instance, white brie wheel vs. yellow cheddar wedge.
Temperature and Variety
Room temperature! Rest your cheeses at moderate room temp 30-60 minutes before serving.
Other chews besides the cheese. Think fruits, nuts, and seeds. We love dried fruits (i.e., figs) with fresh fruits. A mixture of salty and sweet nuts are always popular.
Meat choices for those who enjoy salami, prosciutto, bresaola, or my own unique favorite: smoked salmon.
Carbs. Don't forget the crackers, bread, and toasts. Keep these simple, so they don't overpower the cheeses.
What's your jam? Add some sweet fruit jam or honey to the mix. People love spooning it over their cheese and crackers.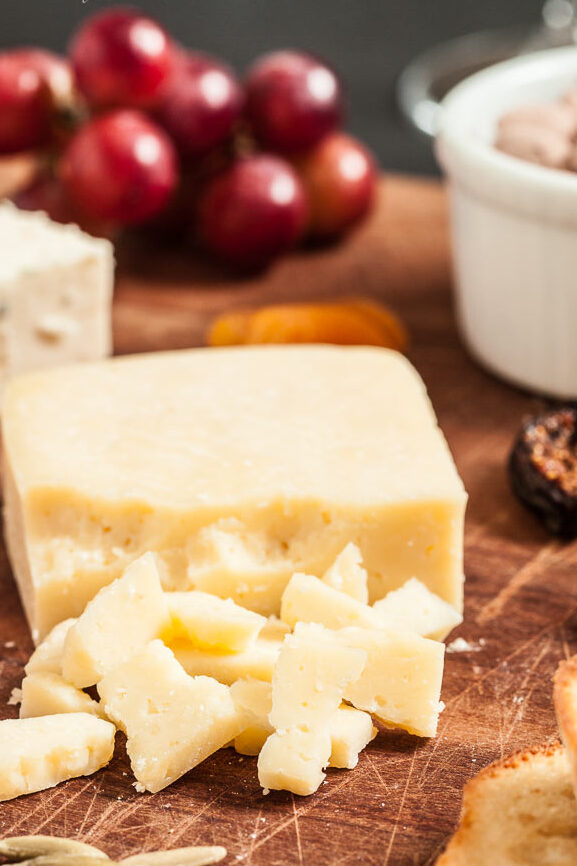 How to Display Your Cheese Platter
Spread out the spread. You can have 2 or 3 plates going at the same time, if it's a larger party. Avoid the platter gridlock.
Label the cheeses with a toothpick and sticker label. When there's a larger variety of cheeses on my platter, the labels are a great conversation starter.
Place nuts in their own separate containers. This makes it easier for people to help themselves. It also helps avoid contamination for those who have nut allergies.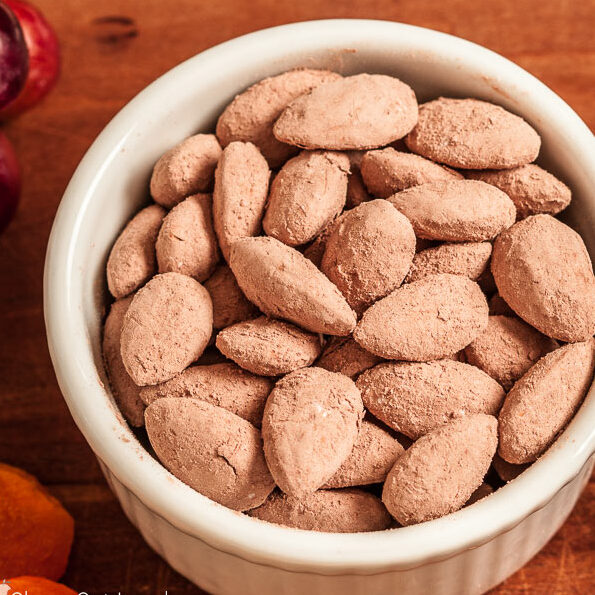 Cocoa Almonds
Here's the easy (highly addictive) recipe for the chocolate cocoa almonds shown above.
They are ultra crunchy, lightly sweet, fully chocolatey, and all natural. Perfect for anytime snacking and party appetizers. Add a bowl of these to your cheese platter, for a bit of sweet crunch!

Did you make this?
Please give us a rating and comment below. We love hearing from you!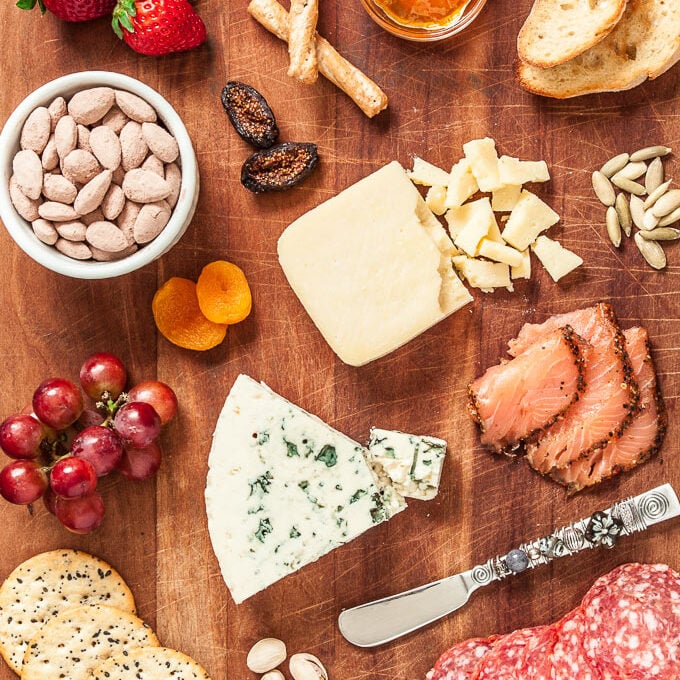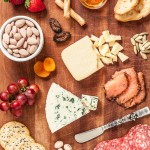 Chocolate Cocoa Almonds
These super easy chocolate cocoa almonds are super easy and perfect for sharing and gifting. Yields 2 1/2 cups.
Instructions
Preheat oven to 350F, with rack on middle position. Spread raw almonds into a single layer on a rimmed baking sheet (unlined.)

Bake 10 minutes, stopping once to shake the pan in between bake time. Almonds should be toasty and fragrant, but not burnt.

Pour toasted almonds into a large bowl. Add remaining ingredients and stir to completely coat. Spread coated almonds back out onto baking sheet to cool completely.
Notes
Store chocolate cocoa almonds in airtight container up to several weeks.

If you enjoyed this recipe, please come back and give it a rating ♡
Nutrition (per serving)
Serving:
1
g
|
Calories:
209
kcal
|
Carbohydrates:
11
g
|
Protein:
8
g
|
Fat:
18
g
|
Saturated Fat:
1
g
|
Polyunsaturated Fat:
4
g
|
Monounsaturated Fat:
11
g
|
Trans Fat:
0.01
g
|
Sodium:
1
mg
|
Potassium:
277
mg
|
Fiber:
5
g
|
Sugar:
2
g
|
Vitamin A:
0.4
IU
|
Calcium:
97
mg
|
Iron:
1
mg