Candied Pecans with a kick
I have long been enamored with my humble hole-in-the-wall candied pecans, which I've made for every salad I've served for the past decade. I promise to share that crazy-easy recipe here soon, since it's one of my favorite food-hacks.
But for this holiday, I wanted to make cinnamony candied nuts for munching and sharing…not just for my salads (though these are tasty in salads, too!)
Something sweet, salty, and with a good little kick for Christmas and New Year's. Game Day goes without saying.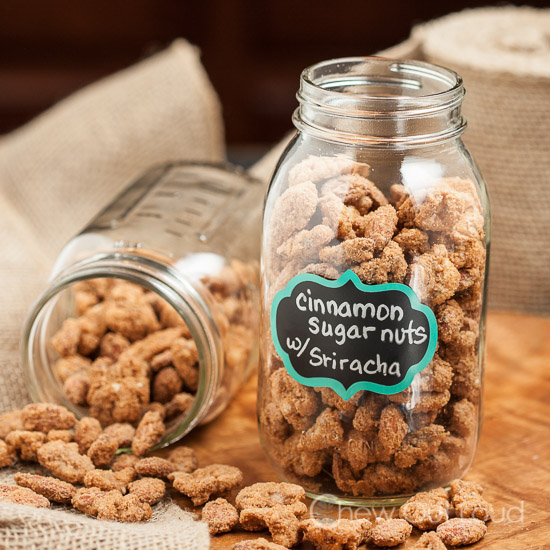 Candied Pecans Nuts Mix
Oh, My Goodness…
These cinnamon sugar candied nuts are highly, highly addictive. I made a big batch, and was barely able to keep from eating up every one of my photo subjects. Snap. Crunch. Snap.
The idea for adding Sriracha dropped over my head because of my hoarding. I hoarded bottles of the beautiful red sauce when the foreboding Sriracha shortage was announced.
I don't know whether that ominous threat is going to occur come January, but I take no chances.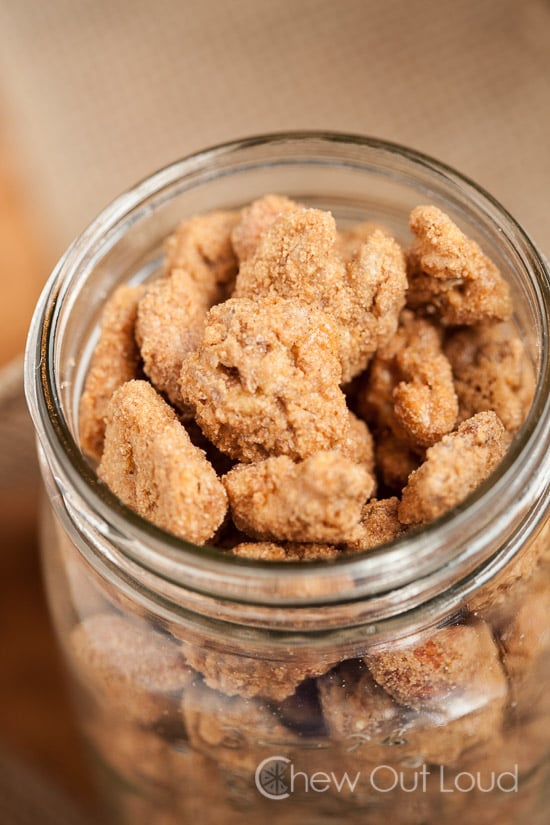 I knew I'd be making good of my Rooster Sauce, so here I am. The Sriracha Buffalo Chicken Dip we just made was totally delish. Now these Sriracha Cinnamon Sugar Candied Nuts are over-the-top amazing.
These nuts are easy to make, keep superbly well, and are epically flavorful. How can sweet, salty, and spicy not be great?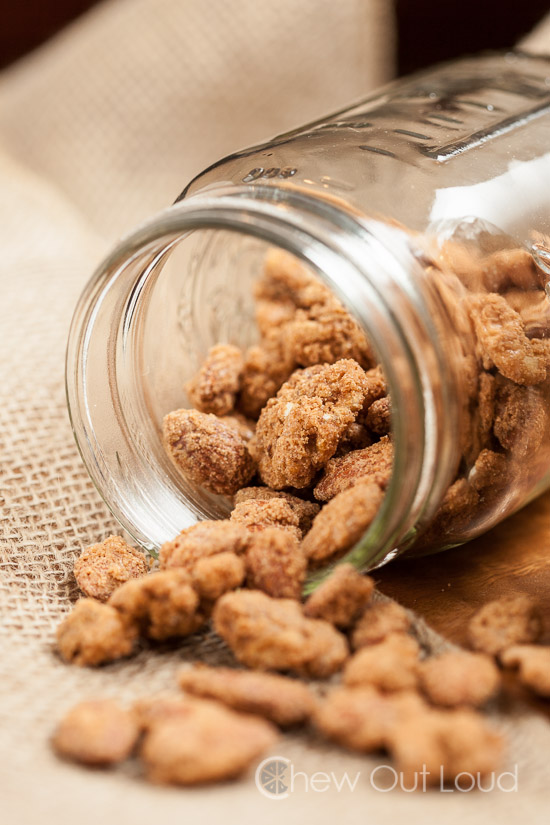 This makes the perfect addition to a buffet of finger foods at any party table. It's also a delicious and welcome thank-you gift anytime of year.
I'm definitely putting these candied nuts on the New Year's Eve munch list. Games, countdown, thoughtful reminiscing, and lots of food.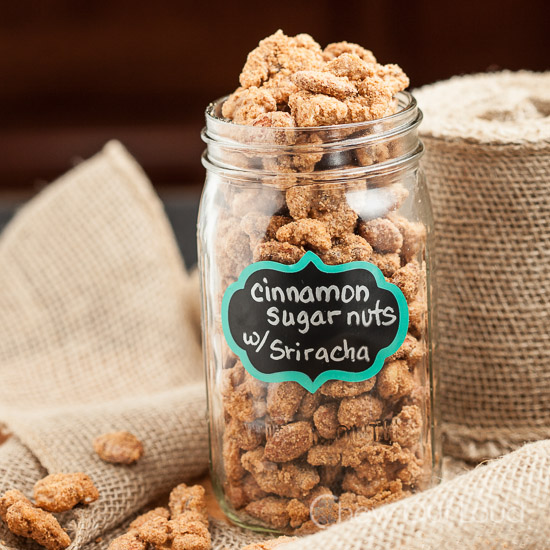 Next to the cookies and dips, these will be the health nut snack. I've no qualms with diving into a stash of this tasty mixture of pecans, walnuts, and almonds.
Sweet, salty, spicy, and sassy. The combination is simply irresistible.
Enjoy!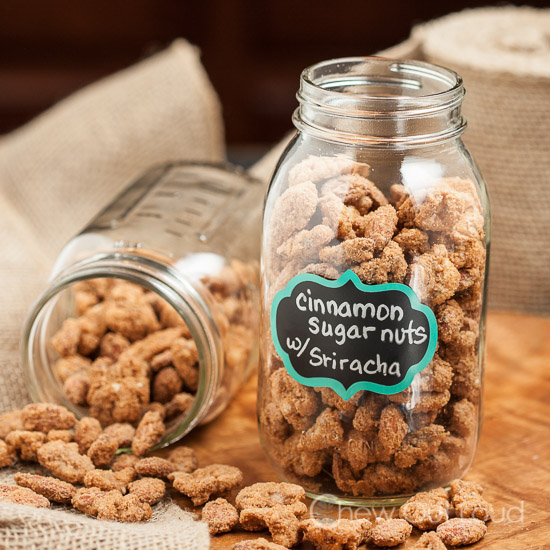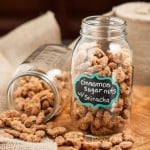 Candied Pecans Recipe
These Cinnamon Sugar Nuts are the perfect blend of sweet, salty, spicy, and crunchy. They are super easy to make and keep incredibly well. Perfect for parties or gifts.
Instructions
Preheat oven to 300F, with rack on upper middle position. Line large baking sheet with parchment paper.

In a small bowl, whisk together the egg white, Sriracha, and vanilla until very frothy.

In a large bowl, combine the nuts with frothy egg mixture. Stir to coat evenly.

In a separate bowl, whisk together brown sugar, granulated sugar, cinnamon, and salt. Add sugar mixture to the nut mixture. Stir until fully coated.

Spread coated nuts on parchment-lined baking sheet, and bake for 30 minutes, quickly stirring 1-2 times in between. Let cool completely and keep in airtight container.
Did you make this?
Leave a comment below and tag @chewoutloud on Instagram
Source: Chew Out Loud
Here's that creamy, dreamy Sriracha Buffalo Chicken Dip: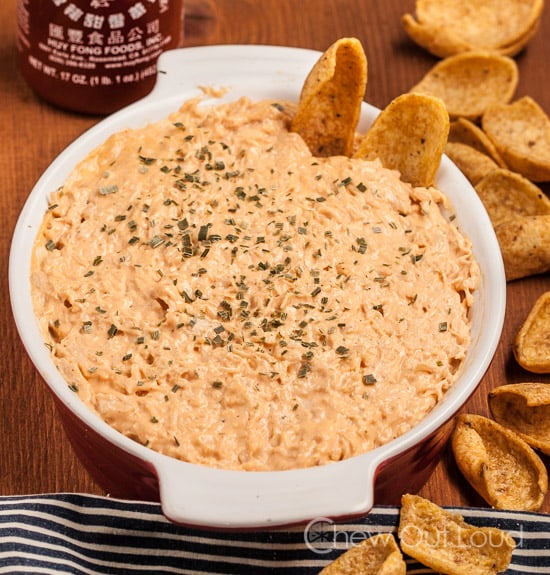 This Black Bean Avocado Salad Dip is totally healthy and the flavors are intensely scrumptious: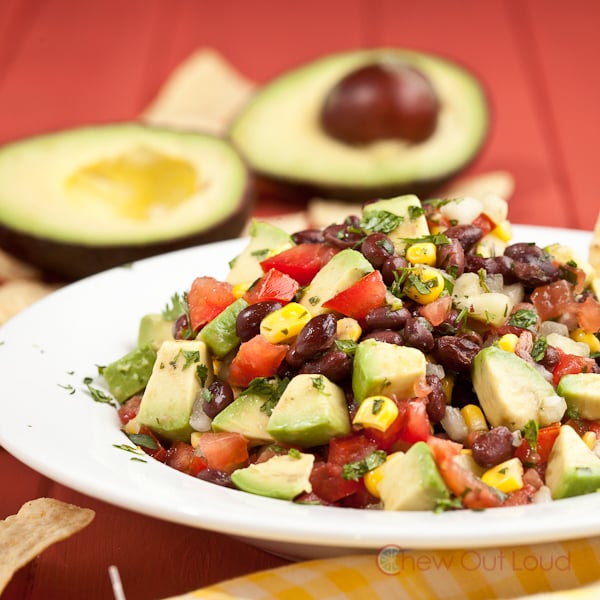 OK, my absolute favorite popcorn in the whole big wide world is this super easy Kettle Corn!