Chocolate Dump Cake with Frosting
This Chocolate Dump Cake is an irresistibly moist, tender, decadent one-bowl chocolate cake. Chocolate Cream Cheese Frosting is magical. This chocolate dump cake recipe is an instant winner.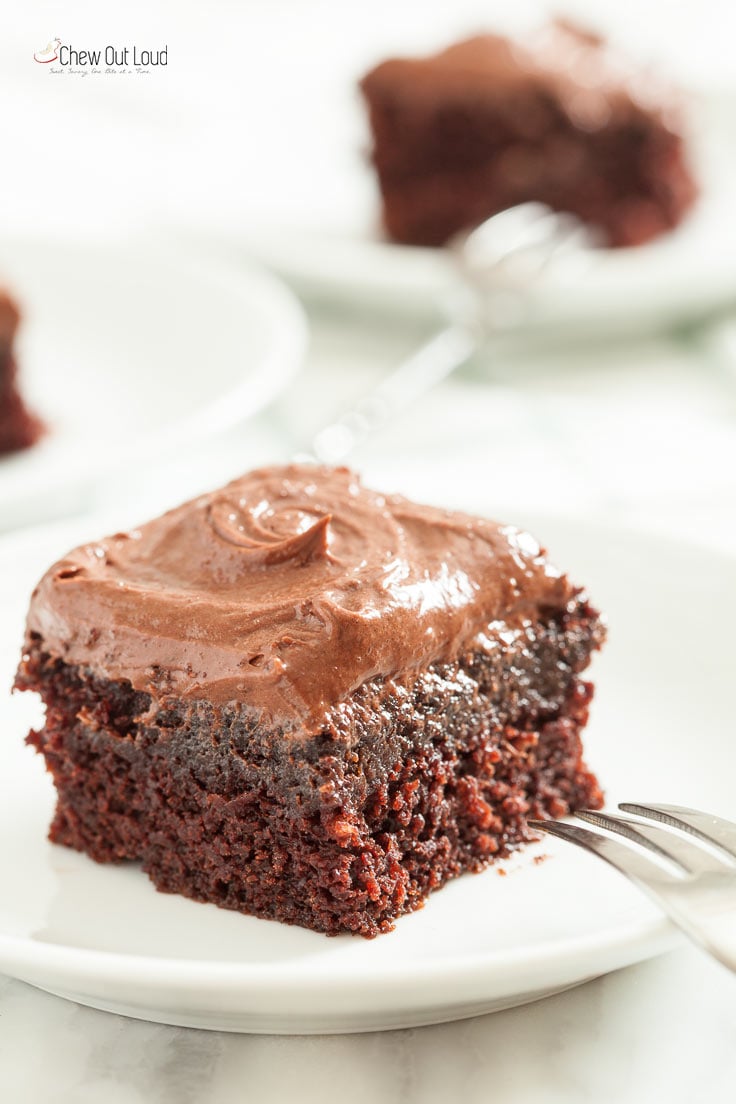 Moist Chocolate Dump Cake has arrived
December, you're my favorite month that's not summer. Coming from a summer girl through and through, that is saying quite a lot.
Here's why I adore you, December:
You make all the stores and neighborhoods glow with the prettiest of lights. Except for the neon white LED's that need some warmth to them, but hey, we are all a work in progress.
Your appearance at the end of each year puts a spring in people's steps we normally don't see.
You make it ok for people to smile and say Merry Christmas. It's the only time of year anyone uses the word merry.
You make me like the snow for one month. (Other Months, did you hear that?)
You make it ok to bake and eat as many treats as often as we want, before we go on rabbit food in January.
With that, let me introduce you to Chocolate Dump Cake with Chocolate Cream Cheese Frosting…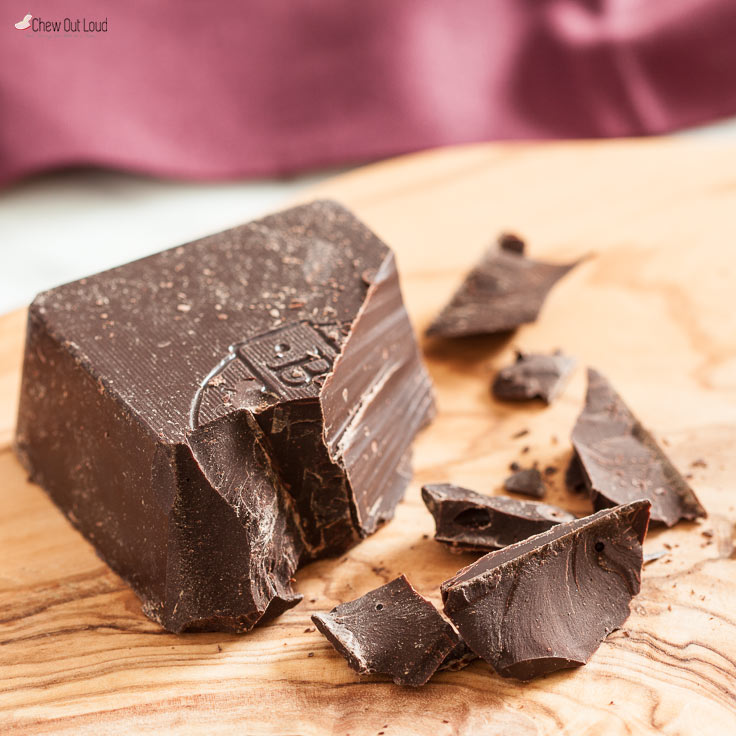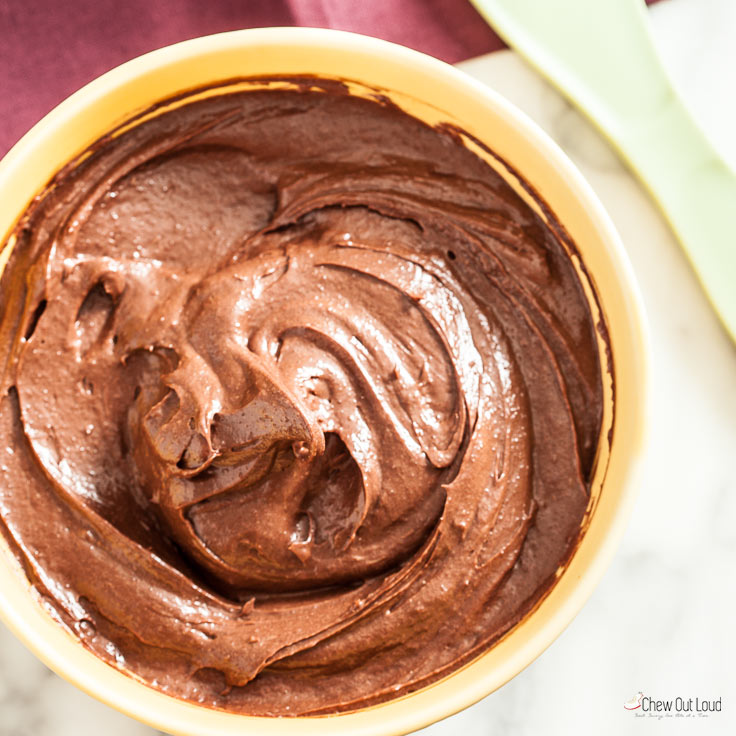 What is Chocolate Dump Cake, you ask?
Chocolate Dump Cake is one of the easiest, moistest, and delicious-est chocolate cakes that ever emerged from the oven. In fact, friends have literally almost-screamed in my ears that this is the best chocolate cake they've ever had.
I think it got its not-cute name from an old-fashioned method of tossing all the ingredients into a mixing pot –not bowl — and then baking it in your pan of choice. I went with my fave 9×13 for ease of traveling. It's awesome for get togethers because sharing prevents me from devouring the entire pan, which I would do if it kept chaperoning me in the kitchen.
Whoever makes this cake, be ready to either share the recipe several times or just be designated to always bring it. Or most likely both.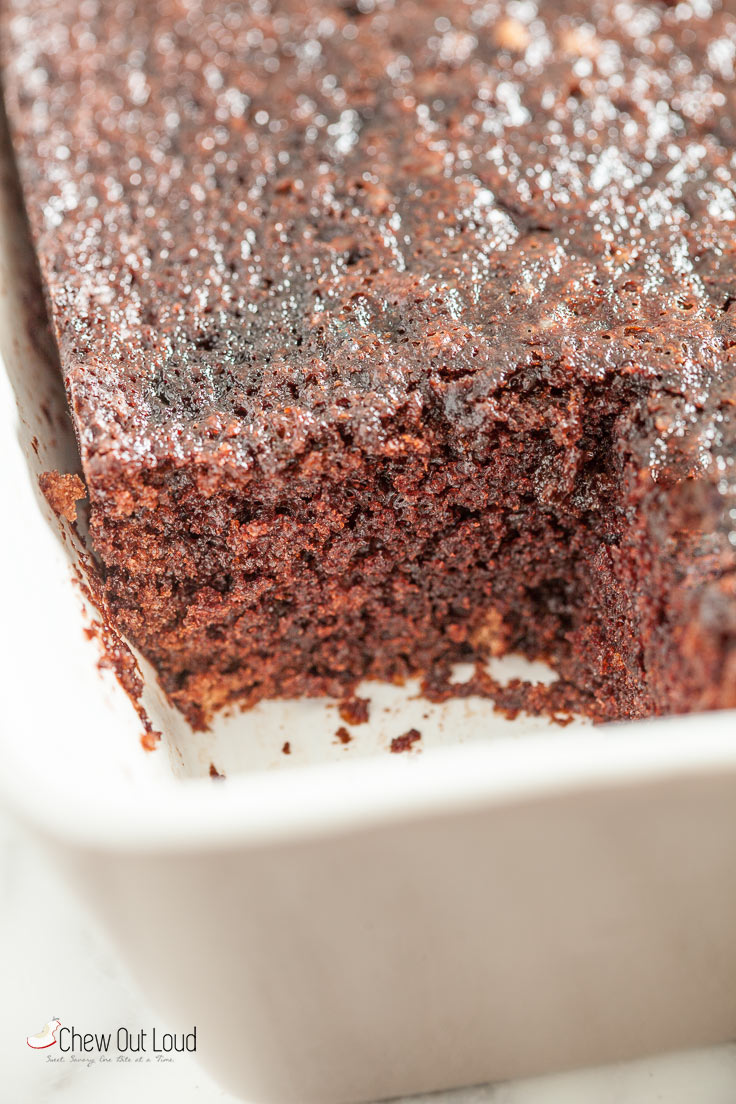 Key tips for your best chocolate dump cake in the world
Use the best (seriously best) dark chocolate you can get ahold of. Dark chocolate is the key that unlocks the rich, deep chocolatey flavors of this dump cake.
Buttermilk is used in this chocolate dump cake recipe, as it lends a delicious tang and tenderness to the flavors and texture.
Instant coffee granules are your secret weapon when it comes to chocolate cake recipes in general. Decaffeinated instant coffee granules are fine. Just make sure they're the instant granules that usually come in a box of very-small individual packages that quickly dissolve in hot liquid (definitely not ground coffee or coffee grinds.)
Whether you choose to frost your chocolate dump cake with chocolate cream cheese frosting is fully up to you…but let it be known that it's high recommended 🙂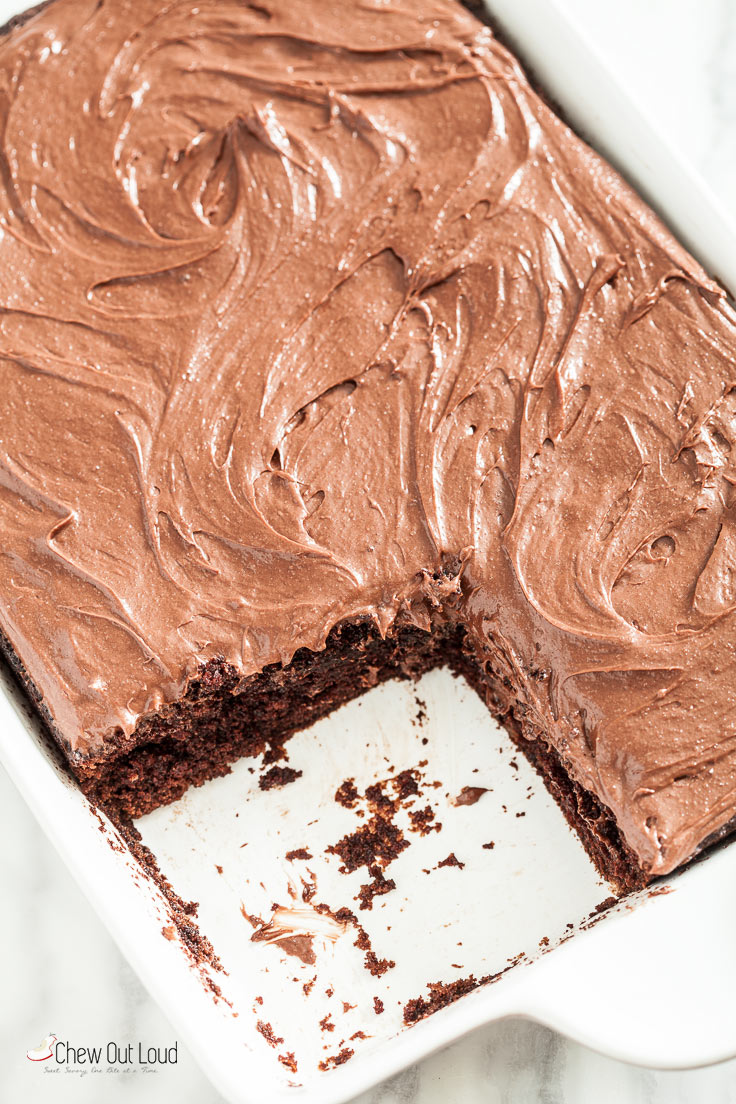 Chocolate Cream Cheese Frosting is a winning match
This Chocolate Dump Cake is all about being tender and moist and addictive. It gets its huge dose of chocolatey oopmh from good quality dark (or extra dark) chocolate.
Now is not the time to skimp on good quality dark chocolate. Because chocolate is the very crux of why this cake tastes so extraordinary. It looks like a humble little thing, but any chocolate lover will fall head over heels over this one.
The sweet, tangy chocolate cream cheese frosting is the most marvelous match for this cake. I'm not normally a huge frosting fan, but this frosting I can and do eat with a spoon.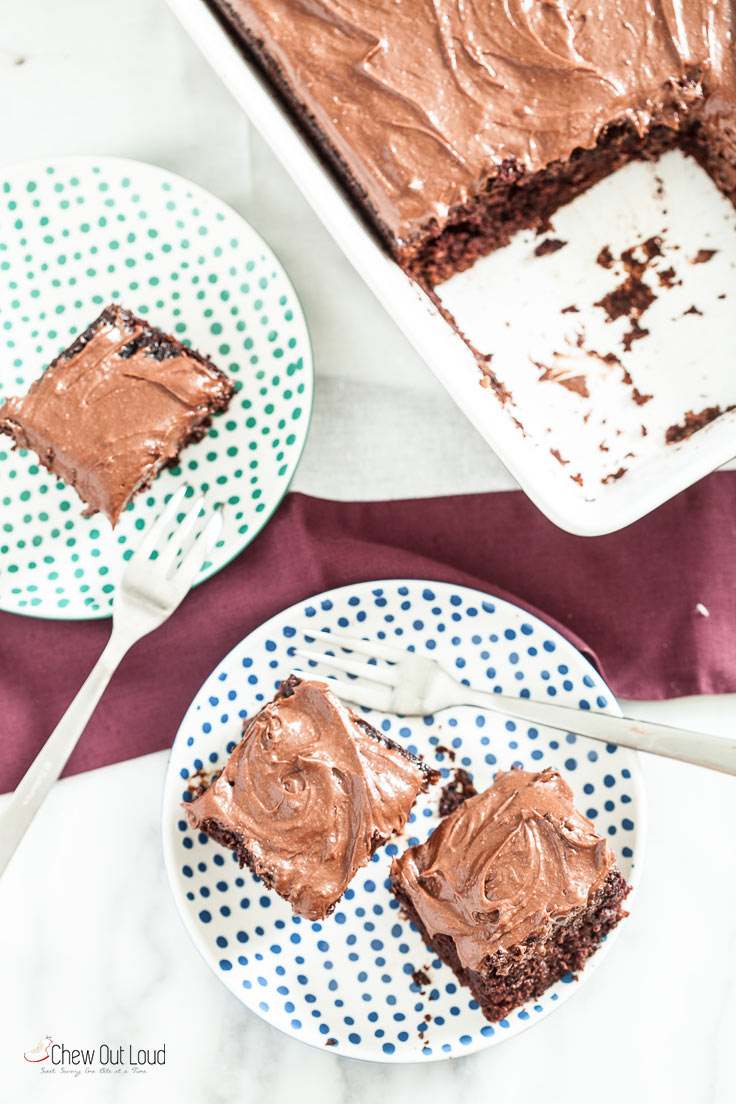 Now. We'll be moving onto cookies, more cake, and more cookies.
Thanks, December.
Speaking of cookies, watch us make these famous thumbprints:
Did you make this?
Please give us a rating and comment below. We love hearing from you!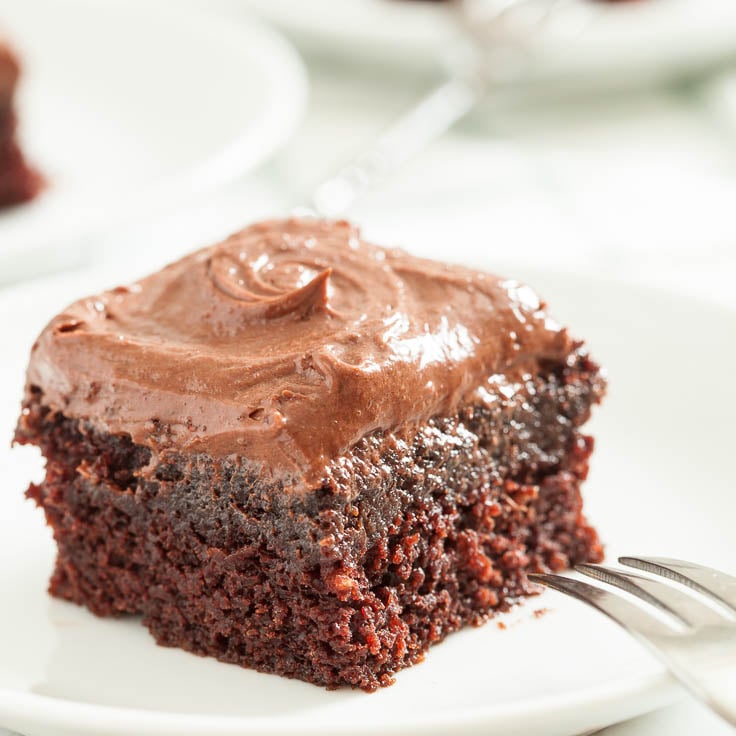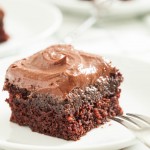 Chocolate Dump-it Cake with Chocolate Cream Cheese Frosting
This Chocolate Dump-it Cake is irresistibly moist, tender, chocolatey, and gets a decadent boost with a creamy Chocolate Cream Cheese Frosting! It's an instant winner everywhere it goes.
Ingredients
For the Cake:
2

cups

397 grams granulated sugar

5

ounces

good quality dark chocolate

,

roughly chopped

½

cup

113 grams unsalted butter

1

cup

240 ml water

1

TB

instant coffee granules,

decaf is fine

1

cup

240 ml buttermilk

2

eggs

2

teaspoons

vanilla extract

2

cups

283 grams all-purpose flour

2

teaspoons

baking soda

1

teaspoon

baking powder

1

teaspoon

salt
For the Chocolate-Cream Cheese Frosting:
8

ounces

cream cheese,

at room temperature

½

cup

113 grams unsalted butter, at room temperature

3

cups

340 grams powdered sugar

½

cup

43 grams unsweetened cocoa powder

¼

teaspoon

salt

1

teaspoon

vanilla extract
Instructions
For the Cake: Preheat oven to 375F with rack on lower middle position. Grease a 9×13-inch baking pan and set aside.

In a saucepan over medium heat, stir together the sugar, dark chocolate, butter, water, and coffee granules. Occasionally stir until mixture is melted smoothly together. Remove from the heat and let cool slightly, about 10 minutes.

Whisk in the buttermilk, eggs, and vanilla. Sift the flour, baking soda, baking powder and salt into the pot in three additions, whisking gently to combine after each addition. Mixture will be liquidy.

Pour the batter into the greased pan and spread into an even layer. Bake until toothpick inserted in center comes out mostly clean, 30 to 40 minutes (a few tender crumbs attached is perfect.) Allow the cake to cool completely before frosting.

For the Frosting: Using an electric mixer, beat together the cream cheese and butter on medium-high speed until creamy, about 3 minutes, scraping down the bowl as needed. Sift in the powdered sugar, cocoa powder, and salt. Add vanilla. Mix on low speed at first, as powdered sugar can fly upwards; increase to medium-high speed and beat until frosting is smooth and whipped, about 1 minute.

Spread the frosting evenly over the top of the cooled cake.
Notes
If you prefer, instead of using 1 TB instant coffee granules: sub with 1 cup very strong brewed coffee in place of the water. I highly recommend using either the instant coffee granules or brewed coffee, as it enhances the chocolate flavor of the cake (it will not taste like coffee at all.)
Cake can be stored at moderate room temp for a few days. If room temp is warm, cover and chill leftover cake.
Nutrition (per serving)
Calories:
377
kcal
|
Carbohydrates:
53
g
|
Protein:
4
g
|
Fat:
17
g
|
Saturated Fat:
10
g
|
Polyunsaturated Fat:
1
g
|
Monounsaturated Fat:
5
g
|
Trans Fat:
0.4
g
|
Cholesterol:
54
mg
|
Sodium:
406
mg
|
Potassium:
147
mg
|
Fiber:
2
g
|
Sugar:
40
g
|
Vitamin A:
483
IU
|
Calcium:
52
mg
|
Iron:
2
mg
Adapted from Brown Eyed Baker
Chocolate Craze…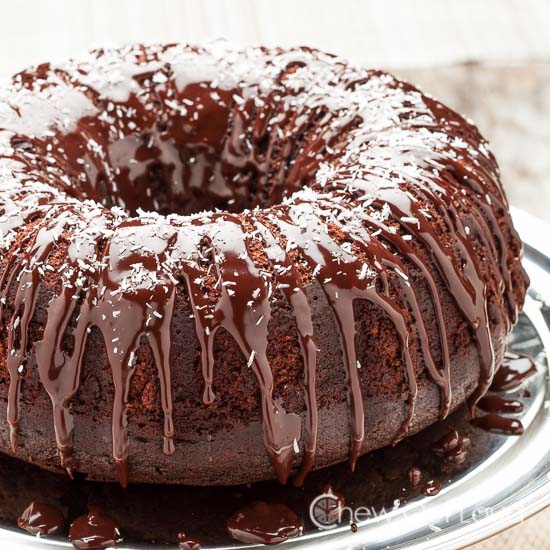 3. Triple Chocolate Mousse Cake