Brie en Croute
This super easy Brie en Croute consists of a buttery, flaky pastry exterior. Once sliced, it reveals warm silky Brie lying just beneath the surface. The perfect party appetizer.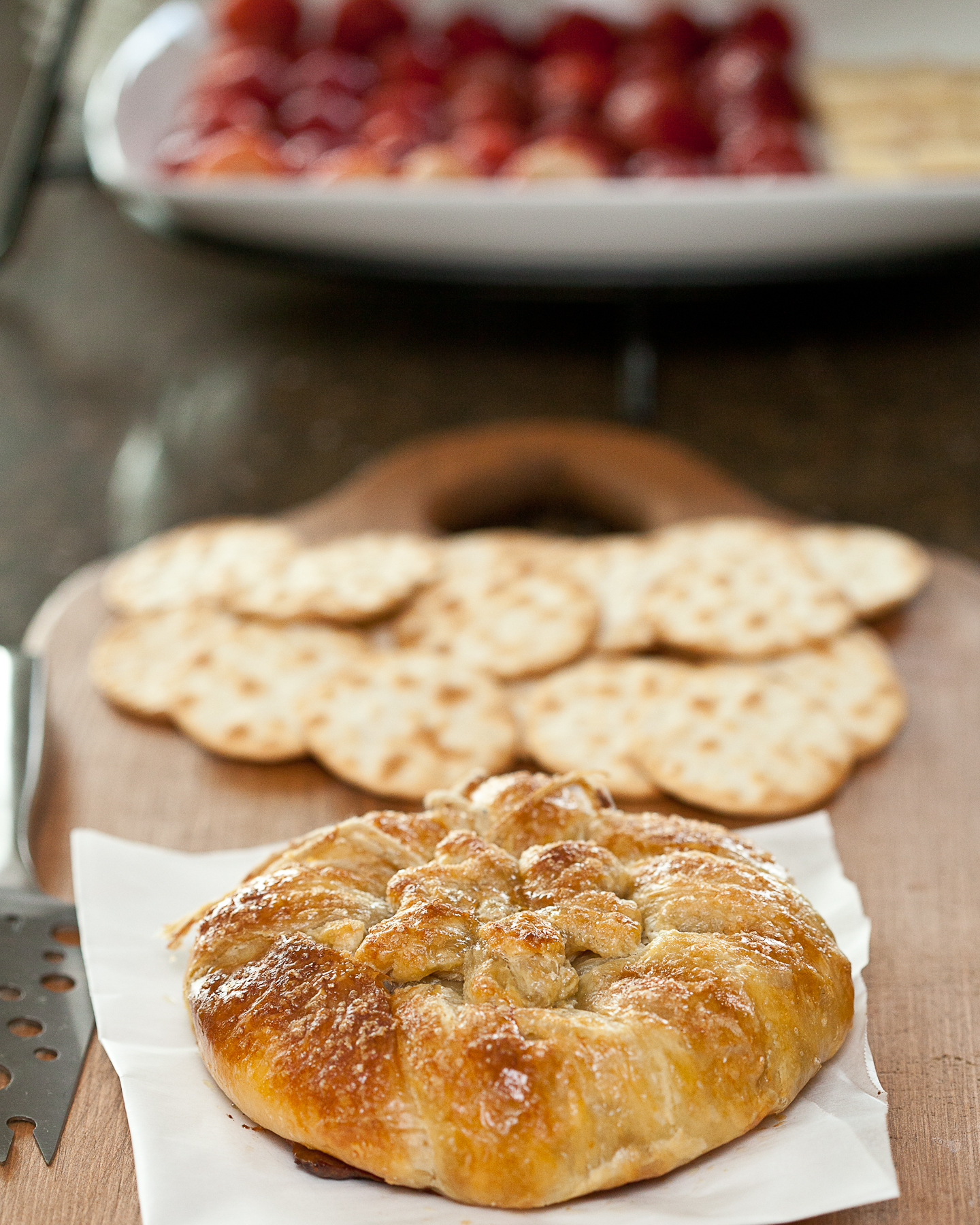 Brie en Croute
Ready or not, here it comes! December has arrived and holiday season is absolutely in full swing. The ongoing festivities beckon a cheerfulness that warms the chilly air, even for self-proclaimed cold wimps as myself.
In honor of this magical season, I'm showing off the delectable little Brie en Croute that's popular on my dinner party menu. Cute, isn't it? Some of the best things come in little packages.
This cheesy hor d'oeuvres is gigantic on flavor, and will take the edge off the hunger while your family/friends wait for dinner to be served. Beware of this phenomenal brie en croute's capacity to steal the show. Definitely be forewarned that the recipe will be highly requested. Either that, or you'll be asked to make it every year thereafter. It could easily become your annual contribution.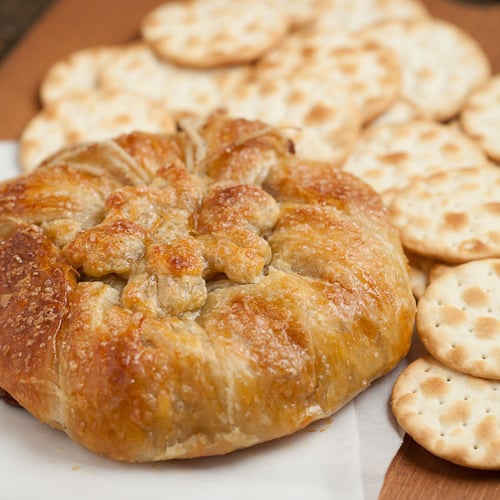 Flaky Pastry on the outside
Brie en Croute. It's pronounced on-kroot, with gutteral french accent. Don't forget to roll the "r." Keep repeating just for fun, oui?
In French, "en croute" refers to anything delish baked in a pastry crust. That is indeed the sweet secret of this appetizer. On the outside, it appears to be some kind of rotund pastry thingy flanked by crackers. Oh, but once it is sliced into… that is the big reveal.
Warm, melty brie cheese on the inside
The first slice into the buttery, flaky pastry exterior reveals the warm silky Brie lying just beneath the surface.
Resting on top of the soft Brie cheese is a gorgeous layer of toasted pecans and sweet raspberry preserves. We love how flexible this Brie en Croute is; select your favorite nut and fruit mixture, if pecans and raspberries aren't your cup of tea. Almost any combination will result in a fabulous treat.
The combination of flaky pastry crust with melty cheese makes this the ultimate hor d'oeuvres to serve at your next little get together.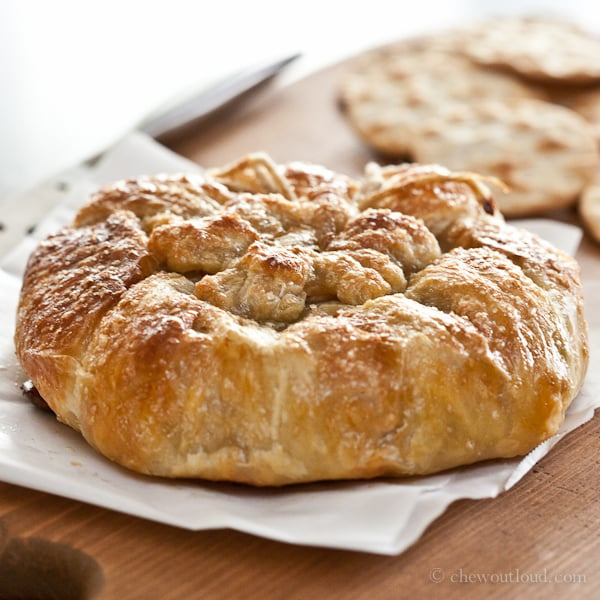 Prep it Ahead and bake when ready to serve
My favorite part about Brie en Croute? It is unbelievably easy to pull off. It's quickly assembled ahead of time, to be baked up right before you need it. Just try to let it cool off a bit after baking before digging in, if you can wait.
Feel free to experiment with various flavor variations: top the brie cheese with fig jam, raspberry preserves, cinnamon-sugar, toasted chopped pecans, or dried cranberries.
However you dress it up, Brie en Croute is perfect to include on the holiday menu, whether you're the host or the guest. Your hostess won't be mad if you present this to her as a hostess gift, either.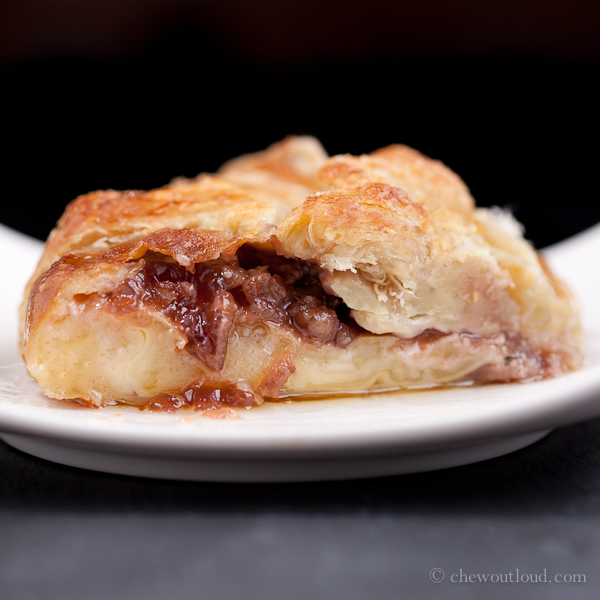 ---
---
Did you make this?
Please give us a rating and comment below. We love hearing from you!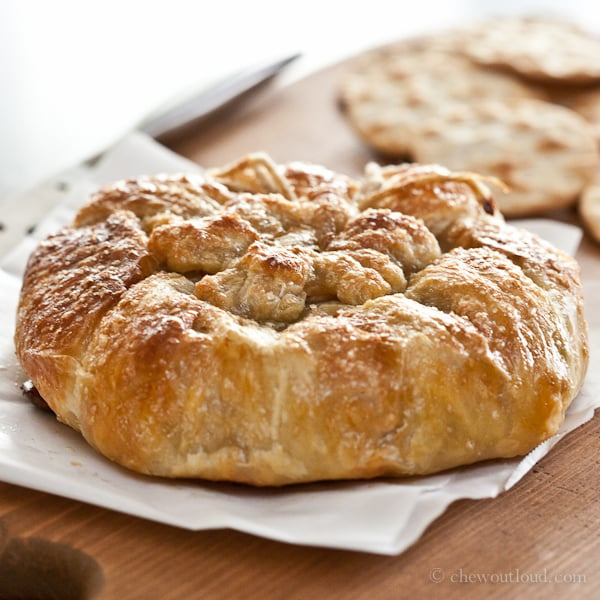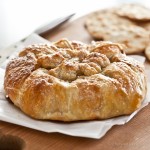 Brie en Croute
This super. easy Brie en Croute consists of a buttery, flaky pastry exterior. Once sliced, it reveals warm silky Brie lying just beneath the surface. The perfect party appetizer.
Ingredients
1

sheet frozen puff pastry

1 8

oz

whole wheel Brie

¼

cup

raspberry preserves

,

or other fruit

¼

cup

pecans,

toasted and chopped

1

beaten egg

Turbinado

,

or coarse sugar for garnish

Assorted crackers for serving alongside
Instructions
Defrost puff pastry about 15 minutes and unfold. Preheat oven to 375F and set rack in middle.

Slice off a thin layer of top rind only (we leave the rest of rind on, but feel free to remove it if desired.)

Lay puff pastry sheet out on flat surface and roll out just a little bit if needed to cover entire Brie. Place Brie in center of the pastry. Top brie with nuts and preserves. Gently pull up edges of pastry, wrapping the Brie completely, and gather pastry edges at the top.

Secure the gathered dough at top with kitchen twine. Double check that none of the Brie is exposed, carefully sealing the dough on all sides. Brush the beaten egg all over top and sides of pastry. Sprinkle with turbinado sugar.

Place Brie on parchment paper on cookie sheet. Bake 20 minutes or until pastry is a nice golden brown. Allow to cool at least 15 minutes before serving. Serve with assorted crackers.
Notes
Baked brie should cool a bit before serving, to allow it to regain a bit of shape. Otherwise, it will be too melty inside. Also, you can use extra puff pastry to make cut-outs for exterior design, if you're going for a special presentation.
If you enjoyed this recipe, please come back and give it a rating ♡
Nutrition (per serving)
Calories:
174
kcal
|
Carbohydrates:
11.5
g
|
Protein:
5
g
|
Fat:
12.1
g
|
Saturated Fat:
3.8
g
|
Cholesterol:
27.5
mg
|
Sodium:
143
mg
|
Fiber:
0.5
g
|
Sugar:
2.9
g