Green Tea Ice Cream
By Amy Dong
Published Jul. 2, 2015
Updated May. 30, 2023
Green Tea Ice Cream is my favorite ice cream off the beaten path. It's a delicately mouthwatering balance of sweetness, creaminess, and green tea earthiness. Now you don't have to go to a Japanese restaurant to enjoy green tea ice cream.
I love Japanese food for two reasons. The first is sushi. I can't get enough of freshly made sushi; it's the first thing I start eyeing the minute we walk through any Japanese restaurant.
The second reason I'm giddy over Japanese food: green tea ice cream. It's like icing on the cake. Ya gotta have a bowl of green tea ice cream after every good sushi run.
Except now I no longer have to wait so long for my green tea ice cream fix…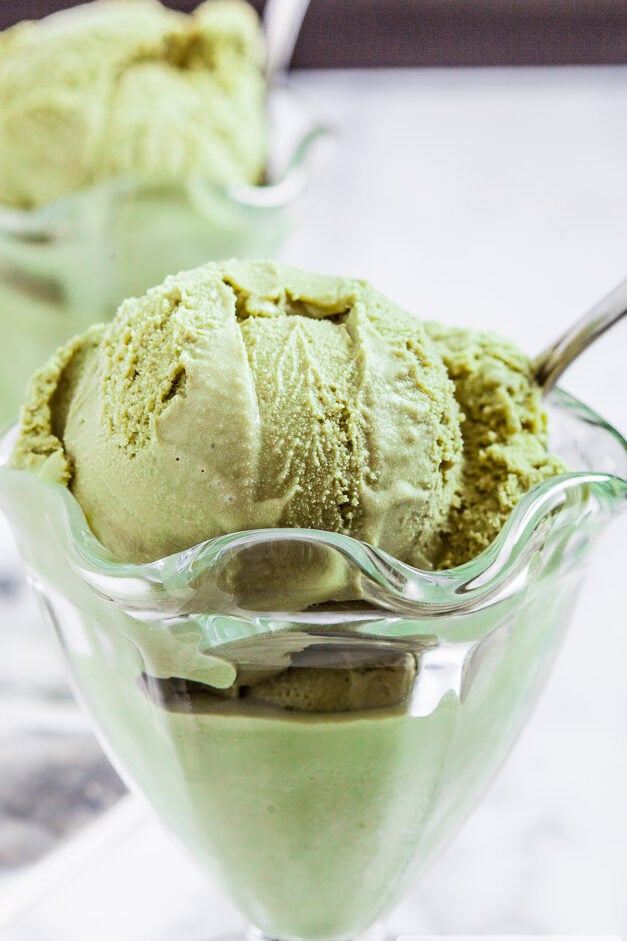 Even when Hubby and I used to overindulge at favorite sushi bars in LA, we always made room for green tea ice cream at the end.
I mean, you can't get good green tea ice cream just anywhere. It's not your everyday traditional flavor. Except for Trader Joe's Green Tea Mochi ice cream, which is heavenly, I've yet to find any other stores in my area that sell it.
Maybe one day we will see green tea ice cream sitting happy next to the cookies 'n cream in freezer cases everywhere. Until then, here's a fabulous recipe for making your own at home. Yeah, you'll need an ice cream maker. I got mine on Amazon for $30 several years ago and it's been such a worthwhile gadget.
You know exactly what goes onto every scoop of creamy ice cream you dish up. That's important to me since my family can put away ice cream like there's no tomorrow.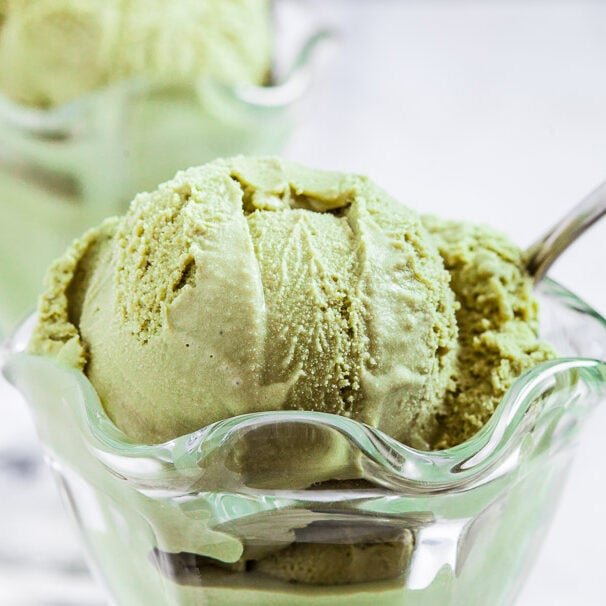 Making green tea ice cream is wonderfully simple. Good Matcha green tea powder is essential, of course. Marvelous Matcha. If you're lucky enough to live near a good Asian grocery store, you can find Matcha green tea powder there. Otherwise, Amazon carries a variety of them.
Add the cream and sugar. Let your ice cream maker work it out all on its own. The result will be soft and velvety when done. The only hard part is waiting. It needs to be transferred to the freezer for a couple hours in order to get that firm ice cream consistency.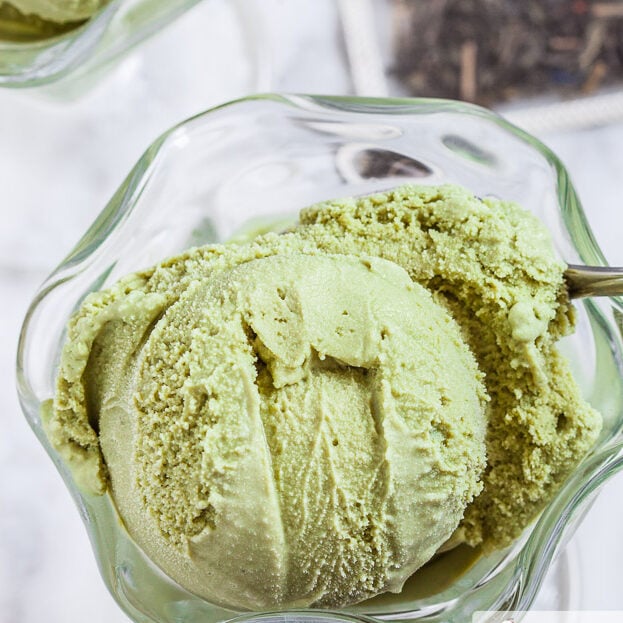 The waiting is tough but oh-sooo worth it. You can always pass the time with a plate of sushi.
Enjoy.
Did you make this?
Please give us a rating and comment below. We love hearing from you!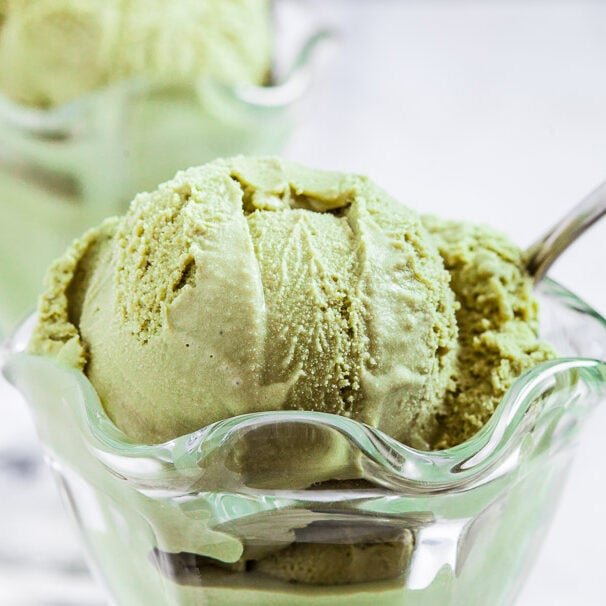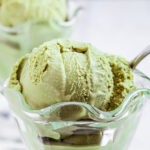 Green Tea Ice Cream
Now you don't have to wait until your next Japanese restaurant run to get green tea ice cream! Easily make this at home with your ice cream maker anytime the craving hits.
Instructions
In a heavy saucepan, combine half and half, sugar, and salt. Whisk and cook over medium heat until sugar is dissolved. Add green tea powder and continue cooking and whisking until powder is completely dissolved and mixture is hot but not boiling. Remove from heat and let cool to room temp. Cover and chill 2-3 hours in fridge or until fully chilled.

Make sure your ice cream maker is ready to go, with the container solidly frozen. Transfer chilled mixture to ice cream maker and churn according to manufacturer's instructions (I generally go about 30 minutes.) Ice cream will be somewhat soft when finished. Use a rubber spatula to scrape all ice cream into an airtight container. Freeze 3 hours or overnight before serving.

Note: Unless you use some kind of food coloring/dye, the ice cream will naturally be more of a muted green, as pictured above, rather than vibrant green.
Notes
Different brands of Matcha tea powder may have varying intensities. For best results, start with lower amount of Matcha powder and add to taste, prior to chilling/churning.
Nutrition (per serving)
Calories:
141
kcal
|
Carbohydrates:
15
g
|
Protein:
4
g
|
Fat:
7
g
|
Saturated Fat:
4
g
|
Polyunsaturated Fat:
0.3
g
|
Monounsaturated Fat:
2
g
|
Cholesterol:
21
mg
|
Sodium:
55
mg
|
Potassium:
80
mg
|
Sugar:
15
g
|
Vitamin A:
449
IU
|
Vitamin C:
1
mg
|
Calcium:
65
mg
|
Iron:
1
mg
We all scream for ice cream. Here are a few of our faves:
Cookies and Cream Ice Cream. Oh my, oh my…better than any store bought version.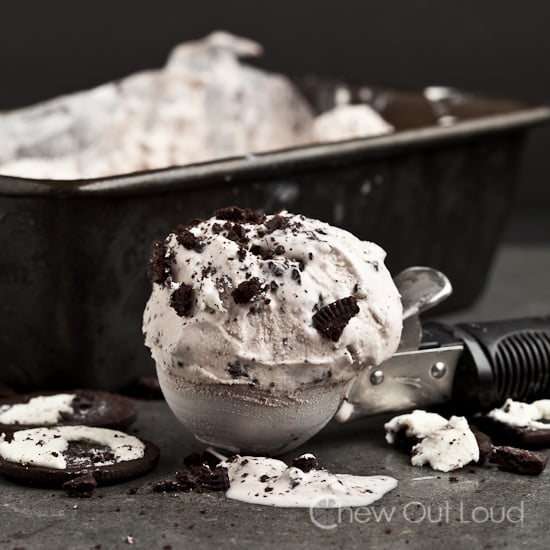 Mint Chocolate Chip Ice Cream. Or Peppermint Bon Bon in some regions. Whatever you call it, we think you'll agree it's phenomenal.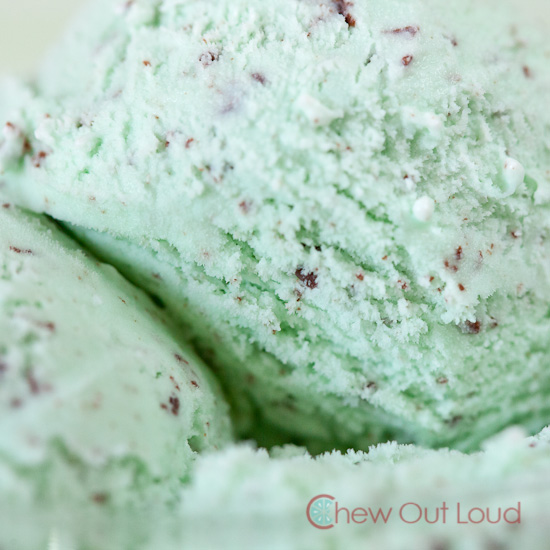 Easy Chocolate Ice Cream. For all the chocolate lovers who don't want to deal with tempering eggs, this one's for you. Chocolatey delicious.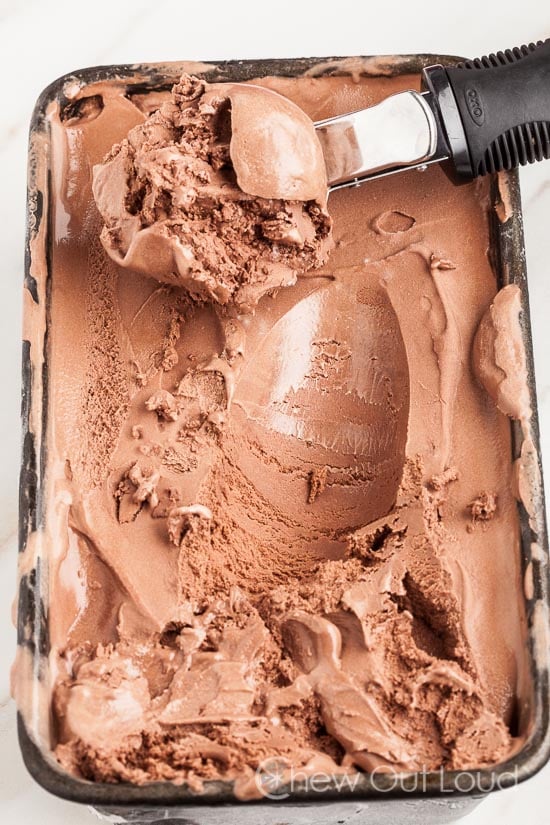 Snickerdoodle Ice Cream. Who says snickerdoodle goodies are only for winter holidays? This is a favorite summer treat, and one you won't easily find elsewhere.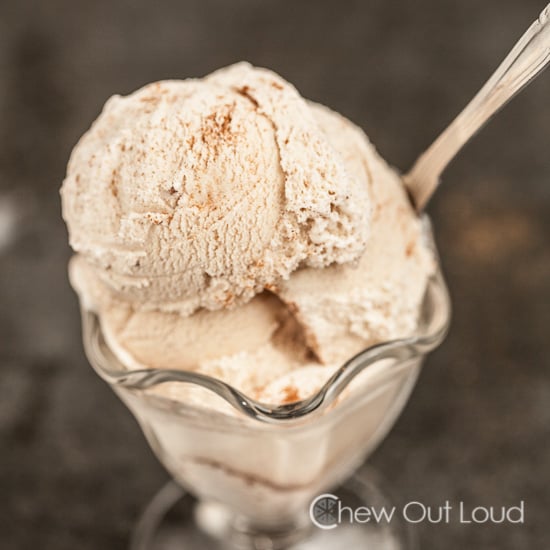 Very Berry Ice Cream. Berries, berries and more berries! This ice cream is totally natural and creamy good!