Cookies and Cream Ice Cream
By Amy Dong
Published Aug. 27, 2020
Updated Aug. 17, 2023
With only 5 ingredients, this Cookies and Cream Ice Cream is not only extremely easy, but incredibly delicious. Even with no eggs, this ice cream has a creamy and rich texture.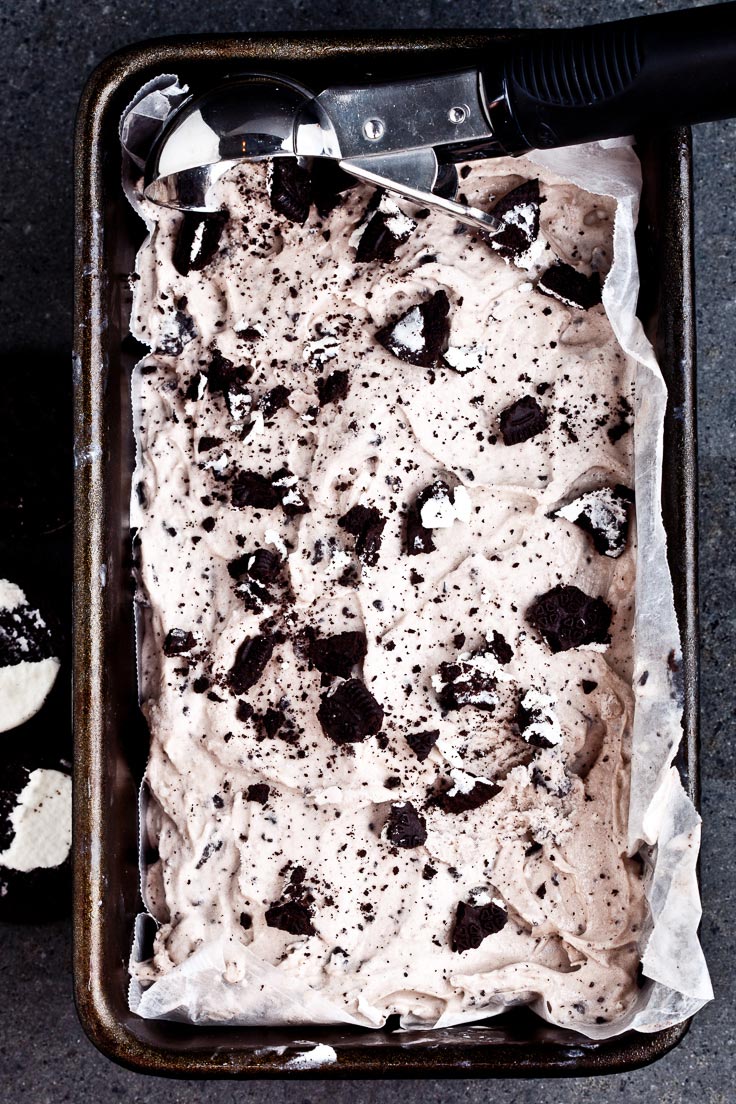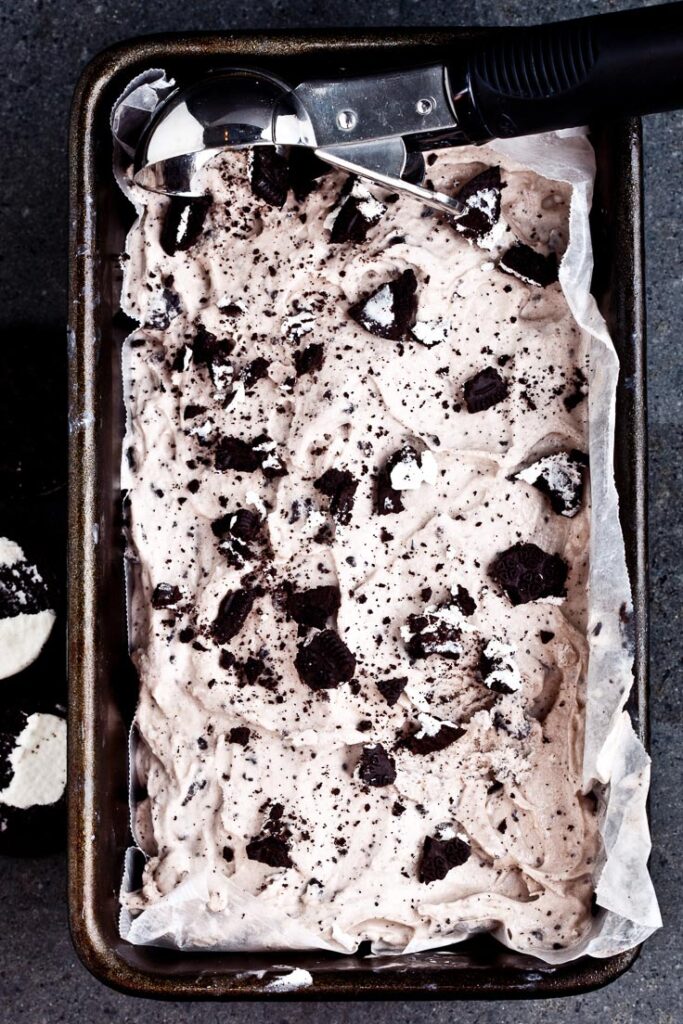 Homemade Cookies and Cream Ice Cream
When I got my ice cream maker years ago, I felt like a kid with a new toy. Except with this cool toy, everyone gets to play and all players win.
This trusty Cuisinart ice cream maker has been reliably churning out ice cream flavors like creamy mint chip and gorgeous very berry ice cream. Nearly all flavors, including creamy chocolate, have only 5 or less ingredients. Only real, natural ingredients – nothing you can't pronounce.
The possibilities are endless with this little machine. The kids are fascinated by the occasionally overflowing ice cream that cascades over the sides when we've been overly enthusiastic with our add-ins (tip: follow the machine's instructions and you'll be fine.)
Everyone clamors for a spoonful of taste-testing with each new ice cream creation before it even gets transferred into a container. Can't say I blame 'em, especially when it comes to my personal favorite flavor: cookies and cream.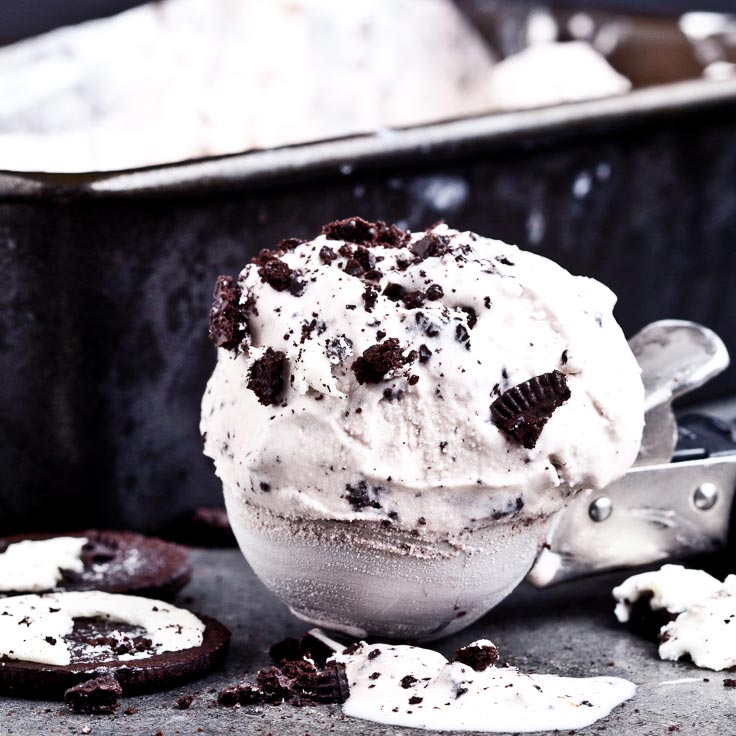 Creamy Ice Cream, Without Eggs
This version of Cookies and Cream Ice Cream is a serious contender for World's Best Ice Cream, with its creamy smooth sweetness and crunchy chocolate cookies strewn throughout.
You'll be amazed at how rich and creamy this ice cream tastes, despite the fact that there are no eggs nor egg yolks here. You'll appreciate not having to fuss with tempering eggs vigilantly over the stove.
This ice cream gets its creaminess simply from milk and cream. Whole milk is highly recommended for the creamiest texture possible. When the mixture is allowed to churn in a freezing-cold ice cream maker, cold air is worked into the mixture with every churn. The end result is a decadently rich ice cream that will set up beautifully.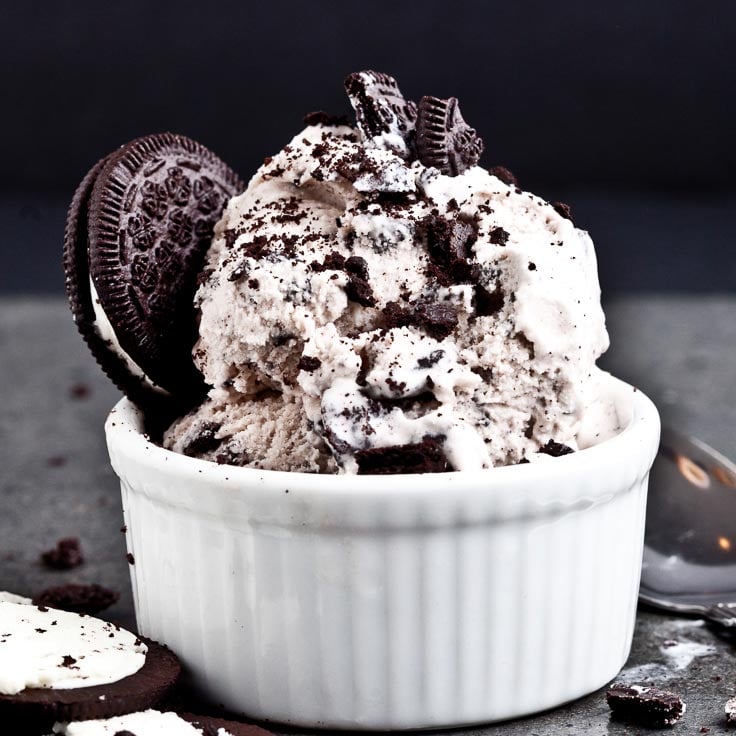 Smart Strategies for Success
Next time you have Oreo-type cookies in the pantry, set a few aside for this ice cream recipe. The cookies can even be frozen in an airtight zipper baggie until you're ready to use them.
The key to successful churning is starting with freezing-cold items. Be sure your ice cream maker's churning bowl has been frozen solid prior to using. Don't take it out of the freezer until the very last minute, when you're ready to pour your ice cream mixture into it.
5 minutes ahead of time, place a metal mixing bowl and hand-whisk in the freezer. You'll typically be using those to stir your ingredients together. This way, your milk and cream will stay very cold.
For those of us who like to do things our own creative way (raising my hand): follow manufacturer's instructions for add-ins. If you get over-zealous, you may end up with overflow.
Have a container ready for transferring finished ice cream into. A rubber spatula will ensure every bit of ice cream gets transferred. Cover the container airtight and let rest in the freezer for an hour or two for ice cream to set firmly.
There are 2-quart ice cream makers available now as well, if you'd like to get more ice cream out of each use.
More Ice CreaM
---
Did you make this?
Please give us a rating and comment below. We love hearing from you!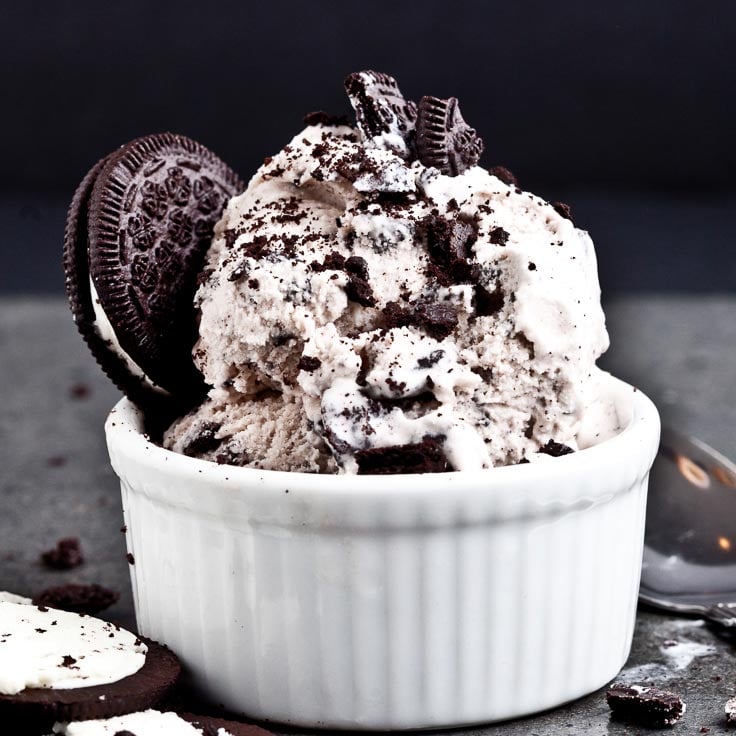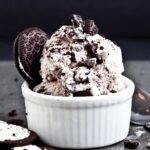 Cookies and Cream Ice Cream
This Cookies and Cream Ice Cream is wonderfully rich and creamy, with no eggs. Only uses a handful of simple, real ingredients.
Instructions
In a cold bowl, whisk together milk and sugar until sugar is dissolved. Stir in heavy cream and vanilla.

Pour mixture into ice cream maker's freezer bowl. Let it churn for about 20 minutes (or according to your machine's manufacturer instructions.)

Add in the chopped Oreos and keep churning for another 5-10 minutes or until mixture is thick and creamy. If your machine's instructions vary for add-ins, please follow those instructions instead.

Use rubber spatula to transfer ice cream to a freezable container. Cover airtight and place in freezer about 2 hours to set up firmly.
Notes
I like to scrape off the cream filling and just use the crispy cookies in this recipe; it's up to you whether to remove filling or use whole cookies.
Chopped cookies can be frozen in airtight zipper baggie well ahead of time, until you're ready to use.
Prior to starting with this recipe, place a metal mixing bowl and hand-whisk in the freezer for a few minutes; this ensures that all your ingredients stay very cold.
If you enjoyed this recipe, please come back and give it a rating ♡
Nutrition (per serving)
Calories:
361
kcal
|
Carbohydrates:
19.9
g
|
Protein:
0.9
g
|
Fat:
32.2
g
|
Saturated Fat:
8.7
g
|
Trans Fat:
0.3
g
|
Cholesterol:
27.1
mg
|
Sodium:
28.7
mg
|
Sugar:
18.1
g