Mint Chocolate Ice Cream Bon Bons
My last post featured our family recipe for homemade mint chip ice cream. Before the fam could polish off the entire batch, I decided to put my speed skills to test and whip up a batch of Mint Chip Bon Bons. True, these little guys require some quick juggling. Oh, but they are adorable and so fun to pop into your mouth.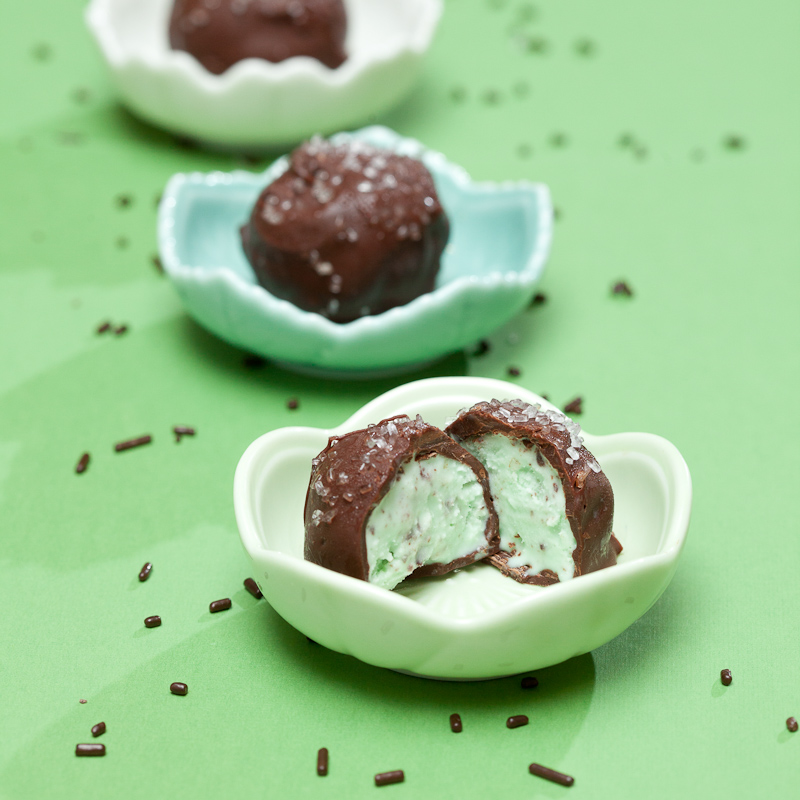 I found a few great tips on how to quickly coat the ice cream balls from food plus words . The more frozen solid your ice cream balls are prior to working in the melted chocolate, the easier it will be. You will definitely want to make the ice cream balls the night before so they can set solidly overnight.
If you appreciate mint chip ice cream, you'll adore these cute bon bons. My favorite part is that they can be kept frozen for however long and easily brought out for an impressive sweet treat when friends come calling. Make-ahead-so-you're-not stressing-last-minute type of dessert. I love it.
RECIPE (maybe 20-30 bon bons, depending on how big you make them)
INGREDIENTS
1.5 quart mint chip ice cream
1/2 – 1 cup semi sweet chocolate chips
1-2 tsp vegetable oil
sugar crystals for decoration
DIRECTIONS
Make mint chip ice cream a day or two beforehand, or buy a good carton of it (i.e., Dreyers/Edy's). Using firmly frozen ice cream, scoop ice cream into small balls and place onto parchment or wax lined plate. You might have to put plate back in freezer here and there are you work, especially if your ice cream starts getting a bit soft. Insert toothpick into each ice cream ball. Leave all ice cream balls in freezer to firm up well overnight.
Melt chocolate and oil in a bowl over saucepan of simmering water, not allowing bowl to touch water. Stir until melted and smooth. Remove from heat and let cool off a bit, so it's still melted but not hot.
Working quickly and with small batches at a time, hold each ice cream ball by toothpick and spoon melted chocolate all around it. Set bon bon down on parchment/wax lined plate and remove toothpick. Quickly sprinkle sugar crystals over top before chocolate firms up. Repeat in batches until all bon bons are complete. Freeze for a couple of hours, if you can wait that long!
Source: Chew Out Loud