Easy Vanilla Ice Cream (No Eggs)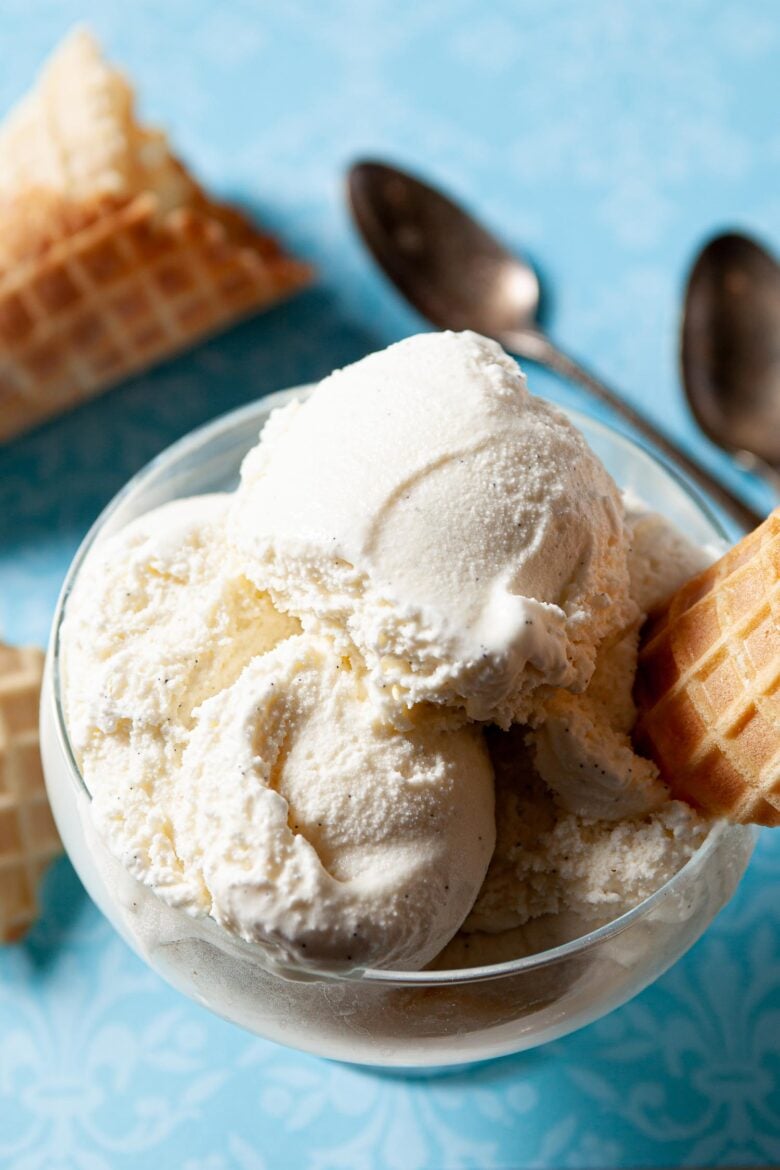 Easy Vanilla Ice Cream
There's nothing quite like a creamy scoop of vanilla ice cream on a hot summer day. Then again, we like ice cream all year round. Winter, fall, spring; it doesn't matter. There's always an occasion for ice cream. We just can't get enough of that soft, creamy, goodness; which is why we love whipping it up at home.
If you've never made homemade ice cream it can seem daunting, but with a good ice cream maker it can be a cinch! Vanilla ice cream, especially, is pretty straightforward. It's even easier if it doesn't take eggs. You just mix the ingredients and let the freezer and ice cream maker do the work. Homemade ice cream has that pure, fresh, creaminess that's unrivaled even by your favorite ice cream brands.
Why This Recipe Stands Out
It has just 4 ingredients. Just whole milk, heavy cream, sugar, and vanilla extract (with the option of fresh vanilla beans) are all that's needed for this perfect dessert.
It doesn't use eggs. Although eggs make an ice cream extra creamy, they do require more prep time and effort. Eggless ice creams are still absolutely delicious and so easy to make.
This vanilla ice cream tastes better than store bought, because it's made with fresh, simple ingredients.
It's the perfect base to experiment with add ins. Try mixing in chocolate, sprinkles, berries, or any of your favorite toppings.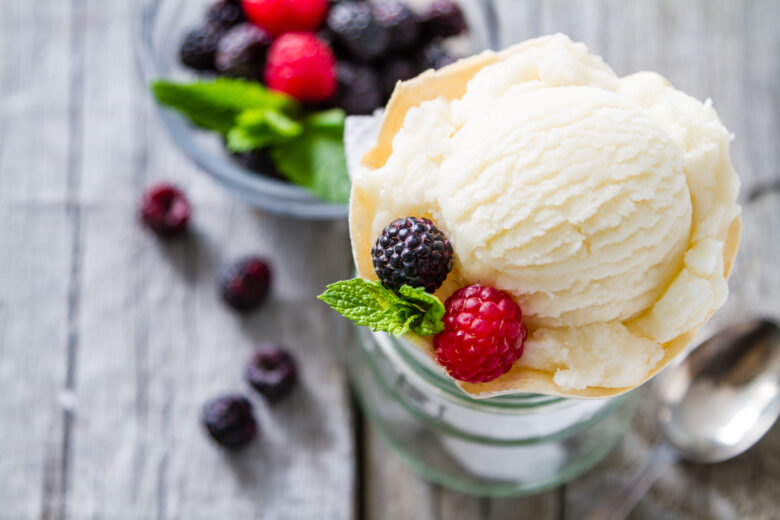 Key Ingredients
This easy vanilla ice cream is made with kitchen staples that you may already have at home. Only fresh ingredients like milk, cream, and sugar make the best ice cream and leave you with a dessert free of preservatives and artificial ingredients.
Whole Milk – We like using whole milk instead of a lower fat percentage, because it makes the ice cream extra creamy and soft.
Heavy Cream – Note that heavy cream is ever-so-slightly different than whipping cream. We use heavy cream because of its higher fat content that helps make the ice cream soft and easy-to-scoop.
Sugar – Granulated sugar works just fine for this recipe! It offers the perfect level of sweetness to balance the heaviness of the milk and cream. Sugar also will help to prevent your ice cream from becoming rock solid when you freeze it, leaving it soft, creamy, and scoop-able.
Vanilla Extract – That tantalizing smell comes with a flavor like no other. It's what makes this vanilla ice cream what it is.
Vanilla Bean – Although this ingredient is optional, we highly recommend it for the best flavor. Those little vanilla bean specks take this easy ice cream to the next level.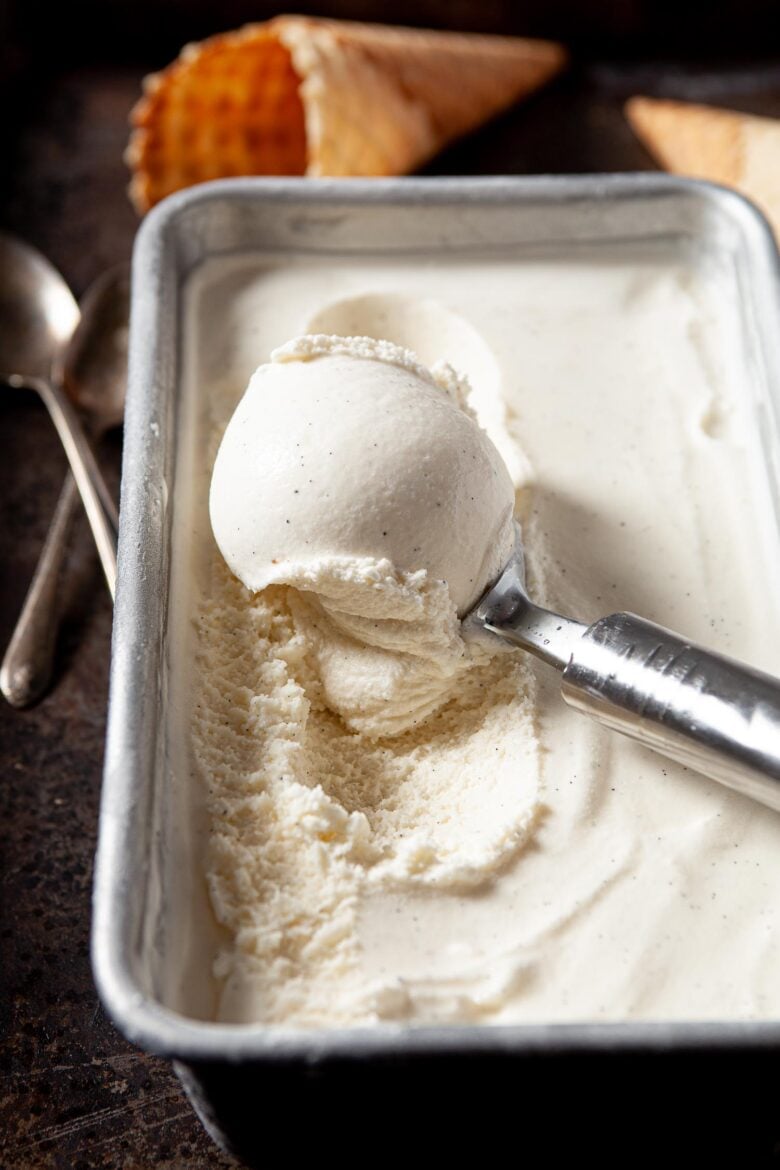 Key Tips For Success
This ice cream is so easy to throw together which is why we think it's not only delicious, but great for beginners. Here are a few simple tips and tricks for the perfect ice cream every time:
Use all the fat. Use whole milk and heavy cream to get the best results. Since this recipe doesn't use eggs, it really relies on the dairy for that thick, creamy texture.
Note your ice cream maker instructions. We estimate about 20-25 minutes for the ice cream to churn, but your ice cream maker may require more or less time. Make sure to take a peek at the instructions on your machine to see the best churning times for you.
Don't forget to chill and freeze. This recipe chills the ice cream mixture before and after churning. We know it's hard to wait with that creamy, fluffy vanilla ice cream staring you in the face, but let it chill and freeze to ensure the most smooth, creamy, and thick ice cream. You won't regret it!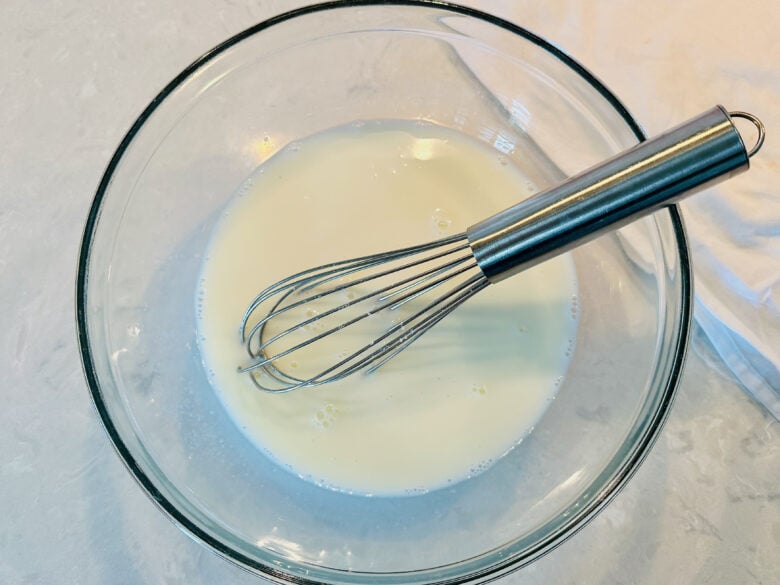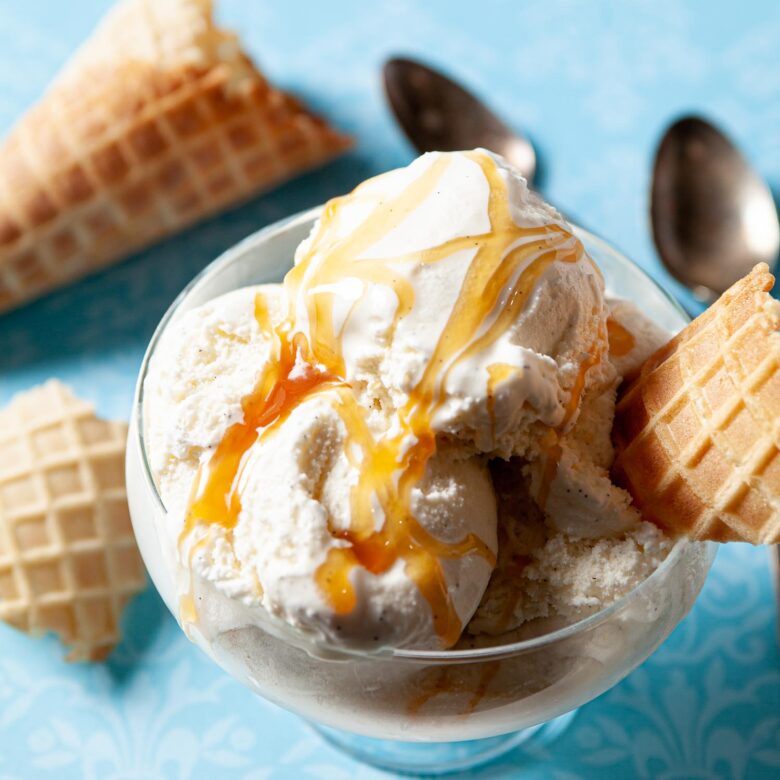 Ideas For Toppings And Desserts
If you're craving a classic ice cream sundae, try serving this easy 4-Ingredient Salted Caramel Sauce or this rich and delicious Hot Fudge Sauce with this recipe.
We love all the ice cream toppings. Try mixing in Oreo crumbles, chocolate shavings, cookie dough pieces, peanut butter cups, jam, fruit, or any other topping that sounds good. This simple vanilla ice cream is the perfect opportunity to get creative.
Easy vanilla ice cream is also perfect for a classic root beer float. For coffee lovers, we love incorporating vanilla ice cream in an affogato. Use a couple shots of espresso or try this Easy Cold Brew recipe.
We love vanilla ice cream alongside our favorite warm, comforting desserts. Try this Apple Pie with Flaky Butter Crust or this Amazing Blueberry Pie. When those chocolate cravings hit, we love the classic combo of Chocolate Cake or Fudgy Brownies with this creamy vanilla ice cream.
Commonly Asked Questions
How long will easy vanilla ice cream keep?
Homemade vanilla ice cream keeps for about 2-3 weeks before it starts to get freezer burn. However, we find it hard to keep it that long, because it always mysteriously disappears in less than a week.
How can I make French vanilla ice cream?
French vanilla ice cream is different from regular vanilla (Philadelphia-style) ice cream, because it uses egg yolks. This recipe uses no eggs. If you're looking to make homemade French vanilla try this creamy vanilla bean ice cream recipe.
Can I make this recipe dairy free?
This specific recipe works best with whole fat dairy milk and cream. If you're looking for an amazing dairy free ice cream, try this recipe here.
Is homemade ice cream better with eggs?
It all depends on what you're looking for. If you love a rich, custardy ice cream with that slightly golden color, you'll probably prefer ice cream with eggs. If you prefer a lighter, creamy ice cream that's pure white, you'll probably like the eggless version better.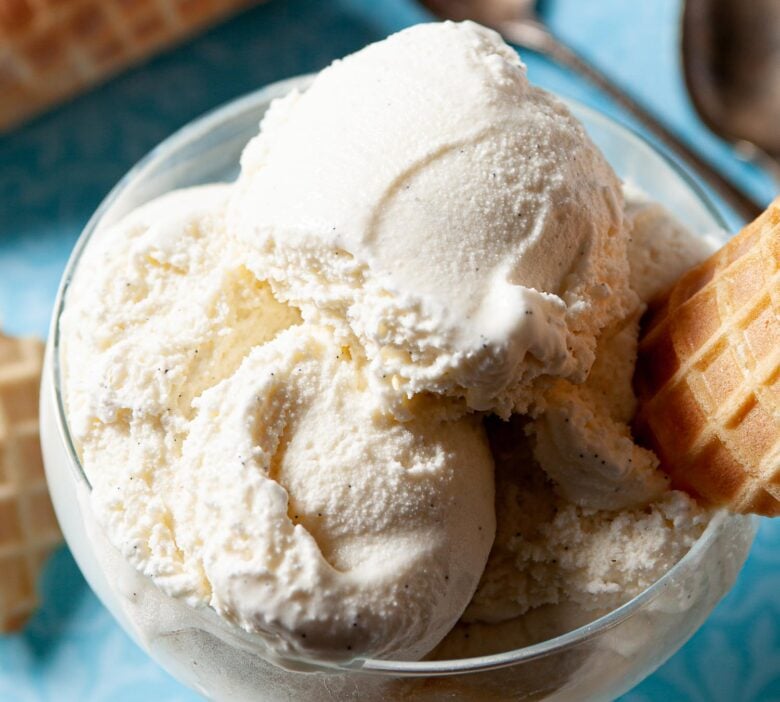 Did you make this?
Please give us a rating and comment below. We love hearing from you!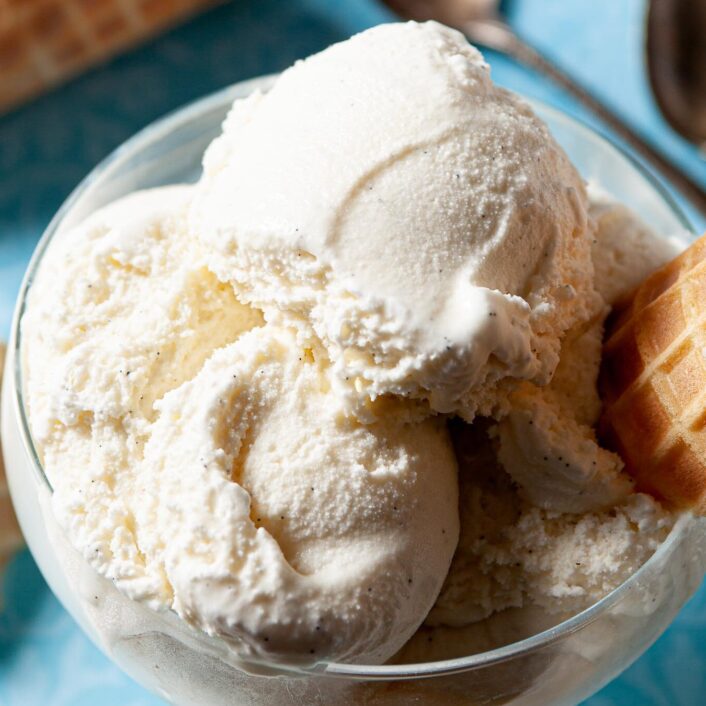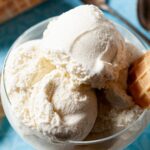 Easy Vanilla Ice Cream (No Eggs)
With just 4 simple ingredients and no eggs, this easy vanilla ice cream is perfect for beginners to the homemade ice cream game. It's soft, creamy, and packed with delicious vanilla flavor!
Instructions
In a medium bowl, add milk and sugar. Whisk well until sugar is dissolved. Add heavy cream and vanilla extract, stirring to combine. If desired, split vanilla bean pods in half and scrape out the seeds into the milk mixture. Whisk to fully incorporate. Place bowl into freezer for about 15 minutes, to chill the mixture.

Turn on ice cream maker. Use rubber spatula to transfer mixture into the frozen freezer bowl and churn according to your machine's manufacturer instructions, generally 20-25 minutes. Mixture will be soft and creamy, with a consistency similar to soft serve.

Use rubber spatula to fully transfer ice cream into a freezer-safe container (we use a metal loaf pan). Cover and freeze at least 2 hours, or until ice cream firms up. Serve with caramel sauce, hot fudge sauce, fresh berries, sprinkles, or simply as-is.
Notes
This super easy ice cream recipe does not require tempering of egg yolks. Thus, the consistency will be less thick than ice cream with eggs. However, the use of whole milk and heavy cream provides a creamy texture, and the flavor is fantastic.
If you'd like a thick and rich vanilla bean ice cream, see our creamy vanilla bean ice cream.
We've been using this Cuisinart Ice Cream Maker for many years with great results.
If you enjoyed this recipe, please come back and give it a rating ❤️
Nutrition (per serving)
Calories:
238
kcal
|
Carbohydrates:
18
g
|
Protein:
2
g
|
Fat:
18
g
|
Saturated Fat:
11
g
|
Polyunsaturated Fat:
1
g
|
Monounsaturated Fat:
5
g
|
Cholesterol:
57
mg
|
Sodium:
22
mg
|
Potassium:
84
mg
|
Sugar:
18
g
|
Vitamin A:
739
IU
|
Vitamin C:
0.3
mg
|
Calcium:
62
mg
|
Iron:
0.1
mg