Stovetop Chili
This stovetop chili is teeming with healthy, hearty ingredients and bursting with great depth of flavor. The seasonings meld together perfectly.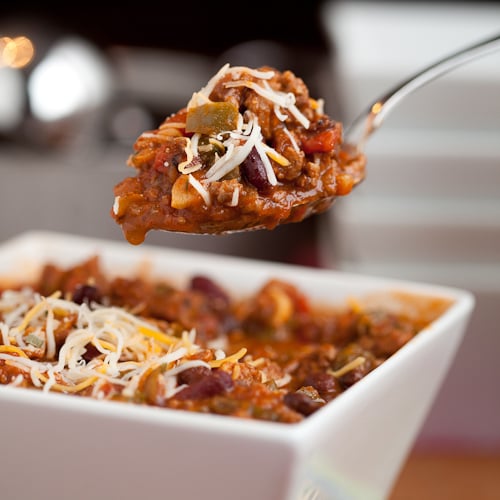 Stovetop Chili
We're bracing ourselves for an insane cold front, scheduled to arrive in a couple of days. The anticipation of well-below-zero afternoons brings on a certain amount of trepidation. My favorite remedy against frigid temps, besides curling up by the fire? Food, of course 🙂 Something big and hearty, like this chunky Chili.
This could be dubbed Super Chili. It's a man's chili. Whatever that means. Superbowl food? This makes a huge batch, so it definitely would feed a bunch of hungry guys. Bottom line: This is our favorite chili of all time, and we've had many a chili. I got this recipe from my good friend Tiffany, known as Auntie Tiff to my kids. She generously shared her famous chili recipe with me, and I have never looked for another. Thank you!
Ground Beef or turkey
I've tweaked this Chili recipe a bit over the years, but it's still the same delicious hot bowl that your peeps will love to sit down to after coming indoors on a cold winter day. A warming dinner, perfect after a long day at work or at play. This hearty chili is almost enough to make you feel you've defeated that dreary blizzard outside. Not really, but it is pretty phenomenal.
I often use ground turkey in lieu of beef, but either works great. The savory turkey or beef is mixed with chunky veggies like sweet bell peppers and tomatoes. The heat is up to you. Top it off with shredded cheese and watch that yummy cheese melt into your hot bowl of chili. Sweet corn muffins are deliciously moist and go perfectly with chili, every time.
Enjoy, stay warm, and feed some hungry friends!
—————————————————————————————————————————
RECIPE (10-12 servings)
INGREDIENTS
2 lbs. lean ground turkey or beef
1 tsp garlic powder
1 tsp kosher salt
1 tsp fresh round black pepper
1-2 TB light olive oil
32 oz good tomato sauce (I love Premium Hunts Pasta Sauce for thickness and flavor)
16 oz can Italian diced tomatoes, with juices
16 oz can kidney beans, drained
16 oz can black beans, drained
6 cloves garlic, minced
3 green bell peppers, seeded and chopped
2 medium onions, chopped
2-4 tsp chili powder, depending on desired amount of heat
1 tsp cumin
1 tsp salt
2 tsp sugar
Dash of cayenne
Dash of Tabasco sauce
Dash of allspice
Shredded Cheddar or Jack cheese for topping
DIRECTIONS
Mix uncooked ground meat with 1 tsp garlic powder, 1 tsp kosher salt, and 1 tsp pepper. Mix together well. Add olive oil in a large heavy pot or Dutch oven and cook meat until browned, breaking it up while you cook.
In same heavy pot or Dutch oven, add in the rest of ingredients to the browned meat. Bring to a boil, stirring frequently. Immediately reduce to simmer and cover. Simmer, covered, for 4 hours until flavors are infused.
Top with shredded cheese and serve with sweet corn muffins.
Source: Chew Out Loud
Note: Chili can also be done in a slow cooker. Cook on low for up to 7 or 8 hours, but not longer.