Hearty White Chicken Chili
I might have a new addiction to hearty foods. I recently gave you two of our favorites: Hearty, Chunky Chili and Hearty Chicken Noodle Soup. Maybe it's the winter; around our neck of the freezing woods, hearty dishes are more than a mild craving. Not to mention all the game-day celebrations, which call out for eats that would satisfy a crowd of ravenous guys. And gals 🙂
So, yeah, I'll go ahead and add another one to the hearty list. This white chicken chili hits the spot. When the weather is cold, I love having my slow cooker filled to the brim with this goodness.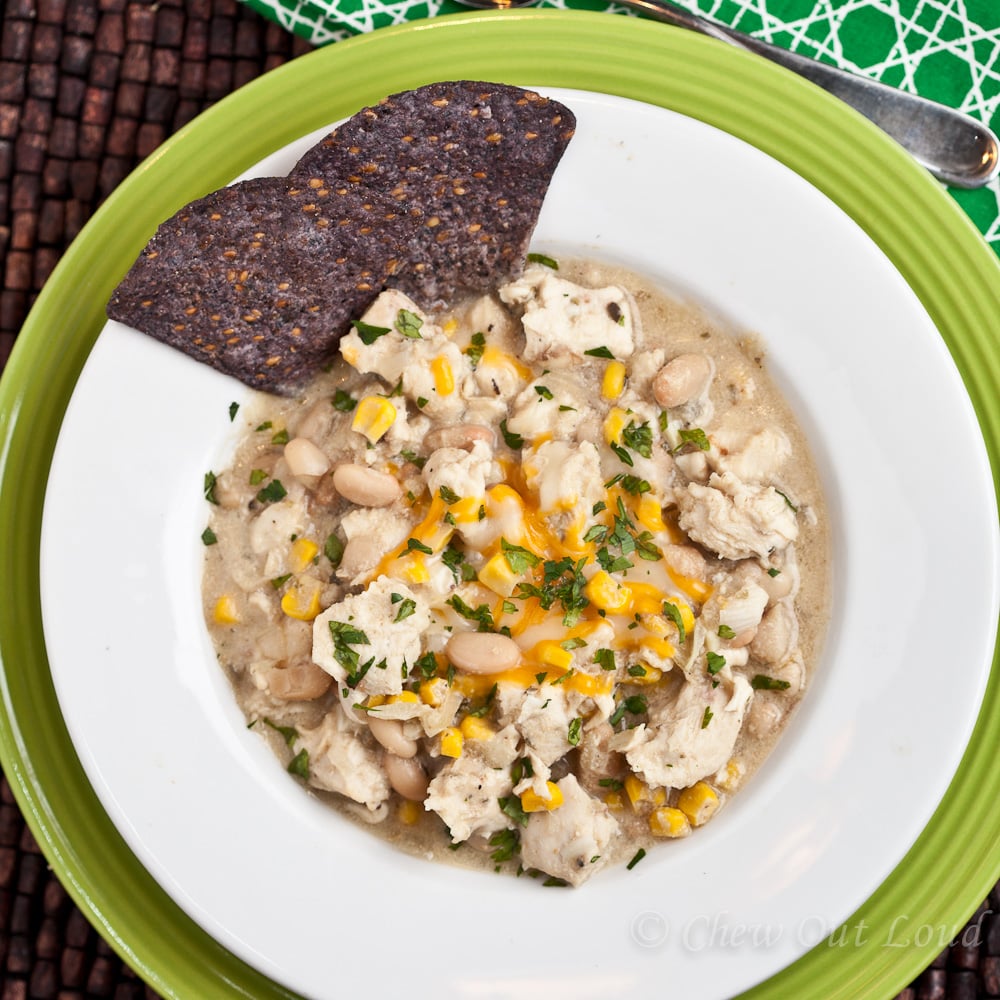 Hearty white chicken chili is all that its name suggests… and more. Chunky bites of tender white chicken, soft white beans, and sweet corn for texture. All bathed in a mouth-watering broth. Perfect if a chewy loaf of rustic bread were to show up alongside of it. Or bust out these easy sweet corn muffins…sooo YUM.
I've tried various white chicken chili recipes, but always return to this one as my go-to fave. They all taste yummy, but my laziness brings me back to this great recipe, because it's super e-a-s-y. As in, you don't have to cook the chicken meat separately first. Yep, it's true. Just throw all the goodness into one big slow cooker and let it go. Just let it go. Dinnertime 🙂
———————————————————————————————————-
RECIPE (10-12 servings)
INGREDIENTS
4 lbs uncooked skinless, boneless chicken breast tenders, cut into chunks
3 (15 oz each) cans Northern beans, drained
2 (10.5 oz each) cans condensed cream of chicken soup
2 (15 oz each) cans corn
2 cups chicken broth
4 small onions, chopped
8 garlic cloves, minced
4 tsp oregano
2 1/2 tsp cumin
1 tsp Tobasco sauce
6 TB flour
salt and pepper to taste
Shredded cheddar for garnish, optional
DIRECTIONS
Combine all ingredients (except salt/pepper) into large slow cooker. Mix well to incorporate. Cover and cook on low for about 4 hours or until chicken is no longer pink and onions are soft. Season with salt and pepper to taste. Turn slow cooker to "warm" setting, and keep warm until ready to serve. If desired, garnish with shredded cheddar. Serve with bread, chips, or corn muffins.
Source: Chew Out Loud (adapted from an old recipe by my sweet friend Ashley)
Notes: If you want to thicken your chili further after cooking, mix in 1 TB of flour at a time until desired thickness is achieved and let it cook another 30 min or so. If you want to thin it out, simply add more chicken broth until desired consistency.