Sweet Corn Muffins, Moist 'n Tender
With Thanksgiving just around the corner, we've all been thinking about the dishes that we hope will grace our family dinner table for the eagerly anticipated holidays. Though sweet corn muffins are a treat our family savors year-round, these moist 'n tender muffins would be a fabulous addition to either breakfast, lunch, or dinner for the holidays.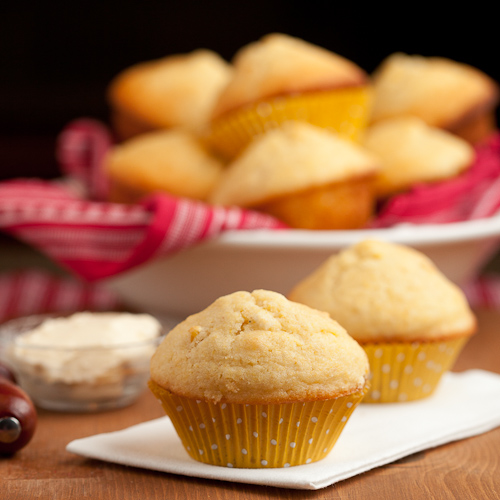 We've been using this perfect corn muffin recipe for years. Ten years, to be exact, as my tattered old Cooks Illustrated subscription reminds me. There has never been another corn muffin (or cornbread or any sort) that has rivaled this recipe. These muffins will be loved by both grown ups and kiddos, who will beg you to make them again and again. They aren't overly dry/crumbly, like so many corn bread/muffin recipes I've tried in the past, which is what made these muffins a keeper.
Not only are these sweet corn muffins easy to whip up, they are hearty and stay moist for days, as long as they aren't overbaked. They are tender and sweet, yet not at all cakey. These muffins retain a wholesome cornmeal flavor and rustic quality to them, due to the whole-grain cornmeal and corn kernels, replacing the usual degerminated cornmeal.
Pat on some whipped honey butter, plain butter, or eat em' just as they are… they are perfectly satisfying with any meal – breakfast, lunch, or dinner!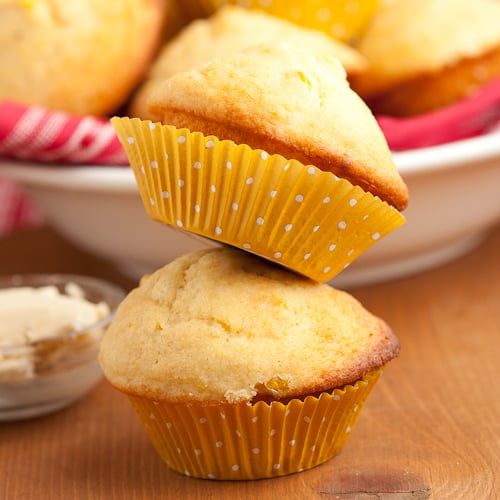 …or go a bit unconventional and call it dessert 🙂
——————————————————————————————————————-
RECIPE (12 large muffins)
INGREDIENTS
2 cups (10 oz) unbleached all purpose flour
1 cup (4.5 oz) fine ground, whole grain yellow cornmeal
1 1/2 tsp baking powder
1 tsp baking soda
2 large eggs
1 cup white sugar
8 TB regular butter, melted
3/4 cup whole sour cream
1/2 cup whole milk
1 1/2 cups frozen corn kernels
DIRECTIONS
Adjust oven rack to lower-middle position. Heat oven to 400F. Grease a standard muffin tin.
Whisk flour, cornmeal, baking powder, baking soda in a bowl to combine well. Set aside.
Whisk eggs in second bowl until well combined and pale light yellow, about 20 seconds. Add sugar and whisk vigorously until homogenous, about 30 seconds. Add melted butter in 3 additions, whisking to combine after each addition. Add half of the sour cream and half of the milk. Whisk to combine. Whisk in remaining sour cream and milk until combined.
Combine wet and dry ingredients together, mixing gently with rubber spatula until batter is just combined and evenly moistened; do not over mix. Gently fold in frozen corn kernels.
Using ice cream scoop or large spoon, divide batter evenly among muffin cups, dropping to form mounds. Do not level or flatten tops of mounds.
Bake until muffins are light golden and toothpick comes out almost clean (few tender crumbs are perfect.) Bake about 18-19 minutes, rotating tin halfway through baking time. Actual baking time varies with each oven, but watch closely not to over bake.
Cool muffins in tin for a bit. Serve warm.
Leftovers keep well in airtight container and can be reheated in microwave or oven.
By chewoutloud, adapted from Cooks Illustrated
*Note: Whole grain cornmeal has a fuller flavor than regular cornmeal milled from degerminated corn. To determine what kind of cornmeal a package contains, look at the label.