Mini Pumpkin Churros
This Mini Pumpkin Churros recipe is from Bobby Flay's newest cookbook. Just in time for fall. It's the perfect afternoon or weekend treat for grown-ups and kids alike – crispy, crunchy, pumpkin-y, and tender all at the same time!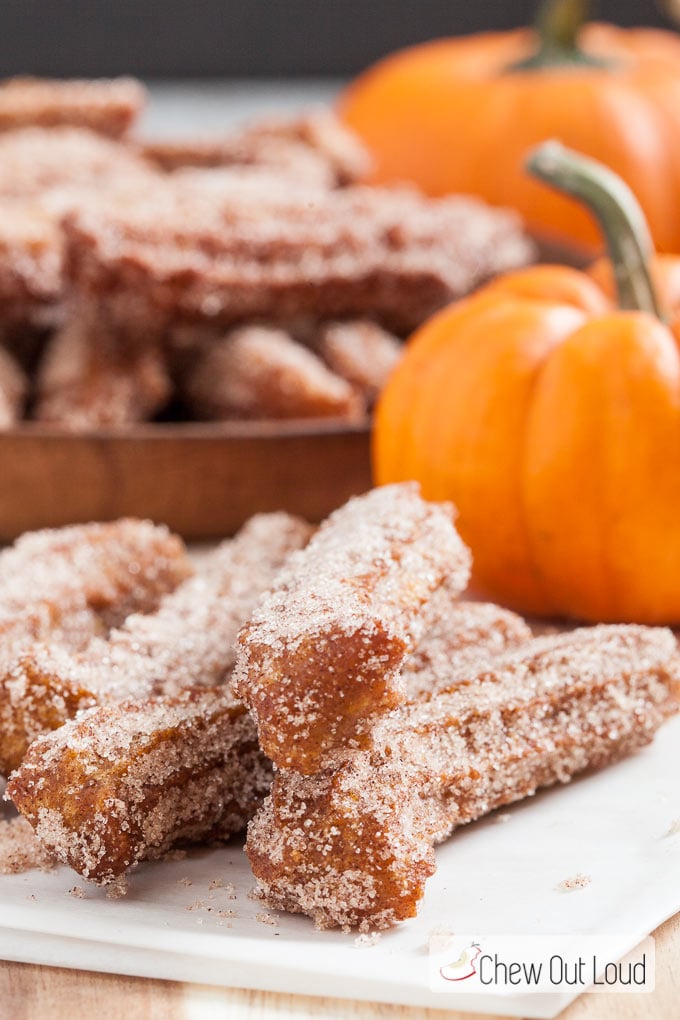 Homemade Pumpkin Churros
So yeah, this happens everyday. One grabs a cup of joe, sits down at her desk, gets on the phone and starts chatting with Bobby Flay.
That totally does not happen everyday. Just one day it did.
After my morning foam-rolling session (runners, unite) I armed myself nothing but fresh coffee and called Bobby Flay. #forreals
Here's how it went down…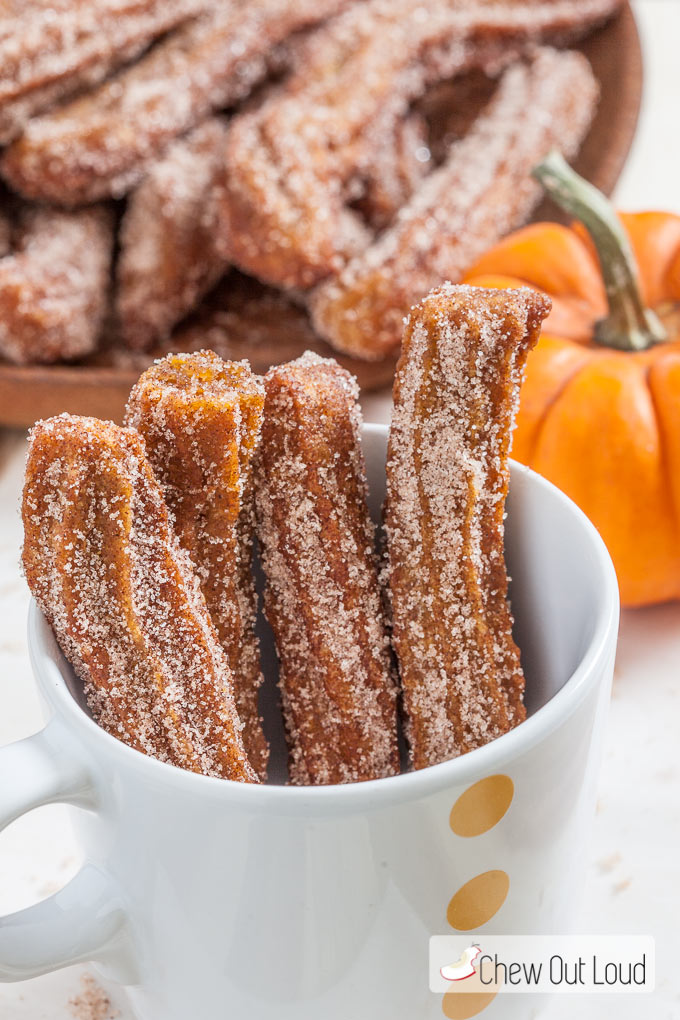 Somehow, not sure how, I was asked to be a part of a small circle of bloggers to do a phone conference with Bobby. At first, I thought no. Then I thought maybe. Then I thought, totally.
I mean, I've already sported piles of his cookbooks stacked on my kitchen counter and cooked through many of his recipes. The Littles know Bobby Flay, not through Food Network (because we're the only family in the world that doesn't have cable, yo.)
Nope, no TV for them. My guys recognize Bobby from the cookbook covers. They were like, "you're calling him tomorrow?" Well, yes. Yes, I am.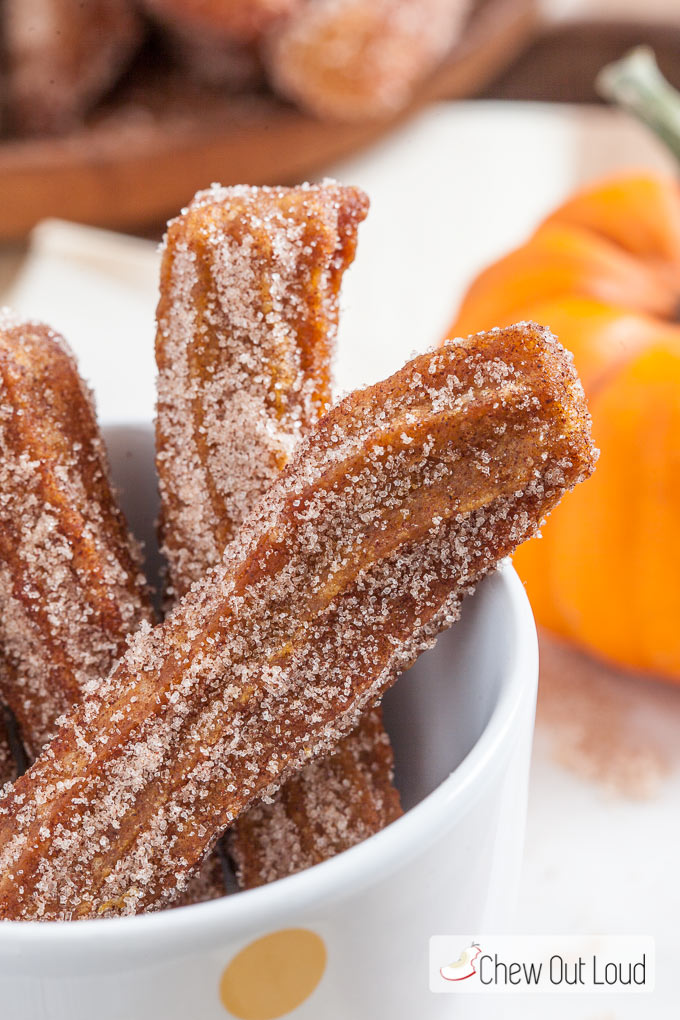 Brunch, Snack, and Plain Fun
I got a chance to ask Bobby questions about his career and newest cookbook release, Brunch @ Bobby's. Can I just say I am stoked to have a copy of this cookbook? Not only is it beeauutiful, but brunch is my happy place. I LOVE brunches. We do brunch at our house almost every weekend.
It wasn't even hard picking the first recipe I wanted to try out of the cookbook. Not only do I already adore brunch, but anything that's crispy and coated with cinnamon sugar is an automatic yes.
These mini pumpkin churros truly and completely hit the sweet-and-crunchy spot. The kids got a kick out of the fact that I actually made churros, and it quickly became a churro party at our house.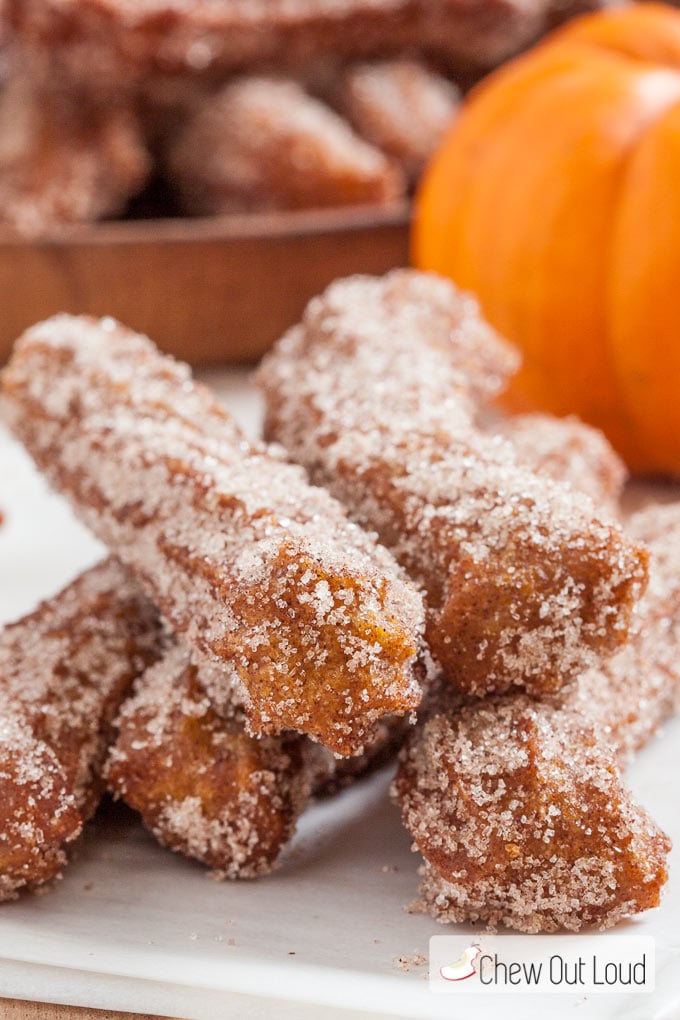 By the way, here are Bobby's answers top 3 of my questions for him:
If he had to cook just one thing for the whole world, it would be paella (yesss!)
If he could choose 1 thing out of all the many things he does, he would choose to cook in his restaurants and at home (that's true passion, y'all.)
If there's 1 easy recommendation he has for the home cook, it's this: go bolder. More salt, more pepper, more herbs, more spices. Don't be timid; be bold. Do 50% more flavoring than you think you'll need. (You're speaking my lingo, Bobby.)
I especially love that last one. But also our family lives on big flavors. Fist bump.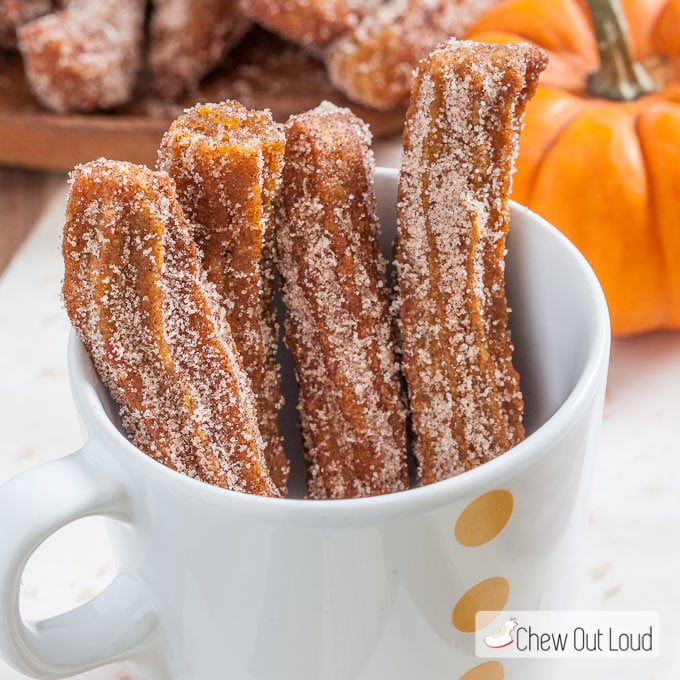 In honor of all the above, I whipped up a crispy-crunchy-pumpkiny batch of these Mini Pumpkin Churros. I'm not exaggerating when I say they lasted one afternoon amongst my brood of 5.
Little Miss Bulldog was not included in the churro fest, though she begged something fierce.
Who can blame her? These Mini Pumpkin Churros are deliciously spiced, busting at the seams with pumpkin flavor, and coated with yummy cinnamon sugar.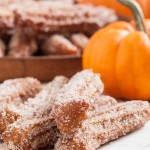 Mini Pumpkin Churros
This Mini Pumpkin Churros recipe is from Bobby Flay's newest cookbook release, Brunch @ Bobby's. Just in time for fall! It's the perfect afternoon or weekend treat for grown-ups and kids alike!
Servings:
32
mini churros
Instructions
Make the Cinnamon Sugar Coating: In a bowl, whisk together the sugar and cinnamon until well combined. Transfer mixture to a large baking sheet. Set aside.

Make the Churros: Whisk together the flour, cinnamon, cloves, ginger, nutmeg and salt in a large bowl. Bring 1 1/2 cups water, the pumpkin puree, butter and vanilla to a boil in a medium saucepan, whisking constantly.

Pour the pumpkin mixture into the bowl with the flour mixture and stir with a wooden spoon until just combined; it will be thick. Continue mixing and add in your eggs, one at a time, until well combined. The dough should be thick and smooth, able to cling to spoon. If your dough is too runny, add more flour until it reaches a thick pudding consistency. Place the dough into a pastry bag with a large star tip.

Heat 2 inches of oil in a high-sided large pan until it reaches 350F on a thermometer.

Pipe the dough directly into the pan in 3-inch pieces, cutting off the pieces with a scissor. Fry until golden and crispy, turning as needed, about 3-4 min. (This part takes a bit of practice, but if you don't mind a few curvy-looking churros, you're all set!)

Transfer the churros to a paper-towel-lined baking sheet to drain the oil. Transfer drained churros to baking sheet with the cinnamon-sugar mixture, tossing to coat well.

Serve immediately, while still crispy and warm.
Did you make this?
Leave a comment below and tag @chewoutloud on Instagram