Homemade Bagels
By Amy Dong
Published Sep. 26, 2023
Updated Nov. 5, 2023
You can absolutely have New York style bagels fresh, from your own oven. These Homemade Bagels are soft, chewy, and way better than store-bought. They're the perfect meal-prep option for an easy breakfast that is freezer-friendly,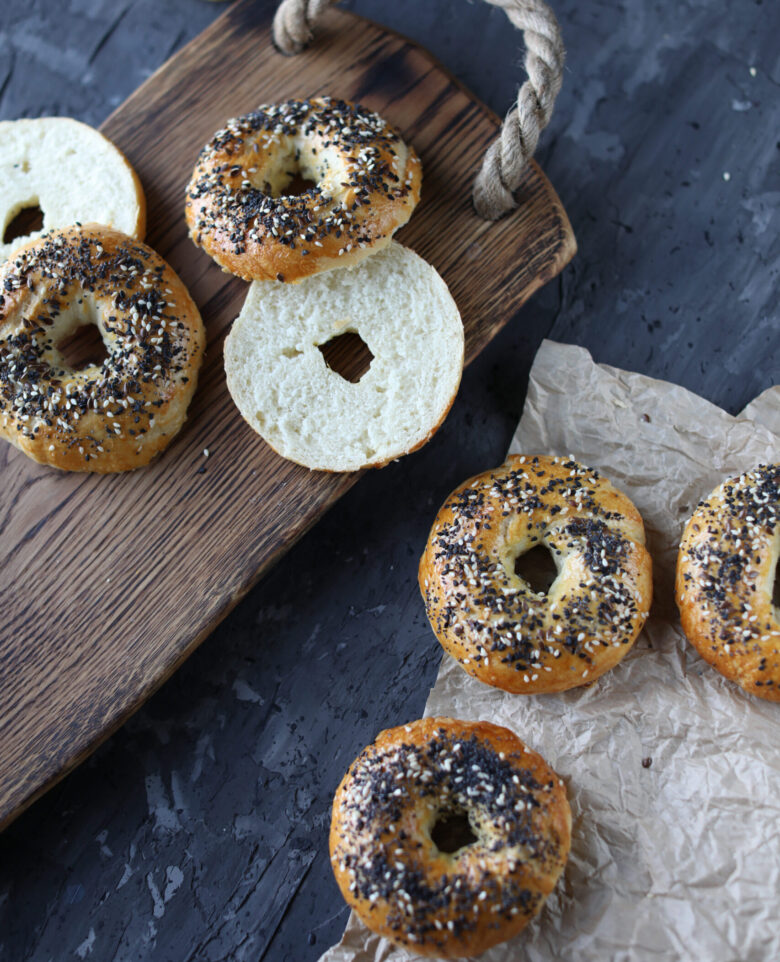 Video: Watch Us Make This Recipe
Why This Recipe Stands Out
We love going to our favorite New York style bagel shops to pick up the most fluffy, chewy bagels served with cream cheese or made into a sandwich. Really, if a restaurant serves fresh-out-of-the-oven bread of any kind, it has our attention. This Homemade Bagel recipe lets us have fresh bagels right at home and we love it!
Making Homemade Bagels is cheaper than buying them. Although going to a bagel shop makes for a delicious meal, it gets expensive quick. That's why we love making them at home.
This recipe gives you all the things you want in a bagel. They're soft, chewy, and have that signature smooth and glossy exterior.
This recipe uses simple ingredients that you probably already have in your kitchen.
Once you get the hang of it, bagels are pretty easy-to-make at home. This recipe walks you through the steps clearly.
These bagels are the perfect avenue for your favorite toppings and sandwich ideas.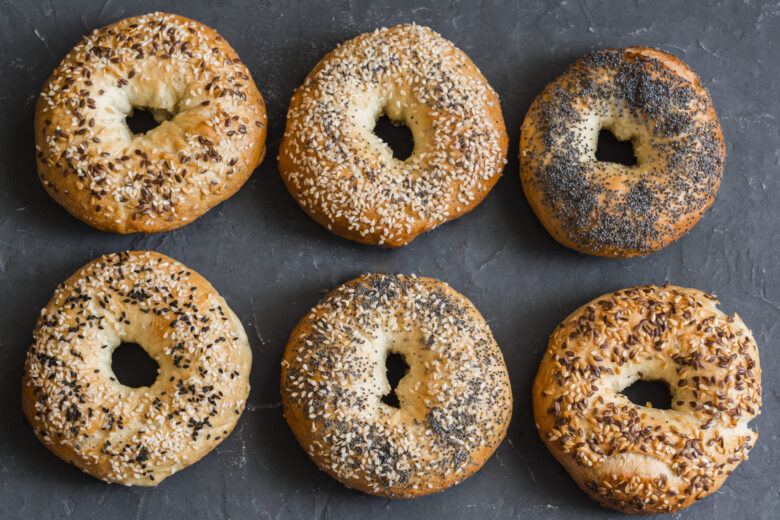 Key Ingredients
These Homemade Bagels are made with just a handful of simple pantry staples that you may already have in your kitchen. Take a look at these key ingredients for perfect bagels.
Bread Flour – We highly recommend bread flour vs. all-purpose flour, because it has a higher protein content that helps create the denser texture that we're after. All purpose flour will leave your bagels a little too light and airy which is good for other kinds of bread, but not what we want for bagels.
Sugar – We use simple granulated sugar for this recipe. It helps not only to sweeten the dough, but also to activate the yeast.
Salt – We add a tablespoon of salt to the bagels to bring just the right amount of flavor.
Water – Make sure you use lukewarm water for this recipe. Too hot or cold and your bagels may not rise.
Oil – Oil helps keep the bagels tender and fluffy. Feel free to use canola oil, olive oil, or coconut oil for this recipe.
Substitutions And Variations
There are so many great ways to serve bagels. We love them on their own with butter, made into sandwiches, or topped with our favorite spreads. Here are a few variation ideas for Homemade Bagels:
Varieties: Among some of our favorite bagel varieties are cheddar cheese, poppy seeds, everything bagel seasoning, sesame seeds, garlic, and Kosher salt. If you're wanting to make the best cinnamon-sugar bagels, just brush some melted butter on top of your bagels before baking and sprinkle this sweet and comforting cinnamon-sugar coating from our Cinnamon Apple Baked Donut Recipe on them!
Toppings: Bagels are the perfect avenue to enjoy all your favorite toppings. We love slathering our bagels with cream cheese, butter, jam, nut butters, and Nutella, like we do with our sweet crepes. Try smashing avocado on your bagels and topping it with salt, freshly ground black pepper, and this super easy Balsamic Glaze.
Sandwiches: This is where we really get into bagel shop-territory. Try throwing together eggs, bacon, and cheese for a protein-packed breakfast sandwich. We also love pairing bagels with salads like this versatile Curried Salmon Salad or this healthy Rotisserie Chicken Salad. Take any sandwich recipe you love and just use the bagels for the perfect quick and easy lunch.
Key Steps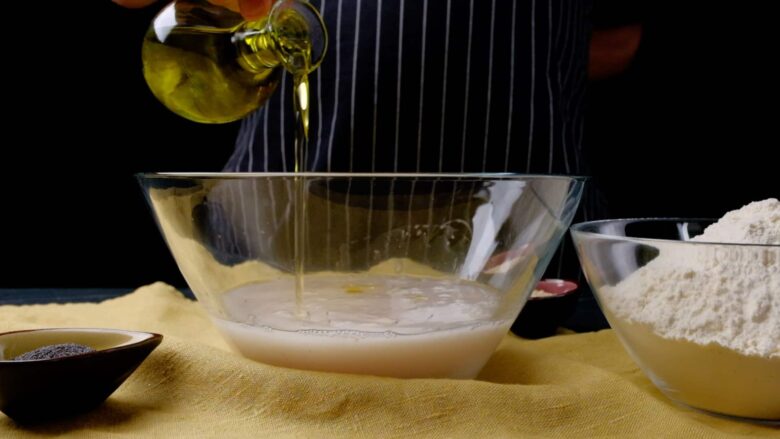 Combine lukewarm water and yeast mixture with sugar, oil, flour, and salt and mix thoroughly.
Knead dough on floured surface until smooth and elastic (about 15 minutes).
Place kneaded dough in oiled bowls and cover with a damp cloth. Let it rise for about an hour in a warm, draft-free area.
Divide dough into 12 balls and let them rest for 10 minutes under a damp cloth.
Lightly oil your hands and use your thumbs to form the hole in the bagels. Once a bagel is shaped, place it back under the damp cloth while you finish the others.
Boil a pot of water with 1 TB sugar and place 2-3 bagels in the boiling water. Boil for about 1 minute on each side.
Drain the bagels once they are done boiling and place them on a baking pan lined with parchment paper. Add desired toppings.
Place pan of bagels on the middle rack in the oven at 425 degrees with a large pan of water on the bottom rack. Cook until browned (about 15 minutes) and then flip.
For full list of ingredients and instructions, see recipe card below.
How To Prep Ahead
Feel free to make the dough for Homemade Bagels the night before you plan to cook them.
Just mix and knead ingredients like normal and place the dough in oiled bowls with a towel over them. This is where you'll pop them in the fridge overnight instead of rising at room temp for one hour.
Let them come to room temperature the next morning before continuing with the rest of the steps like usual.
Commonly Asked Questions
How long will Homemade Bagels keep?
After bagels are completely cooled, store them in an airtight container on the counter for up to 3 days. Bagels also freeze extremely well. Just cut the bagels in half, place them in an airtight container, and freeze for up to 4 months.
Can I use whole-wheat flour for these bagels?
You can use whole wheat flour for these bagels, but just note that the texture will be different. If you want to make whole-wheat bagels, we recommend using half bread flour and half whole wheat flour for this recipe.
Why do you boil the bagels?
It seems strange to boil bagels before cooking them, but this step is crucial for getting that shiny, glossy, and slightly crispy exterior on your bagels. Boiling them basically creates a barrier of cooked dough on the outside that crisps in the oven and locks in moisture to make the inside super fluffy and chewy.
Is it cheaper to make your own bagels?
Yes! This is one of the reasons we love making them at home. Since the recipe only uses a few staples, you can easily buy the ingredients in bulk and save tons of money if you buy bagels often.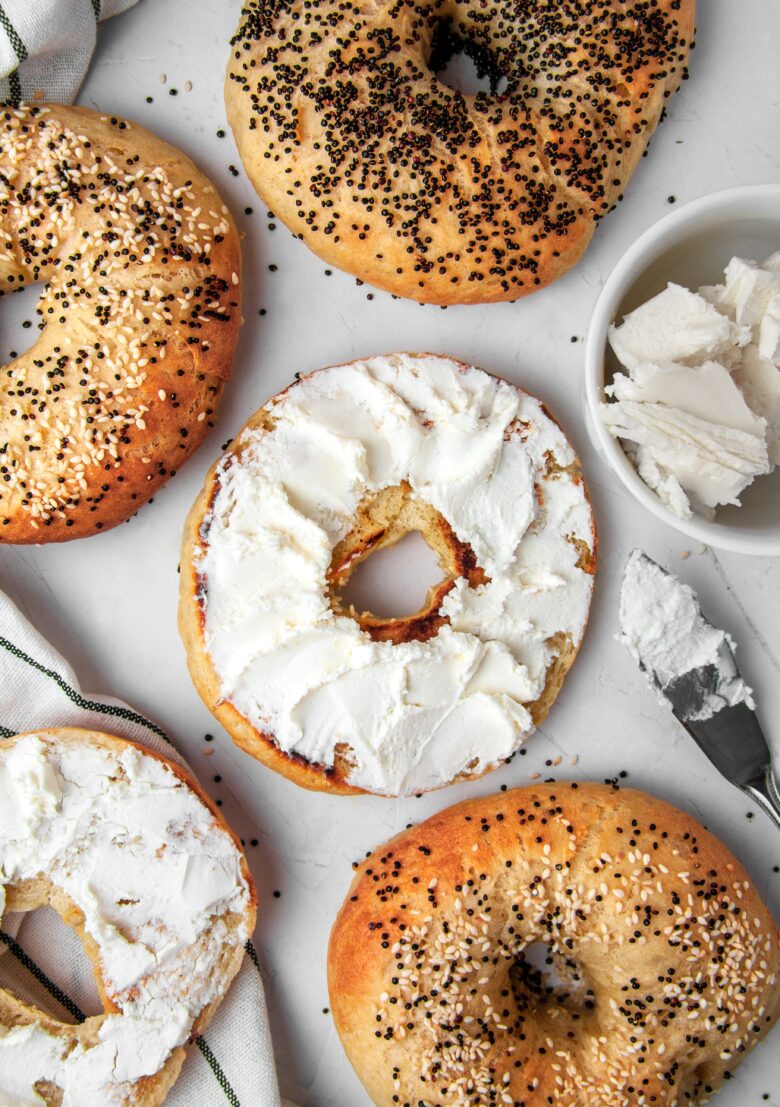 What To Serve With Homemade Bagels
Did you make this?
Please give us a rating and comment below. We love hearing from you!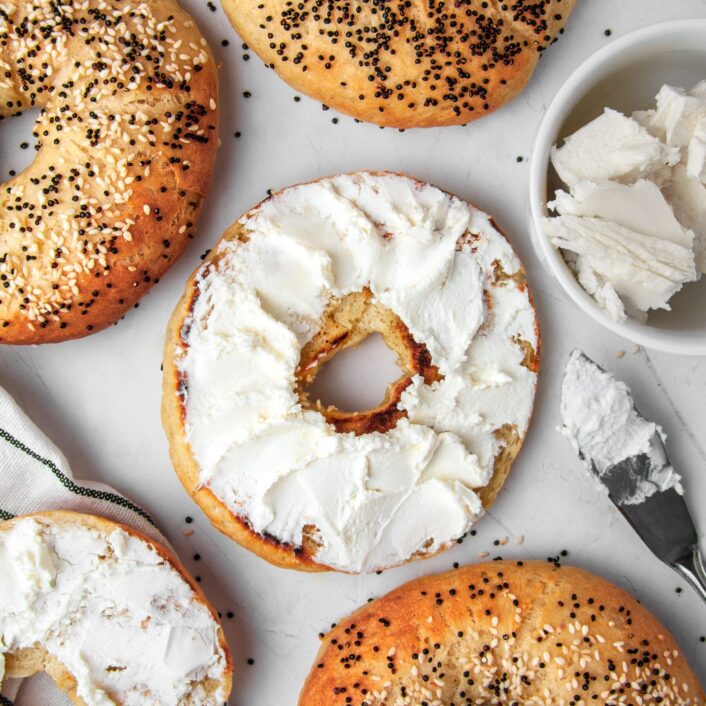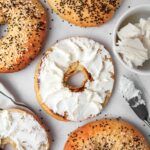 Homemade Bagels
You can absolutely have New York style bagels fresh, from your own oven. These Homemade Bagels are soft, chewy, and way better-than-store-bought. They're the perfect meal-prep option for an easy breakfast on-the-go.
Ingredients
2

cups

water

,

warm (110F)

2 ¼

tsp

active dry yeast,

equivalent to one .25 oz packet of yeast

6

cups

bread flour,

plus extra as needed

1

TB

salt

3

TB

sugar,

divided

1

TB

oil*
Instructions
Sprinkle yeast over warm water and stir to dissolve. Wait 10 minutes for it to foam. Then add 2 TB sugar, oil, 6 cups flour, and salt. Mix thoroughly until dough forms and leaves sides of bowl (This is easier with stand mixer).

Turn dough onto lightly floured board and knead. Add small amounts of remaining flour, if needed. Dough will be rather stiff. Knead until smooth and elastic (roughly 15 minutes).

Roll dough into ball and place in oiled bowls, turning to coat. Spray with additional oil if needed to get dough ball covered in oil. Cover with damp cloth. Let rise for about an hour in warm, draft-free place. An impression made with finger should not sink into dough.

Divide dough into 12 even balls, rolling with hand over a hard surface to get them round. Cover with damp cloth and let balls rest for 10 min.

Lightly oil hands and gently press thumb into center of a dough ball. Gently swing the dough around your finger to make a bagel shape, without ripping the dough. Make walls about 1 inch thick, with a 2-inch diameter hole in each ball. Put each bagel back under a damp towel as you complete shaping the rest of the dough balls.

While bagels are resting, fill 4 qt saucepan almost full of water. Add 1 TB sugar and bring to boil. Drop 2 or 3 bagels at a time into boiling water and wait until they rise. Boil for about 1 min per side.

Lift each bagel out with large slotted spoon. Drain. Sprinkle desired toppings on. Continue boiling, draining, and topping as you go. Put bagels on baking pans lined with parchment.

Heat oven to 425F with large pan of water on lowest rack. Bake bagels until browned. Start checking at 15 min. Turn bagel over and bake until other side is done.
Notes
For the oil, feel free to use canola oil, olive oil, or coconut oil for this recipe.
Serve Homemade Bagels with butter, cream cheese, or top with homemade guacamole and this easy Balsamic Glaze.
If you aren't used to baking with yeast, we recommend using a food thermometer to make sure your water hits the perfect temperature (110F).
These are best fresh, but baked bagels can be sliced, frozen in airtight bag, and taken out to toast later!
If you enjoyed this recipe, please come back and give it a rating. We ❤️ hearing from you!
Nutrition (per serving)
Calories:
285
kcal
|
Carbohydrates:
56
g
|
Protein:
9
g
|
Fat:
2
g
|
Saturated Fat:
0.3
g
|
Polyunsaturated Fat:
1
g
|
Monounsaturated Fat:
1
g
|
Trans Fat:
0.01
g
|
Sodium:
585
mg
|
Potassium:
73
mg
|
Fiber:
2
g
|
Sugar:
3
g
|
Vitamin A:
1
IU
|
Calcium:
13
mg
|
Iron:
1
mg