Homemade Bagels
You can have New York style bagels fresh, from your own oven. These homemade bagels are chewy, flavorful, and perfect for sandwiches or eating as-is.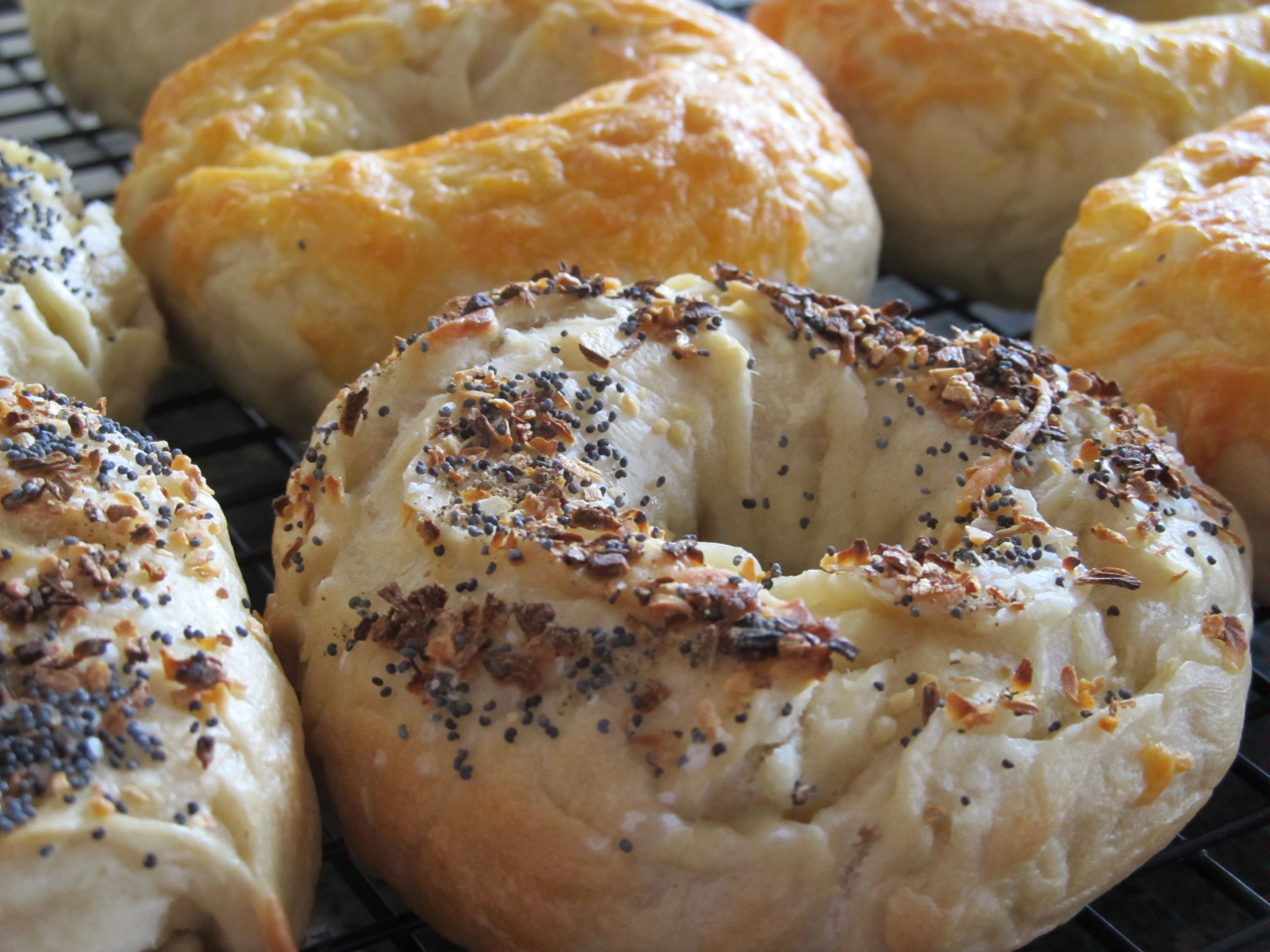 Bagel. Just the word makes me hungry. I'm very willing to drive for miles to the best little bagel shop in cities we travel to, just so we can sink our teeth into the chewy, bready goodness of a freshly baked bagel.
Currently, the best bagel shop is a bit of a drive. Supermarket ones don't really count. And are pre-packaged bagels really bagels? Thus, I'm willing to do the work and make them at home, so we can bite into that straight-out-of-the-oven dose of yummy carbs.
It's fun to do different toppings and play with flavors so everyone gets what they want!
I was serious about bagels by the dozen. Or two dozen.
You won't be sorry you took the time to make these dense goodies. Happy bagel eating!
RECIPE (one dozen)
INGREDIENTS
7 cups bread flour
1 TB salt
3 TB white sugar
2 cups warm water (110F)
1/2 package active dry yeast
1 TB oil
Optional toppings:
poppy seeds
kosher salt
sesame seeds
shredded cheese
DIRECTIONS
1. Sprinkle yeast over warm water and stir to dissolve. Give 10 min for it to foam. Add 2 TB sugar, oil, 6 cups flour, and salt. Mix thoroughly until dough forms and leaves sides of bowl. Probably easier with stand mixer. Turn dough onto lightly floured board and knead. Add small amounts of flour if needed. Dough will be rather stiff. Knead until smooth and elastic, 15 minutes.
2. Roll dough into ball. Place in oiled blows, turning to coat. Spray with additional oil if needed, to get dough ball covered in oil. Cover with damp cloth. Let rise for about an hour in warm, draft free place. An impression made with finger should not sink into dough.
3. Divide dough into 12 even balls, rolling with hand over a hard surface to get them round. Cover with damp cloth and let balls rest for 10 min. Lightly oil hands and gently press thumb into center of a dough ball. Gently swing the dough around your finger to make a bagel shape, without ripping the dough. Make walls about 1 inch thick, with a 2-inch diameter hole in each ball. Put each bagel back under a damp towel as you complete shaping the rest of the dough balls.
4. While bagels are resting, fill 4 qt saucepan almost full of water. Add 1 TB sugar and bring to boil. Drop 2 or 3 bagels at a time into boiling water and wait until they rise. Boil for about 1 min per side.
5. Life each bagel out with large slotted spoon. Drain. Put desired topping on. Continue boiling, draining, and topping as you go. Put bagels on baking pans lined with parchment.
6. Heat oven to 425F with large pan of water on lowest rack. Bake bagels until browned. Start checking at 15 min. Turn bagel over and bake until other side is done.
These are best fresh, but baked bagels can be sliced, frozen in airtight bag, and taken out to toast later!