Pumpkin Bars with Biscoff Crumble
There's no denying it … 'Tis the season for pumpkins galore.
Gone with the carving variety, in with the baking ones. Actually, you won't find my baking pumpkin inside these particular pumpkin bars, since my cute little orange gourd is awaiting its transformation into our Thanksgiving pie.
But, back to the bars.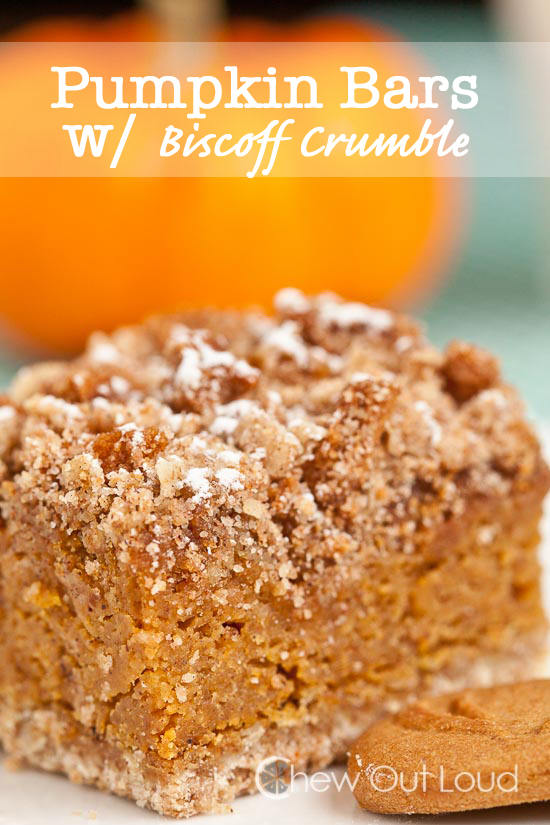 If you're looking for something scrumptiously pumpkin, that's not followed by the word "pie," and that's a fool proof crowd-pleaser, search no further.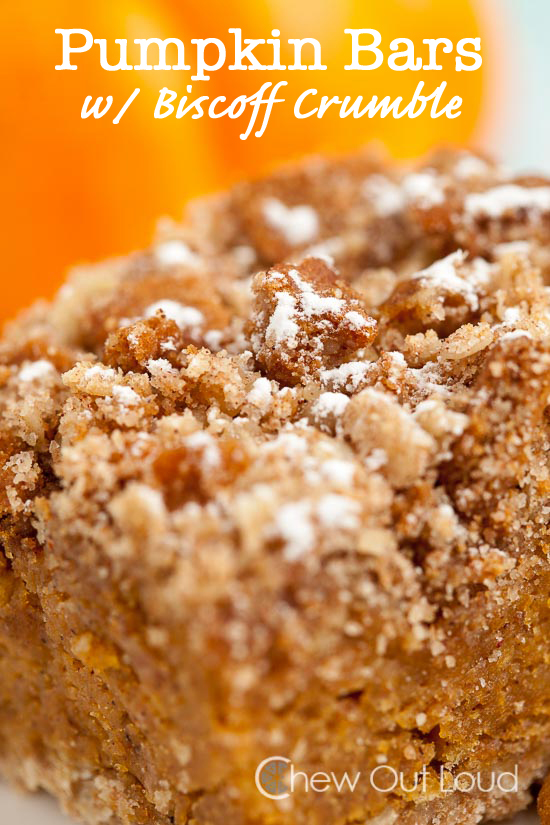 YUM
That's exactly what I scribbled on my recipe notes after taking a bite into these. I am fond of baking dessert bars, as they are pretty fuss free and generally turn out well. I've wanted to make pumpkin bars for awhile, and decided to try out these Biscoff ones because they sounded exceptionally delish.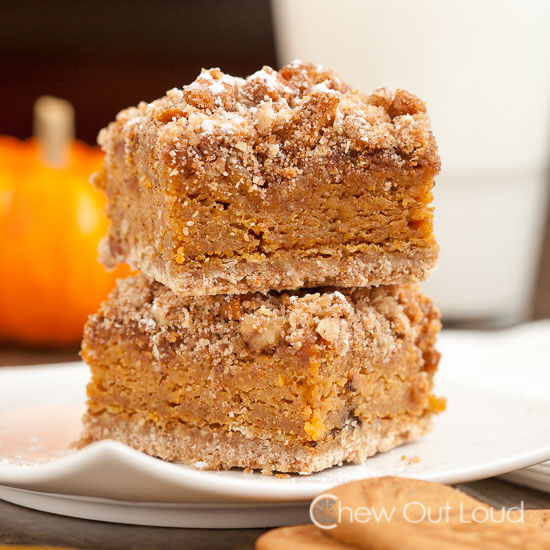 Imagine with me the delightfully tempting aroma and taste of these little squares.
It's something in between a pumpkin pie and a pumpkin bread. Sink your sweet tooth into a chewy, moist, flavorful filling – sandwiched between a crisp bottom crust and a crunchy cookie topping.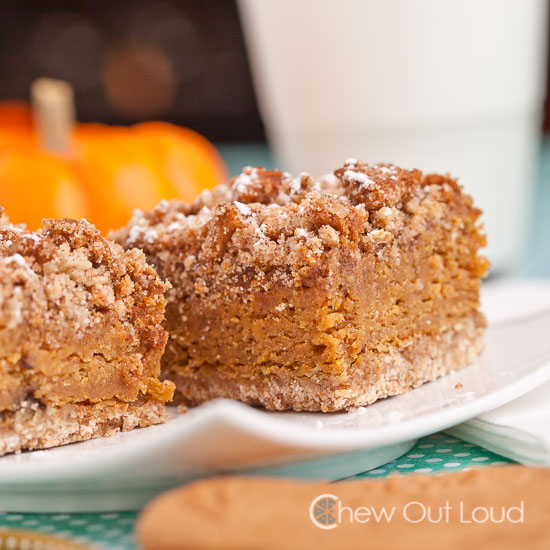 The bottom crust stays nicely crisp with the inclusion of oats and pecans. The crumb topping is heavenly, with lots of Biscoff cookie goodness.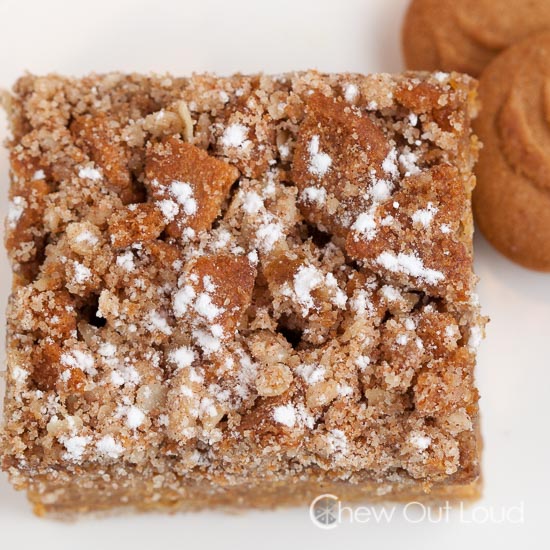 I must credit my father-in-law for his hand in my Biscoff cookie addiction, as he has a knack for bringing us packages of it when he visits. After I realized they aren't studded with artificial anything, I started looking for them at stores, and noticed how quickly they flew off shelves. Now I keep some in my pantry just in case someone needs a natural pick-me-up 🙂
Bake a batch and watch them disappear.
RECIPE (one 9×13 pan)
INGREDIENTS
Bottom Crust
1 cup wheat flour
1/2 cup all purpose flour
1 cup quick cooking oats
1/2 cup light brown sugar, packed
3/4 cup softened butter
1/2 tsp baking soda
1/4 tsp fine salt
1/2 cup pecans, diced
Crumb Topping
1 cup of the above crust mixture
1 cup crushed Biscoff cookies
1 tsp ground cinnamon
Filling
4 eggs
1 1/3 cups white sugar
1/2 cup melted butter
1/8 cup olive oil
2 cups pure pumpkin puree (not pie filling)
1 cup all purpose flour
1 tsp baking powder
2 tsp ground cinnamon
1/2 tsp fine salt
1 tsp baking soda
1 tsp ground nutmeg
1 tsp ground ginger
DIRECTIONS
Preheat oven to 350F.
Crust: In a large bowl, combine both flours, oats, sugar, butter, baking soda, and salt. Beat at low speed until mixture is crumbly. Stir in nuts. Reserve 1 cup for crumb topping. Press remaining mixture on bottom of a greased and floured 13×9 baking pan. Bake 15 minutes on middle rack. Set aside to cool a bit while you make the filling.
Filling: In a large bowl, beat together eggs, sugar, butter, oil, and pumpkin until well mixed. In a separate bowl, mix together flour, baking powder, cinnamon, salt, baking soda, nutmeg, and ginger. Fold dry and wet ingredients together until well incorporated. Pour filling onto pre-baked crust.
Topping: Mix together 1 cup of reserved crust mixture, 1 cup Biscoff cookies, and cinnamon. Sprinkle on top of pumpkin filling. Bake 30-33 minutes on middle-lower rack. It's done when toothpick comes out mostly clean. (A few tender crumbs attached is perfect.)
Cool and chill before cutting. Once that first piece is out, the rest should be easy. Cut into bars and store in fridge until ready to serve. Sprinkle with powdered sugar, if desired.
By chewoutloud, adapted from Biscoff Recipes