Sweet Potato Muffins Recipe
By Amy Dong
Published Sep. 13, 2012
Updated Aug. 17, 2022
These Sweet Potato Muffins are healthy, moist, and delicious. The crunchy topping is out of this world. You have to make them to believe it.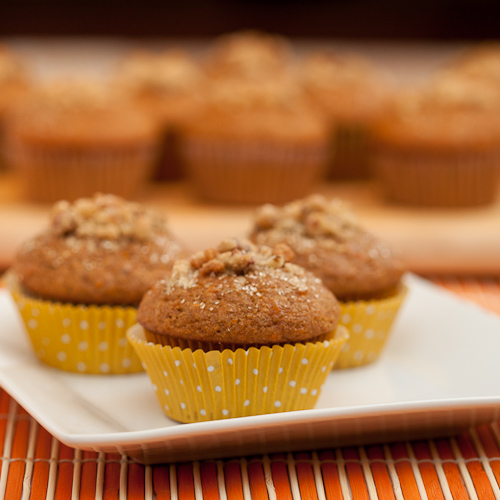 Sweet Potato Muffins
I came across a recipe I've kept for years in my collection of "stuff I want to bake." The recipe features sweet potatoes instead of pumpkins, and I knew I'd have to give it a go. Oh, my… it's hard to put into words how delicious these sweet potato muffins are.
Years ago, when I first saw "sweet potato muffin" as the title, I was intrigued but uncertain. Of course I couldn't let it go, because I'm always looking for ways to incorporate healthy stuff into treats that everyone will eat. I decided to make muffins instead of the loaf, because muffins just have greater curb appeal.
I'm sooo glad I gave these a shot, because…get this…I am about to make my 3rd batch in 1 week. That's right. The first batch was for the fam. The second batch I made for the lovely gals in my women's group. The third batch is because I don't feel like I personally got to eat enough of these. Hubby complains he didn't eat enough either.
It's exactly what happened with these Honey Cornbread Muffins …you don't know what you're missing until you've tasted it.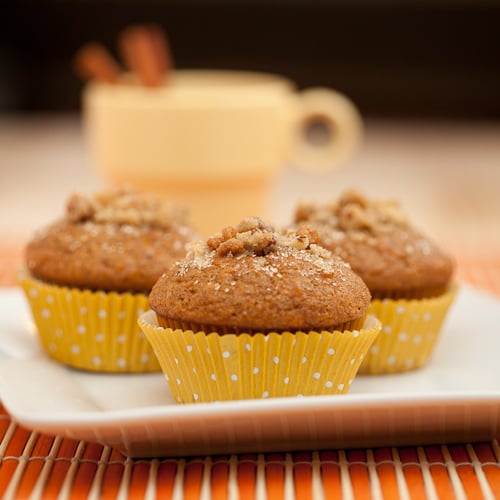 Truth is, I haven't even told my kids that these are made out of sweet potatoes. They didn't ask, and we didn't tell. They just ate. And ate.
The kid who isn't on board with sweet potatoes ate three entire muffins in one sitting. And I didn't struggle with one ounce of guilt because they're pretty wholesome.
If you like that idea, you'll love these Superhero Apple Zucchini Carrot Muffins that pack a huge nutrition punch while tasting so good, people gobble them up.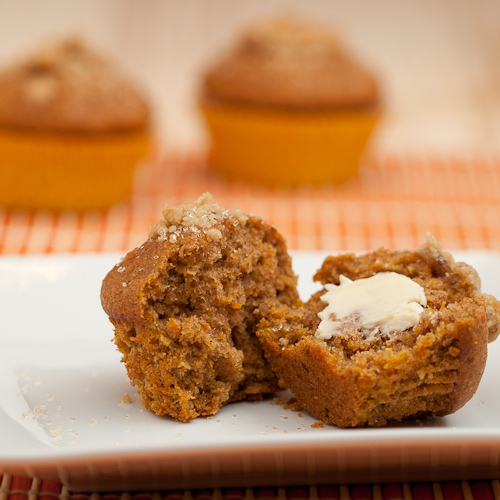 Nobody knows your secret
It's not very obvious that these muffins feature sweet potatoes at first bite, despite the hefty amount of sweet potatoes in them.
You would probably guess there is something rustic (like pumpkin) in them, but it's hard to pinpoint what it is unless someone lets the potatoes out of the bag. 😉
People only know they love these muffins.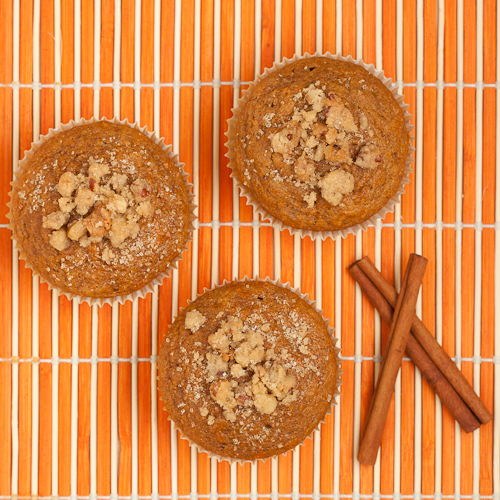 Crunchy Crumb Topping
These are some of the softest, moistest, tenderest muffins to be had. I lessened the amount of sugar so that they weren't over-the-top-sweet. I even subbed out half of the regular flour for whole wheat and added ground flax to boot.
Absolutely moist and delicious. I decided to make a crispy crumb topping out of brown sugar and pecans, which makes the muffins extra special. A cream cheese drizzle would be fabulous, too. But honestly, you don't even need any topping… these muffins are so tender and tasty all by themselves.
If your loved ones don't usually go ga-ga over sweet potatoes, try these muffins. They'll eat these. Or make it easier and bake it into a loaf and put crumb topping on top of the loaf. They'll eat that too. I won't tell if you won't 🙂
Did you make this?
Please give us a rating and comment below. We love hearing from you!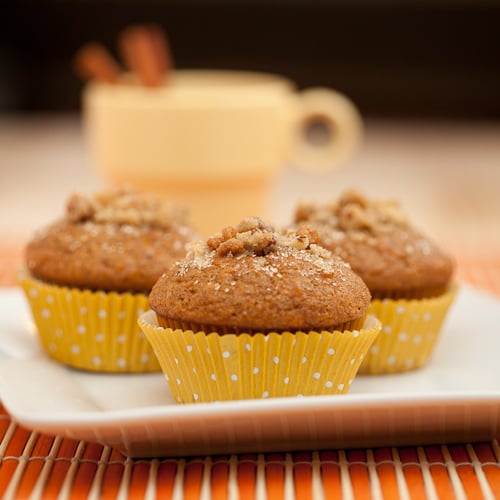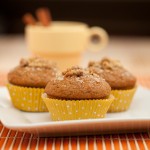 Sweet Potato Muffins Recipe
These Sweet Potato Muffins are healthy, moist, and delicious. The crunchy topping is out of this world. You have to make them to believe it.
Ingredients
For the crumb topping:
2

TB

cold butter

¼

cup

chopped pecans

½

cup

brown sugar

⅓

cup

flour
Instructions
Wash and dry sweet potato. Wrap well in foil and roast in oven or toaster oven for 1 hour at 400F. It should be quite soft and easily pricked by a fork. If it's not soft enough, roast another 15 minutes. Let cool. Peel and mash. You should have about 1 cup of mashed sweet potato, give or take a little. This step can be done ahead of time.

Mix topping ingredients together with fork or fingers, until it is a crumbly mixture. Wrap and place in fridge until ready to use. This can also be done ahead of time.

Preheat oven to 350F. In large bowl, combine flours, flax, cinnamon, nutmeg, baking soda, baking powder, and salt. Mix well. In another large bowl, combine eggs, sugars, sweet potato, oil, vanilla, and water.

Gently fold wet ingredients into the dry ingredients, just until completely moistened. Do not over stir. Spoon batter into lined muffin pan, filling to the tops. Sprinkle crumb topping generously over muffins. Bake for 19-21 min, or until toothpick comes out almost clean. It is done when toothpick still has a few tender crumbs sticking to it. Carefully test it to make sure muffins are not over baked. Cool muffins in pan about 15 minutes. Remove muffins onto wire rack. Enjoy!
Notes
If you want to make a bread loaf instead of muffins, just pour batter into a greased/floured 9x5 inch loaf pan. Sprinkle topping over loaf. Bake at 350F for 50-55 minutes or until toothpick shows a few tender crumbs.
Nutrition (per serving)
Calories:
358
kcal
|
Carbohydrates:
54
g
|
Protein:
4
g
|
Fat:
15
g
|
Saturated Fat:
3
g
|
Polyunsaturated Fat:
2
g
|
Monounsaturated Fat:
8
g
|
Trans Fat:
0.1
g
|
Cholesterol:
36
mg
|
Sodium:
351
mg
|
Potassium:
197
mg
|
Fiber:
3
g
|
Sugar:
32
g
|
Vitamin A:
4126
IU
|
Vitamin C:
1
mg
|
Calcium:
60
mg
|
Iron:
2
mg